Paying for college expenses is not always easy. Tuition adds up. So does housing, not to mention books and supplies. Even if you're living at home, you're still going to have to eat and commute to school. To afford college, sometimes you need to look for the best private student loans options out there.
How much do you need?
Step one when planning for college is to figure out how much you need to pay for it. Use a college cost calculator to get started.
Step two is to figure out how much you have – or can obtain. What are your available sources of money? Sources to consider include parents, savings, scholarships, grants, or a part-time job.
Also, be sure to apply for need-based financial aid at the schools you're applying to as work-study jobs may be available. Consider all of your available options before turning to student loans.
Decide what type of loan to apply for
If you decide you need a student loan, be aware that there are two major sources of student loans:
The U.S. government and
Private loans, which come from lenders like banks and credit unions
The first step is to fill out the Free Application for Federal Student Aid (FAFSA).
The primary reason you start by filling out the FAFSA is that the results let you know if you are eligible for federal student loans. All U.S. citizens who are students can qualify for unsubsidized federal student loans, regardless of financial need. And U.S. government loans have several advantages over private student loans.
Federal student loans generally have a lower interest rate, for example. And you don't have to repay federal student loans until your education is completed. With private student loans, you may have to repay as you study. In addition, federal student loan borrowers may be eligible for loan forgiveness if they work in certain occupations. And repayment of federal student loans can be based on income.
Private student loans are issued through banks and credit unions – the same places that offer loans for mortgages and cars. They generally expect payment on their student loans from the beginning, much as they would for a car loan.
The FAFSA Application
Following is the information you will need to complete the Free Application for Federal Student Aid:
Your Social Security Number
Your most recent federal income tax return, W-2s, and other records of income
Bank statements and records of investments (if applicable)
An FSA ID (to sign electronically)
Also, do you live with your parents? Do they financially support you or your education? If so, they may have to fill out a part of the FAFSA application.
Processing the FAFSA takes several weeks. When you receive the results (typically by e-mail), you'll know if you are eligible.
Private student loans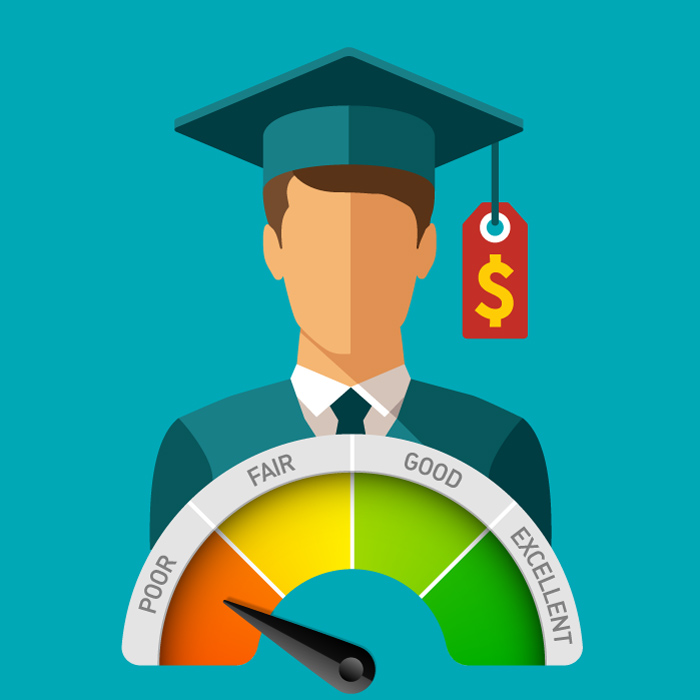 If you still need additional money after taking out a federal student loan, private loans are another option to consider.
It's a good idea to find out your credit score before applying for a private student loan. If your credit score is good to excellent, you might be able to get a loan with a lower interest rate than someone with average or bad credit. The low end of interest rates for private student loans is around 2.5%. Interest rates can be as high as 12%.
If your credit is average, your parents financially support you, or your income is not high enough to qualify for a private student loan, you may need a cosigner. On the plus side, if your cosigner has excellent credit, more favorable interest rates may be available. Lenders will consider the creditworthiness of both you and your cosigner. Good credit will result in a more favorable interest rate because the risk the lender is taking on is decreased.
To receive a private student loan, you'll need to apply to each lender you choose, as private lenders do not have a one-size-fits-all application like the FAFSA. You will need to supply credit information, salary, and work history.
Private student loan lenders will look at your income, your ability to repay, and how much debt you have (which lenders call your debt-to-income ratio). They will loan you money only if you meet their requirements.
Compare the terms
It's a good idea to look at several different lenders when considering a private student loan. Interest rates vary, for one thing, and you want the lowest interest rate possible.
The type of interest rate offered is also a factor. There are two types: fixed and variable. Fixed means that the interest rate will always stay the same. If you lock in at 14%, your payments will always have that interest rate.
Fixed Rate Student Loans
A fixed interest rate doesn't change throughout your repayment term. It stays steady, despite market fluctuations.
Benefits
Predictable monthly payments
Pre-defined total interest amount
Variable Rate Student Loans
Variable interest rates change throughout the course of your loan term because they rely on shifting tides in the world economic market.
Benefits
Lower interest rates
Immediate, short or long term savings
But a variable interest rate will move up and down as interest rates rise or fall, and your monthly payments will rise and fall accordingly. Rates increase and decrease according to the economy. During times of economic growth, interest rates rise.
Finally, banks and other lenders vary in term of repayment plans. It may be possible to find a private lender who offers deferments while you are still in school, or forbearance while you are looking for a job after college.
And if you or a parent belong to a credit union, their terms are often more favorable than those of banks.
Where to look for private student loans
Here are our top picks for student loans. Click here for our full list of lenders, user comments, and expert reviews.
1. LendKey
LendKey offers competitive interest rates. They're able to do this because of their partnerships with various financial institutions, including credit unions and community banks.
2. Upstart
Upstart is an online loan marketplace that uses a proprietary underwriting model. This model allows them to assess risk by focusing on more than credit rating.
The company determines high-quality borrowers by considering various factors such as job history, area of study, and level of education. Those borrowers with good credit and promising careers can get lower rates and more favorable terms.
3. CommonBond
CommonBond is an online student lending platform that connects a community of individual and institutional investors with borrowers seeking student loans. The company offers refinancing options for student and parent loans.
4. SoFi
SoFi started as a marketplace lending marketplace for Stanford alumni. Now it offers personal loans, student loan refinancing, and mortgages to borrowers with excellent credit, a good education, and a high income.
5. Earnest
Earnest uses a technology that allows the company to provide loans to borrowers who wouldn't be able to otherwise qualify for them. To get a loan with Earnest, you need a good education, a job with high earning potential, and a good employment history. You must also demonstrate financial responsibility, including good savings habits. These factors could lead to a refinance with low interest rates, even if you don't have much credit history.
6. College Ave
College Ave offers student loans with competitive interest rates.
The company was founded by former executives from student loan provider, Sallie Mae. College Ave's mission is to make the student loan process quicker and easier. The company offers several loan repayment options, allowing you to choose how long you want to pay. You can also opt for an interest-only payment for two years if finances are tight.