Article Summary:
Money order machines are computerized machines that are available at financial institutions or other authorized vendors. These machines print the relevant information onto specialized paper, which typically have a unique serial number and watermark for added security.
Today, money orders work a lot like they did over 150 years ago. They are a convenient and safe way for one party to pay another, either for domestic or international transactions. These days, money orders are printed using computerized machinery that utilizes the latest anti-fraud technology.
You can either buy a money order from a financial institution or go to different locations that have authorized money order retailers with machines for printing money orders. Western Union, MoneyGram, credit unions, and the USPS are places that often have self-service money order machines available. Typically, you will pay upfront with cash, debit card, or traveler's check, and then have your money order printed on location. Let's take a more detailed look at money order machines and where you can find one.
Money order security features
Whether you buy a money order from a teller or print one yourself using a self-service kiosk, all money orders are printed using computerized machines. These money order machines print money orders on specialized paper to make them more difficult to forge, like currency.
In addition to this specialized paper, there are a few other security features that some money orders have.
Serial numbers
A serial number is a unique combination of numbers that identify the location and order in which a money order was printed. Money order serial numbers are typically 10 to 11 digits long and may include a letter at the beginning.
For instance, if a Western Union in Ohio issued a certain number of money orders, they will have a corresponding serial number. When you purchase a money order transaction, the serial number will include the assigned number for that specific Ohio Western Union branch. Using this number, you can track your money order to determine whether your payment was received or the money order was lost.
Pro Tip
In addition to being on the money order itself, you can also find the serial number on a detachable slip or receipt. Be sure to keep this information handy in case you need to track down your money order.
Watermarks
Watermarking is the process of superimposing a logo, picture, or section across a document to establish the uniqueness of said document that is difficult to forge. Money order machines will typically use paper that already has an indelible watermark to print the money order. 7 Many modern currencies, such as the U.S. dollar, have watermarks as well.
Additional features
Some money orders come with additional security features that are printed onto the paper. For instance, the United States Postal Service (USPS) incorporates security threads and a rainbow ink into their money orders for added security.
Before you accept a money order, be sure to scan the payment for these features.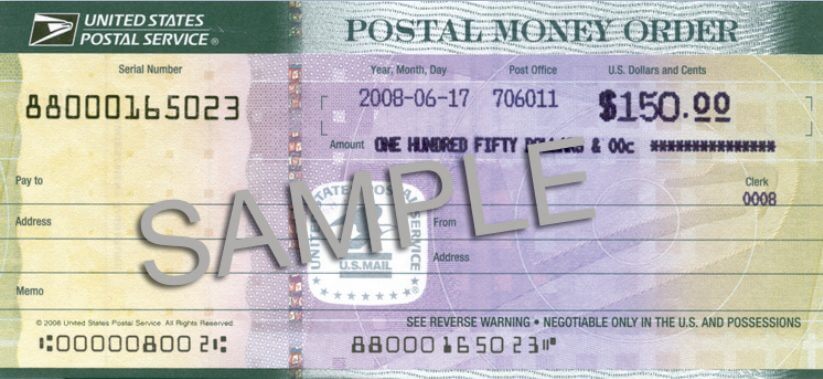 How a money order machine works
A money order machine works the same way regardless of how you purchase one. You must know the value amount, the payer's name, the payee's name, and the payee's address.
Before printing, you'll need to pay using cash or a debit card, but most machines or tellers will not accept credit cards. The machine then prints the appropriate names and values in the relative boxes on both the money order and the connected receipt. You can then use the money order to pay your bills or other purchases through accepting vendors.
If you have no other way to pay, you can (sort of) use a credit card to pay for a money order. Check out the options below to purchase a money order while keeping your interest to a minimum.
Places to print money orders
As previously mentioned, there are several places that offer money order services. If you need to purchase a money order, try one of these locations.
Banks. If you have an account with a bank, they can typically print you a money order. Even if you don't have an account, it's possible to walk into a bank with a money order option and get it printed if you pay with cash, a debit card, or traveler's checks.
Credit unions. Credit unions are financial entities that act as small community banks. Typically, the shareholders are a community of people, rather than large banking institutions with major shareholders. Money orders are available at most U.S. credit unions.
USPS. The original inventor of the money order, USPS, is still a major provider of money orders. Domestically, you can send up to $1,000 with one money order, though you can only send $700 internationally. The fees are $1.45 for up to $500 and $1.95 for $500.01 to $1,000 dollars. If the money order is for a military-related reason and is issued by military facilities, the fee drops to $0.50.
Western Union. Western Union began offering a money order service between New York, Chicago, and Boston in 1871. Today, the great part of Western Union is that they are a huge presence in almost any country in the world. Western Union branches in the U.S. typically charge $2.00 or less to print money orders.
MoneyGram. Like Western Union, MoneyGram is a place with a large international presence where you can get your money orders printed. They have locations in many countries around the world and charge similar rates for walk-in money orders.
Walmart. If you prefer not to visit a bank or credit union, you can purchase and print a money order at Walmart. They typically charge $1 for money orders.
Self-service money orders
Some money order locations will have self-service kiosks at which you can pay with cash or a debit card. As long as you have all the necessary information, you can then load the money order printing machine yourself.
How to spot a fake money order
According to the USPS, there are a few ways you can check if the money order is genuine, or if it's a fraud. Here are some simple ways to detect fraud when you deliver money order funds.
Examine the paper. Watermarks of Benjamin Franklin should repeat from top to bottom on the left side of the money order. On the right side of the Franklin watermark, a vertical, multicolored thread with the letters "USPS" also weaves in and out of the paper.
Check the dollar amount. Make sure that the coloring is strong in the dollar amount. If this area is a bit discolored, it could indicate manipulation. Domestic money orders cannot exceed $1,000, and international money orders cannot exceed $700.
FAQs
Can I print my own money orders?
You can print your own money order at a kiosk with an authorized vendor. However, as it is with currency, it is illegal to print your own money orders using a personal machine or device.
How do you load a money order machine?
To load a money order machine, you will need: the recipient's name, your address, the dollar amount, and cash or a debit card to pay for the money order. Then simply follow the instructions: fill in the information, pay for the money order, and wait for it to print.
What if I lose a money order?
If you've lost track of a money order, first find your receipt. This will have the tracking number, which you can use to replace your money order. However, replacing them online is expensive. At MoneyGram replacing a money order online will cost $18.00, and the Western Union fee is $15.00. You may be better off replacing a USPS money order, which is only $6.95.
Unfortunately, a money order cannot be canceled, so be sure to keep a close eye on any money orders you receive or purchase.
Key Takeaways
Money order machines are computerized machines that allow you to print money orders.
Money orders can be used in place of cash or checks to send of money between two parties and in two different locations.
Though money orders have their roots in the United States, but are used internationally in many countries.
Two unique factors in printing money orders are watermarks and serial numbers.
There are several places where you can get a money order printed. This includes banks, a USPS office, MoneyGram, Western Union, and Walmart.