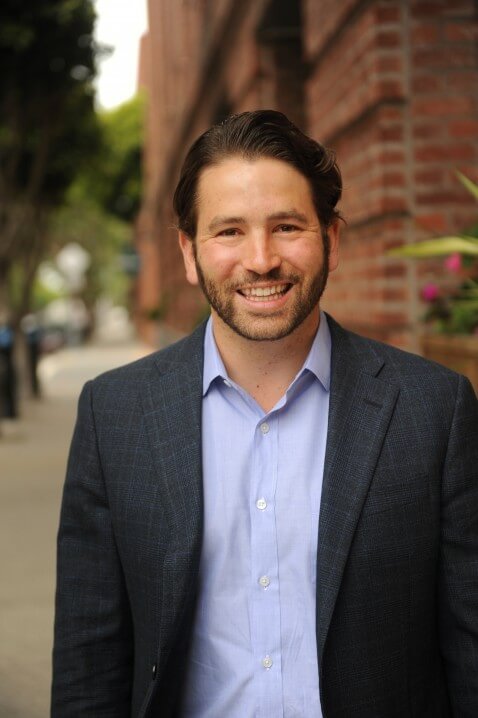 Finding a lender who will work with them is not easy for small businesses. Even when they are successful and profitable companies that just need cash to expand a model that has already proved itself. That was the experience of Sam Hodges, co-founder of Funding Circle. Hodges owned a successful chain of fitness gyms but wasn't able to find a lender that would offer him a loan with reasonable terms to expand his business. After opening his 96th loan rejection letter, he realized there was something wrong with how the small business loan sector operated and set out to build a better solution: an online marketplace for small business loans.
In 2013, he merged his business with Funding Circle, which had found early success in the UK. Today, Funding Circle is the world's leading online marketplace for small business loans. It has lent over $1 billion to more than 10,000 small businesses in the UK and US since it was founded in 2010.
How Does Funding Circle Work?
Funding Circle is not a bank. It is a marketplace that matches accredited and institutional investors with businesses that want to borrow by providing them with a solid platform that takes care of risk assessment, the underwriting of loans and the management of payments. As of August 2015, it has over 40,000 investors registered to fund small business loans.
The main advantages of Funding Circle over traditional lenders are speed, flexibility, and transparency. Applying for a loan takes just 10 minutes and the money can be in your bank account within 10 days. Because Funding Circle is not a bank it is not restricted by rigid policies and banking regulations. This means it can be more flexible when assessing the eligibility of borrowers. The interest rates it charges borrowers are not much different to those a business might get from a traditional bank loan, anything from 5.5% to 23%, but the chances of approval or much better with Funding Circle.
The business loan sector is growing and there are many alternative lenders willing to lend to small businesses. However, most of them only cater to businesses that need small loans. This is in-part because banks typically do not give out small loans to businesses, so there is certainly a niche for small loans. However, Funding Circle is a little different. Although it still offers small loans to businesses, starting at $25k, it also offer loans of up to $500k.
What are Funding Circle's Rates and Terms?
Funding Circle loan terms range from 1-5 year loans. The flexible term length on business loans with Funding Circle is an advantage over other alternative lenders that only offer short-term loans. Flexible loan terms help businesses borrow the amount of capital they need and pay it off in affordable monthly payments.
Funding Circle's interest rates are competitive even when compared to traditional banks, particularly when you consider the high-rate of loan approvals. Funding Circle also charges an origination fee that varies depending on the length of the loan and the borrower's credit profile. As an example, a $100k business loan paid over a 12-month term would cost a business anything from $8,583 to $9,182 a month. These rates are significantly lower than those offered by many online lenders.
Some of the key advantages of Funding Circle over other lenders are low interest rates and transparency when it comes to loan terms. To see the current rates for Funding Circle loans go to the rates and fee tab on their SuperMoney profile. This may seem obvious, but most lenders who target small businesses do not advertise their fees and interest rates and only disclose them once borrowers apply. Even then, the cost is often hidden behind unintuitive terms, such as factoring rates and fees.
To illustrate, a 60-day loan with a 4% factor fee is more expensive than a loan with an annual interest of 6.99%, but many borrowers are just not able to do the math required to understand the real cost of the loans they are applying for.
What Is Funding Circle's Business Loans Lending Criteria?
As with most lenders, Funding Circle does consider a borrower's credit score when assessing their eligibility, but it is certainly not the only factor it looks at. Funding Circle uses a number of factors to assess the overall financial health of businesses.
Key Underwriting Factors:
Customer reviews
Cash flow
Income to debt ratios
Assets
Basic Requirements:
A minimum of 2 years in business
$150K+ annual revenue a 620+ FICO score
No history of bankruptcies in the past 7 years
No current tax liens, judgments or a criminal record.
How Does Funding Circle's Business Loan Application Process Work?
Funding Circle's application process has five steps, which can be completed in 10 minutes or less. Here is a description of each step and a screenshot of the forms you will need to fill in.
Step 1 – Choose Business Loan Size
First you must decide how much you want to borrow: anything from $25,000 to $500k, and how long you need to repay it: 12 to 60 months. Funding Circle's platform automatically tells you the range of monthly payments you'll have to pay. At this stage, you also provide your personal and business details, such as name, legal business name, preferred contact number, and choose a password for your account. This will allow you to continue your application later on, if you have to stop half way through.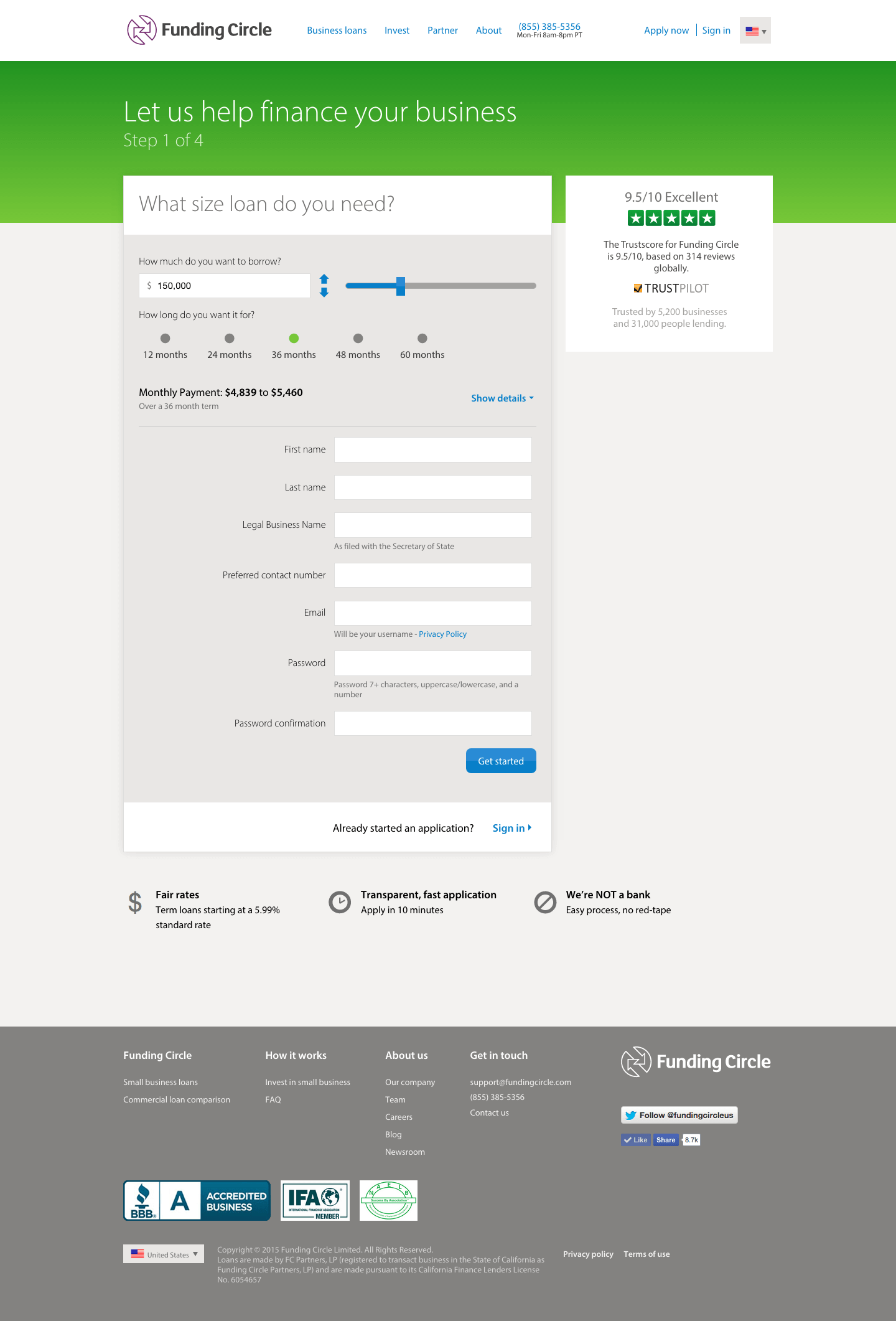 Step 2 – Eligibility Assessment
Second step is to determine whether your business meets Funding Circle's eligibility criteria. This requires you to answer five questions. How long have you been in business? Is your annual revenue greater than $150,000? Has your business been profitable for at least 2 years? Have you ever filed for bankruptcy? And, what type of legal entity is your business registered as?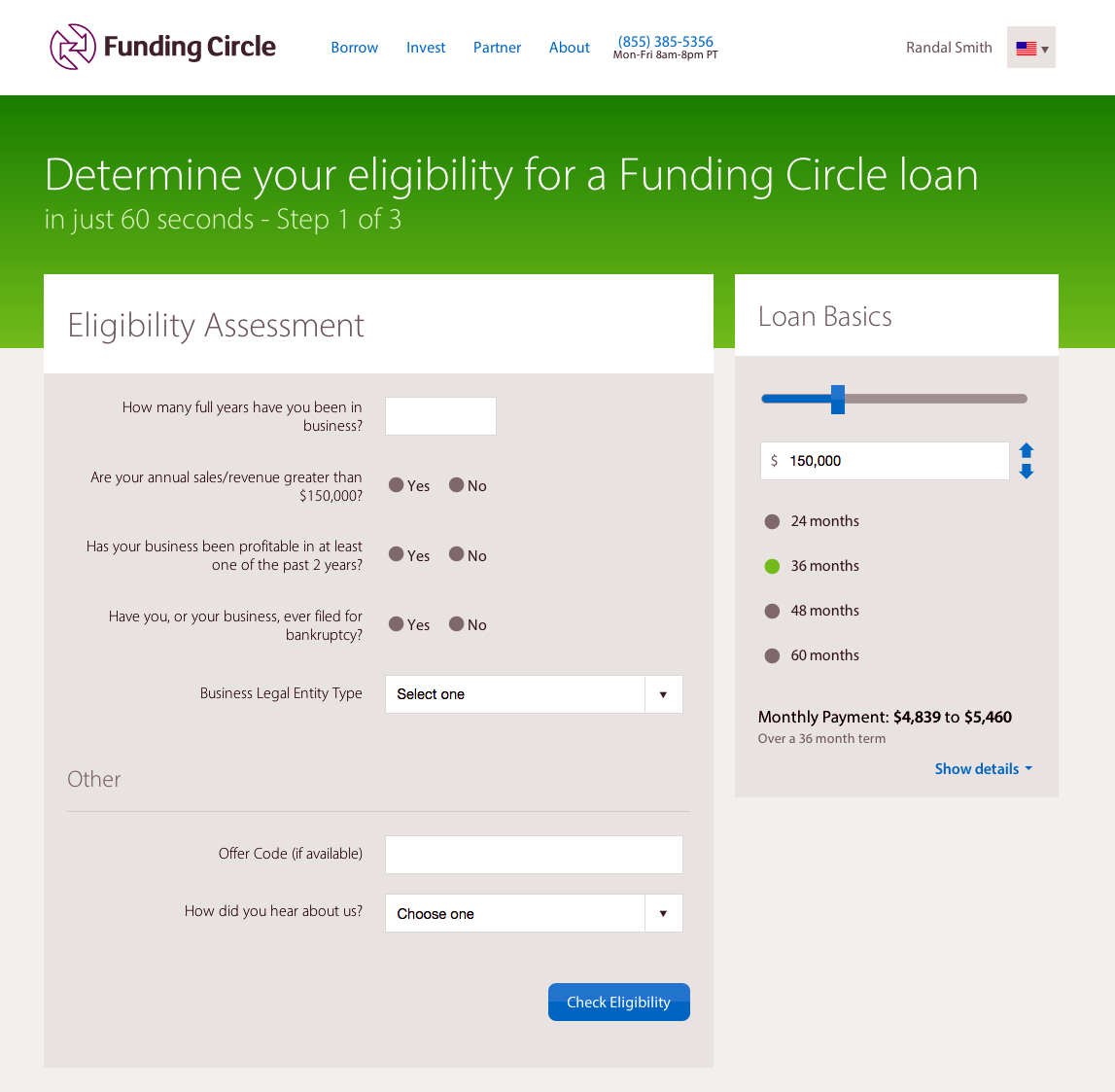 Step 3 – Business Evaluation
The third step requires you to provide the business' legal and physical address; the industry type your business falls in; what you will use the money for; and the names of everyone who owns 20% or more equity in the company.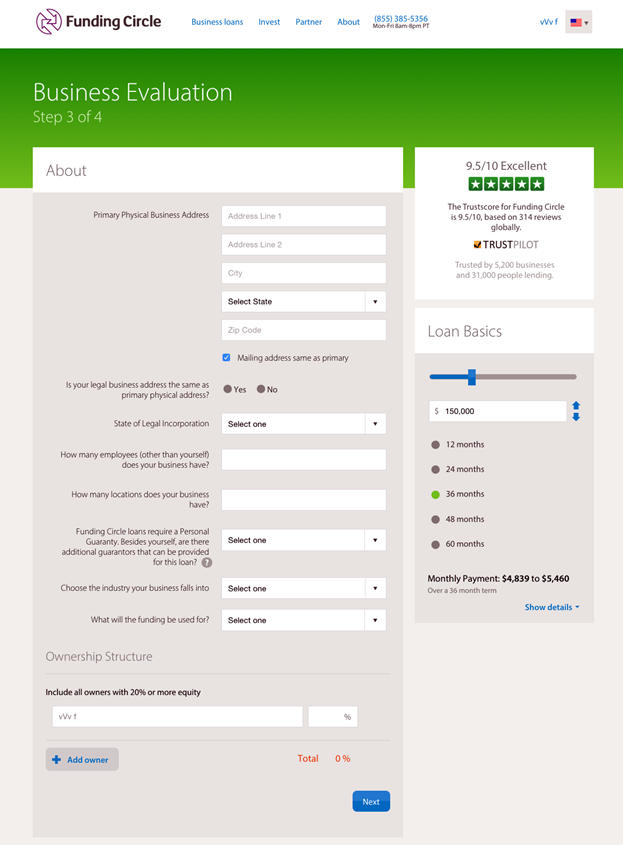 Step 4 – Personal Evaluation
In the fourth step things start to get more personal. Borrowers must provide their Social Security Number, residential address. They must also specify whether they rent or own their home, and provide their personal cell and work phone numbers. Applicants must also give the total value of their personal cash balances, retirement savings, and all the stocks, bonds and other securities they own. Finally, the form asks whether the applicant has even been convicted of a crime or has legal actions pending.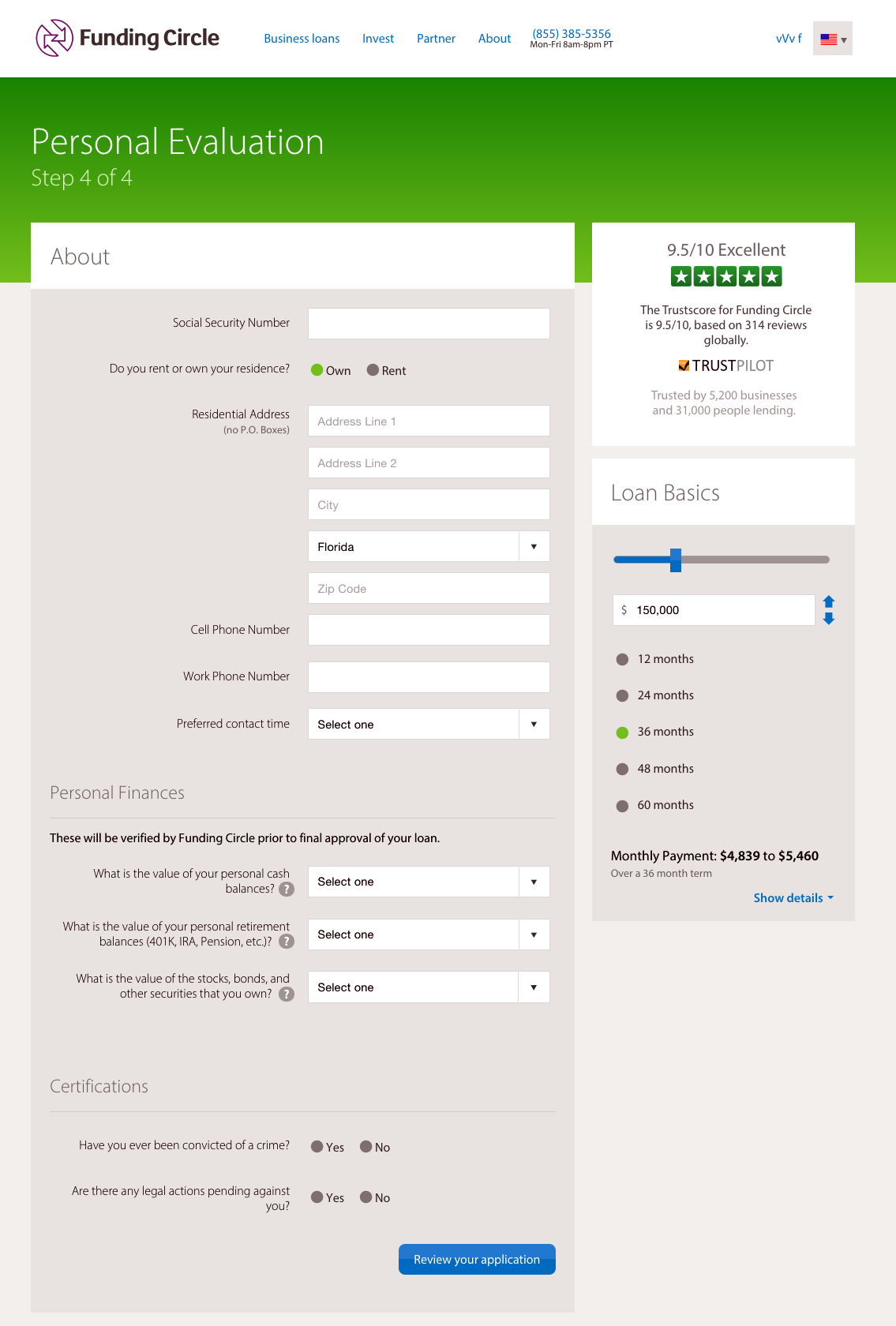 Step 5 – Document Upload
The fifth and final step is for applicants to upload their business financial documents. These include business tax returns for the last 3 years, a shareholder and guarantor form, six months of bank statements, and a form detailing outstanding business debts. If the current year's tax return is not ready, you must provide a profit and loss statement and a balance sheet for the current year.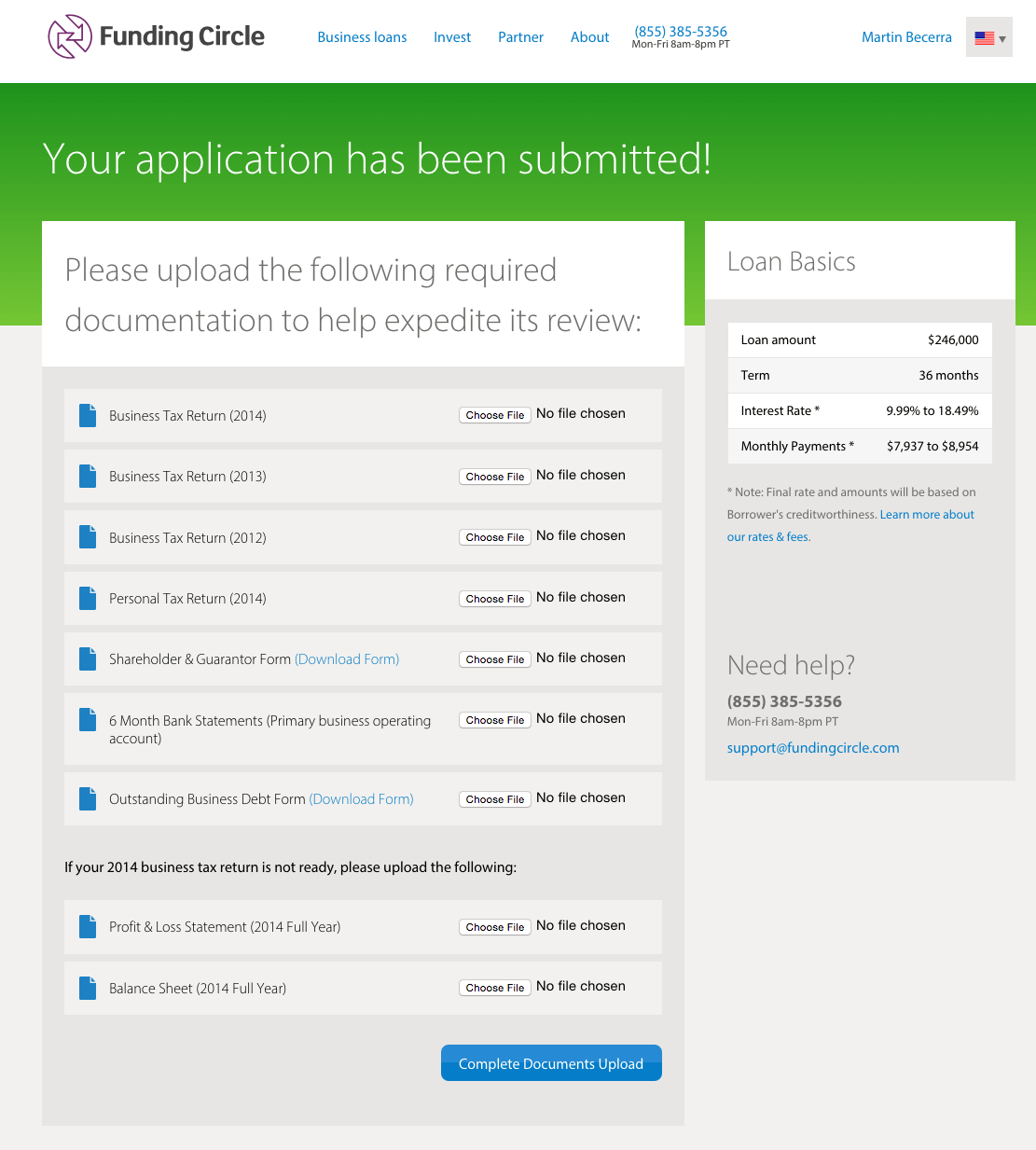 What Are People Saying About Funding Circle?
"When it comes to innovation, alternative lenders are hitting it out of the park… Transactional marketplaces like Funding Circle are innovating their cost structure and, as a result, delivering lower rates to customers."

– Jared Hecht, Inc.
"Funding Circle is leading a generation of financial technology startups that may have only begun to challenge traditional banking's grip on the movement of money."

– Edward Robinson, Bloomberg Money
"Funding Circle is one of the most successful crowdfunders in the world."

– Devin Thorpe, Forbes
Funding Circle and Its Investors
Funding Circle has created a business that is not only good for itself and borrowers but that also provides decent returns to investors. Unlike previous lending platforms that grew at spectacular rates only to nosedive when they weren't able to recover the money they loaned, Funding Circle is providing its investors with returns of around 10% in the United States and 7% in the United Kingdom. This is despite approximately 2% of its loans defaulting every year.
How does Funding Circle make a profit? It takes between 2% to 5% of the loan balance from every borrower and 1% per year from the lenders as a servicing fee.
How is Funding Circle Better than Other Lenders?
It has a streamlined application process that is easy, fast and transparent. Interest rates are competitive even when you take into consideration the 0.99% to 4.99% origination fee. The loan application only takes 10 minutes to complete and the funds can be deposited in the borrowers account within 14 days. Eligibility requirements are not as strict as regular banks, which increases the chances a small business will get its loan application approved.
Funding Circle and other alternative business like it are challenging the rules on how business loans operate. Funding Circle's marketplace provides innovative solutions to crowdsourcing loans which are changing the cost structure of lending to small business. This translates into lower rates and shorter waiting periods for small businesses.
Andrew is the managing editor for SuperMoney and a certified personal finance counselor. He loves to geek out on financial data and translate it into actionable insights everyone can understand. His work is often cited by major publications and institutions, such as Forbes, U.S. News, Fox Business, SFGate, Realtor, Deloitte, and Business Insider.