Table of Contents
How to shop for business loans
Many entrepreneurs and business owners launch their companies with bootstrap financing. But for larger ventures, business loans are a necessity.
While factors like a good credit history and sufficient collateral certainly help, it's important to understand which loan type and lender are best for your business. Further, it also helps to know you have options even if you don't fit the traditional criteria.
To help improve your chance of getting approved for the financing you need, this guide will cover:
The 10 common types of business loans.
How to pick the right loan for you.
Where you can get business loans.
And tips on finding the right lender.
Let's get started.
10 common types of business loans
Here's a guide to 10 of the common business loans you will come across today.
1. U.S. Small Business Administration (SBA) loans
Andrea Roebker, Regional Communications Director for the SBA Great Lakes Region, explains that the SBA doesn't lend money to entrepreneurs. Instead, it sets the guidelines for the loans and guarantees that a portion of them will be repaid.
The loans are made by the SBA's partners, which include micro-lending institutions, community development organizations, and traditional lenders.
Note: To qualify as a small business, you must meet the SBA's size standards.
What types of SBA loans are on offer?
General small business 7(a) loans: Loans up to $5 million are available for working capital, equipment purchases, and expansion. Lenders include select banks, credit unions, and specialized lenders (such as SmartBiz and OnDeck).
Certified Development Company (CDC)/504 loans: Loans up to $5 million are available for buying land, machinery, and facilities. They are accessible through a CDC in your local area.
Microloans: Loans of up to $50,000 are available for acquiring materials, equipment, supplies, or working capital. Loan partners include nonprofits, intermediary lenders, and private-sector lenders.
SBA disaster loans: Loans of up to $2 million are available to help businesses rebound after a declared emergency or natural disaster. The SBA provides these loans in cooperation with FEMA Disaster Assistance.
The SBA's backing lowers the risk for lenders, making it easier for business owners to get approved. Further, there are modest limits on how high the interest rates can go so you can likely get better terms than elsewhere if you have bad or no credit.
Learn more about how to qualify for SBA loans.
2. Business loans (term loans)
With a term loan, business owners can get a lump sum upfront. The borrower pays back the amount, plus interest, over a set period according to a fixed repayment schedule.
These loans are good for financing large purchases, such as equipment and construction. Both secured and unsecured versions are available. Term loans generally follow an amortization schedule and can have a repayment period from under a year to over 20 years.
3. Lines of credit
A business line of credit can be secured or unsecured and works like a credit card. You'll receive a credit line with a specified limit to withdraw from as needed. You don't have to take the full amount all at once and will only pay interest on the amount you withdraw.
Instead of being open-ended like credit cards, lines of credit usually have a set draw period, say five or 10 years. Once the draw period ends, the outstanding amount becomes the balance on a term loan.
A line of credit is a good option if you need access to capital but don't need a lump sum right away. It can be especially helpful for seasonal businesses and those with unexpected short-term expenses.
See the best business lines of credit right now.
4. Merchant cash advance
Like a term loan, merchant cash advances (MCAs) can provide businesses with a lump sum upfront.
The business receiving an MCA doesn't make fixed repayments according to a schedule. Instead, the business's payment processor repays the lender by taking a percentage of the incoming revenue from sales or receivables.
An MCA can be thought of as a "sale" of your future revenue rather than a loan. Because it is unlike most loans, it doesn't have to abide by many loan laws. This can make MCAs easier to get than other loans.
But, keep in mind, MCAs often have higher fees than regular loans. So they are most attractive to businesses that need money fast and can't get it elsewhere.
5. Invoice financing
With invoice financing, you upload your invoices as collateral. The lender will then give you a loan equal to a percentage of the invoice amount, usually around 85%.
When your client pays the invoice, you'll pay the lender back the amount you borrowed plus a fee. Note that you are still responsible for collecting the payment for your invoice.
Approval for this type of financing often requires a check of your personal or business credit (or both), in addition to an analysis of your invoices. It's a good option for businesses that must wait weeks to months to get paid after invoicing clients or customers.
6. Invoice factoring
Next, we have another finance option involving invoices. In this case, instead of the lender using your invoice as security for a loan, you sell your invoice to them.
The factoring company will pay you a percentage of the invoice, usually around 85%, and then will collect the payment from your client on your behalf.
The main benefit is that you can get paid quickly. The drawback is that the lender takes control of collecting on your invoice, which presents a risk. Plus, you only get a percentage of the full invoice amount.
7. Specialty secured financing
Some lenders offer secured term loans for specific purposes — such as to buy equipment, vehicles, or real estate — and the purchase becomes collateral for the loan. If you default, the lender can seize the item or property.
Getting approved for a secured auto or equipment loan may be the easiest because it involves less risk for the lender. Plus, interest rates and term lengths are usually fixed, so the payments are the same each month.
8. Business credit cards
Business credit cards offer another way to borrow. They provide you with a revolving line of credit from which you can withdraw funds as needed.
As with a personal credit card, you only need to make a minimum payment but will owe interest on balances that carry over from one billing cycle to the next.
These can be helpful for financing ongoing expenses. Plus, some cards come with rewards and perks when you spend, such as airline miles or cash back.
The downside is that they usually have higher interest rates and fees than other loan types. Additionally, approval can require good credit, a minimum time in business, and proof of a certain amount of annual income.
Find out about the best business credit cards right now.
9. Personal loans
If you don't have any business credit, you can rely on your personal credit score to get a loan. In fact, a high percentage of small businesses owners do this at some point.
Many online personal loan lenders now exist, which make the process of getting a loan much easier. You can apply in a matter of minutes and, if you get approved, can receive the money in your account as soon as the next business day.
The rate, loan amount, and terms you get will depend on the lender you choose and factors like your annual income and credit score. However, to give you some rough figures, the average interest rate of a 24-month personal loan in the first three quarters of 2021 was from 9.39% to 9.58%. And loan amounts range broadly, from a couple hundred dollars up to $100,000.
As for the drawbacks, the borrowing costs can be more expensive than secured financing or SBA loans, and you'll need to have decent credit to get approved. Additionally, you may not be able to get the high amounts available through some other loan options.
Use SuperMoney's personal loan engine to find out what rates and terms you can get without hurting your credit score.
10. Venture capital
Lastly, venture capital is a type of financing that investors extend to early-stage businesses showing a high potential for rapid growth. They do so in the hope of earning a profitable return. This type of funding is provided by firms or high-net-worth individuals (aka angel investors).
To gain funding, you usually have to show a business plan, projections for growth, and strong management. You'll also have to be willing to exchange equity in your company for the capital offered.
Learn more about the pros and cons of funding your business with venture capital.
Now that you know the 10 most common business loan type, you're probably wondering, "What loan type is best for my business?"
Which loan type is best for your business?
The best loan for your business depends on many factors, such as how many years you have been in business, your revenue, and the assets you own. These and other variables will determine what rate and terms you receive, and whether your application is accepted. These are the most common reasons an application is denied.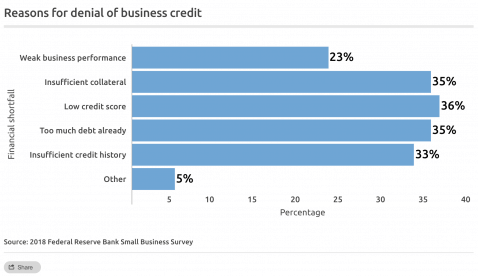 Improve your chances of approval by understanding which loan type best suits your current situation.
Here are the most popular sources of credit for small businesses in the United States.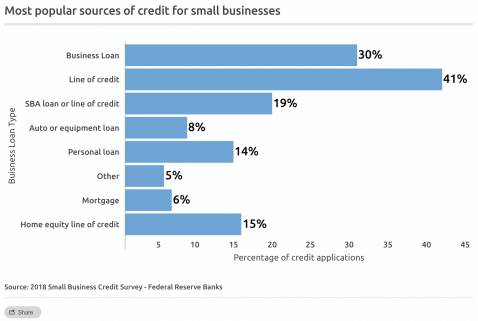 To help yourself choose the best options, ask yourself the following questions:
Where do my business credit and personal credit scores stand (non-existent, poor, fair, good, excellent)?
Insufficient credit history is a leading reason for credit denial. If your credit is good on either the business or personal front, you will likely have access to both secured and unsecured financing options.
Unsecured options like personal loans are the most convenient but usually have higher interest rates than secured financing options. Be sure to consider both types to find the best deal.
If you lack credit, you will need to look into financing with collateral.
Does your business have any collateral?
Insufficient collateral is another common reason businesses are denied credit.
If you don't have credit, figure out if you have any assets, or are going to buy any, that could be used as collateral for your loan. It will help you get approved and get a lower interest rate on your financing.
Here's a look at the financing and credit products that had the highest rates of approval in a prior year according to the Federal Reserve's Small Business Credit Survey (SBCS).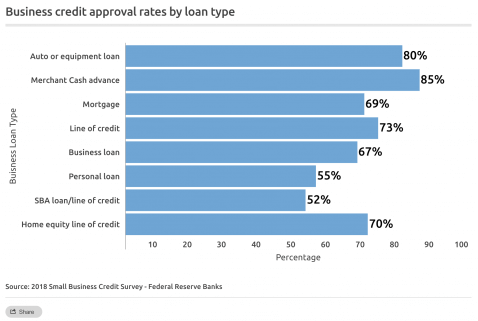 Notice that merchant cash advances led the way, followed by auto and equipment loans. Also note that SBA lenders and Community Development Financial Institutions focus on helping borrowers they consider "underserved." If your or a co-owner of your small business is part of a group currently considered underrepresented or underserved, you may have easier access to some funding.
How long has my business been in operation and is it profitable?
Startups are in a different situation than established businesses. Many lenders will only grant loans to businesses that have been operating for at least a year or two, proving that they are stable and profitable.
However, if your business is just starting out, you still have options. You may be able to turn to merchant cash advances, invoice financing or factoring, SBA loans, and possibly venture capital.
With financing option provides the best deal?
Once you figure out which options are available to you, calculate the costs. How much will it cost to borrow the money per month and overall? Which repayment plan works best for your business? What about convenience? Consider all of these before deciding on the best fit.
Once you find the right loan type, the next step is to find the right lender.
Business loan lenders
Where do businesses go to get loans these days? Here's what the loan-sources breakdown looked like a few years ago: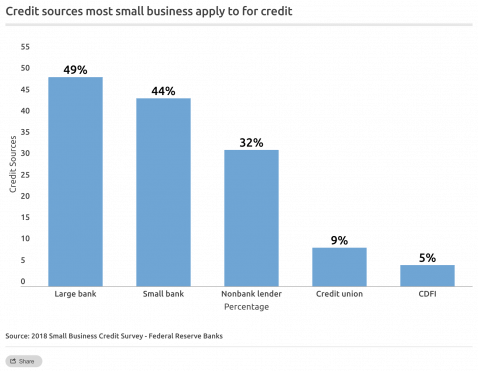 Some of the most common sources of business loans are banks and credit unions, nonbank lenders, community development financial (or finance) institutions (CDFIs), and personal contacts. Let's take a closer look at these options.
1. Nonbank alternative and marketplace lenders
Alternative lenders include financial technology companies, such as marketplace lending platforms, and other financial companies, excluding traditional banks, that extend loans to consumers and businesses. You will find direct and marketplace lenders, the former of which lend to you directly, the latter of which connect you with others who then lend to you.
The number of businesses that apply with alternative lenders has grown steadily over recent years. One main benefit driving that increase is the willingness of alternative lenders to serve non-standard credit profiles. In the year of the SBCS, 82% of the businesses that applied for financing from nonbank lenders were approved for at least some credit.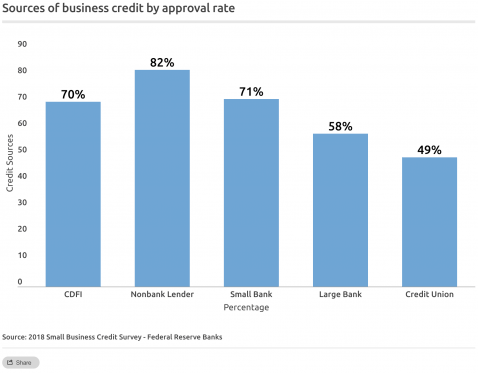 The other main benefit is the convenience for the borrower. You can apply and secure money from anywhere through your computer or, sometimes, even your mobile device. The platforms often automate components of the loan application process including underwriting, document capture, and e-signatures. The result is a quick and painless inquiry process for business owners.
The main drawbacks cited about nonbank lenders are the higher interest rates and unfavorable repayment terms. However, because nonbank lenders are approving more borrowers, the rates and terms must compensate for the increased risk. The better your credit score and income, the lower the borrowing cost and better the terms.
What do you need to qualify?
Alternative lenders will often require:
Multiple years in business
Fair to excellent personal credit score
Low debt-to-income ratio
Minimum annual income from business
Proof of business ownership
Proof of citizenship or residency
Some lenders are more lenient than others so be sure to check the requirements with the companies with which you are interested.
Rates and terms
Here are the general rates and terms you can expect from alternative lenders:
Origination fees: The main fee you should look out for is the origination fee (1–6% of the loan amount). Some lenders charge it while others don't.
Prepayment penalties: Also, look out for prepayment penalties, aka fees for paying off your loan early.
Interest: APRs can vary widely, so it's important to do your research before choosing one.
Loan amounts: The average loan amount ranges from $5,000 to $200,000 among top nonbank lenders
Loan length: Loan terms range from three to three hundred months.
The rates and terms can vary greatly from one lender to the next depending on the credit classes they serve.
How do you know which alternative lender to pick?
Similar to shopping for a bank business loan, the best approach is to research the available lenders and compare their offerings and requirements.
Yes, it's a time-consuming task. However, we've made it easier for you to narrow down your search and find the best solution.
Start by getting personalized loan offers from various lenders to see what you qualify for. It's quick, simple, and won't impact your credit score in any way.
And make sure to check out SuperMoney's Business Loans Review Page for a detailed look at today's leading lenders.
You can easily compare alternative lenders side-by-side by selecting the filter for "Direct Lender" and "Marketplace Lending Platform."
2. Banks
Despite approving a smaller percentage of applicants than alternative lenders, banks are still the largest source of loans for business owners.
They deliver low interest rates and reasonable repayment terms. However, business owners report difficulties when applying and long waits for credit decisions. The good news is some banks are getting on board with online applications.
It doesn't hurt to check with your bank, and possibly other banks, to see what they will offer you. But don't take a loan without shopping around and comparing it with offers from other lenders.
What do you need to qualify?
To qualify with a bank, you often need some combination of the following:
A minimum annual sales amount (specified by the bank)
An active checking and/or savings account of a certain age (such as one year) with the bank at which you are applying
A minimum number of years in business (specified by the bank)
Collateral such as cash, inventory, accounts receivable, or equipment
Personal income records
Proof of citizenship or residency
Strong business and personal credit scores
A minimum amount of time under the same ownership
Note that the requirements vary depending on the bank and the loan type. Further, banks are usually the most difficult to get approved with as they have strict requirements.
Rates and terms
Costs will vary by bank and loan product. However, common fees include:
Origination fees/closing costs: A fee to originate a loan or credit line (may be a flat rate or a percentage of the amount borrowed).
Interest: Each loan or credit line will have a fixed or variable interest rate, which dictates how much you will pay to borrow the money.
Annual fees: A yearly fee for the loan, which can vary depending on the loan amount.
Prepayment fees: Fees to pay off the loan or credit line early.
Banks often have higher fees than online lenders but lower interest rates.
How do you know which bank to pick?
Start with your bank. Then, compare the offerings, requirements, and terms from other banks.
An easy way to find reputable banks is to visit SuperMoney's business loan page (that's where you are now) and click the filter for "Banks" under company and institution type. Look for an offer that best suits your needs and try to get pre-approved.
What about credit unions?
If you bank with a credit union, be sure to find out what it can offer you. The available loan amounts, technology, and products may be limited compared to a bank. However, they often offer lower interest rates, fewer fees, and a faster time to approval.
3. CDFIs
A Community Development Financial Institution (CDFI) is a financial institution that has been certified by the U.S. Department of Treasury's CDFI Fund. It can be a bank, credit union, venture capital fund, or loan fund.
The main goal of CDFIs is to serve low-income communities through financial services, education, and low-cost lending. Business owners can locate CDFIs in their local area that have been awarded funds and can apply for a loan.
Qualifications vary by CDFI but you have to be in a position where you can't qualify for traditional financing.
4. Personal contacts
You can also consider getting a business loan from a friend or family member. This can be the best option for those who can't qualify elsewhere or want to save on the costs of borrowing.
However, personal relationships secure these loans, which can be risky.
Rates and terms
The cost of a loan from a friend or family member depends on your agreement. They may or may not charge you interest/fees.
Either way, the tax implications should be considered.
The IRS publishes Applicable Federal Rates (AFRs) each month, which serve many purposes including the calculation of imputed interest on below-market loans between family members.
What in the world does that mean? Well, if the lender doesn't charge you interest at, or above, the AFR that applies to your loan term, they can be held liable to pay income taxes on the amount of interest they should've collected.
Plus, the uncharged interest can count as a gift. If the gift is over annual exclusion amount, the giver will also have to pay gift tax.
Being so, it is generally best to at least agree to pay the AFR that applies to your loan terms.
What terms can you expect?
Again, it will depend on you and the lender. You may want to consider the three AFR tiers:
Short-term rates: Loans terms up to three years.
Mid-term rates: Loans terms between three and nine years.
Long-term rates: Loan terms longer than nine years.
The longer the term, the higher the AFR.
How do you know which person to pick?
When asking friends and family, the options are usually pretty slim. Find someone who has the amount you need, who will trust you, and who you are willing to borrow from.
These are the most common business lenders but you may also want to check into auto or equipment dealers, non-profits, farm-lending institutions, or private investors. These also account for a small percentage of business loan sources.
See the best small business loans for good, fair, and bad credit here.
Find the right business loan for you
Many financing opportunities exist for businesses. The challenge is to find the right one for your situation.
The first step is to identify the loan type that will best suit your needs. Then, shop around with lenders, get quotes, and compare the offers to uncover the best overall value.
While it can take some time to figure out the best loan type and lender, it will pay off when your business can secure the funding it needs to move forward.
Not quite ready to start comparing business loans? Then take some time to review key points in the following set of frequently asked questions.
Business loan FAQ
Here are answers to some common questions about business loans. Some of this information may already have been covered above, but a little review never hurts when money is involved.
Are there different types of business loans?
Short answer: yes! There are several different types of business loans. When seeking funding for your business, you can take out a secured business loan or an unsecured loan. The interest rates on your loan can be fixed-rate or variable-rate. And your loan might be issued by a private lender or by a federal government.
What is the difference between a secured and an unsecured business loan?
A secured loan is secured by collateral, such as cash, paper assets, CDs, stocks, or bonds. An unsecured business loan, on the other hand, requires no collateral.
If you have middling credit, you have a better chance of getting approved for a secured business loan than an unsecured loan. That's because collateral reduces risk for a lender, making it safer for them to loan money to less creditworthy, more high-risk borrowers.
Secured business loans are also a common means for purchasing costly equipment or inventory. In these cases, the property purchased serves as collateral for the loan.
If you have great credit (or if you lack assets to pledge as collateral), an unsecured loan is a better fit for you.
What is the difference between a fixed-rate and a variable-rate business loans?
Fixed-rate loans maintain the same interest rate throughout the lifetime of the loan. The interest rates of variable-rate loans, on the other hand, fluctuate with the market. Both options have their benefits.
The predictability of fixed-rate business loans makes it easier for you to plan your budget. Plus, it lets you lock in a low interest rate (assuming you qualify for one).
However, variable-rate interest loans often carry lower initial interest rates. This can be a serious advantage if you can repay the loan in full while interest rates are still low.
What are the differences between government and a commercial business loans?
Borrowers can apply for a business loan from either the federal government, or from a private lender. Again, each option has its benefits.
Government-funded business loans typically offer lower interest rates than private lenders can afford to. That's because these public organizations aren't out to make money -- their primary agenda is to promote and support small businesses.
If you want a government-funded loan, try the Small Business Administration (SBA). The SBA is one of the best sources for business loans because of their low interest rates and favorable repayment periods. SBA loans offer especially good funding opportunities for women, veterans, and members of marginalized groups who may face discrimination from private lenders. However, the lending process for SBA loans can be demanding and lengthy.
While publicly-funded business loans typically have lower rates, private business loans win out in flexibility. Commercial lenders are often more willing work with you to come up with mutually favorable loan terms. They also often have less stringent requirements for their applicants, and can be a good backup if your application is denied by the SBA.
What are business loan eligibility requirements?
In order to get approved for a business loan, you must have all or most of the following:
Legal business existence (e.g. DBA, LLC, Inc.).
Business banking account(s).
Business plan (see below for more details).
Business tax forms and financial records.
Explanation for loan purpose.
Personal credit report and financial records.
What kind of a business plan do you need?
Ideally, you should develop a formal business plan before launching your company. But in reality, many entrepreneurs skip this step. However, commercial business lenders, government business lenders, and many alternative business lenders require a well-executed business plan. As such, if you've skipped this step before now, it's time to get started.
At minimum, your business plan should include the following elements:
Company description (including type of business, e.g. partnership, corporation, etc.)/
Service or product offered.
Bios and personal financial statements for principal officer(s).
Company financial statement.
Market and industry analysis.
Marketing plan and sales strategy.
What are the interest rates for business loans?
Do you prioritize reliability and consistency in your budget? If so, opt for a fixed rate. Looking to pay off your loan fast and keep costs low? Then a variable interest rate loan may be right for you.
If you want to keep your interest rates low, apply for government-funded business loans first. Then, if your applications are rejected, you can turn to private lenders. And if you have bad credit, consider letting a colleague with better credit apply for the loan instead.
What are business loan terms?
Loans with longer repayment terms translate to lower monthly payments. In the short term, this might be easier to manage -- but it'll also cost you more overall. Additionally, interest rates on loans with longer repayment terms tend to be higher.
To keep costs low, look for a loan with the shortest term that you can still comfortable afford.
What are business loan fees?
Like most loan types, business loans come with fees. Lenders may charge origination fees, service or processing fees, prepayment penalty fees, referral fees, packaging fees, late payment fees, and more.
When you compare prospective business loan lenders, find out exactly how many fees each charges, and how much each fee costs. Then, add these costs to the loan amount to find the true cost of the loan.
How important are customer reviews?
You want a lender that is reputable, reliable, and communicative, not one who will disappear on you whenever you encounter a technical issue. The only way to know what to expect from your lender is to read honest, unbiased reviews from past customers. If several past borrowers cite the same problem in their reviews, you're likely to encounter that issue, too.
What alternatives are there to business loans?
Some small business owners find that despite their best efforts, their requests are rejected by their bank, credit union, and even the SBA. Fortunately, alternative lending sources provide another way to find funding. Consider the following:
Vendor lines of credit. If you don't need a large sum of money right away, consider a vendor line of credit. By opening and maintaining a separate business bank account, you can establish business credit. And by opening a line of credit in that business bank account, you can establish a relationship with your lender. This will also make it easier to get a traditional business loan if you need one down the line.
Credit- or invoice-based financing. If you have fair or poor personal credit, you might not be able to get a loan through traditional means. Instead, consider financing your start-up with a service that purchases invoices or claims a percentage of incoming credit card transactions.
Non-bank business loans. There are a few different options here. Peer-to-peer lending adapts the crowdfunding model to business loans. And lending brokers adapt the peer-to-peer model to a curated group of lenders (rather than the general public).
So, now what?
If you need a business loan, your first step is to do your research. How much are you looking to borrow, and how much can you afford to pay each month? Can you qualify for any specialized government-funded programs? Does your credit qualify you for competitive rates on a commercial business loan? Which lenders offer loan terms that work for you?
If you're feeling overwhelmed, you're in luck. SuperMoney has streamlined the research process with our business loan engine (the page you're on now). Just answer a few quick questions to get a ton of personalized offers from leading business loan lenders. It's fast and easy, and pre-qualifying won't hurt your credit score.