Looking for some extra cash? Do you have a smartphone? Are you open to running around town doing catchall errands? Gigwalk may be a good fit for you. This virtual employer enables you to make money through an app on your iPhone or Android.
SuperMoney Tip: Taking on an extra job is an excellent way to repay debt. Consolidating debt with a low-interest personal loan is another smart way of  reducing your debt blob
How Does Gigwalk Work?
First, sign up for a free account with Gigwalk. You can link your Facebook account to speed up the process. Confirm your email account. Set up a password and provide your level of education. Done. Once you're registered, you can search for jobs by area. Gigwalk tracks your location and offers jobs that are close to you. Gigwalk's jobs include temporary "gigs," such as mystery shopping and taking photos of product displays.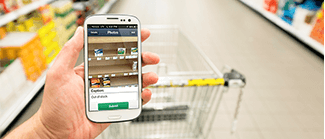 To start working, log into the app and pull up a map that contains gigs in your geographic area. You then select a job and indicate when you can finish it. Within an hour, Gigwalk will confirm whether or not the job is yours. When I signed up, there were only four jobs in my area: Grand Rapids, Michigan. They all involved visiting local restaurants and taking pictures of its wine and cocktail menus. Other areas, such as Detroit and Chicago had many more gigs to choose from.
New users are limited to two jobs. Once you complete those gigs, you can apply for more. The app keeps track of how long it takes you to complete the task and assesses how well you completed the job. Once you finish and send proof of completion via your smartphone, and the work is approved, Gigwalk pays you via PayPal.
Gigwalk is similar to TaskRabbit and other temp work apps, which connect individuals to individuals. However, Gigwalk also connects companies to workers. Much of the work on Gigwalk is in retail, such as temporary work stocking shelves, putting on price tags or verifying items are on shelves.
Gigwalkers may be instructed to their local Walmart to take photos of the toothpaste aisle or they may be asked to restock shelves at a Kmart store. Gigwalk is a completely automated way of making money that relies strictly on data to operate. There are no interviews or in-depth screening—at least not in the traditional sense.
The system relies on mathematical models that reveal likely employee behavior and the potential of completing tasks. Gigwalk claims its analytic tools obtain more information on workers than a typical employer would, despite dealing with freelancers over an app. For instance, their metrics analyze how long it takes you to get on their site and how well you complete assigned tasks. If that sounds a little creepy to you, Gigwalk may not be for you. In order to accept gigs, you must activate location services on your phone so that Gigwalk can track your location.
Jobs on Gigwalker vary in complexity and duration, and you're evaluated as you work. Those new to the program are likely to get the easier, non-time-sensitive tasks, such as taking photos of businesses for online mapping companies.
The Gigwalk app system tracks your location via GPS on your phone and records the time it takes you to complete each job. Based on those results, their system analyzes how fast or slow you work and gives you deadlines based on this information. For instance, if it takes you awhile to complete tasks, the system will analyze your speed and efficiency and then give you jobs with longer lead times. If you work quickly, you get assignments with quicker turnarounds.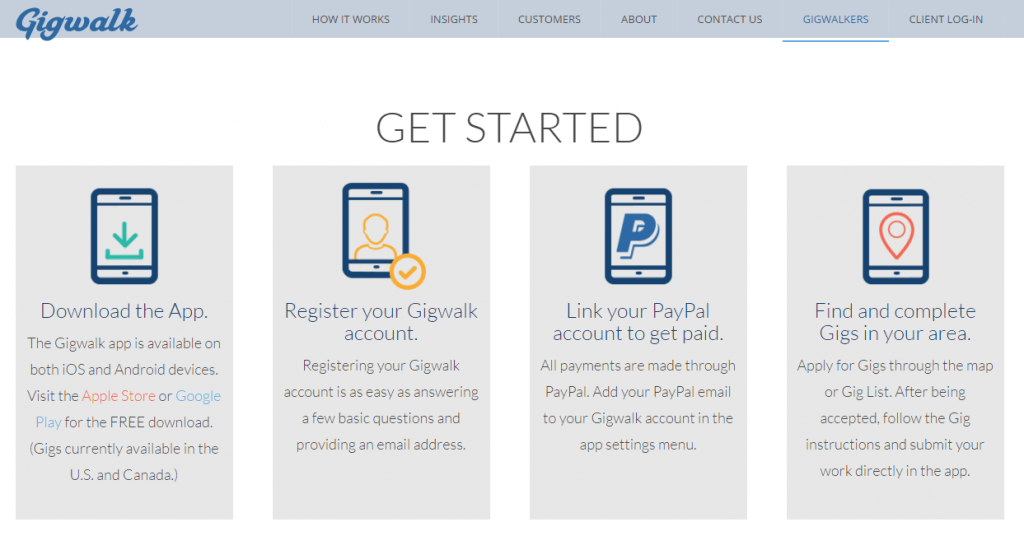 Gigwalk History
Gigwalk was launched in May 2011 by a group of techies with experience working for companies like Yahoo! Their vision included providing employment opportunities that take advantage of our mobile world. Today Gigwalk is said to run the largest on-demand mobile workforce platform. The San Francisco-based company helps brands and retailers in the United States, Canada, and the United Kingdom connect with temporary workers. Gigwalk provides companies with a cost-effective resolution of  "retail execution" problems.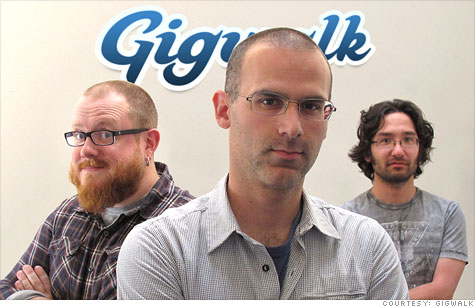 Gigwalk founders (from left to right) Matt Crampton, Ariel Seidman, and David Watanabe)
How Gigwalk Pays
Like many virtual opportunities, Gigwalk stresses that you can make a few bucks here and there or turn the venture into a full-time career—it's all up to you. While Gigwalk may work well as a source of part-time income, it's questionable whether it can provide a full-time income.
According to Gigwalk, workers generally make $12 to $15 per task. The company takes a cut of each job completed that amounts to 30 percent to 40 percent per job. If you're working back-to-back Gigwalk jobs, you also have downtime in between as you travel from point A to point B. Many Gigwalkers are using the site "opportunistically." The average person earns between $200 and $300 a month.
Gigwalk jobs are more complicated and time-consuming than they first seem on the app. Getting paid $6 to take a picture of a restaurant's menu may seem like a good deal. However, once you calculate the time and gas you will spend on completing the task, you may be less excited. Of course, if you can score a few gigs in the same area and you do them while you go for a relaxing bike ride, it's a different story. For most people, Gigwalking is just a way to make a few extra bucks. Don't expect it to provide a real paycheck. But if you're an organized person and like to plan ahead, group your personal and Gigwalking tasks. It will feel like you're getting paid to do your own errands. Such an approach could give you a nearly painless way to earn extra cash for paying off debt or funding your emergency savings account.
Taking on an extra job is an excellent way to repay debt. Consolidating debt with a low-interest personal loan is another smart way of reducing your debt blob.
Julie Bawden-Davis is a widely published journalist specializing in personal finance and small business. She has written 10 books and more than 2,500 articles for a wide variety of national and international publications, including Parade.com, where she has a weekly column. In addition to contributing to SuperMoney, her work has appeared in publications such as American Express OPEN Forum, The Hartford and Forbes.