These days, a house is no longer just a place to live. If you've been paying attention to channels like HGTV, Bravo, A&E or even Spike, you've seen a massive upsurge in shows about house flipping — the day trading of real estate.
Big profits are driving the house flipping trend. In 2016, the average gross flipping return on investment (ROI) was 49.2 percent. Both the gross flipping dollar amount and ROI were the highest going all the way back to 2000!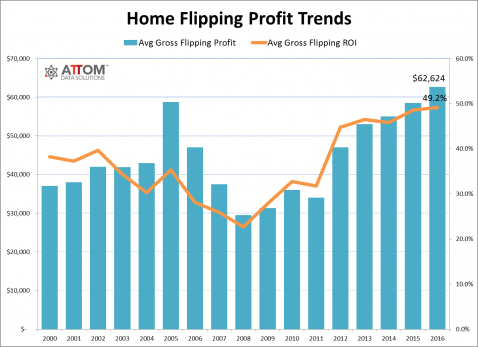 Source: RealtyTrac and ATTOM Data Solutions
House flipping can be a great investment but it's not for the faint-hearted. Just one mistake can make the difference between a lucrative flip and a total flop.
For their part, the Scott brothers of HGTV make the process look fun. They are two of the highest-profile experts on the ins and outs of flipping houses, hosts of multiple top-rated series including the Emmy-nominated "Property Brothers," as well as "Buying and Selling," "Brother vs. Brother" and "Property Brothers: at Home."
"You first have to look at the things you cannot change, which include location, distance to transit and amenities, size of lot and many times the size of the house,"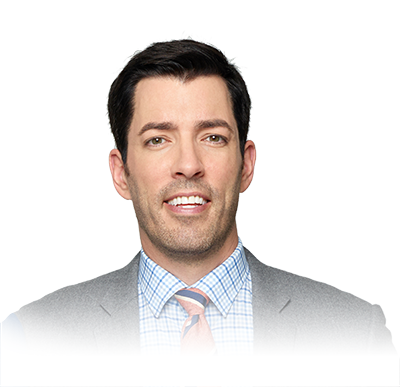 Drew brings the knowledge of a seasoned real estate agent and market expert, while Jonathan is a renowned designer and contractor. They have used their skills to buy and renovate real estate for profit for more than 20 years.
According to their bio, "The twin brothers have a rare knack for finding fixer-uppers and turning them into stunning properties, all while entertaining audiences and followers alike with their winning blend of sibling rivalry and humor."
As real estate has emerged as one of the most common investment vehicles, flipping houses is a leading element of the trend.
What does it mean to 'flip houses?'
The core idea behind flipping houses is identifying property to purchase that you can quickly profit from by reselling. This includes the practice of buying a distressed property from an auction, renovating it and reselling it; as well as finding cheap property in an up-and-coming neighborhood and reselling it after a small remodel.
The general workflow, regardless of the original conditions, is to buy property at as low a price as possible, doing at least light remodeling to increase its value, and then selling it for a quick profit. Learn more about how to finance this endeavor here.
A Beginner's Guide to Flipping Houses
Here are the Scott brothers' tips on how to get started on the path to becoming a house-flipping real estate investment mogul, yourself.
1. Find the right investment property.
There's no way to make a profit without the right investment property. Seasoned property investors know exactly what to look for — and it transcends their personal taste about aesthetic and location of a particular house.
But what exactly do they look for to determine that a property could be a profitable flip and therefore worth their time and investment?
"You first have to look at the things you cannot change, which include location, distance to transit and amenities, size of lot and many times the size of the house," Drew Scott says. "Within the home, there's a lot you can do to improve value, however, if the above criteria are not met, then even the nicest home won't give you the return you think it will."
As you assess potential investment properties, ask yourself about the types of people that would want to live in a particular location. A family, or a young professional? Other factors to look at include how long comparable properties in the area remain on the market, and the general sentiments about a particular neighborhood.
These home loans could be a great place to find capital for the initial purchase.
2. Budget the remodel by partnering with an agent.
To turn a profit on a house, you'll have to add value to the property. This is the trickiest part of the process, as you'll have to make an additional investment after the outright purchase of the property but still keep costs low enough to make a profit when you resell.
Drew advises that "it's important to have a relationship with a great local real estate agent who has a solid grasp on market value. Prior to purchasing a fixer-upper, you can have them do an evaluation on the property [for its current value and post-renovation value]. This will give you a solid idea as to how much you should spend and if the property will be worth the investment."
3. Focus on the right improvements.
But what are the safest-bet improvements to make?
"It's better to spend your money throughout the entire home to give it a slightly fresher and cleaner look than to spend it all in just the kitchen or bathrooms,"
"The majority of buyers want to have a fully polished home. Meaning, it's better to spend your money throughout the entire home to give it a slightly fresher and cleaner look than to spend it all in just the kitchen or bathrooms," says Jonathan. "You always want to appeal to the majority of buyers and most love open concept. So don't go halfway by not fully opening up your common areas in order to save a few bucks. Spending the money where it counts will always give a greater return. Buyers can tell when you cut corners."
4. Upgrade the property.
Once you've identified what improvements will be most worthwhile investing in for the property, you'll want to begin the search for the best-value contractors and materials. Connect with other investors in your community and learn through word of mouth who the most reputable people are to work with. Do this, and you'll have the added benefit of beginning a network of like-minded investors.
Of the actual aesthetic upgrades to invest in, Drew says, "You will notice that color is back as well as mixed metal and mixed materials. I love the variety and excitement this can bring to a space. Don't be afraid to blend antiqued brass, polished chrome, and hammered copper finishes together. Have some fun with different species of wood in your design. It'll pay off!"
If you had to take out a mortgage on the investment property and need additional capital to fund the remodel, it's, of course, possible to take out a personal loan for home improvement.
5. Sell for profit.
Remember the real estate agent you consulted with to find the best investment property? He or she will come in handy when your remodel is done so you can relist and resell your newly upgraded property, help you navigate the current market fluctuations, and have the skills and network on hand to get you the best price, quickly.
Once you hand the keys off to the buyer, congratulations — you've officially (and successfully) flipped your first house.
What next?
Ready to start your real estate business but you don't have the cash to fund the entire project? Not a problem. Many house flippers use other people's money to finance their projects. Read this article on 5 ways to finance house flipping.

Dustin Clendenen is an LA-based screenwriter, journalist, editor, and all-around storyteller. He spends most of his time thinking about the "Big Picture" and obsessing over its details.