LendUp is an online payday lender based in San Francisco, California. It markets itself as a socially responsible lender and an alternative to payday loans, but its prime rates and terms are only available to repeat customers in certain states. Its standard rates and terms are similar to other payday lenders.
In most cases, payday loans should be avoided. They are the loans of last resort that you should only consider in emergencies. As the Center for Responsible Lending warns, payday loans can force borrowers into a spiral of debt without regard to their ability to repay. However, not all payday lenders are created equal.
Although LendUp's rates and terms are similar to other payday lenders, it doesn't offer rollover loans, and borrowers cannot take on additional loans to repay a previous loan. LendUp can also help borrowers learn better financial habits with their free credit education.
Let's be clear. LendUp is still a payday lender with vertigo-inducing interest rates. It can help towards improving your credit, but it will cost you, and it won't be fast.
So are LendUp's benefits worth the price or not? This in-depth review will look at the rates and terms of LendUp, so you can decide whether or not it makes sense in your financial situation.
Who Can Benefit From A LendUp Loan?
LendUp offers short-term loans to consumers of all financial backgrounds and is an option for people of all credit types.
Customers who don't have perfect credit often find themselves trapped in a vicious cycle.
What Are LendUp's Rates and Terms
LendUp's interest rates vary depending on the state, loan amount and loan duration. See LendUp's profile for the latest rates and terms.
How Do LendUp's Payday Loans Work?
LendUp is a direct lender, not a middleman so that it can provide borrowers with an instant decision on loan approval.  No need to wait for hours or days on approval or denial of credit. The online application form only takes as few as 5 minutes to complete.
There are no hidden fees and, unlike most payday lenders, there are no rollovers to worry about.
What Is LendUp's Application Process Like?
LendUp's application process is easy to complete and entirely automated. Borrowers get an immediate decision once they fill out the application. This section will review the six steps that need to be completed to qualify for a LendUp loan.
1. Select The Loan Amount And Repayment Period
LendUp has a sliding bar you can use to choose the amount you want to borrow and a slide bar to determine the term of the payday loan. As you make your choices, LendUp instantly provides the equivalent APR and total loan cost.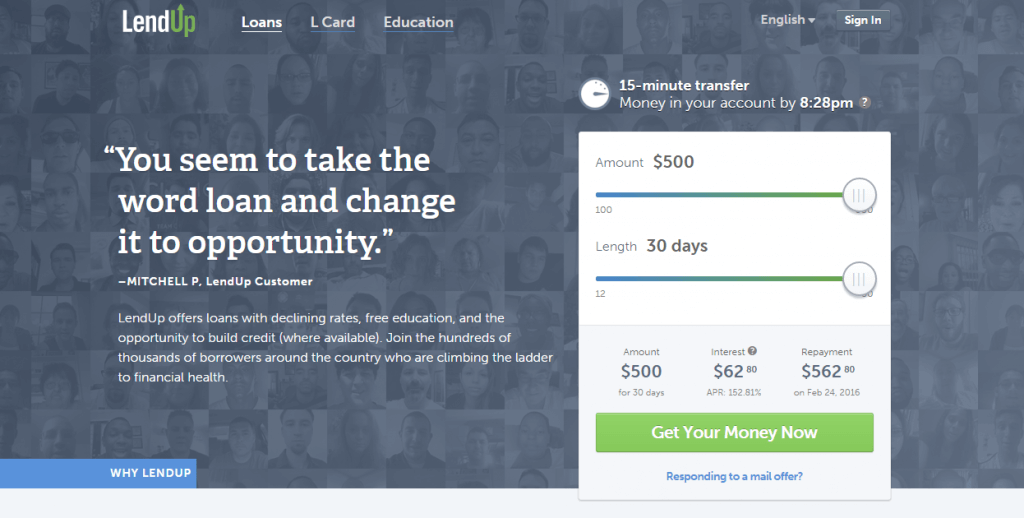 2. Create An Account.
You will need an email address, a password, and agree to LendUp's terms of service.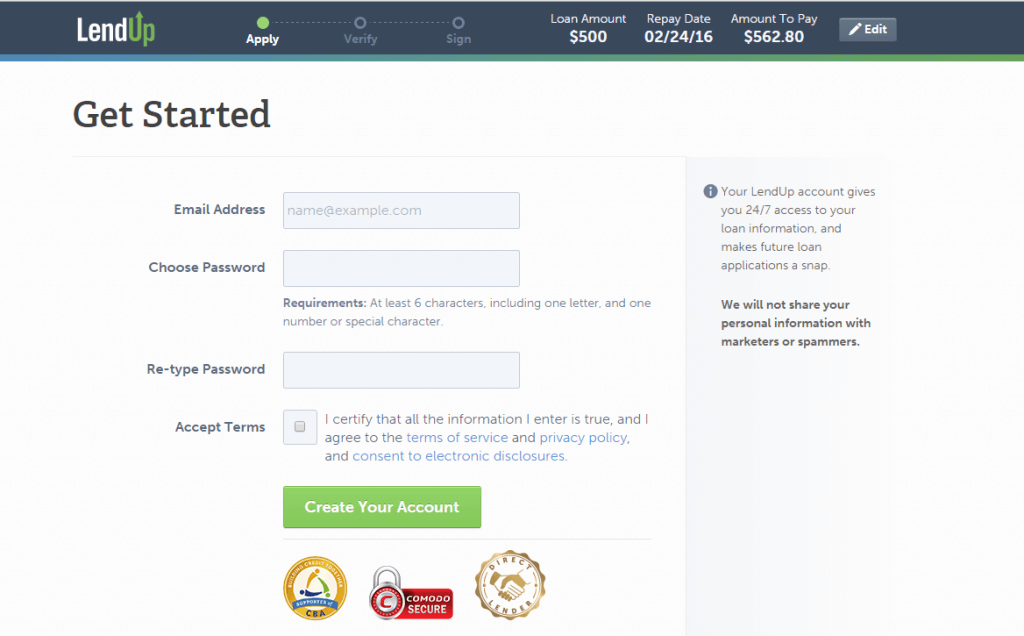 3. Submit Personal Details
New borrowers must provide their full name, SSN, mobile phone, date of birth, and address.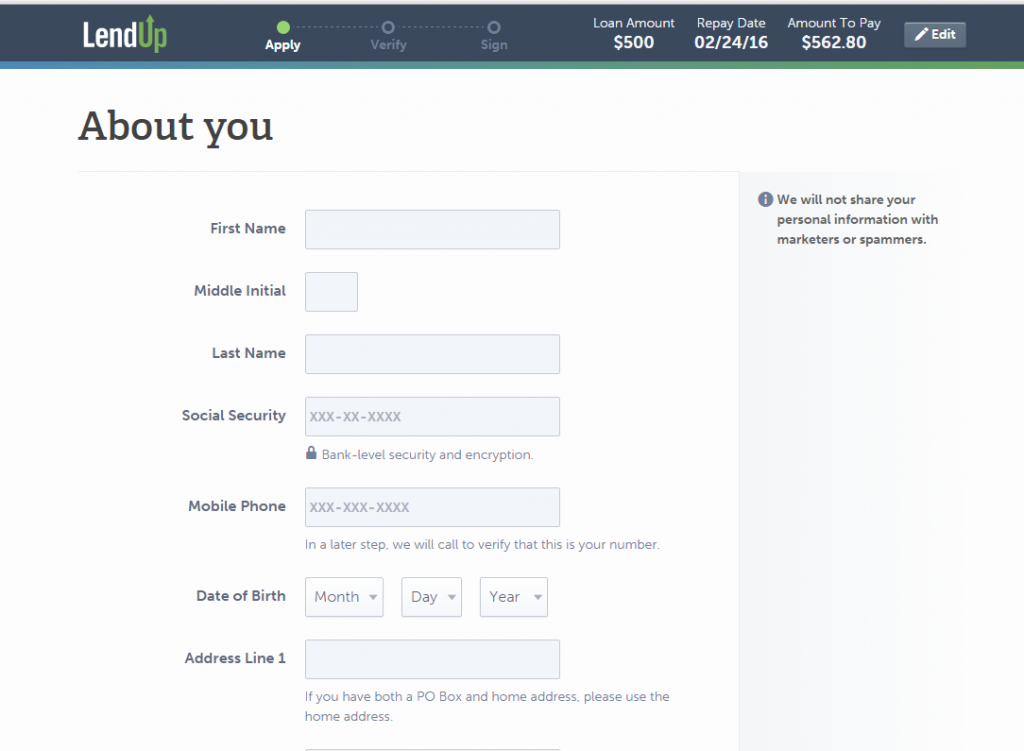 4. Submit Employment Details
LendUp needs to know your current employer, how long you have worked there, your annual income, and how often you are paid. However, LendUp does consider unemployed applicants as long as they have a source of income and can afford the loan payments.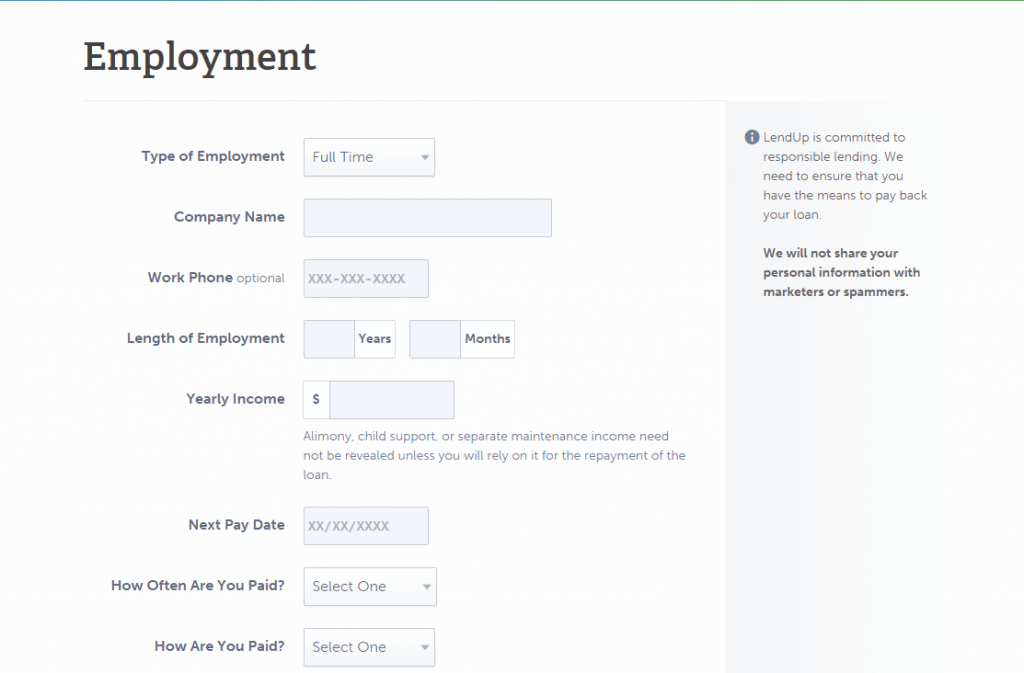 5. Military Disclosure
Disclose whether you are a member of the Armed Forces (or the dependent of one).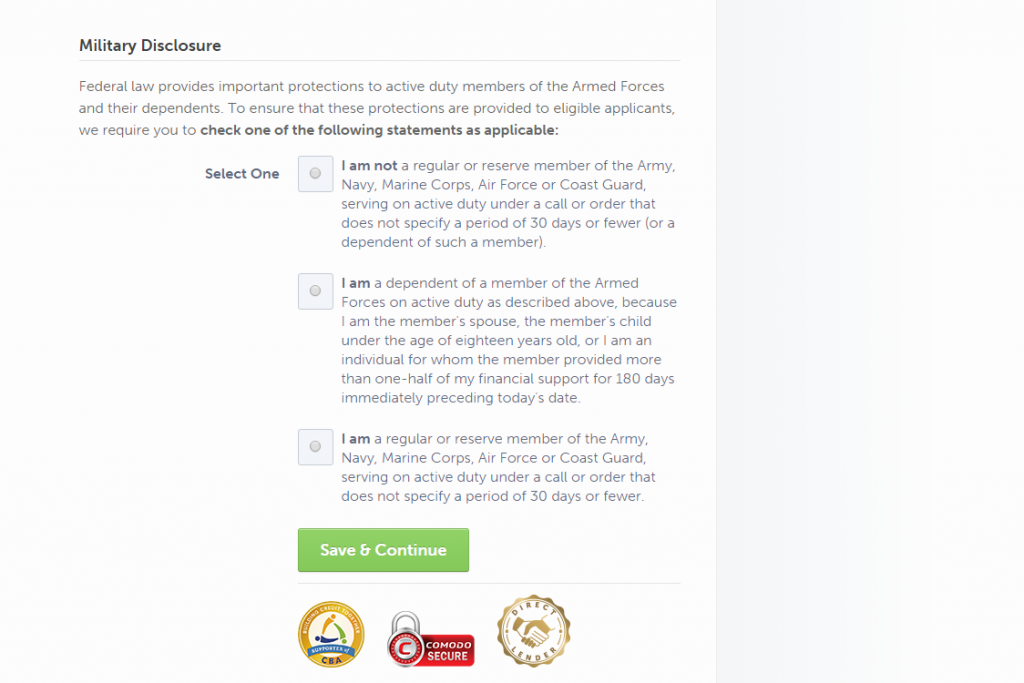 6. Banking Details
Provide the routing number and account number of the bank account where you receive your income.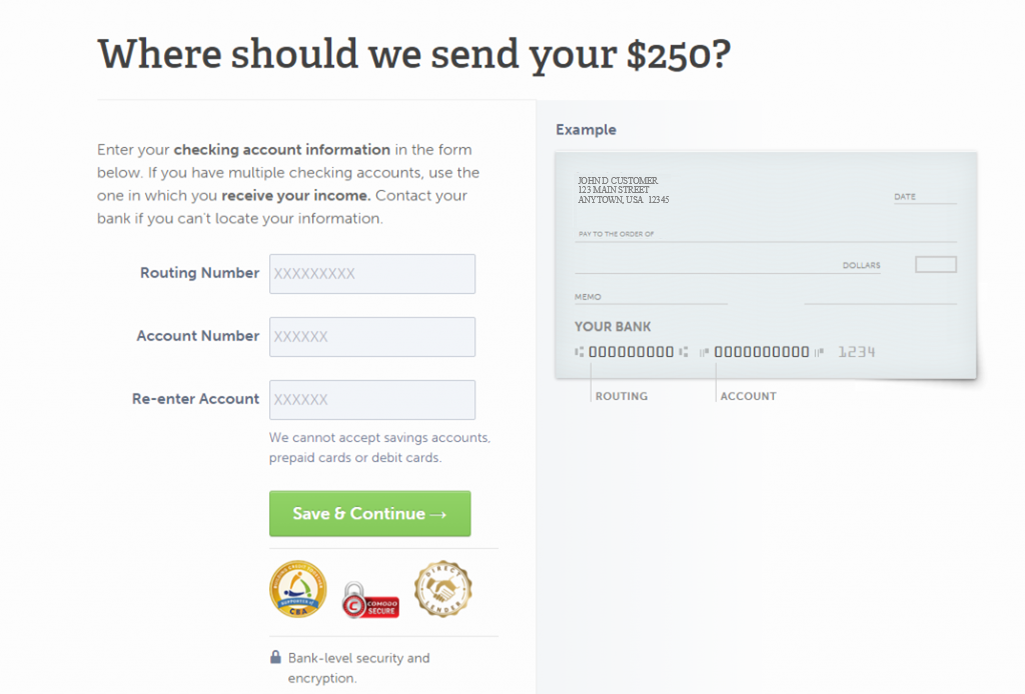 What Are The Advantages And Disadvantages Of LendUp?
LendUp has the following benefits over other payday lenders:
Borrowers can apply online
Proven repeat borrowers can qualify for lower interest rates larger loan amounts and longer repayment periods where available.
You know immediately whether you have been approved.
Clear terms. No late fees, no origination fees.
Customizable payment dates.
Direct Lender.
No rollovers. LendUp does not trap borrowers in a cycle of debt.
Provides free credit education.
LendUp has the following disadvantages:
Maximum loan amount of $250 for first-time borrowers.
Interest rates are very high, particularly for first-time borrowers.
The Bottom Line
LendUp is a payday lender. Therefore, it has high rates, small loan amounts, and short terms. LendUp loans are not a great deal for borrowers with fair or good credit who are likely to qualify for better rates and terms elsewhere. However, LendUp is an option for borrowers who need a payday loan but want to avoid some of the pitfalls of late fees and loan rollovers.
Andrew is the managing editor for SuperMoney and a certified personal finance counselor. He loves to geek out on financial data and translate it into actionable insights everyone can understand. His work is often cited by major publications and institutions, such as Forbes, U.S. News, Fox Business, SFGate, Realtor, Deloitte, and Business Insider.