NetCredit is a subprime lender that provides fast loans and flexible terms to people with poor credit. The catch is that, like most subprime loans, the interest rates are high. So high in fact, that you probably shouldn't consider NetCredit until you're certain that you don't qualify for a prime loan.
NetCredit does however offer a valuable service to people who don't have access to traditional lenders. There are at least three distinct benefits that differentiate NetCredit from the crowd of subprime lenders:
NetCredit allows you to check your rates without hurting your credit.
It has a clear and simple fee structure with no hidden fees or penalties.
It even reports payments to two of the major credit bureaus, which could improve your credit over time.
If you need money fast and your credit needs improvement, NetCredit is a sound option. Yet, NetCredit is not the only lender around. Let's take an in-depth look at NetCredit's interest rates, loan terms, and application process. We will also highlight NetCredit's strengths and weaknesses so you can compare this option with other lenders and decide which offer is the best deal for you.
Who are NetCredit loans designed for?
NetCredit targets a niche category of people known as the "under-banked middle-class." According to the latest survey (2013) by the FDIC, 20 percent of households in the United States are under-banked. That represents 24.8 million people who do not qualify for financial help from traditional lenders. That's a lot of people who cannot access credit at reasonable rates. Many of them have steady jobs and a decent income. Yet, they still don't meet the onerous requirements of prime lenders. NetCredit satisfies the credit needs of this niche by making access to credit easy and fast, albeit at a price.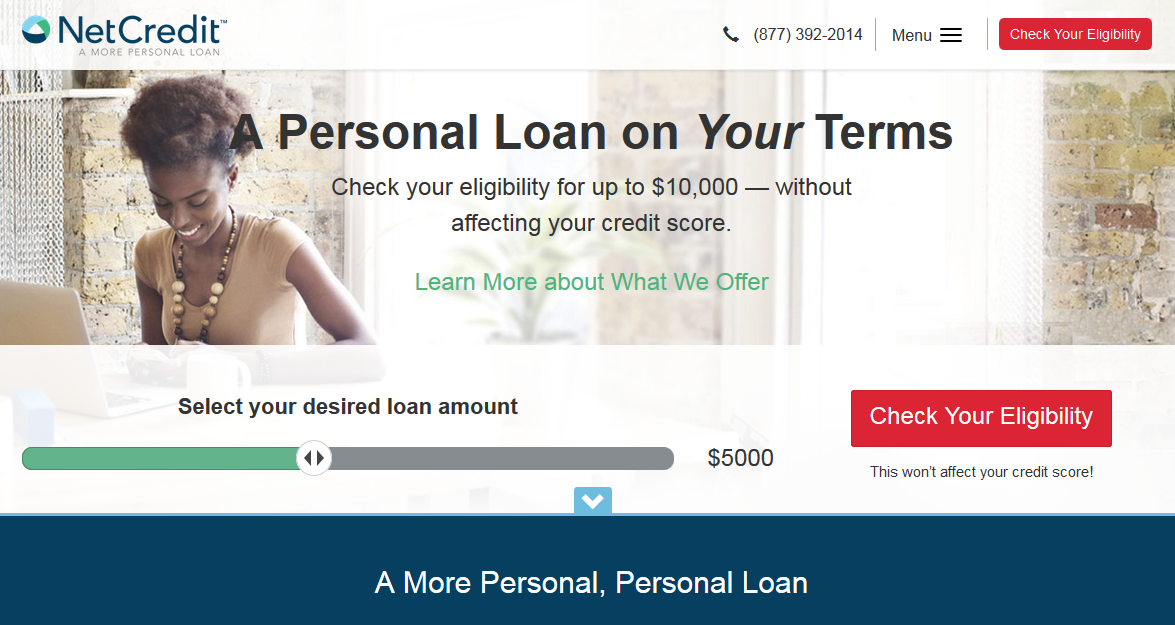 NetCredit's backstory
NetCredit may have been launched in 2012 and have hip offices in Downtown Chicago, but don't let that fool you. This is not your typical financial technology startup. NetCredit is not new to the business of subprime consumer loans.
NetCredit is actually a subsidiary of Enova International, an international provider of online financial services. In the United States it operates under the names CashNetUSA, NetCredit, and Headway Capital. Enova itself is a spin-off of Cash America: the world's largest pawnshop operator, with 859 locations in the United States alone.
NetCredit's pedigree gives it access to deep pockets and expertise that are not available to regular financial technology startups. The company is a licensed lender in all the states it operates in.
What are NetCredit's rates and terms?
NetCredit has interest rates ranging from 35% to 150% APR. These vary depending on credit history, employment history, and state of residence. NetCredit's rates fill in the gap between credit cards (10% to 30%) and payday loans (350% to 1000%).
NetCredit offers fixed simple interest loans. Fixed simple-interest is the best type of rate for long term loans. This is because the interest accrued is not added to the principal, as is the case with compound interest. The rate, and the payments, don't change for the duration of the loan.
NetCredit categorizes borrowers into three tiers: gold, silver, and bronze. Each category offers different rates and terms. For instance, in Utah, a gold borrower can qualify for rates as low as 35% APR. A silver borrower may get a 90% APR and a bronze borrower will have to deal with a 150% APR.
Repayment terms range from 6 months to 5 years. There aren't any prepayment penalty fees to worry about, so borrowers can save money by repaying the loan early. There are also no late fees, non-sufficient funds fees or application fees.
How much can you borrow from NetCredit?
Loan amounts with NetCredit range from $1,000 to $10,000 for an initial loan. Repeat clients may qualify for larger loans.
Unlike many other lenders, NetCredit does not charge origination fees or administrative charges. Origination fees are charges that get deducted at the beginning of the loan, but you still have to pay interest on them. For example, if you borrow $10,000 and have a 5% origination fee to pay, you will only receive $9,500 in your bank account. With NetCredit there is no need to calculate how much you need to borrow to get the funds you need.
What is NetCredit's application process like?
NetCredit has created a simple and transparent loan application workflow. Borrowers receive an instant decision on whether they are eligible for a loan. The entire process, from completing the loan application to receiving a loan agreement, takes only a few minutes. In most cases, the funds are deposited in one business day.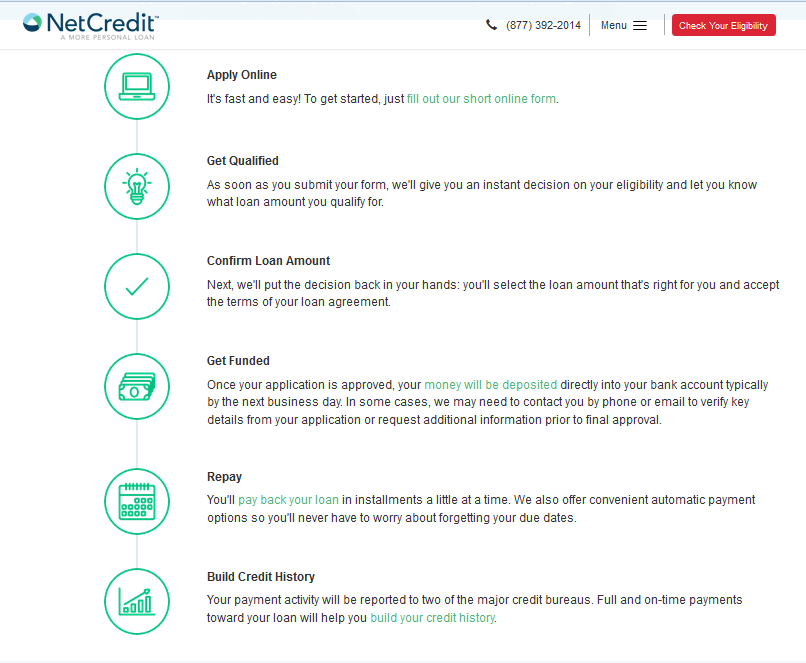 NetCredit also allows you to pre-qualify for a loan, allowing you to see what rates you will be offered without a hard credit inquiry. A soft credit inquiry and no application fees to worry about means there is no downside to at least looking into what your rates would be.
Here is a detailed description of NetCredit's application process, so you know what to expect.
1. Check Your Eligibility
You must provide provide personal and financial information. This includes your address, email, telephone, and whether you rent or own your home.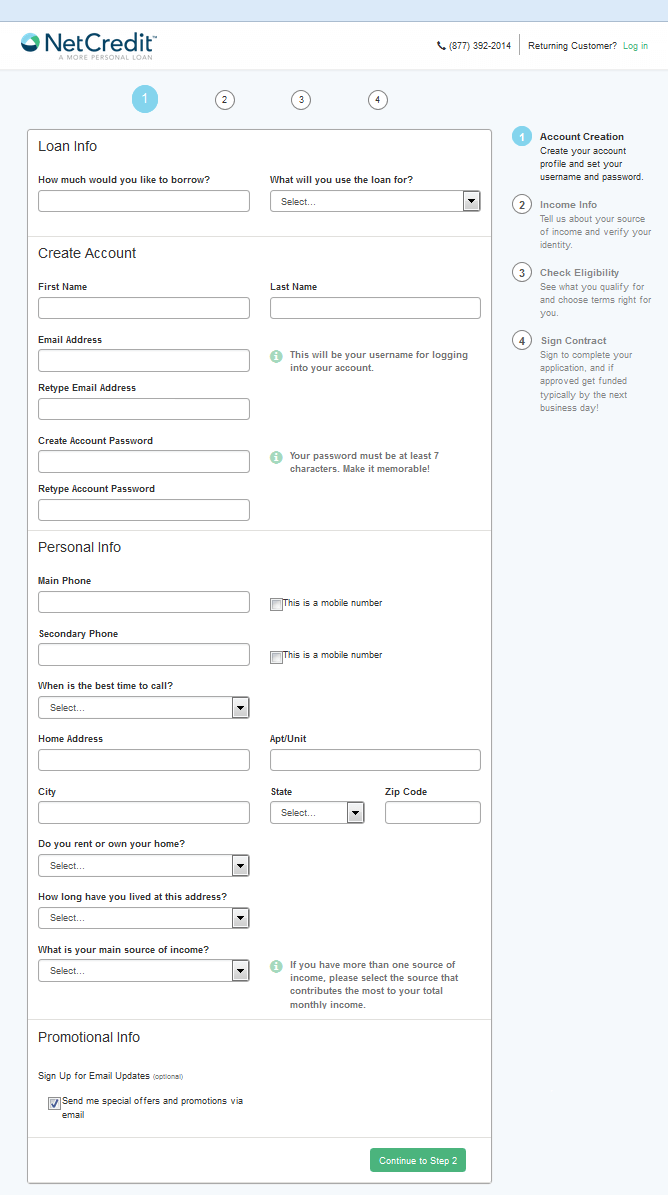 2. Income and Identification Verification
Next, the process will request you to enter your income information, including the length of your current employment, how often you get paid, and how much. It also asks you to verify your identity by inputting your date of birth and social security number. Then review the consent information before moving on to the next step.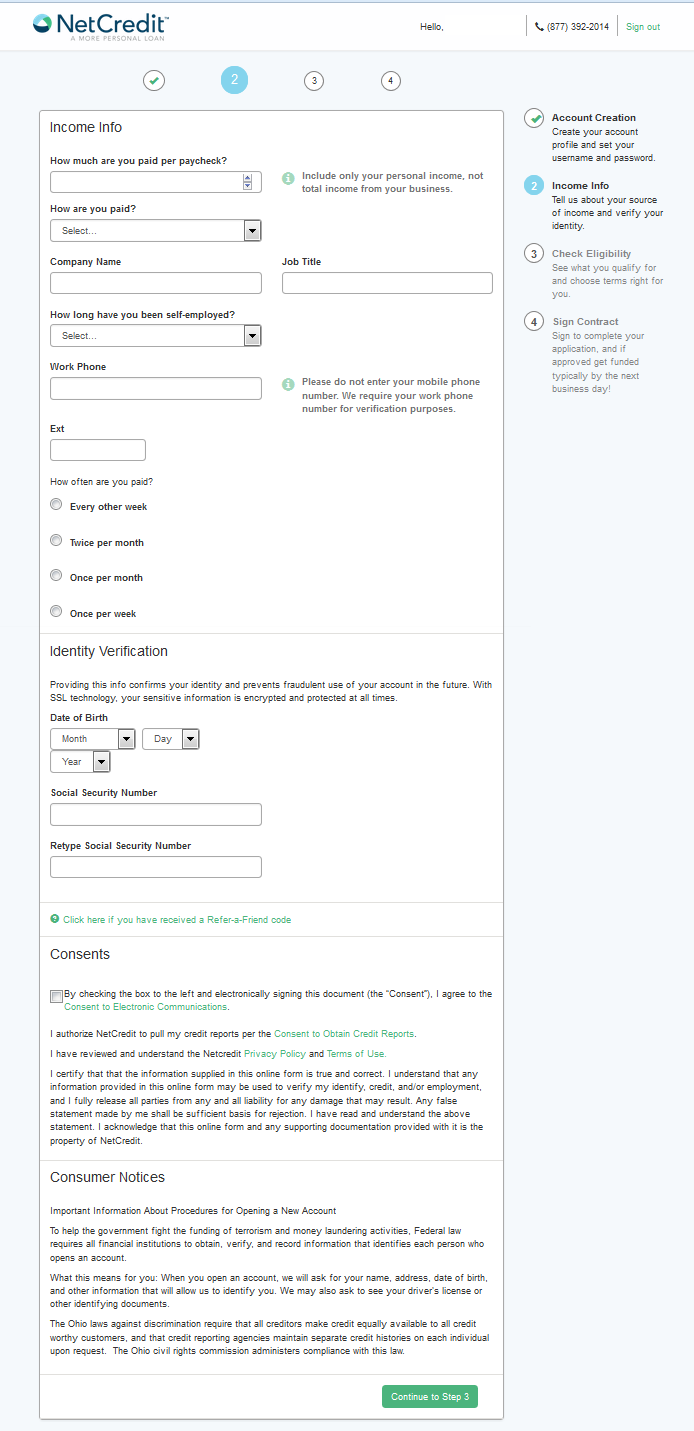 3. Check Terms and Sign Agreement
What Are the Advantages and Disadvantages of NetCredit?
NetCredit is an expensive way to borrow money. A loan with interest rates ranging from 35% to 150% APR should not be your first option. However, if you need cash fast and you can't qualify for prime rates, there is a lot to like about NetCredit loans.
Immediate approval decision. As soon as you complete your application you'll know if you qualify for a loan or not.
Soft credit check. NetCredit lets you check what your rates would be without it affecting your credit score.
Reports to TransUnion and Experian. NetCredit reports your payments to two of the three major credit bureaus. This can help you repair your credit, so you can qualify for better loans in the future. Of course, late payments will ultimately hurt your credit score.
Fast deposits. In some cases, funds can be deposited within the next business day.
Your Dashboard
NetCredit also makes it easy to manage your account once you have a loan with them. When you log in to your account homepage, you see a basic breakdown of your loan, including the loan status, when it was deposited, when and how much your next payment will be, and your outstanding balance. This dashboard could not really get more simple to read and understand.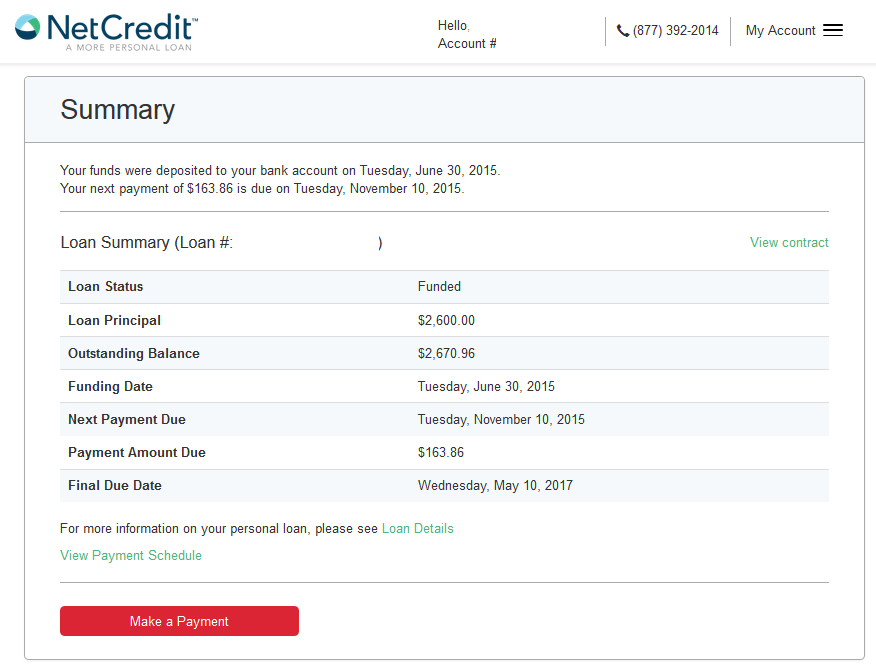 If you need more detailed information than that, you can click on "Loan Details" and it will show you the actual payments already made, those scheduled to be made in the future, and the entire schedule of your repayments.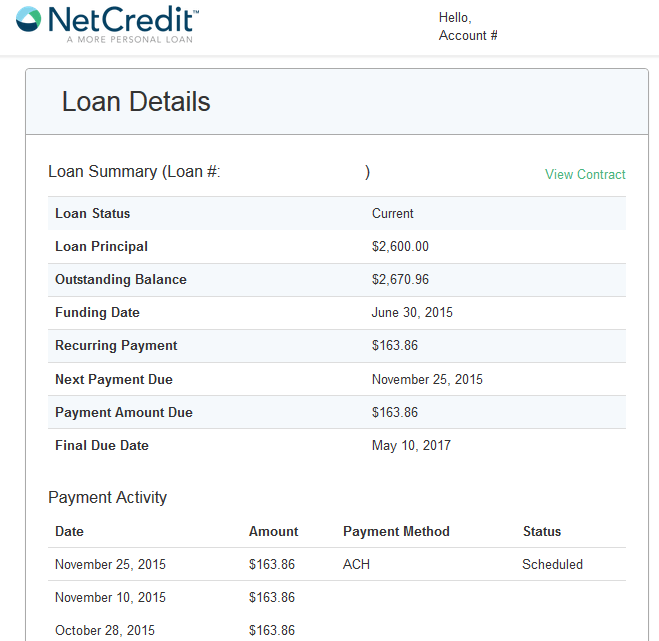 FAQ on Netcredit
What is Netcredit?
NetCredit is a subprime lender that provides fast loans and flexible terms to people with poor credit. The catch is that, like most subprime loans, the interest rates are high. So high in fact, that you probably shouldn't consider NetCredit until you're certain that you don't qualify for a prime loan.
How much can you borrow from NetCredit?
If approved, you can borrow between $1,000 and $10,000. NetCredit can deposit your loan funds into your bank account quickly, usually within a couple of business days.
What credit score do you need for NetCredit?
Experian, one of the three major credit bureaus, defines a fair credit score as between 580 and 669. If your credit score is in this range or lower, NetCredit might be a fit for you as it touts its lending services as an alternative for those who may not qualify for a loan from a traditional bank.
Does Net credit do a hard inquiry?
The reason that a hard inquiry will affect a credit score is because it is often an indication that the borrower is about to get new credit or a loan — and possibly add more debt. Unlike a hard inquiry, a soft pull can happen without the borrower's consent, as in the case of "preapproved" credit card and loan offers.
How to apply with NetCredit?
If you want to apply for a NetCredit loan, you can first see if you prequalify. NetCredit will run a soft inquiry that won't affect your credit scores. Note that prequalification isn't a guarantee of approval and you may be offered different terms after completing a full application with NetCredit. You can apply for a NetCredit personal loan directly from its website. The entire application process should only take a few minutes to complete.
Is NetCredit the Right Choice?
Once you've explored NetCredit's rates and terms, you may be wondering if NetCredit is the best loan option for you. It really all depends on what your other options are. You should always try first with prime lenders like SoFi and Prosper. They also offer the chance of checking your rates without a hard credit check. If your credit is not where it should be for prime lenders, NetCredit may be the best choice at this moment. The good news is that bad credit is not forever. If you're regular and on-time with payments, a NetCredit loan will help you rebuild your credit over time.
Andrew is the managing editor for SuperMoney and a certified personal finance counselor. He loves to geek out on financial data and translate it into actionable insights everyone can understand. His work is often cited by major publications and institutions, such as Forbes, U.S. News, Fox Business, SFGate, Realtor, Deloitte, and Business Insider.