Prosper was the first company to introduce marketplace lending all the way back in 2006. Marketplace lending–also known as peer-to-peer lending– was an exciting but yet untested credit product. Nearly 10 years later, Prosper is still a leading marketplace lender, over $5 billion in loans have been funded through Prosper, and nobody thinks peer-to-peer lending is a passing fad. The following article provides an in-depth review of Prosper: its history, interest rates, the application process, and the pros and cons you should consider when comparing it to other marketplace lenders.
Who Are Personal Loans Through Prosper Designed For?
Prosper targets prime and super-prime borrowers. This includes people with fair to excellent credit, steady incomes, and a proven track of financial discipline. The minimum FICO required to get a loan through Prosper is 640.
If you don't qualify for a Prosper loan, try Peerform. It's a lending marketplace that considers borrowers with poor credit.
Prosper's target audience would generally qualify for a traditional loan from a bank. However, these customers turn to Prosper because they want an easier and faster route to personal loans than that offered by traditional banks and credit unions.
The most popular reason people turn to Prosper is to consolidate high-interest debt. As of October 2015, 288,000 loans have been taken for this purpose. Other popular purposes are home improvements, elective medical procedures, and seed money to start a business. Over $3 billion in loans were originated via the Prosper platform in the last year alone.
All loans through Prosper are unsecured, fully amortized personal loans.
How Do Marketplace Loans Through Prosper Work?
So, how does Prosper work? In traditional lending, investors put their money in a bank and receive a small interest rate in return. Banks then lend those savings to borrowers at a much higher interest and keep the difference. Marketplace lenders, such as Prosper, connect borrowers and investors directly. This means investors receive a higher return on their investment and borrowers pay lower interest rates. That way everyone is a winner.
Online loan marketplaces, like Prosper, have used technology to simplify and reduce the cost of underwriting consumer loans. This allows them to target smaller personal loans that wouldn't be cost-effective using traditional banking models.
Under the marketplace lending model, borrowers post a loan listing that includes the loan amount they want and what they plan to do with it. Investors then review the loan listings on the marketplace platform and invest in the listings that meet their personal lending criteria. Borrowers are not required to provide a back story for the loan but doing so can increase the chances a listing is funded by investors. If a listing is posted for 14 days and there aren't enough investors willing to fund it, the application is denied. However, if you continue to satisfy the criteria used to select you for the offer, funding is guaranteed for a $2,000 ($6,000 for MA residents) 3-year loan at the current interest rate for your Prosper rating.
Once the loans are disbursed, borrowers make fixed monthly payments to Prosper, which services the loans and distributes the money to investors.
Another interesting aspect of Prosper's model is that Prosper doesn't technically originate the loans. Instead, they have partnered with WebBank, a Utah-chartered industrial bank that is a member of the FDIC. All loans through Prosper are funded by WebBank. Individual and institutional investors then purchase payment dependent notes from WebBank to receive payments made by borrowers. Turning to a third party to create the loans allows Prosper to avoid regulatory costs and to focus on technology development instead of bank licensing.
What Interest Rates And Terms Are Offered Through Prosper?
Prosper offers unsecured loans with fixed interest rates. As of October 2015, rates start as low as 5.99% and go right up to 36% APR. Visit Prosper's SuperMoney review for the latest rates. Loans through Prosper have terms of either 3 or 5 years. However, there are no prepayment fees, so you don't get penalized for paying a loan off early.
Prosper also charges a closing fee – also known as an origination fee– that ranges from 1.00% to 5.00%. This fee is included in the APR but is deducted from the loan amount you receive before the funds are deposited in your account. This means that if you borrow $10,000 and you have a 5% closing fee, you will only receive $9,500 in your bank account. Keep this in mind, if you need to borrow a specific amount of money.
The interest rates of borrowers are determined by, among other factors, the loan amount, and their Prosper rating: a proprietary system that estimates the average annual loss rate range to investors. The Prosper rating of borrowers also determines how much they can borrow and whether they qualify for 5-year loans or just 3-year loans.
Closing fees are determined by the term of the loan and the Prosper rating of the borrower. For example, an A-rated borrower may pay a 4.00% fee for a 3-year loan and 5.00% for a 5-year loan.
Prosper Rating
Prosper's rating is a risk assessment model that categorizes borrowers into seven groups: AA, A, B, C, D, E, and HR. The estimated loss rate is calculated from the historical performance of Prosper loans taken on by borrowers with similar characteristics. For instance, a borrower with an AA rating (the highest) has an average annual loss rate of 0.00% to 1.99%. A borrower with an E rating has an estimated average annual loss rate of 12.00% to 14.99%. HR borrowers – the lowest rated – have an estimated average annual loss of over 15.00%.
The loss rate is estimated using two scores: the borrower's credit score obtained from a credit bureau and the Prosper Score, which is based exclusively on Prosper's population of borrowers. The higher the risk of loan default, the higher the interest rate. This helps investors offset their losses and also rewards them for taking on additional risk.
How Much Can You Borrow Through Prosper?
Loans through Prosper range from $2,000 to $35,000. How much you qualify for is also determined by your Prosper rating. Borrowers with an AA to B rating qualify for up to $35,000, while borrowers with an HR rating only qualify for a maximum of $4,000. The table below specifies the maximum loan amount for each credit category.
AA $35,000.00
A $35,000.00
B $35,000.00
C $30,000.00
D $25,000.00
E $10,000.00
HR $4,000.00
How Do You Get Approved For A Loan Through Prosper?
Although Prosper's eligibility requirements are certainly not as stringent as those of traditional banks, you still need to have pretty decent credit. Prosper requires borrowers to have:
A credit score of at least 640. Credit scores vary depending on whether they are based on the credit data collected by TransUnion, Equifax, or Experian. Prosper uses Experian's credit score to determine eligibility.
Sufficient income to pay for the loan.
At least two open credit account on their credit report.
No reported delinquencies (over 30 days late on payments) in the last six months and no bankruptcies in the last year.
A debt-to-income ratio of 50% or less.
An active bank account, a Social Security number and live in a state where loans through Prosper are available. As of October 2015, loans through Prosper are available in all states except Iowa, Maine, North Dakota and Pennsylvania.
What Is Prosper's Application Process Like?
Prosper has a well-designed and intuitive user interface for its loan application form. This section will take an in-depth look into the workflow of Prosper's loan application so you know what to expect.
1. Check Rate Application
A nice feature of Prosper's application form is that it gives borrowers the chance to check their interest rate without having to agree to a hard credit inquiry and subsequent credit hit. Finding out your interest rate only takes a minute. Provide the loan amount you want, the purpose of the loan and your credit quality: fair, good, or excellent.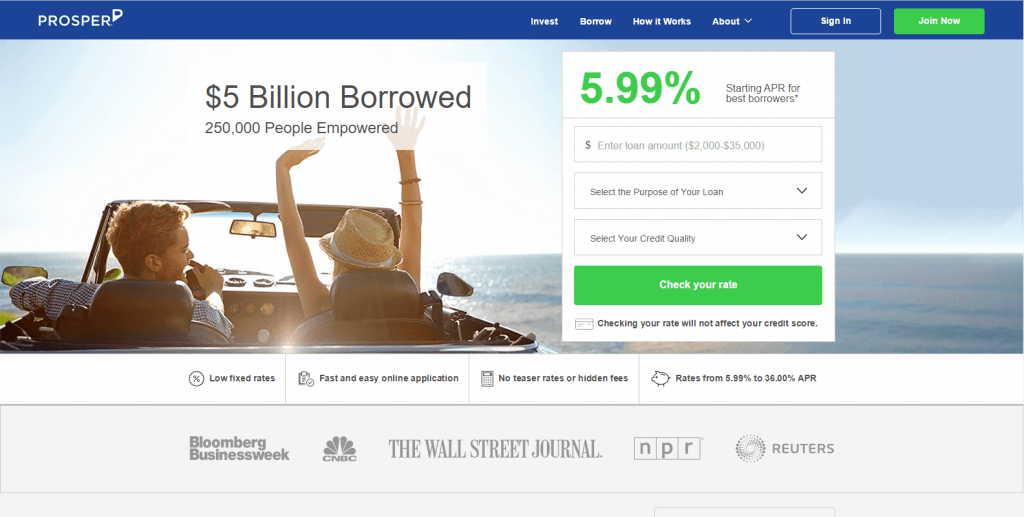 2. Contact Details
To get their interest rate, borrowers must also provide their full name, address, annual income, line of work and register with a password and username.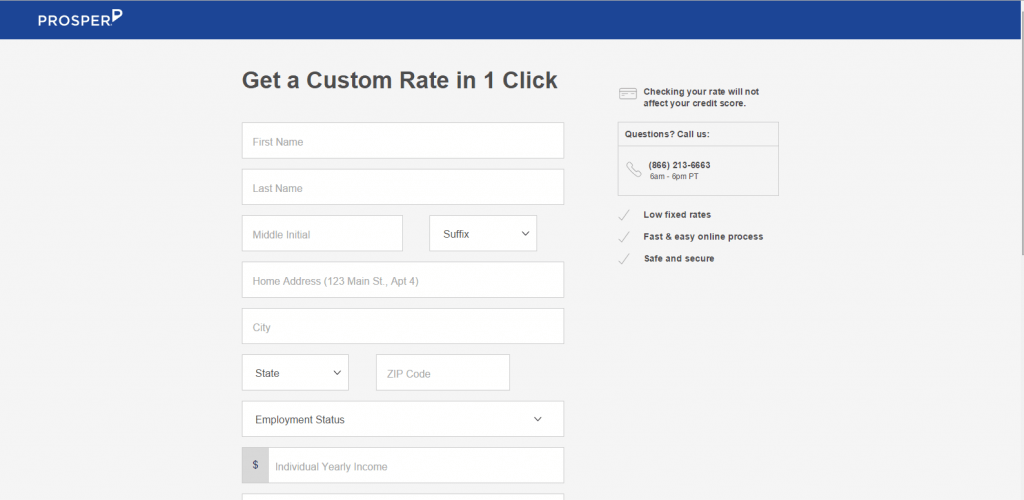 3. Interest Rate And Choose Loan Type
This screen provides you with the rate and loan amount you qualify for based on the information you provided. It also offers alternative loan options you also qualify for, such as larger or smaller loan amounts, and longer or shorter terms. If you don't qualify for the full loan amount you requested, Prosper will give you the maximum amount you do qualify for. Choose the loan terms you want and click on "Get this loan."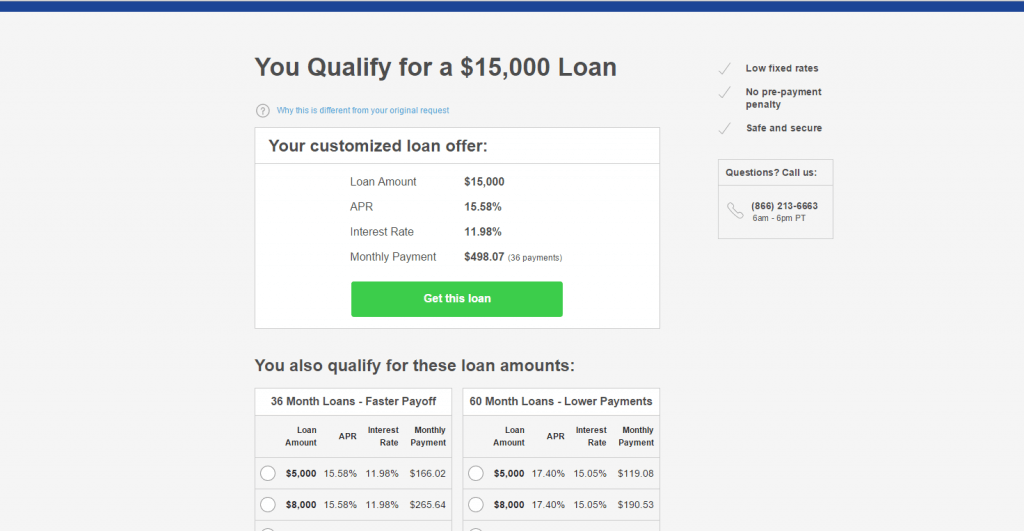 4. Additional Information
Just a few more personal details are necessary before you can post your listing on Prosper's marketplace platform. Borrowers must give their telephone numbers, occupation, date they started working in their current place of employment and their Social Security number.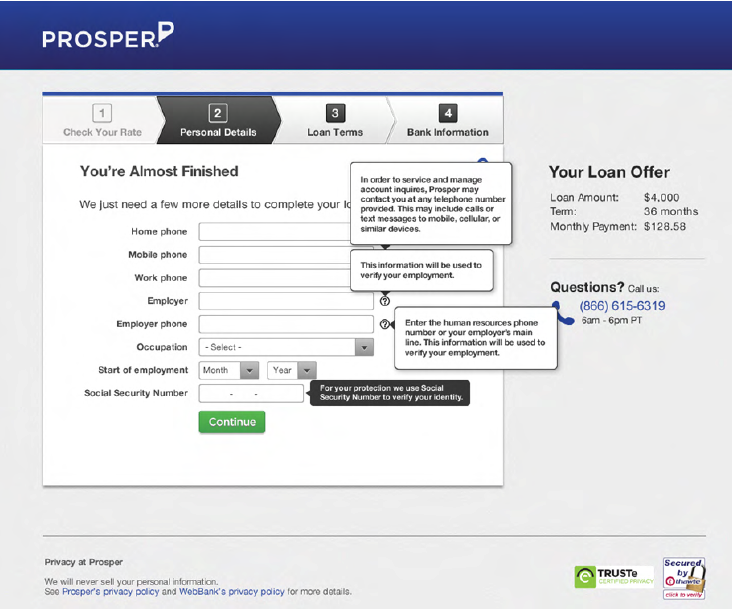 5. Loan Terms And Electronic Signature
At this stage, Prosper gives borrowers full details on their loan, such as their APR, total interest payments, late charge ($15) and total cost of the loan. It also specifies the origination fee you will be charged. Remember this fee is deducted from the loan amount before the funds are deposited in your bank account. If you agree with the loan terms, tick on the relevant boxes and click away.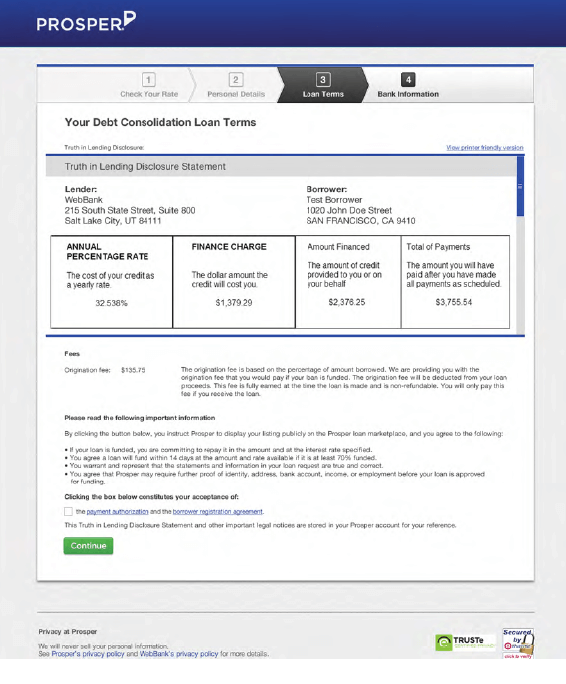 6. Bank Information
The next step is to provide your bank account information, such as bank name, routing number and account number. and wait for investors to fund your loan listing.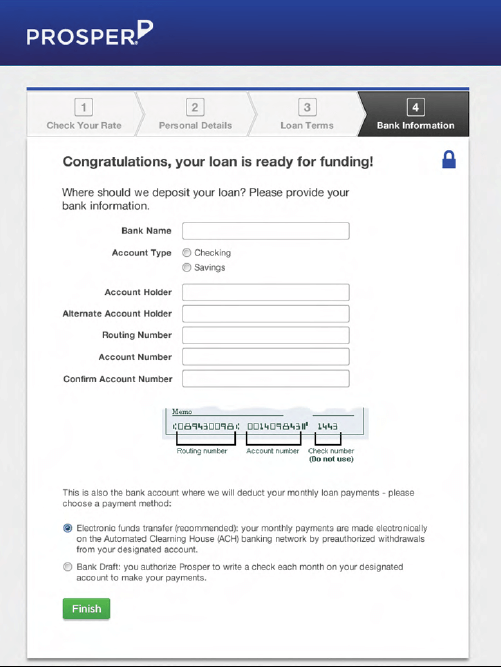 7. Verification Process And Waiting Period
Congratulations you finished the application. After one business day the listing will go live and investors can start committing funds to your loan. Prosper will also start a verification process to check your income, address and other information you provided in the application form.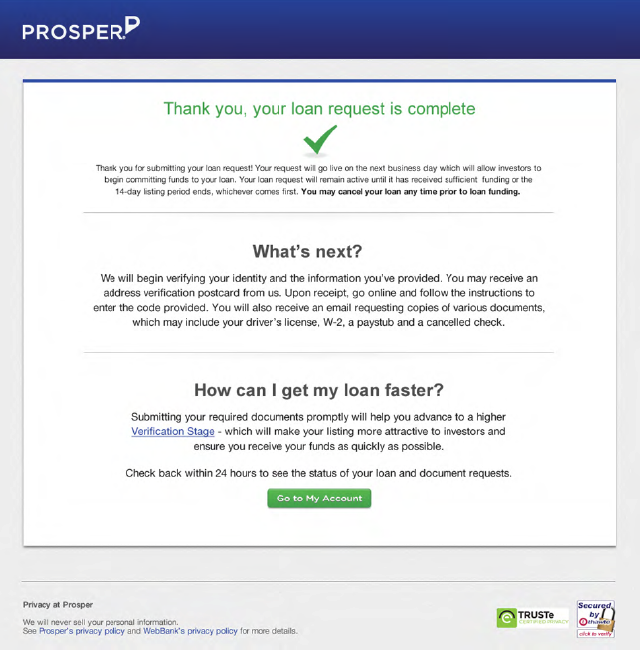 What Are The Benefits and Disadvantages of Loans Through Prosper?
As good a deal as loans through Prosper are, there are still some things that could be better.
The maximum loan amount is $35,000. This is average for personal loans, but it simply isn't enough for many borrowers.
Prosper only offers 3-year and 5-year terms.
There is also a 1% to 5% origination fee to consider that is deducted from the funds deposited in your account.
Prosper is not a direct lender so loan applications may go unfunded if there aren't enough investors interested, regardless of a borrower's credit profile.
Other lenders, such as SoFi, offer lower interest rates. On the other hand, they do have a more stringent eligibility criteria. While Prosper has a higher APR cap, they are also lending to consumers that some others do not.
Nevertheless, there is a lot to love about Prosper.
It is a market leader in peer-to-peer loans and has been in business longer than any of its competitors.
It has some of the lowest interest rates available. Loans have fixed rates from 5.99% to 36.00% APR.
Loans are unsecured so no collateral is required
It doesn't charge prepayment fees, so you can pay your loan off as soon as you want without paying a penalty.
No out-of-pocket fees. The origination fee is taken from the loan balance.
Accessible eligibility criteria. Applicants with a credit score as low as 640 are considered.
FAQ on Prosper Marketplace Loans
How long does it take for Prosper to approve a loan?
Investors have up to 14 days to commit funds to your loan. If Prosper is unable to verify or approve your loan application based on the documents provided, the application will be denied.
Is prosper funding legit?
Prosper isn't a bank, they're a peer-to-peer lending platform. Prosper allows investors to pool their money into consumer loans. With each loan Prosper makes, dozens or hundreds of different investors chip in $25 or more. Under this model, the risk a borrow won't repay the loan is spread across many investors.
Can I have 2 Prosper loans?
You can have more than one loan on the platform at the same time. However, your credit score must be at least 640 when you apply for the second loan, and the combined loan limit of both loans is limited to $35,000 in total.
How often does Prosper update the credit model?
Prosper generally enhances our credit model every 12-24 months, with an average time of roughly 18 months.
Who are personal loans through Prosper designed for?
Prosper targets prime and super-prime borrowers. This includes people with fair to excellent credit, steady incomes, and a proven track of financial discipline. The minimum FICO required to get a loan through Prosper is 640.
However, different personal loans come with different rates, fees and requirements, so be sure to check out what the best personal loans are to ensure that you choose the best option for you.
Andrew is the managing editor for SuperMoney and a certified personal finance counselor. He loves to geek out on financial data and translate it into actionable insights everyone can understand. His work is often cited by major publications and institutions, such as Forbes, U.S. News, Fox Business, SFGate, Realtor, Deloitte, and Business Insider.