Back in 2011, SoFi started out as a community lender for Stanford graduates with student loans. In just a few years SoFi became the number one provider of student loan refinancing in the United States. It then applied the same principles that had made its student loan refinancing so successful to personal loans. The result is SoFi Personal Loans: one of the best consumer loan products available to prime and super-prime borrowers. As of June 2017, SoFi has funded over $20 billion in loans.
SoFi Personal Loans Review
This article will provide an in-depth review of SoFi's personal loans, rates, eligibility criteria and a particularly thorough look at SoFi's application process.
Who Are SoFi Personal Loans Designed For?
SoFi's personal loans are designed for people with excellent credit, a solid employment history, and high incomes. These highly-qualified borrowers are a safe bet for SoFi's investors, which is why they receive rock-bottom rates and preferential terms.
SoFi offers personal loans of up to $100,000 and some of the lowest interest rates available. If you need a personal loan or would like to consolidate existing debt, you should try to qualify for a SoFi personal loan first. Borrowers with excellent credit who are already paying more than 10% on their credit card balance owe it to themselves to at least try to refinance with a SoFi personal loan. The savings can be huge.
What Are The Advantages Of A SoFi Personal Loan?
Ultra-low interest rates provide huge savings.
No origination fees.
No prepayment penalties.
SoFi pauses the payments of borrowers who lose their job and helps them find a new one.
Simple application process.
Low interest rates.
Loan amounts range from $5,000 to $100,000.
A variety of repayment terms.
What Are The Interest Rates And Terms For SoFi's Personal Loans?
SoFi offers a 0.25% rate discount for borrowers who enroll in autopay. See our SoFi Review on personal loans for current rates.
What Is SoFi's Lending Criteria For Personal Loans?
As with its student loans, SoFi has stringent eligibility criteria. To qualify, borrowers must have:
A substantial and steady income.
An excellent credit history.
A solid employment history.
Be at least the age of majority in their state.
Be a US citizen or a permanent resident.
As of September 2017, SoFi personal loans are available in all states except Mississippi and Nevada.
What Is SoFi's Personal Loans Application Process Like?
SoFi's personal loan application process is fast and easy to complete. The following screenshots provide a detailed guide of what you should expect when you complete SoFi's personal loan application.
Step 1 — Provide Personal, School, Employment and Loan Information
Applicants must include their name, address, date of birth, citizenship status, the school they attended, the degrees they completed, their place of employment income and work experience. Borrowers must also specify what they are planning to use the money for.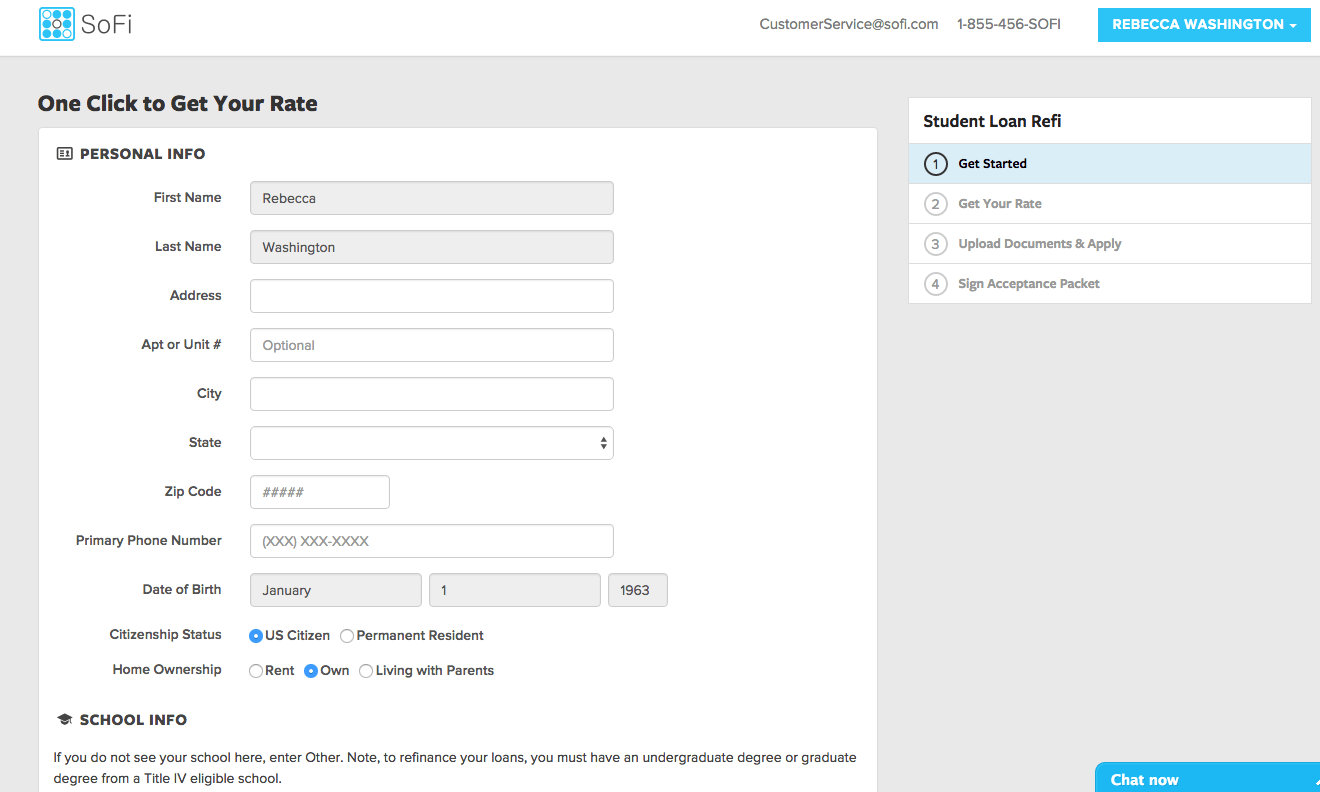 Step 1b — Provide Your Total Annual Income And The Purpose Of The Loan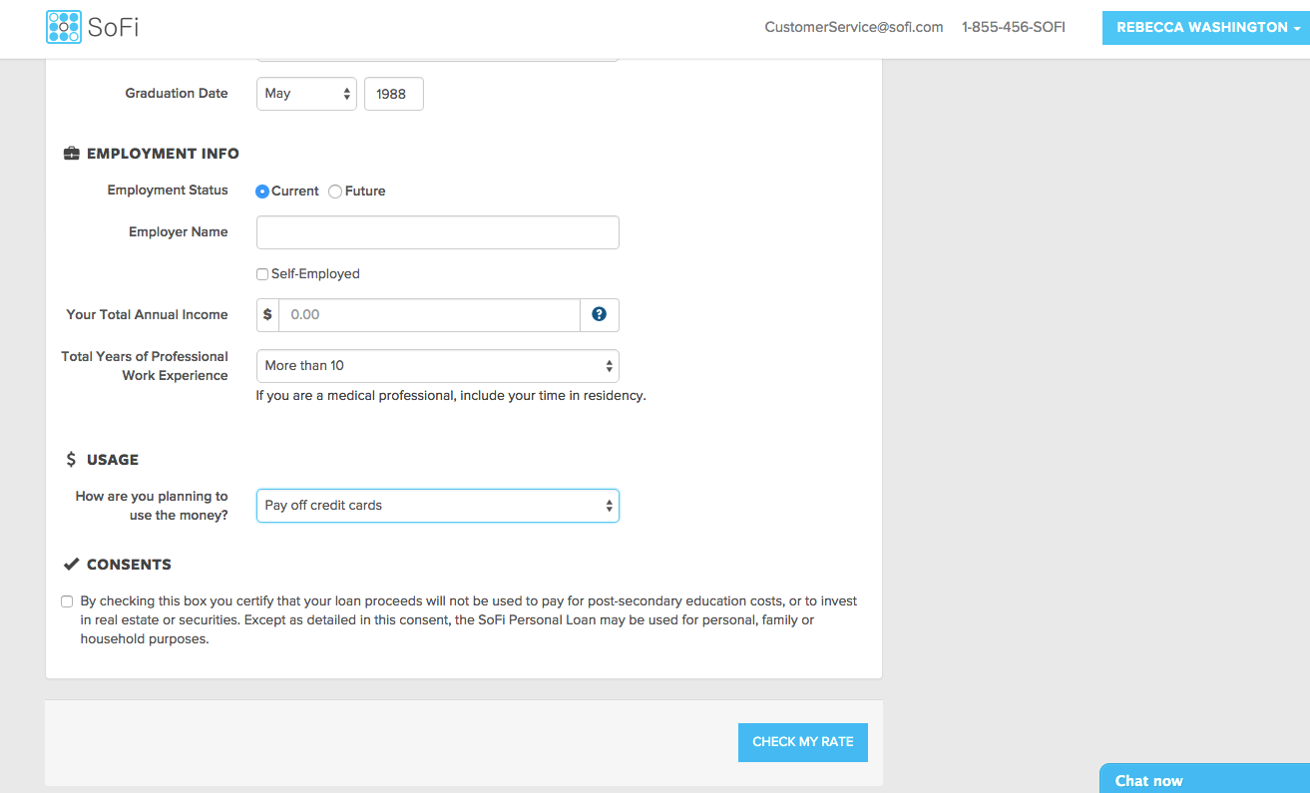 Step 2 — Choose the Loan Amount and Type of Loan
At this stage, borrowers decide how much they want to borrow and whether they prefer a fixed rate loan, where the monthly payments never change, or a variable rate loan, which has lower interest rate that could increase in the future.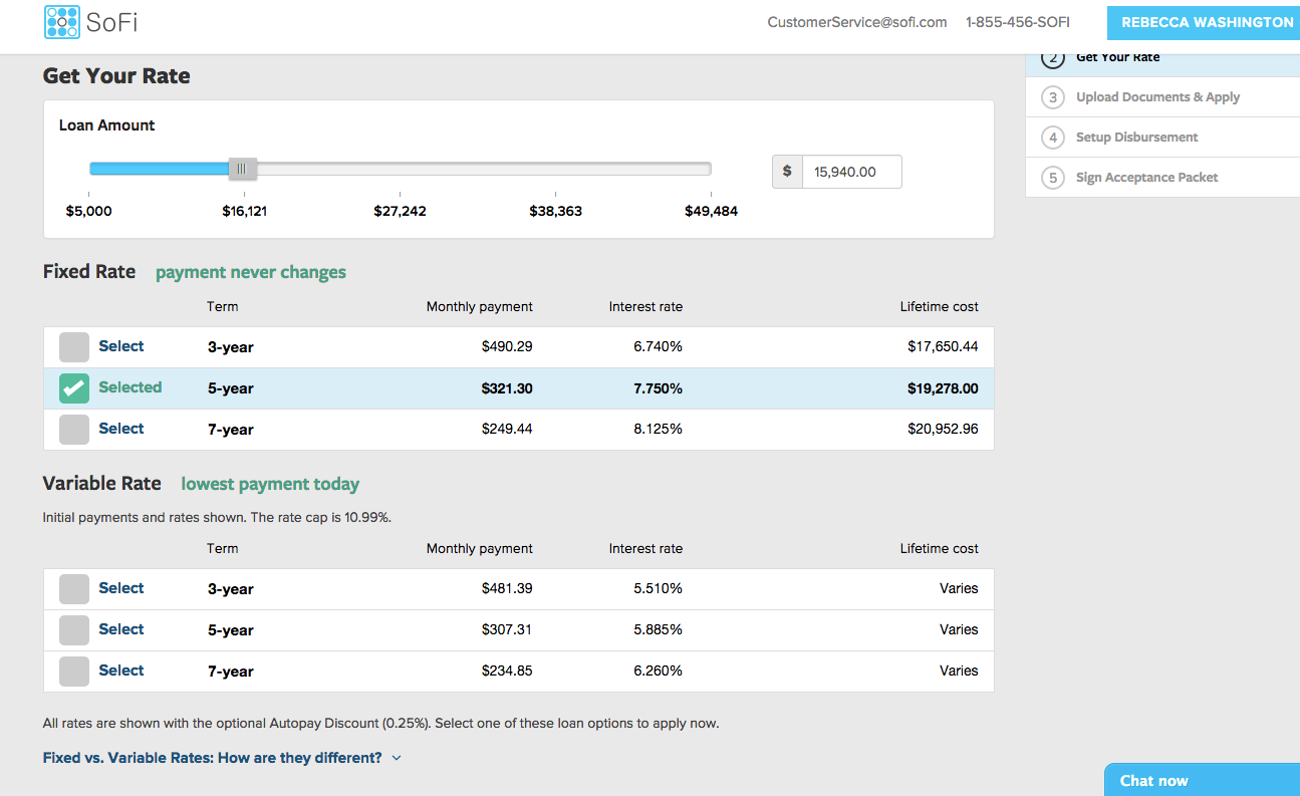 Step 3 — Upload Documents to Verify Your Information
The third stage requires applicants to upload documents so it can verify the identity, income, address and loan information. This is particularly important if you're using the money to consolidate credit card debt or other loans. SoFi accepts photos or scans of the documents.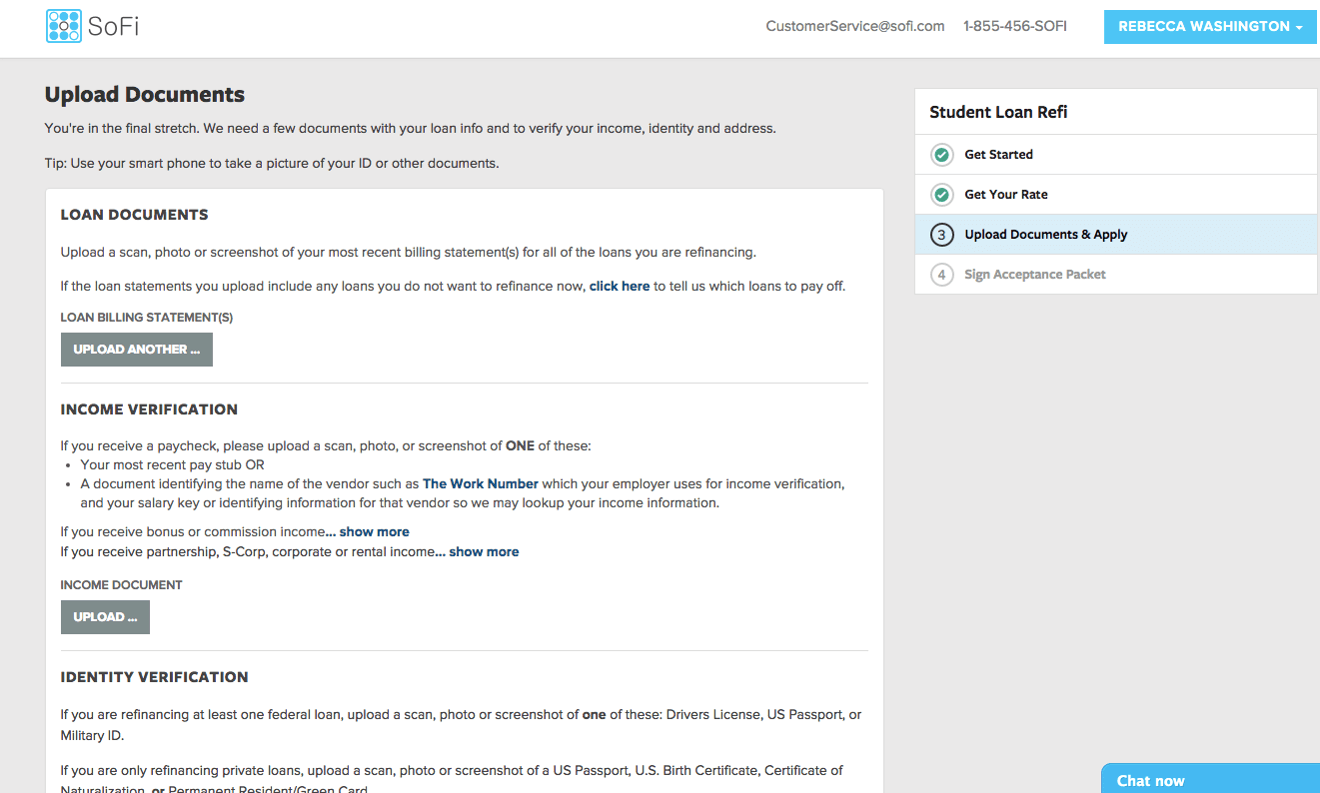 Step 3b — Upload Your Address and Citizenship Verification Documents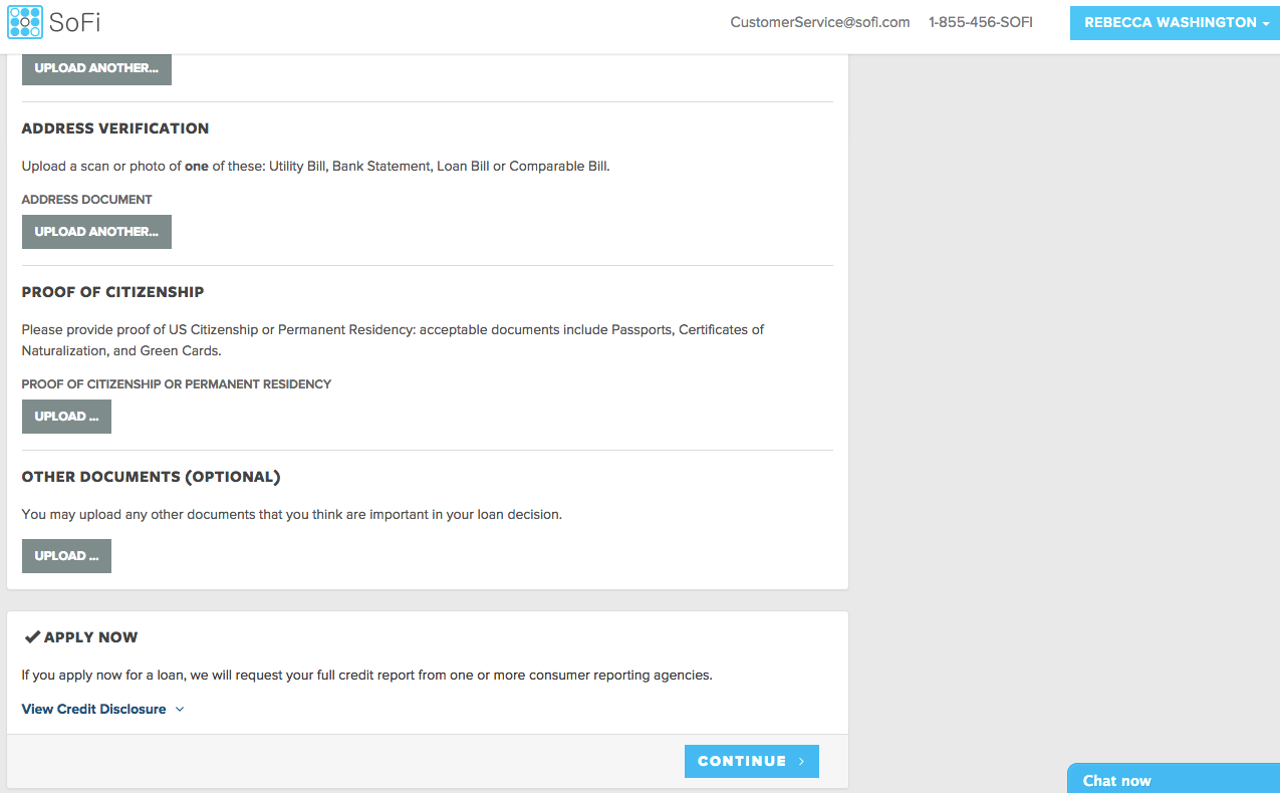 Step 4 — Setup Disbursement and Autopay
Applicants must provide the routing number and account number of the account in which the money is to be deposited. Borrowers who want to benefit from the 0.25% interest discount must also provide the details of the bank account from which automatic debit payments will be collected.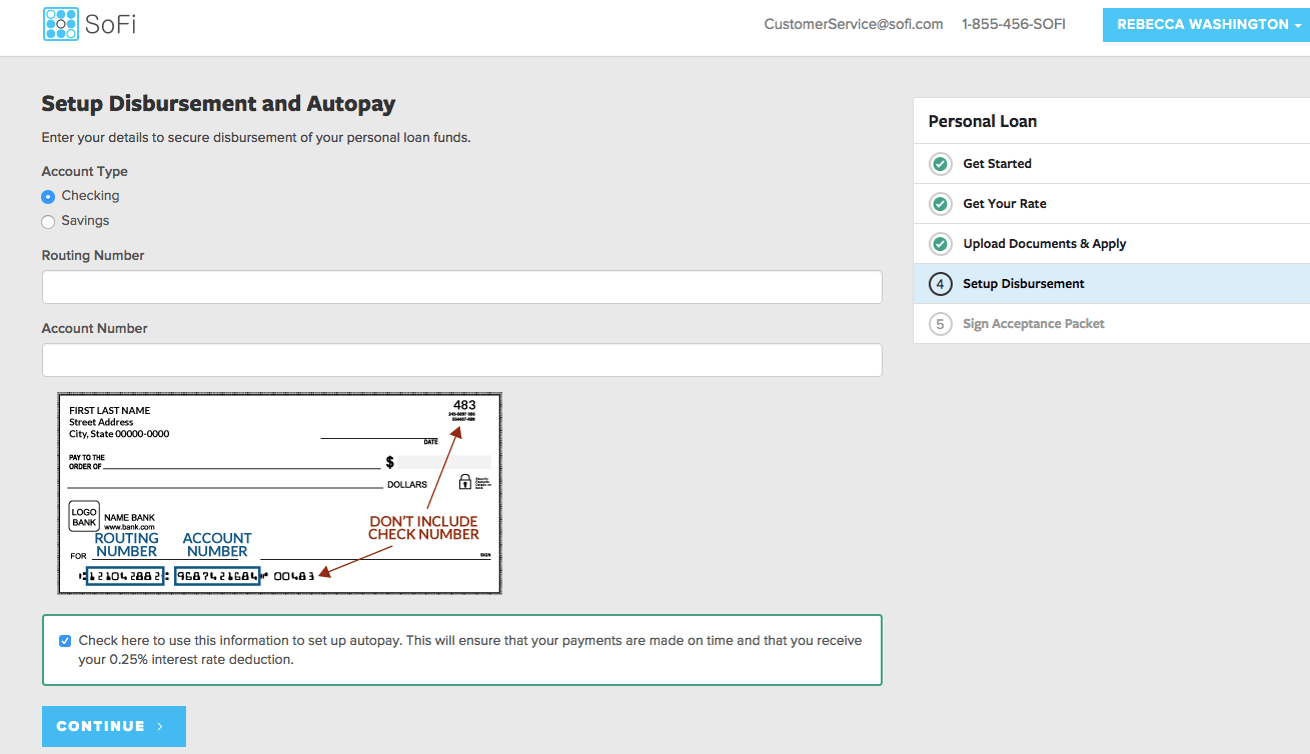 Step 5 — Sign the Acceptance Package
Once SoFi approves an application, the borrower receives a loan agreement package. Borrowers must then sign it electronically for the loan to be processed.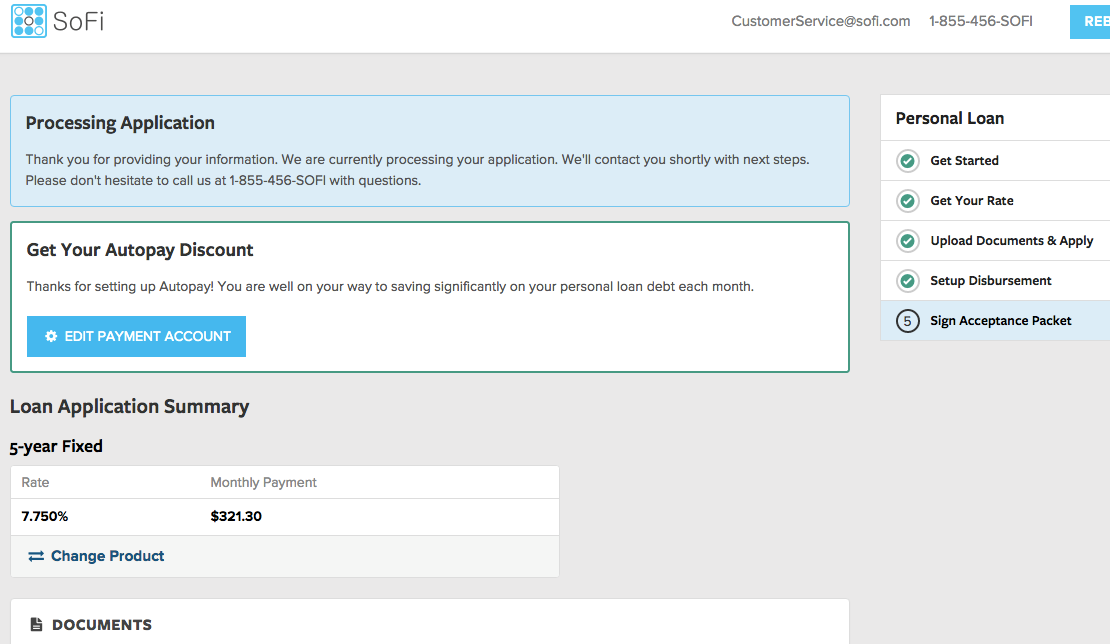 How Are SoFi's Personal Loans Better?
SoFi's personal loan product offers highly competitive rates and terms for borrowers with above average credit. The catch is that most applicants don't meet SoFi's stringent eligibility criteria. Although qualifying is hard, there is nothing to lose because SoFi doesn't do a hard credit pull until you accept a loan. Taking a peek at the interest rate you qualify for only requires a soft credit pull and it only takes five minutes.
If your credit is not great right now, you may want to consider other lenders such as LendingClub. If your credit is very bad, you might consider lenders such as NetCredit and Rise Credit.
In addition, different personal loans come with different rates, fees and requirements, so check out what the best personal loans are to ensure that you choose the best option for you.
Andrew is the managing editor for SuperMoney and a certified personal finance counselor. He loves to geek out on financial data and translate it into actionable insights everyone can understand. His work is often cited by major publications and institutions, such as Forbes, U.S. News, Fox Business, SFGate, Realtor, Deloitte, and Business Insider.