Building on the technology that powers SuperMoney's leading marketplaces for personal loans, auto loans, auto loan refinancing, and business loans, we are proud to announce that SuperMoney has launched a modern marketplace that will help students make smarter decisions when shopping for student loan refinancing.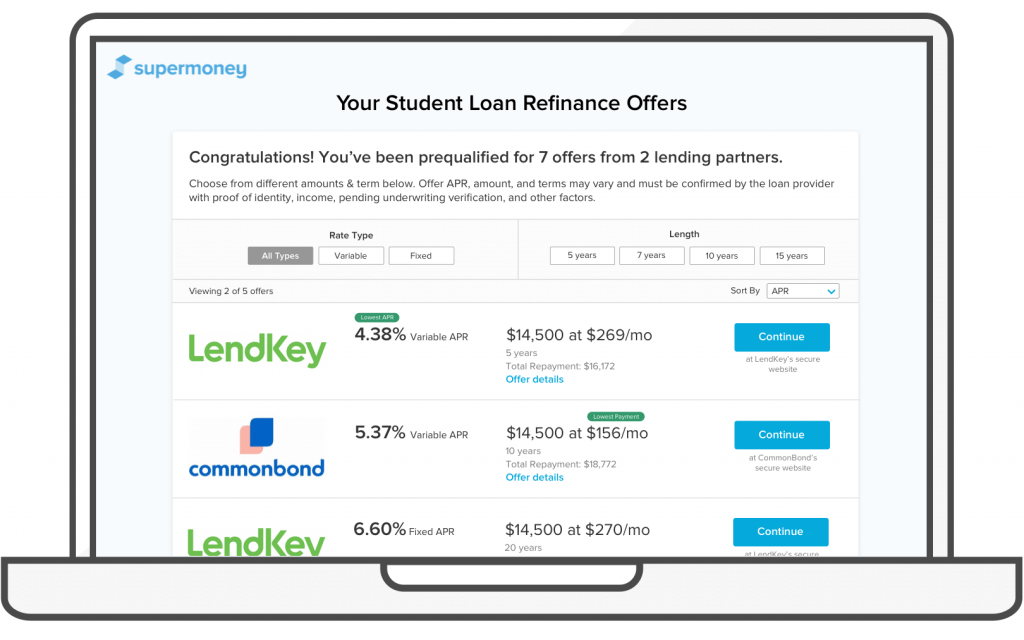 The SuperMoney Student Loan Refinance Marketplace allows you to:
Submit a single application to compare actual rates in seconds (not ranges or estimates)
Compare multiple loan offers from top lenders who compete for your business in real-time
Transparently review overall cost, monthly payments, and a clear breakdown of fees
Why do we need student loan refinancing?
Student debt grew by more than 450% since 2001. Student loans are now the largest source of unsecured debt in the United States. As of September 2018, Americans owed $1.531 trillion in student loans and that number is growing.
However, a recent study by Citizens Bank shows that fewer than 50% of Millennials making student payments have considered a student loan refinance.
How does student loan refinancing work?
The principle behind student loan refinancing is simple. Most students have weak credit scores and little income when they first apply for loans. Once they graduate, their credit history and incomes tend to improve, which qualifies them for better rates and terms.
The growth of student loan debt has created a market for a host of student loan refinancing companies, such as LendKey, CommonBond, and SoFi. These companies help students save thousands of dollars by refinancing their private and federal student loans at lower rates and with better terms.
The problem
Sadly, many students don't know about the savings a student refinancing loan can offer. Even the borrowers who do consider refinancing leave a lot of money on the table because they don't compare multiple lenders when shopping for loan offers.
4 reasons borrowers don't take full advantage of student loan refinancing
Rates and terms of student refinancing loans vary widely depending on the lender and by the borrower.
Just looking at the range of rates a lender offers is not enough. Credit eligibility requirements also vary, so you don't really know which lender will offer the best deal until you apply.
Then there is the issue of hidden fees, which you may not consider when calculating the total cost of a refinance.
Another danger is that some lenders push refinancing even when it is not in the best interest of the borrower.
We are really proud of the work we've done in the personal loan industry. We set a new standard of transparency, and helped borrowers save millions of dollars and many hours of frustration. Now we're out to do the same for mortgages.
SuperMoney's unique solution for student loan refinance
SuperMoney's new marketplace allows students to receive multiple real-time loan offers without hurting their credit or wasting time on multiple loan applications.
There's no shortage of comparison sites that claim to offer personalized rates. But these comparison sites often treat borrowers as leads that are harvested and sold to the highest bidder. It's a terrible customer experience.
Even more problematic is that many of these sites aren't showing real loan offers but instead provide inaccurate teaser rates or ballpark estimates.
Here's why SuperMoney is different — and better. Our student loan refinancing marketplace is integrated directly with leading lenders. What that means is you can receive actual loan offers from our leading lending partners in real-time.
This process takes seconds, and doesn't hurt your credit score. We never sell your personal information, so you don't have to worry about being harassed with calls from pushy salesmen.
Apply to multiple lenders with one form
Enter your personal details once and let leading lenders compete for your business. You will receive prequalified offers with firm rates and loan amounts.
Compare total cost and monthly payments
SuperMoney's student loan refinance offer engine lets you know how much your monthly payments will be as well as the overall cost of the loan.
Filter your offers based on your needs and preferences
You can filter offers based on the term length, type of rate (fixed or variable), and loan amount. SuperMoney's comparison tools also allow you to filter out lenders based on other factors, such as lenders that accept cosigners, don't offer unemployment protection or charge prepayment fees.
How much can you save with a student loan refinance?
Every case is different. It all depends on your current rates, your credit score, and the lender you choose. Some lenders provide average savings, but these figures can be misleading as they are only useful if you are the "average borrower." The table below provides a few scenarios that illustrate how student loan refinancing can work out.
Notice that the biggest savings occur when you lower the interest rate and the shorten the term period. However, this will increase your monthly payments. Refinancing can also increase the cost of your student debt if you increase the length of the loan's term.
The bottom line
SuperMoney's student loan refinancing marketplace changes the way borrowers shop for refinancing. Instead of getting fuzzy rate ranges and approximate monthly payments, you receive transparent offers from multiple lenders.
The service is completely free. It will not hurt your credit to check your rate, and you won't be inundated with annoying phone calls.
If you have a student loan, there is no downside to checking what rates and terms you qualify for.
Miron Lulic is founder and CEO at SuperMoney, a service that helps millions of people transparently compare financial services such as loans, investments, and more.