"Champagne wishes and caviar dreams."
If you're old enough, you may remember the old Lifestyles of the Rich and Famous TV show where Robin Leach gushed over the lavish excesses of people who live in a far more opulent style than the rest of us.  While the show may be relegated to history, mansions with bling are far from passé.  The mansions below, listed in no particular order, represent some of the most over-the-top residences on the face of the earth.
The Palace of Versailles – Windermere, FL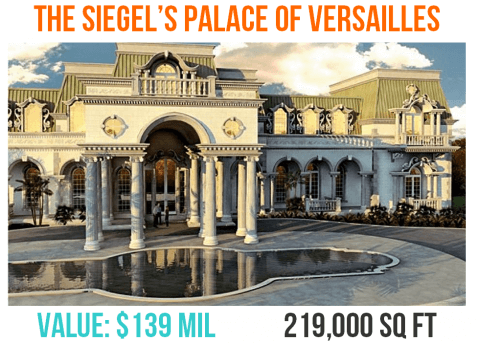 Owned by: David & Jackie Siegel Modeled after the Palace of Versailles in Paris, this Florida complex originally covered 90,000 square feet and as of this writing, it's still unfinished.  According to Jackie Siegel, wife of time-share mogul David Siegel and the lady of the manor, the sprawling mansion is scheduled to be completed in 2015, more than a decade after construction began. One reason for the delay was a break in construction from 2009 from 2013, partially as a result of the collapse of the housing market and the onset of the Great Recession. With its planned inlaid onyx flooring and Benihana-style grille, the mansion's size has mushroomed to 219,000 square feet. The couple and their opulent mansion were featured in a less-than-flattering documentary titled The Queen of Versailles.
Seinfeld's East Hampton's Estate – The Hamptons, NY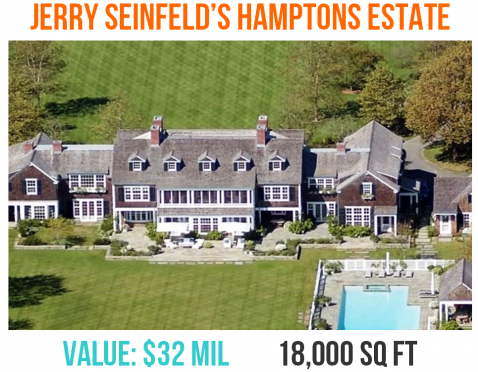 Owned by: Jerry Seinfeld The funnyman known for Seinfeld, the television "show about nothing" created a retreat for himself, his wife Jessica Sklar and their family in East Hamptons that is quite something.  Featured in InStyle magazine, and touted as the "best party house" in the Hamptons by OK! Magazine, the estate features its own baseball diamond, a 22 car garage, three separate buildings and loads of informal charm. Seinfeld bought the mansion, spread out over 12 acres from song man Billy Joel for $32 million in 2000.
The Estate of Infinite Love – Calabasas, CA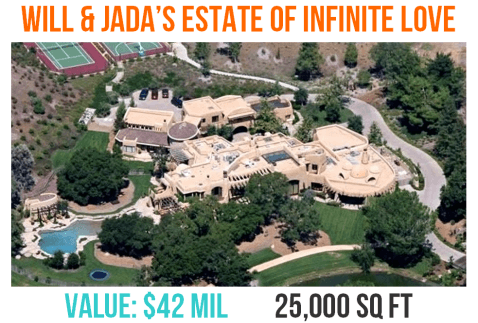 Owned by: Will Smith & Jada Pinkett-Smith The former "Fresh Prince" of Jazzy Jeff and the Fresh Prince and the Fresh Prince of Bel-Air has made the transition from hip-hop music icon to A-list movie star status. He and his wife, actress Jada Pinkett Smith, have enclosed themselves and their family in a California mansion so expansive that it has its own zip code. The $20 million estate includes expansive grounds large enough to accommodate basketball courts, tennis courts and its own private golf course because country clubs are so upper-middle class.
Uptown Girl Retreat – Long Island, NY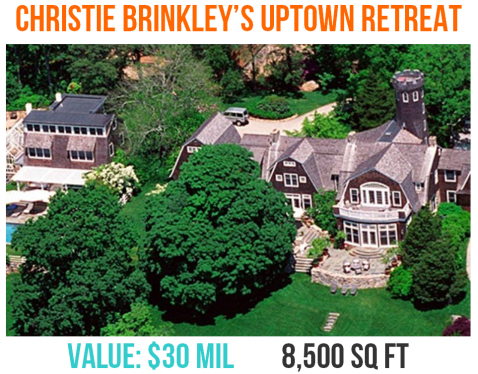 Owned by: Christie Brinkley These days, former supermodel Christie Brinkley calls a $30 million mansion in Long Island, New York home. The mansion allows the former "Uptown Girl" and ex-wife of Billy Joel to more than live up to the title of the hit song. The estate includes all the luxuries which a supermodel might expect, including 11 bedrooms and 9 bathrooms to accommodate visiting family and friends.
Fairfield Pond – The Hamptons, NY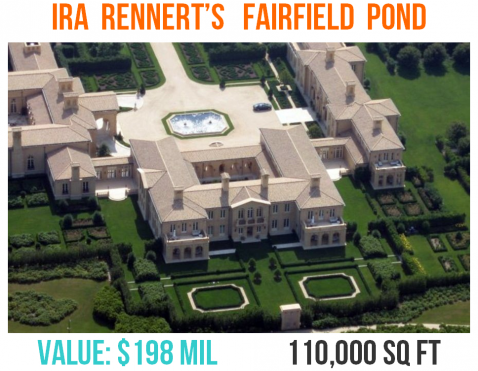 Owned by: Ira Rennert With an estimated value of $198 million, Fairfield Pond sits on 63 acres and includes 100,000 square feet of luxury fit for a resort.  Located in the Hamptons in New York State, the estate includes Atlantic seacoast exposure, its own bowling alley, 29 bedrooms and 39 bathrooms because who really ever wants to share a bathroom? Its owner, Ira Rennert may not be a famous Hollywood star or sports figure, but it's not hard to imagine that Robin Leach would drool over his estate nonetheless.
Miami Beach Waterfront – Miami, FL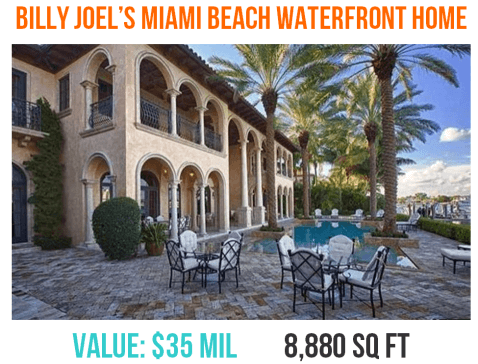 Owned by: Billy Joel He may no longer be singing about supermodels, but music icon Billy Joel has done quite OK for himself. His Miami Beach estate is valued at $35 million and is located on exclusive La Gorce Island. The estate features its own pier and boat slip (of course!), swimming pool and a full outdoor kitchen. And because it's Florida, a patio is de rigueur.
The Playboy Mansion – Los Angeles, CA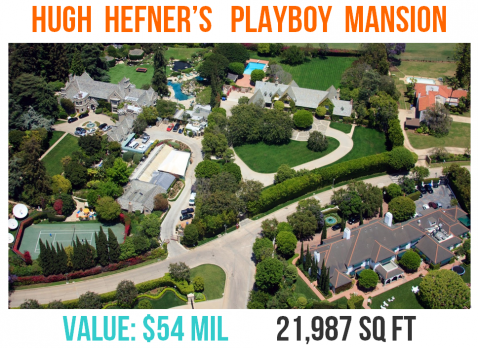 Owned by: Hugh HefnerThe original Playboy lives like the ruler of his own realm in a Los Angeles mansion valued at $54 million. The estate features all the trappings one might expect, including a wine cellar, tennis courts and game room. Other amenities include a private zoo, aviary and waterfalls, because, why not? And where else would all the lovely bunnies splash about if there wasn't a swimming pool, which of course there is.
The Promised Land – Montecito, CA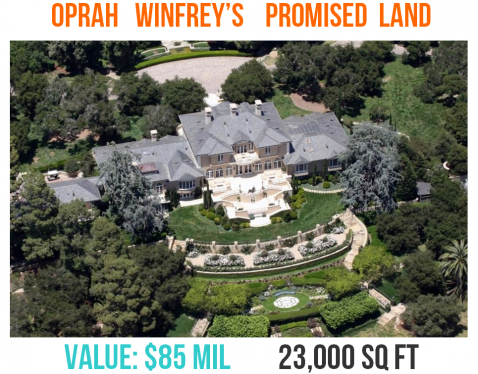 Owned by: Oprah Winfrey The undisputed Queen of Talk retired from the couch years ago and is now at the helm of her own cable network – the Oprah Winfrey Network, which goes by its acronym, OWN.  She has also abandoned the harsh climate of the Windy City for sunny California, where she created a mansion valued at $85 million. The media mogul recently emptied her estate – auctioning off the contents to benefit her South Africa leadership academy for girls. Along with benefiting charity, the move allows Oprah to redo the mansion and its expansive grounds according to her own values and tastes.
Spelling Manor – Los Angeles, CA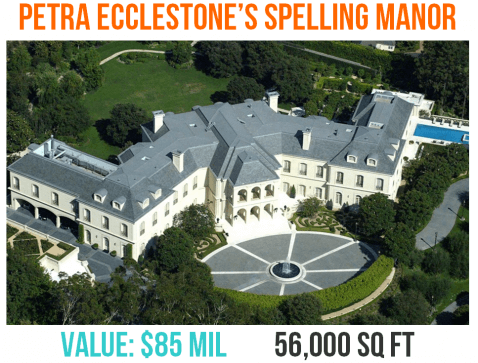 Owned by: Petra Ecclestone The producer of hit shows such as Beverly Hills 90210, Charlie's Angels, and Dynasty is no longer with us, but his legacy lives on, largely in the form of his sprawling California estate. The 56,000 square foot estate was valued at more than $150 million, but was recently picked up at the bargain price of $85 million by twenty-something British socialite Petra Ecclestone, who purchased the mansion from Spelling's widow Candy. The oh-so-posh Brit can occupy herself with the mansion's swimming pool, bowling alley, skating rink and tennis court. And she'll never need to rub elbows with the great unwashed to remain fit – the mansion includes its own fully appointed gym.
Pacific Northwest Retreat – Lake Washington, WA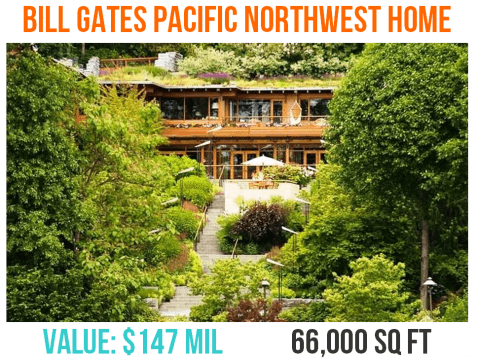 Owned by: Bill and Melinda Gates Bill Gates personifies the revenge of the nerds. The Microsoft co-founder has established a fortune worthy of any celebrity. He may no longer be the very richest man in the world, but the 66,000 square foot Washington state estate he shares with wife Melinda is valued at a cool $147.5 million.  As one might expect from one of the world's tech pioneers, one of the amenities included in the mansion is a well-stocked library.
Hummingbird Ranch – Simi Valley, CA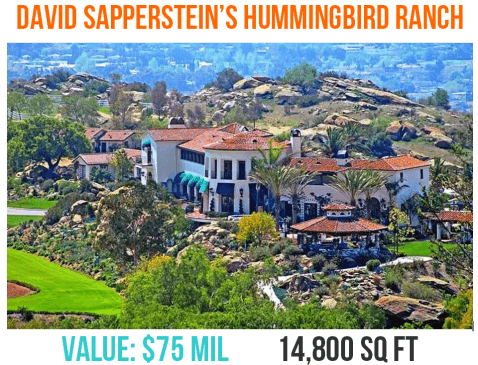 Owned by: David Saperstein This Simi Valley estate is a world apart from the fast-paced life in Los Angeles, or even San Francisco. Featuring its own helipad, 10 staff houses and six guest houses, the Hummingbird Ranch also boasts full equestrian facilities and its own boat slip. This outdoorsy refuge is valued at approximately $75 million.
The Pinnacle – Big Sky, MT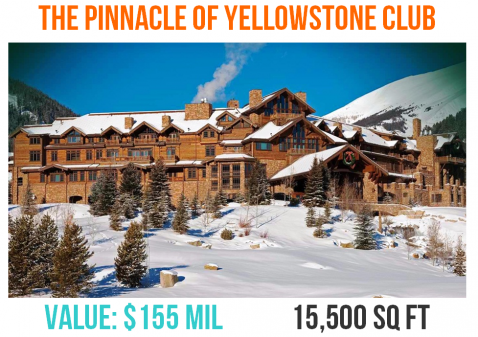 Owned by: Tim Blixseth The Pinnacle, located in super-exclusive Yellowstone Club ski and golf community in Montana, boasts a surprisingly modest 10 bedrooms. On the other hand, the estate features TWO pools – one indoors, one outdoors, and each bathroom features a fireplace to avoid that oh-so-unpleasant sensation of bare feet on cold tile. Valued at $155 million, The Pinnacle also allows residents and guests to avoid inconvenient lift ticket lines, with a chair lift located right at the back door.
A Private Skyscraper – Mumbai, India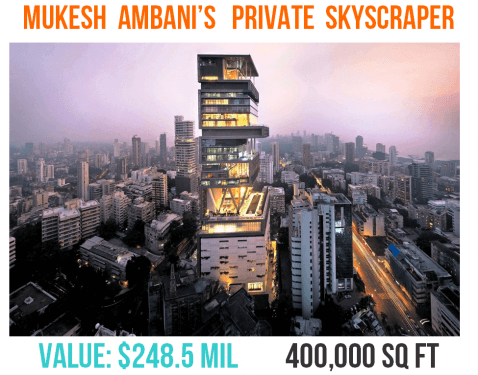 Owned by: Mukesh Ambani Most mansions are sprawling affairs with lavish grounds, often fronting the water. The home of Reliance Industries Chairman Mukesh Ambani is tucked on 20 tidy acres in Mumbai, India, yet measures an expansive 400,000 square feet. How? The mogul's home, called Antilla, is literally a skyscraper, towering 27 stories straight up. The structure requires a staff numbering more than 600 to keep its functions operational. Although construction costs for the home topped $1 billion, its present net worth is a mere $248.5 million.  In addition to its living space, the tower includes six stories of underground parking and three helicopter pads; just so all that height doesn't go to waste.
Albemarle House – Charlottesville, VA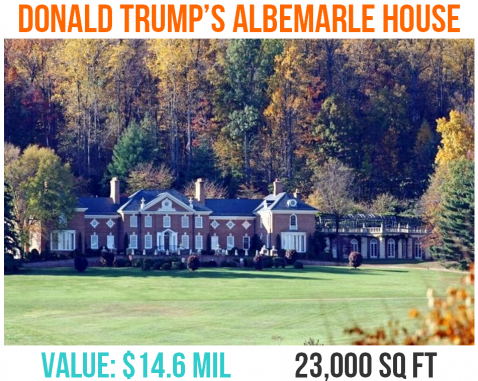 Owned by: Donald Trump Originally constructed for Patricia and John Kluge, Albemarle House in Virginia is a neo Georgian gem worthy of its neighbors, which include Monticello – the legendary home of Thomas Jefferson. The 23,000 square foot estate includes a heliport, pool and a private chapel. But one of its major draws was its renowned winery, which drew visitors from near and far as well as being a favorite wedding location. Valued at $14.6 million by the local county government, the house became bank owned after the Kluges fell on financial hard times. Albemarle House was snapped up in 2012 at the fire sale price of $3.6 million by none other than The Donald, who added it to the portfolio of Trump properties.
Rybolovlev Estate – Palm Beach, FL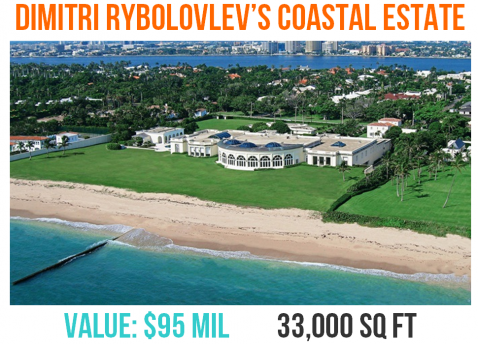 Owned by: Dimitri Rybolovlev Another estate connected with The Donald, Rybololev Estate located in Palm Beach, Florida has also been the focus of a nasty divorce. Formerly owned by Trump, the 33,000 square foot home boasts 18 bedrooms, 22 bathrooms and a prime oceanfront location. Russian billionaire Dimitry Rybololev and his wife owned the home during happier times; the estate was eventually purchased for the bargain basement price of $95 million.
Woolworth Mansion – New York City, NY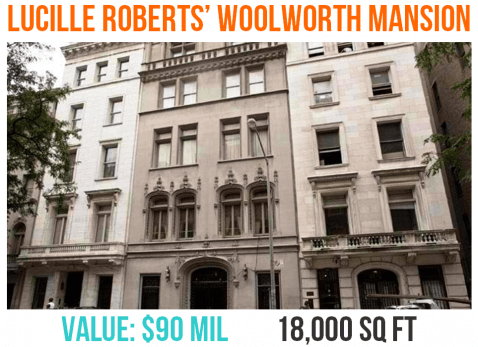 Owned by: Lucille Roberts The housing prices in New York City are legendary, for rentals and for purchase. Shoebox sized apartments rent for thousands and sell for hundreds of thousands. The 18,000 square foot Neo Renaissance Mansion in New York City puts them all to shame. Originally built in 1916 for Frank Woolworth, this sprawling seven-story estate has a limestone façade and a dining room that seats 50. Given these amenities and its location, the estimated value for the Neo Renaissance Mansion of $90 million seems like a relative bargain.
Le Belvedere – Bel Air, CA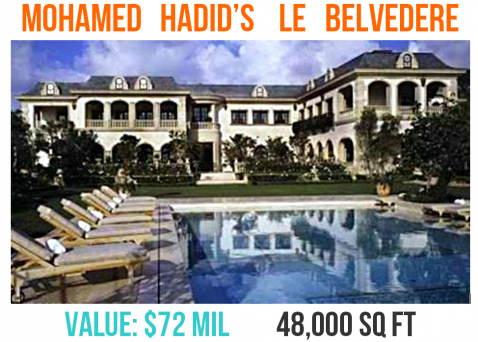 Owned by: Mohamed Hadid This Bel Air estate boasts 48,000 square feet, along with 10 bedrooms and 14 bathrooms. Along with its regulation swimming pool, the Hollywood Hills Mansion boasts a 280 degree view of the mountains as well as the city – while being safely tucked away from the unwashed masses. This sprawling estate has an estimated price tag of $72 million.
Hidden Hills Escape  – Los Angeles, CA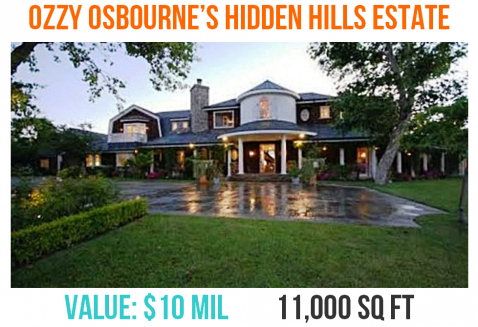 Owned by: Ozzy & Sharon Osbourne The heavy metal rocker and his family live under anything but rustic conditions. Osbourne's California estate boasts almost 11,000 square feet. While the Hidden Hills mansion only has six bedrooms, there are ten bathrooms, to allow family and guests maximum privacy.  The mansion's estimated value is a cool $10 million.
Tranquility – Zephyr Cove, NV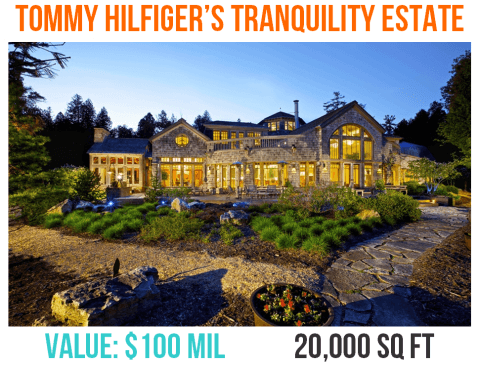 Owned by: Tommy Hilfiger Tucked a world away from the bright lights of Las Vegas, Tranquility features 20,000 square feet of European mountain home calm and, well, tranquility. Residents and guests can relax in style. The mansion features a wine cellar that holds 3,500 bottles and its own movie theater that holds 19 occupants. The rustic charmer and its surrounding grounds are valued at a very refined $100 million.
Fleur de Lys – Holmby Hills, CA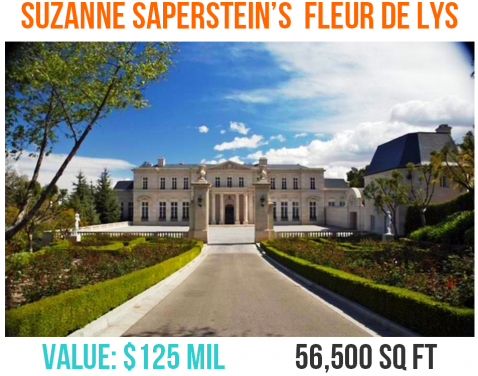 Owned by: Suzanne Saperstein While its name may suggest a location in the French countryside, Fleur de Lys is actually a Beverly Hills estate. Valued at $125 million, this lavish mansion and grounds feature neoclassical décor and architecture.  The mansion features all the standard Beverly Hills amenities, executed with a French style je ne sais quoi that oozes luxury and opulence.
Considering the purchase of a home? Use SuperMoney's Home Loan Search Engine to find the best rate available.
Need cash in a hurry but don't know which personal loan company you can trust? Supermoney is here to help you find the best options for all you loan needs.
Audrey Henderson is a Chicagoland-based writer and researcher. She holds advanced degrees in sociology and law from Northwestern University. Her writing specialties are sustainable development in the built environment, policy related to arts and popular culture, socially and ecologically responsible travel, civic tech and personal finance.