Are you thinking about adding a pool to your yard? If so, you likely know how confusing it can get with all the different options to choose from. What type of swimming pool should you choose? Should you get an in-ground or above-ground pool? Salt or chlorine? Fiberglass or concrete?
With so many different variables, doing some research and planning is a must. This is especially true if you want to save money on your pool.
To help you with that, here is a complete guide with the pros and cons of different pool designs, sanitation options, and materials. This will help you figure out which type of pool you should choose.
By the end, you'll be ready to take the next step toward installing your dream pool.
Pool designs
First, let's look at the different types of pool designs you can choose from. The best option for you will depend on your budget and the primary reasons you want a pool.
In-ground recreational pool
A recreational pool is the traditional pool type for backyards. The average cost of installation is $44,535, according to Home Advisor. These types of pools come in many shapes, from rectangular to free form to kidney-shaped, and beyond.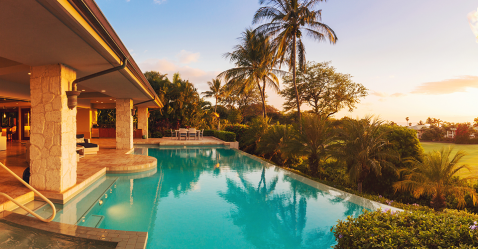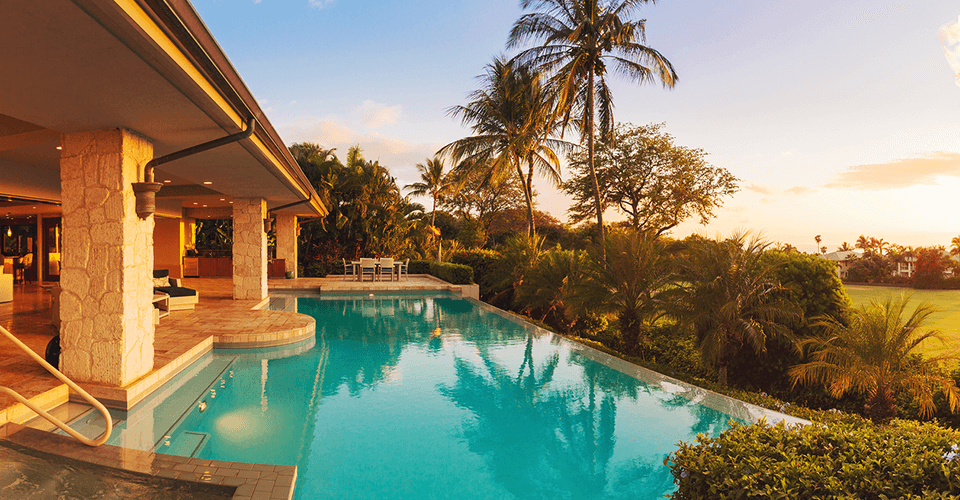 You can figure a base cost of about $50 per square foot for your pool design. The width and length typically range from 10′ by 20′ to 20′ by 40′, while the depth ranges from 3′ to 6′. In other words, there will be plenty of room for multiple people to swim and could be great for exercise as well.
WEIGH THE PROS AND CONS
Compare the pros and cons to make a better decision.
Pros
Multi-use
Great for entertaining
Lots of space
Installed by professional
Long-lasting
Cons
Need more space in your yard to build
Requires more maintenance than a smaller pool
May not be as good as a lap pool for swimming laps
More expensive than a smaller pool
Above-ground pool
This pool type can save you on the initial investment and maintenance, as it is installed above the ground instead of in the ground. According to Home Advisor, the average installation cost is just $1,653.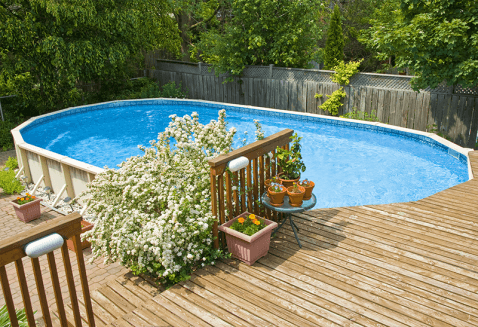 You purchase the pool and, typically, assemble it yourself. For accessibility, a ladder can be added or a deck can be built around the pool.
WEIGH THE PROS AND CONS
Compare the pros and cons to make a better decision.
Pros
Much less expensive than an in-ground pool
Less maintenance
Easier to winterize
Easy to remove if desired
Cons
Can be cheaply made
Typically smaller than in-ground pools
DIY assembly is usually required
Lap pool
Lap pools are built specifically for exercise. They are usually at least 45′ long, 8′ wide, and 3 1/2′ deep. This allows enough space to comfortably swim laps without hitting the sides or the bottom.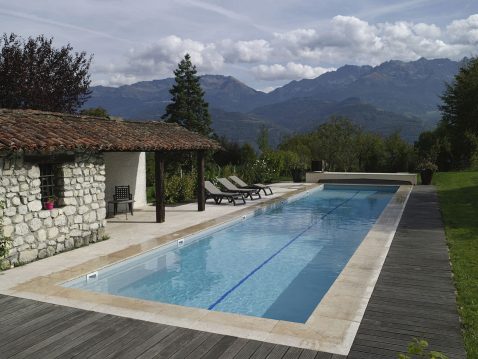 According to Home Advisor's figures, the cost would average around $63,000. So, lap pools aren't necessarily a route to take to cut costs. However, they can be great if your primary goal is to get exercise.
WEIGH THE PROS AND CONS
Compare the pros and cons to make a better decision.
Pros
Lap pools have a unique shape, which may allow you to add it where a traditional pool wouldn't fit
Allows for exercise at home
Nice feature for the yard
Cons
Not good for pool parties
Won't be as good for your resale value as a traditional pool
Same maintenance as a regular pool, but with less functionality
Can cost as much, or more, than a regular pool
Plunge pool
A plunge pool is a small, shallow, in-ground pool meant for cooling off, wading, and lounging. The typical size ranges from 5′ by 10′ to 10′ by 15′, and the depth is usually around 3.5′.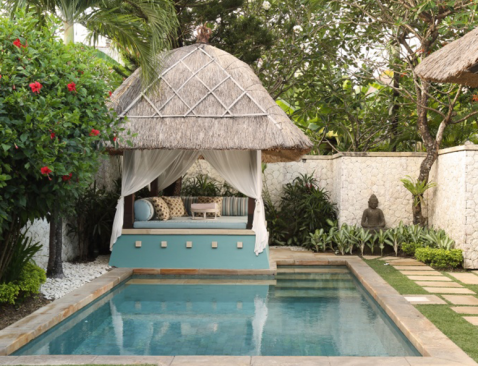 According to figures provided by Home Advisor, installing a plunge pool will cost around $17,500, on average. You may want to go this route if you are limited on space (or have a limited budget) and just want a pool you can dip into to cool off or relax.
WEIGH THE PROS AND CONS
Compare the pros and cons to make a better decision.
Pros
Reduced water requirements
Less maintenance
Lower cost
Space-saving option
Good for lounging, cooling off
Nice feature in the backyard
Cons
Unsuitable for swimming laps
Not much room to swim around at all
Not ideal for kids
Lacks enough space for pool parties
Infinity edge pool
We've all seen and love this kind of pool. Infinity edge pools have one edge without a wall, where the water pours over into a catching basin. This creates the effect that the pool may go on forever.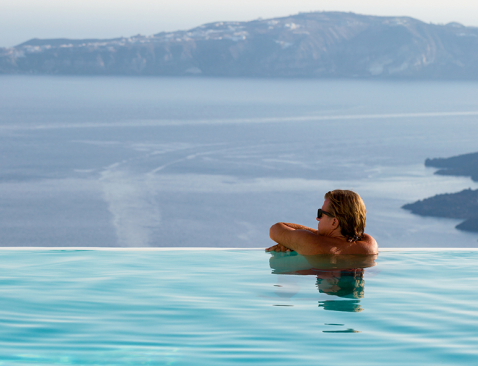 This feature can be combined with any other type of pool and will add a 20% increase to your pool cost, according to Reef Tropical.
WEIGH THE PROS AND CONS
Compare the pros and cons to make a better decision.
Pros
Great for overlooking scenic views
Constant motion of water continuously cleans and filters it
Looks attractive
Cons
Risk of people (particularly children) falling over the edge
Not as attractive if your yard doesn't overlook a larger space
Installation and maintenance is expensive
Natural pool
A natural swimming pool (NSP) uses biological processes to filter the water and requires no other sanitation system. These pools are split up into two parts: the swimming area and the regeneration area.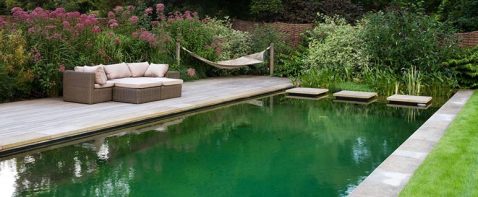 While the swimming pool can look like any other type of swimming pool, the regeneration area is where it differs. Water will flow through the area which contains specific filtration substrate and flora. The plants then compete for the nutrients that would typically feed algae, effectively cleaning the water.
Average estimated cost? According to Business Insider, it can range from $90,000 to $135,000 for installation.
WEIGH THE PROS AND CONS
Compare the pros and cons to make a better decision.
Pros
Healthier; no harsh chemicals
Leaves skin feeling refreshed
Low ongoing maintenance (only need to skim the pool and maintain the garden)
Energy efficient
No winterization needed
Natural look and feel
Eco-friendly
Cons
High initial investment for regeneration pool and specialized contractor
Requires more space
Requires knowledge on maintaining the eco system
May get some wild life in your pool
Water may not be perfectly clear (green tint)
May not be as sanitized as other options
Wouldn't need any additional sanitizing solution
Sanitation options
Once you've found a pool design you like, you'll need a system to keep it clean (unless you opted for a self-sustaining natural pool). Chlorine is very effective at keeping pools sanitary and can be added directly or created with a salt water system.
No matter which option you choose, Shawn Waterman, pool builder at Platinum Pools says, "The balance of chemicals is always the key. With chlorine in the right balance, your pool will always be sanitary."
Here's a quick overview of each option.
Chlorine
Probably the most popular option, chlorine sanitation requires adding the chemical directly into the water. According to Fixr, it will cost between $300 to $800 per year in chemicals to maintain it.
WEIGH THE PROS AND CONS
Compare the pros and cons to make a better decision.
Pros
Extremely effective at preventing algae and bacteria growth
Affordable to maintain and install
Cons
Interacts with cosmetic products and bodily fluids creating chloramines, which can harm the hair, eyes, and skin
Requires regular maintenance and close monitoring
High ongoing maintenance cost
Has been linked to respiratory problems, cancer, and other health problems
Salt water
A salt water swimming pool is disinfected through electrolysis, which creates chlorine from salt. The water needs to contain about a tenth of the salinity that you find in the ocean. Fixr estimates the initial cost for a salt system installation to average about $1,500 (due to the salt water generator and installation), while yearly salt and chemical costs range from $70 to $100.
WEIGH THE PROS AND CONS
Compare the pros and cons to make a better decision.
Pros
Softer feel to the water
Less maintenance than chlorine pools
Lower maintenance costs
No handling of dangerous chemicals
Gentle on eyes and skin
Cons
Larger initial investment
Complex system requires experienced technicians to handle problems
Requires specific types of equipment that won't be damaged by salt
Will use more electricity than a regular pool pump system (approx. $40 more per year, according to Fixr)
Salt is corrosive over time
Pool material options
Lastly, you will need to choose the material you want your pool to be. This decision will impact your upfront costs, ongoing maintenance costs, how long your pool will last, how durable it will be, how difficult it will be to maintain, and if it is customizable in terms of shape and size. The most popular options are concrete, fiberglass, and vinyl.
Concrete
Home Advisor estimates a concrete pool will cost between $50,000 to $100,000 to install and $27,400 to maintain over the first 10 years. This is the most expensive option, both upfront and over time.
However, it does offer high durability and the longest expected life. Furthermore, Waterman says, "I recommend concrete or Gunite because you can shape or design them any way you like."
WEIGH THE PROS AND CONS
Compare the pros and cons to make a better decision.
Pros
Customizable size and shape
Highly durable
Long lasting with proper maintenance
Cons
Porous surface enables algae growth that is difficult to remove
Requires weekly brushing and more chemicals
Not compatible with salt
Expensive to install and maintain
Requires resurfacing every 10-15 years
Rough surface can scratch you while swimming
Slow installation
Fiberglass
Home Advisor estimates a fiberglass pool will cost from $45,000 to $85,000 to install. As for the maintenance, the 10-year costs are the lowest of the three pool types, totaling $3,750.
This is a good option if you can find a pool with the dimensions you want, if low maintenance is important to you, and if you want a quick installation.
WEIGH THE PROS AND CONS
Compare the pros and cons to make a better decision.
Pros
Non-porous surface prevents algae growth
Low maintenance costs
Fast installation
Durable
Compatible with salt systems
Cons
More expensive initial cost than vinyl
Shape and size are not customizable
Surface can be slippery
Can crack or bulge with improper installation
May need gel refinish after 10 years
Shorter life than concrete pool
Vinyl
The initial cost of a vinyl pool ranges from $35,000 to $50,000, according to Home Advisor. Vinyl has the lowest installation cost  compared to concrete or fiberglass pools.
The 10-year maintenance costs are estimated around $11,500. Vinyl is recommended if you have a relatively small budget, want a custom pool at the lowest cost, and are willing to manage the liner maintenance and replacements.
WEIGH THE PROS AND CONS
Compare the pros and cons to make a better decision.
Pros
Low upfront cost
Customizable shape and size
Cons
Liner can be torn, stained, or damaged
Liner needs to be replaced every 10 years
Algae growth opportunities
Can be slippery with mismanaged pool chemistry
Finance your perfect pool
Now you have all the information needed to choose your perfect pool. Maybe it's an in-ground recreation fiberglass pool with salt water or a small plunge pool made from concrete and sanitized with chlorine.
"It's all in preferences. What do you want to get out of your pool? All pools maintained and kept up will be good pools." says Waterman. You'll just need to decide what you want and see how much it will cost. Then, it's time to look at financing.
A key factor in saving on your pool is finding the most cost-effective financing solution. Online lenders such as Avant, LightStream, and Prosper offer personal loans that you can use to pay for home improvements, including building a pool.
There are dozens of lenders to choose from, which has made for a competitive environment.
To narrow down your options and find the best one for you, try out SuperMoney's personalized loan engine. In just a few minutes, you can be comparing numerous offers from top lenders to see find the best deal.
Once you have your financing in place, you'll be ready to break ground and install your dream pool!
Jessica Walrack is a personal finance writer at SuperMoney, The Simple Dollar, Interest.com, Commonbond, Bankrate, NextAdvisor, Guardian, Personalloans.org and many others. She specializes in taking personal finance topics like loans, credit cards, and budgeting, and making them accessible and fun.