Article Summary:
The best time to visit Chicago for the best weather and sheer number of outdoor events is in the peak season of summer. During this time, plenty of food and music festivals, baseball, and many other attractions are in full swing. More budget-conscious travelers who prefer fewer crowds (but still want to enjoy outdoor activities) may want to come in the shoulder seasons of spring and fall. Those who don't mind freezing temperatures and snow should plan to come in winter when there are great deals on flights. Hotel prices are at their lowest in the winter, and visitors can also enjoy the top restaurants and amazing museums without all the tourists.
Chicago is known for a lot of reasons — spectacular Lake Michigan, world-class sports, deep-dish pizza, and some of the country's best music festivals, just to name a few of the city's highlights. And let's not forget the frigid temperatures in winter!
To find the best time to visit Chicago, visitors should first map out what most interests them about the Windy City. Read on to learn more about the best ways to enjoy Chicago's many outdoor events and indoor attractions no matter the weather forecast.
Best time to visit Chicago for warm weather
If live music, baseball, amusement parks, and beaches are on your agenda, you'll want to visit Chicago in the summer when the average high temperature is in the 80s (sometimes reaching into the 90s), and everything is open.
One of the ways Chicago kicks off its summer season is with the Chicago Blues Festival in June. Every year you can enjoy a lineup that celebrates blues music from the past, present, and future. The main event (admission-free) is held at Millennium Park in the heart of downtown Chicago but neighborhood concerts can be found citywide.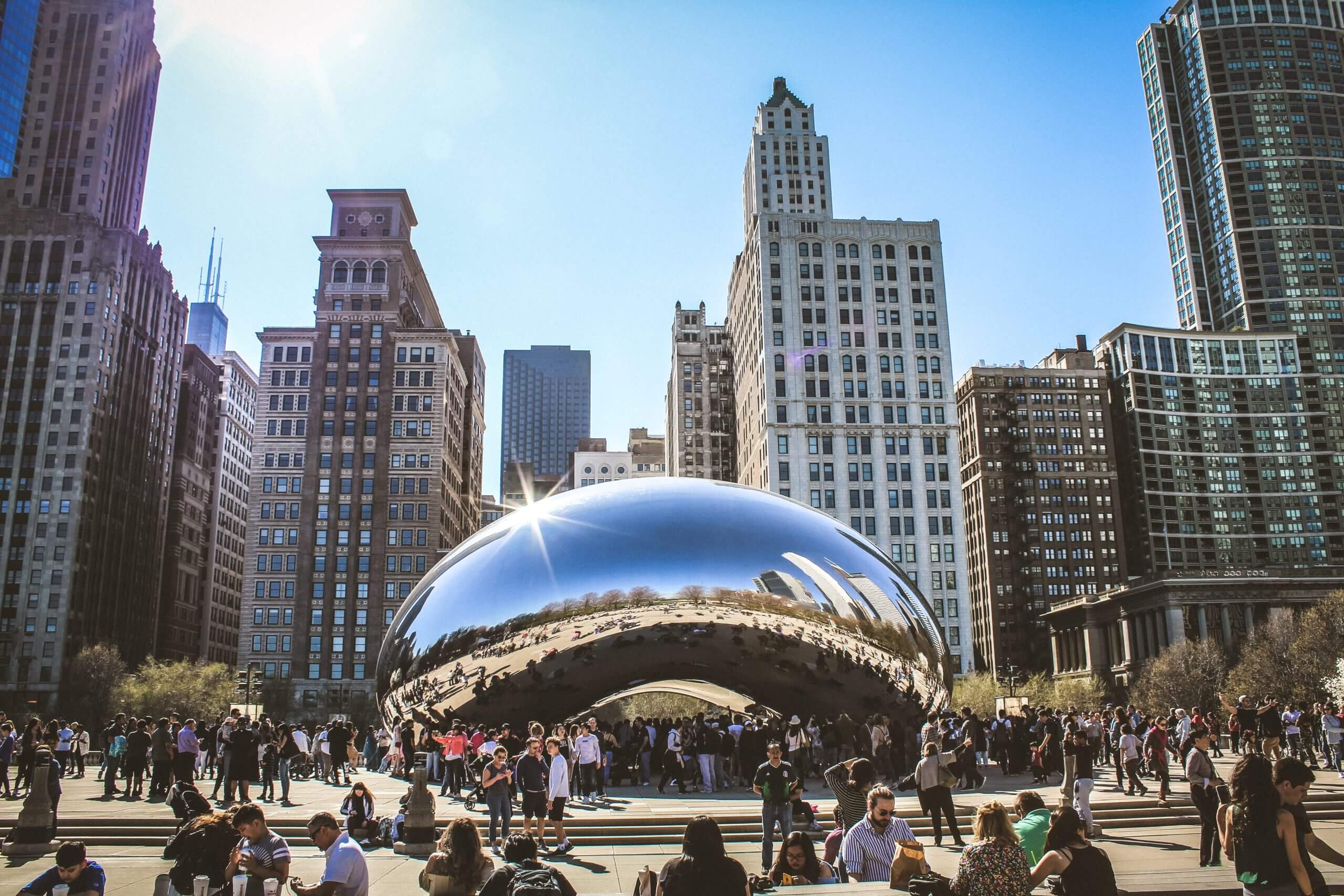 The first Chicago Blues Festival began in 1984 to memorialize the death of Muddy Waters. Today, the festival highlights not only the best of the blues, but also showcases its contributions to other styles of music like soul, gospel, R&B, and hip hop.
Connoisseurs of food and music might also want to attend the Taste of Chicago held in July in Grant Park, the city's most famous food festival. If you've already eaten your fill, check out the Chicago Jazz Festival that spans the city and is held in late August and early September.
Families should head on over to the Navy Pier, one of Chicago's top lakefront attractions, where there are fun things to do all summer long. The location's calendar features something for everyone, from free fireworks displays throughout the year to live music, theater, art exhibits, dance performances, cultural celebrations, lake cruises, and kids' activities.
Chicago's baseball season
Let's not forget that summertime is the height of baseball season and is a very big deal in Chicago, which is one of the few cities to boast two baseball teams.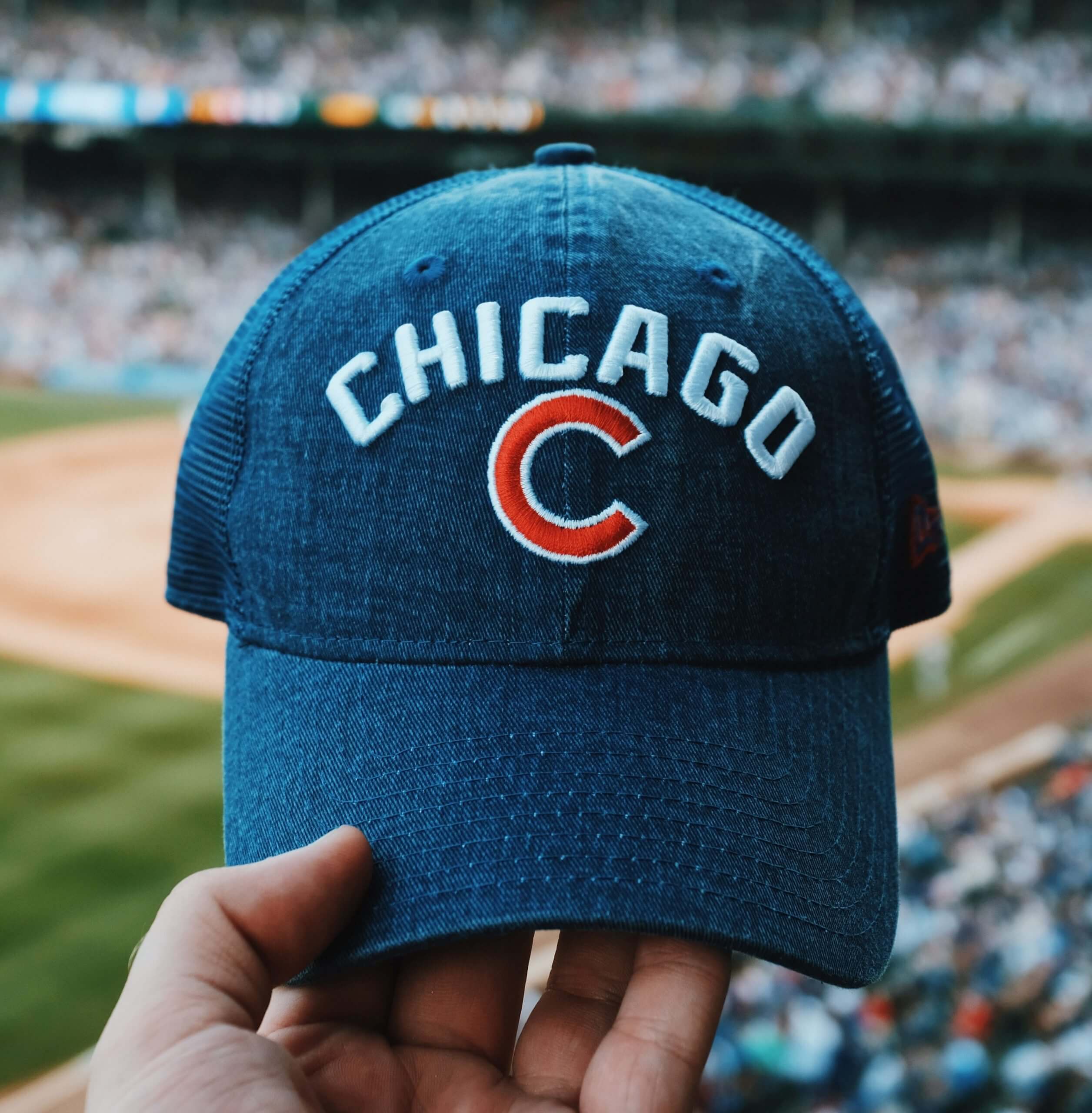 Head to the north side of the city to take in a Chicago Cubs game at Wrigley Field (the country's second oldest ballpark behind Boston's Fenway Park). If you're not much of a Cubs fan, make your way to the south side for a White Sox game.
On rare occasions, baseball fans can take in a day game at Wrigley and then follow it up with a night game at Sox Park — as the White Sox ballpark is called by locals. Several times a year, you can even watch them play each other and get a firsthand view of the long-running rivalry between the two teams.
Chicago summer season travel tips
Even though there are plenty of fun things to do in the summer months of Chicago, be prepared for long lines and crowds, depending on what you're doing. You would also be wise to book your flights and hotel accommodations well in advance to get the best deals. If it works for your schedule, try to travel on mid-week dates for better prices.
Make no mistake, this is going to be the busiest and most expensive time to explore Chicago. This means restaurant tables will also be at a premium. You'll always be able to find a great place to eat in the Windy City, but if there are any iconic Chicago restaurants you want to experience, be sure to make your reservations long before your trip.
Take a look at the table below for a better idea of Chicago's average temperature, rainfall, and crowd levels throughout the year.
Average high (F)
Average days of rain
Crowd and hotel rates
January
32°
5 days
Low
February
36°
7 days
Low
March
45°
5 days
Low
April
56°
7 days
Moderate
May
66°
7 days
Moderate
June
77°
9 days
High
July
82°
6 days
High
August
81°
6 days
Moderate
September
74°
5 days
Moderate
October
62°
7 days
High
November
50°
4 days
Low
December
37°
7 days
Low
*All temperatures listed are in Fahrenheit.
**Source: Any Travel Tips
Cheapest time to visit Chicago
Cold winter weather — some might say the worst weather — keeps a lot of travelers from visiting Chicago in the winter months. However, your wallet will thank you if you decide to explore Chicago when the snow flies. Cheaper flights and discounts on hotel rooms can save you a ton of money on your trip if you visit from December (except right around the holiday season) through February.
That way you've got more cash to spend on your visit rather than on your travel expenses. This money could be better put to use at less-crowded restaurants, museums, and the theater, for instance. While top Chicago restaurants during summer break might require reservations months in advance, fewer visitors mean better chances to eat at some of Chicago's top eateries.
Financing your trip
Even during the wintertime, you may need some help financing your Chicago trip. Luckily, there are several options available to help save your wallet.
One of the most popular saving methods is by using rewards credit cards prior to your trip. This allows you to build up travel points or miles, which you can then use to pay for part or all of your plane tickets. And if you're planning to travel during the winter, you may want to get some travel insurance as well. After all, Chicago snow is anything but predictable.
Vacation loans
However, not everyone has the time or money to spend racking up rewards points. If you don't have a rewards credit card or don't have the time to accumulate points, you can finance your trip to Chicago with a vacation loan. Take a look at some of the loan options below to find the vacation loan best suited to your plans.
Finding fun in Chicago's winter
The holiday season is an especially lovely time to visit Chicago in the winter weather. Enjoy the millions of holiday lights on Michigan Avenue (a.k.a. the Magnificent Mile), some holiday shopping, or ice skating at Millennium Park.
If you'd like a spectacular view of the city without enduring the cold weather, head to the 94th-floor observatory at the former John Hancock Center (now known simply as its address). You can pay admission to see the observatory deck from the 94th floor or head up to the Signature Lounge on the 96th floor where the view comes free with the price of a cocktail. You can also stay for dinner at the Signature Room on the 95th floor.
Chicago's best indoor activities
January and February are the coldest months of the year, with daytime temperatures in the 20s and 30s. Unfortunately, there's also always the potential for snow or sub-freezing temperatures. However, this is also a great time to visit Chicago museums, such as the Art Institute of Chicago, one of the oldest, largest, and most-visited art museums in the country.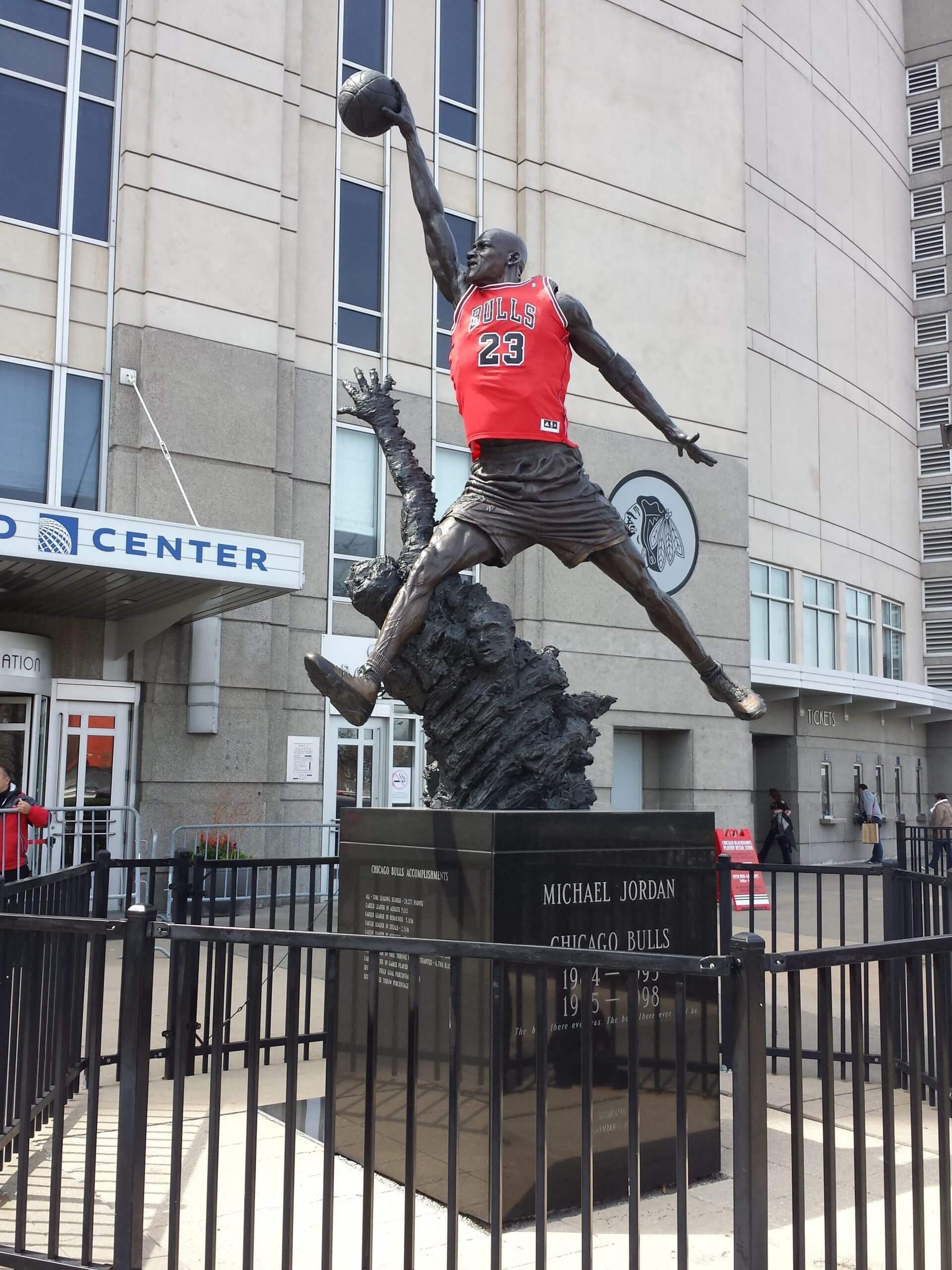 Head a little further south to Chicago's Museum Campus to explore natural history and the Earth's cultures at the Field Museum, stars and galaxies at Adler Planetarium, or the underwater world at the Shedd Aquarium. Another must-see is Chicago's Museum of Science and Industry, the largest science center in the Western Hemisphere.
Winter weather is also an ideal time to take in a Chicago Blackhawk hockey game or some Bulls basketball. The two teams have 12 national championships between them and both conveniently play at the United Center on Madison Avenue on the near west side of Chicago.
Another fun indoor activity that car enthusiasts and others will enjoy is The Chicago Auto Show. This is the nation's largest and longest-running car show and is held at McCormick Place every February.
Best time to visit Chicago with fewer crowds
If you want to visit Chicago while enjoying (relatively) pleasant weather but with fewer crowds, come during the shoulder seasons of spring and fall. Flight and hotel prices will be more reasonable than in summer, but there are still plenty of things to do.
Spring in Chicago
Chicago is definitely not a spring break destination. Spring weather can be a bit more fickle than fall, particularly April. This is typically the rainiest month in Chicago (just behind August) with average temperatures in the 50s and low 60s (40s at night).
But May brings warmer weather (into the 70s at times), so even the cooler weather at night should only require a light jacket to keep you comfortable walking around. You may want to take that time to visit the Lincoln Park Zoo, which has free admission and is open in Chicago year-round.
If you visit Chicago in March (despite the cold weather), you'll get to experience St. Patrick's Day in mid-March, which is a great time to visit the city. Irish pubs fill with partygoers, and a huge parade and cultural celebrations spread throughout the city.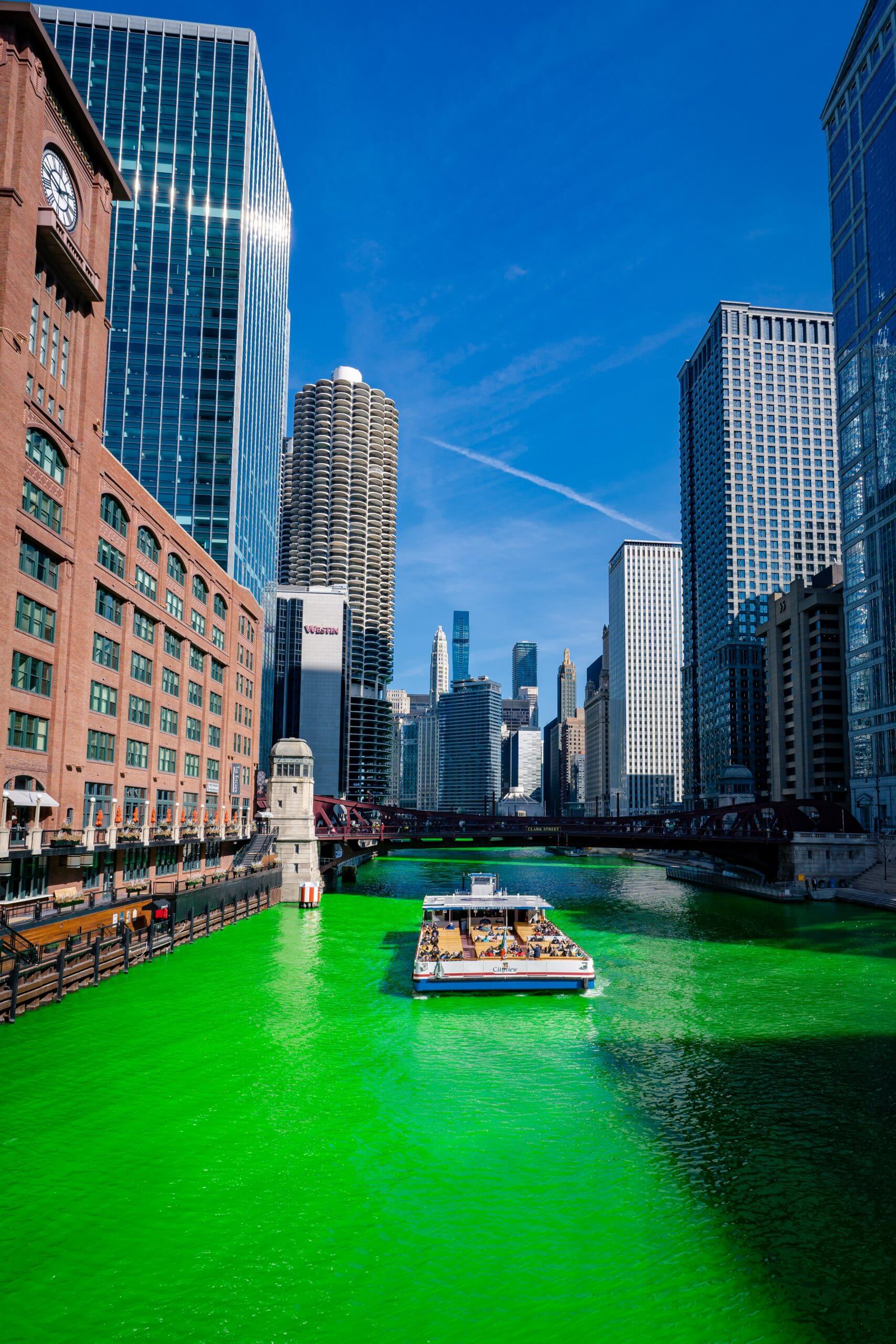 Plus, every year on the Saturday before St. Patty's Day, locals and visitors alike can watch the Chicago River dyed green — (an environmentally friendly) bright emerald green — from State Street to Columbus, which is quite a sight to behold. The tradition to dye the Chicago River started in 1962 after a suggestion by a local plumbers' union that still holds the river-dyeing honors today.
A unique way to see the city and some of its truly outstanding architecture is from one of the many boat tours that traverse the Chicago River, whether it's dyed green or not. Tourists can also take cruises along the shores of Lake Michigan to get a spectacular view of Chicago's skyline from the water.
Visiting Chicago in the fall
September and October can be some of the most pleasant months to visit Chicago. Average daytime temperatures go from the 70s in September to the 60s in early October before gradually cooling off in early November. You might see some snow during this time.
This can be a great time to get in a late-season baseball game, which can be especially exciting if the Chicago Cubs or White Sox are making a playoff run. Sports fans can also cheer on world-class runners and locals alike at the Chicago Marathon held every October.
October also brings beautiful fall foliage to the area, but you'll probably want to head further north for the full effect. A day trip to northern Illinois or southern Wisconsin is a short drive from Chicago and a great way to get a first-hand glimpse of the changing seasons.
Mid-November is when the holiday season in Chicago kicks off, including the Magnificent Mile Lights Festival, outdoor festivals and holiday markets, and the Chicago Thanksgiving parade. Some even say Chicago's spectacle rivals New York City's Thanksgiving Day Parade.
Pro Tip
Mid-week times are almost always going to come with the lowest rates on flight and hotel reservations. If you can manage it, save money by booking on those days of the week. Added bonus: Mid-week times will also be less crowded for restaurants, museums, and many other indoor and outdoor activities.
FAQs
What is the rainy season in Chicago?
It might be a cliché, but Chicagoans like to say: "If you don't like the weather in Chicago, just wait five minutes." This statement is true to some degree — it's not unknown to see sun, rain, and snow all in one day. That being said, there is plenty of sunny, pleasant weather in between the bursts of rain. Officially, the rainiest months stretch from April through October, with the wettest months coming in April and August.
What is the best way to get around in Chicago?
Chicago has such an excellent public transportation system that many year-round residents don't even own a car. (Parking is also no picnic.) The Metra train system can allow visitors to easily reach the suburbs for visits to friends and family, or to see other Chicagoland attractions like the Brookfield Zoo, Chicago Botanic Gardens, or Six Flags amusement park.
The El, Chicago's answer to the subway system, most of which runs on elevated tracks, is one of the best ways to get around the city itself, with El stops conveniently located throughout the city. The El can also deliver you to abutting towns such as Evanston (home of Northwestern University football) or Oak Park, where you can do a walking tour of homes and buildings built by famed architect Frank Lloyd Wright.
Key Takeaways
Hot temperatures and occasional rain don't keep visitors away from Chicago in the summer season. This is the most popular time for tourists to enjoy cultural, food, and music festivals, Navy Pier, and Lake Michigan beaches and parks.
The winter months, with average temperatures in the 20s or 30s, are the cheapest time to visit Chicago. During this time, you'll get deals on hotels and time to enjoy some of Chicago's indoor activities like holiday shopping and museums.
There are outdoor activities to be enjoyed in winter as well, such as walking the Magnificent Mile and enjoying the holiday lights or ice skating at Millennium Park.
The shoulder seasons of fall and spring can offer some optimal weather and warmer temperatures. Fortunately, you can still enjoy plenty of outdoor events as well as indoor attractions without the heat and crush of summer crowds.