U.S. workers have left 54% of their paid vacation time on the table in the last 12 months, according to a survey by Glassdoor. Why pass up on a well-earned respite from work? Many employees think that vacationing is too expensive to afford. Roughly three-quarters of vacationers go into debt to finance their trip, with people borrowing $1,108, on average.
Depending on your situation, it may or may not be a good idea to take out a vacation loan to finance your trip.
"Those with other unsecured debt obligations – such as credit card debt – should not borrow more money for something that is a 'want' rather than a 'need.'"
Here's what you need to know before applying for a vacation loan.
The average cost of a vacation
It's hard to estimate the cost of a vacation since costs vary wildly based on where you go, how you get there, and how long you stay. A road trip for a family of four, for example, requires a lower budget than a flight to the same destination.
Here are some ballpark figures on the cost of a 4-day trip within the U.S. and a 12-day trip abroad: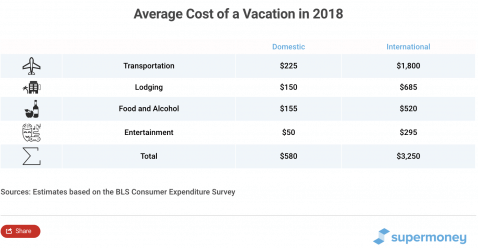 How to finance your vacation
You can finance your vacation in two ways: by applying for a personal loan, or using a credit card. Here's what you need to know about each option.
Personal loans
With an unsecured personal loan, you can borrow as much as you need without putting up collateral to secure the loan. That unsecured nature makes personal loans easier to get.
With a personal loan, your monthly payment and repayment term are set, so you don't have to worry about extending your debt sentence because of a low minimum payment.
However, this option requires you to have a healthy credit score. Attempting to take out an unsecured personal loan with poor credit can result in high interest rates. Or worse, the lender may reject your request entirely.
Another problem is that many personal loan companies have high minimum borrowing amounts, often starting at $5,000. Few people spend that much on vacation, so you could feel like you have to borrow more than you need.
A couple of exceptions are LendingClub and Upgrade, both of which have $1,000 minimums and offer decent interest rates.
Find out what rates you qualify for without hurting your credit score.
Credit cards
Like personal loans, credit cards don't usually require collateral to open an account. What's more, some credit cards offer benefits when you use them, such as rewards and other perks.
Also, some credit cards offer 0% introductory APR promotions, which can allow you to finance your vacation with no interest. But be wary. If you don't pay off your debt before the end of the promotional period, you're stuck with a high interest rate.
In general, credit cards charge a 15.32% interest rate, on average, according to the Federal Reserve.
Compare rates, fees, and benefits of various credit cards today
What to look for in a vacation loan
In an ideal situation, you'd pay cash for your vacation to avoid paying interest on a loan. But if you need a break and can't wait till payday, here's what you should consider as you compare vacation loans options:
Interest rate
Different lenders charge various interest rate ranges on their personal loans, so it's important to shop around. Interest rates also depend on your creditworthiness.
If you have poor credit, you may be stuck with a high interest rate, and borrowing to fund your vacation might be a bad idea. The average interest rate on a 2-year personal loan is 10.22%, according to the Federal Reserve.
Fees
Personal loans typically don't come with a lot of fees. However, some lenders charge an origination fee, which can be anywhere between 1% and 8% of the loan amount. Most lenders also charge late fees, which you can avoid by making your payments on time. Do your research before committing to a lender to avoid unnecessary additional charges.
Loan amount and term
It's important only to borrow what you need, so avoid working with a lender with a high minimum. Also, consider the lender's flexibility with its repayment terms. Some loans for bad credit will only give you weeks to repay the debt, where legitimate personal loan companies will offer up to a few years.
However, be sure to take the shortest loan term that you can comfortably pay off on time. Longer loan terms let you make smaller payments, but in the long run, you end up paying more in interest.
Other features
Some personal loan companies offer extra perks to entice you to apply. For example, you may get a reduction of your interest rate if you sign up for automatic payments. Or you could get unemployment protection if you lose your job through no fault of your own. Seek out a lender with perks that suit your circumstances.
Average personal loan rates by credit score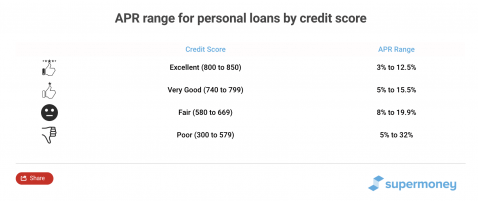 3 tips to avoid over-borrowing for your vacation
Since both credit cards and personal loans charge relatively high interest rates, it's important to have a plan for your trip before you apply. Here are three things you can do.
1. Save as much cash as you can
Take the time to set cash aside to cover most of your trip costs before the trip begins. Take a look at your budget to find areas where you can cut back, and funnel that cash into savings instead. If you don't have a budget, consider how you spend your money and consider cutting back on certain expenses throughout the month. Then, use this money to fund your trip.
2. Opt for a cheaper destination
If you're borrowing to take a trip, you don't need to go to Bali or Hawaii to get a break. Consider a cheaper destination like Florida or Puerto Rico instead. Also, look into doing a cruise that includes accommodations, food, and transportation at a lower price than you might pay if you pay for those things separately. This will also help you control your budget and avoid any last-minute surprise expenses.
In other words, you want to borrow as little money as is necessary. Save your more ambitious vacation plan for when you can afford it in cash.
3. Set a vacation budget
It's hard to know how much to borrow if you don't know how much you're going to spend. So it's essential to create a vacation budget. Run the numbers for the flight, the hotel, the rental car, and whatever other major expense you'll incur.
Don't forget about food, gratuities, parking, souvenirs, and other minor expenses that could get out of hand if you let them. Set a reasonable budget for each, then borrow based on your overall trip budget. And be sure to stick to your budget.
How to choose the right vacation loan
If you've decided to take out a personal loan to finance your vacation, it's important to know how to get the best loan for your needs.
"Independent lenders can use different criteria than a traditional bank or credit union to evaluate how likely a person is to repay a loan," says Toms. For example, some online lenders may look at your savings and earnings potential.
"This can be extremely important for some borrowers, as traditional credit data is limited in that it doesn't fully account for someone's complete financial profile."
The most important thing you can do is to shop around. Using SuperMoney's personal loan engine, you can compare offers from several different lenders in one place without officially applying. There will be a soft inquiry on your credit report, which won't affect your credit score.
To start the process, you'll need to share your:
Reason for borrowing.
Desired loan amount.
Credit score.
Education level.
Employment status.
Annual income.
Payment frequency and method.
Housing information.
Address.
Name, date of birth, email address, and phone number.
Military status.
Residency status and Social Security number.
Once you submit this information, you'll see potential offers from SuperMoney's partner lenders. They'll include the interest rate, potential fees, your estimated monthly payment, and the total amount you'll pay over the life of the loan with interest.
With this information, you'll have an easier time picking the right lender because the offers are personalized.
If you want to improve your chances of getting approved with a lower rate, consider getting someone else with great credit to cosign the application with you. Getting a cosigner isn't always easy, but it could save you money.
Ready to get started? Research is your first step! Click here to compare side-by-side ratings and reviews of personal lenders. Or if you'd rather pay with credit, click here to check out the top credit cards on the market.