Article Summary:
The best time to visit Iceland for warmer weather conditions, midnight sun, open hiking trails, and whale-watching tours is during the summer holidays of June, July, and August. If you don't mind just a few hours of daylight, the winter months can also be a fun time to visit Iceland if lounging in a hot spring while viewing the spectacular aurora borealis is more your speed. Visit Iceland in the shoulder seasons for longer daylight hours (relatively speaking), tons of attractions to visit, fewer crowds, and better prices.
If visiting Iceland hasn't made it on your dream trip bucket list yet, you might want to go ahead and add it right now. Aptly nicknamed the "Land of Fire and Ice" because of its abundance of glaciers and volcanoes — many glaciers actually sit on top of volcanoes — there's no shortage of reasons to visit this European island country year-round.
Read on to learn more about the best time to visit Iceland no matter your motivation. Whether you want to road trip around the entire island on the famed Ring Road under the midnight sun of an Iceland summer, or frolic in the Blue Lagoon hot springs, we've got you covered. First, let's take a quick look at some interesting facts about the island before you plan your Iceland trip.
Iceland facts
Iceland, Europe's least populous country with a 2021 population of just under 369,000 people, is a volcanic island located in the northern Atlantic Ocean and is famous for its natural hot springs, majestic and rugged scenery, fjords, and dramatic glaciers. Europe's largest glacier by volume, Vatnajokull, is located in Iceland and has made a cameo in several movies and the Game of Thrones TV series.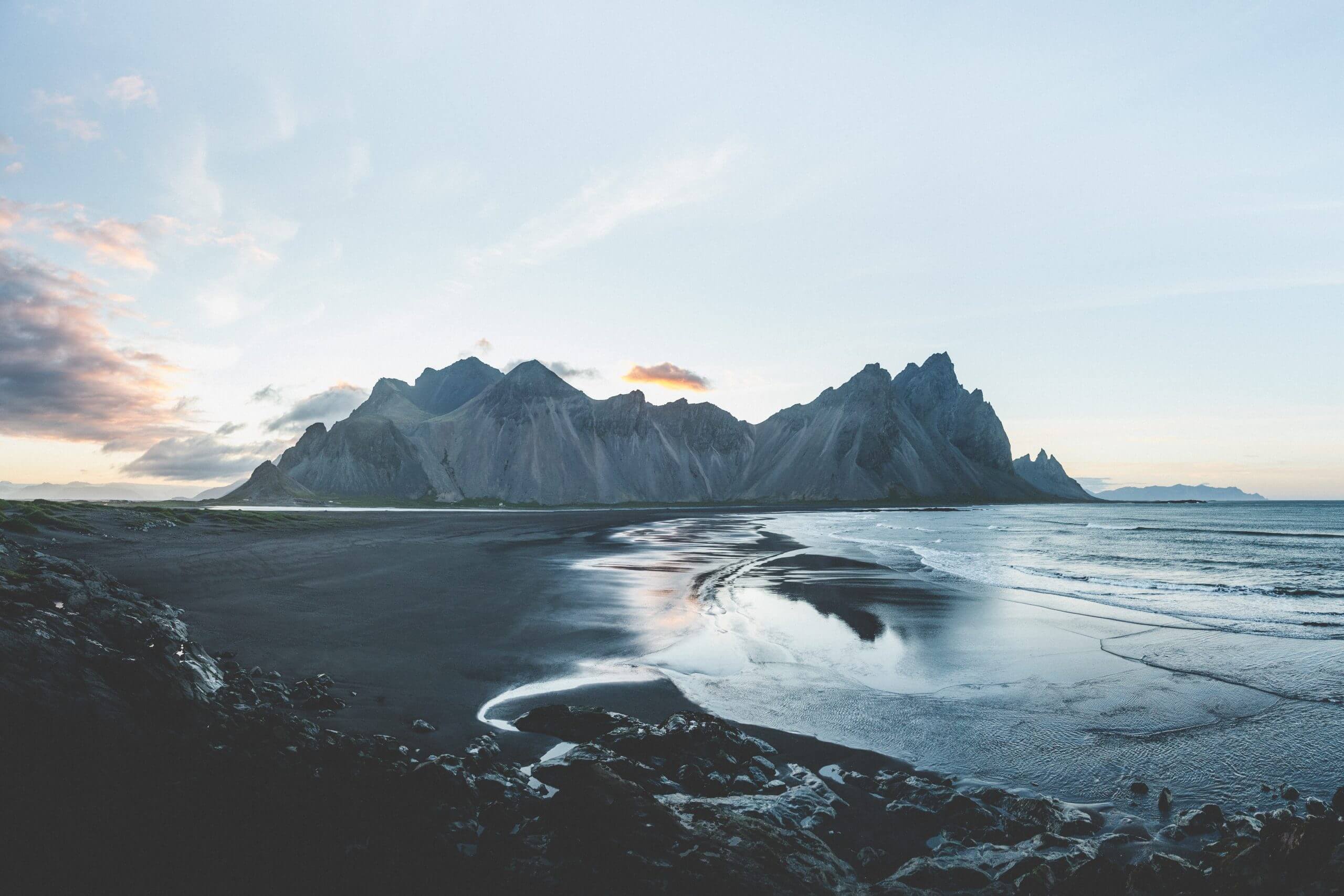 Said to be one of the world's oldest democracies before being taken over by the Danish, Iceland became officially independent on June 17, 1944. This day is celebrated each year as the National Day of Iceland, with festivals throughout the nation and the biggest celebrations in the nation's capital of Reykjavik.
Iceland is known for its low crime rate, making it a safe place for travelers. That being said, it can also come with earthquakes, snowstorms, avalanches, and volcanic eruptions, so be aware and check weather and safety reports for up-to-date information.
Iceland is also famous for its gender equality, with gender equality studies being an important part of its educational curriculum as early as preschool. It has also banned strip clubs, gender discriminatory advertising and was one of the first countries to legalize same-sex marriage. For eight years, the World Economic Forum's Global Gender Gap Report ranked Iceland No. 1 on its list of countries actively closing gaps in gender equality.
Despite the fact that Iceland practically touches the Arctic Circle, it has a surprisingly mild climate due to warm currents carried in from the Gulf Stream. In fact, the average temperature year-round is between 28° and 57° Fahrenheit and rarely drops below 17° or rises above 62°. However, wind chill does have a large impact on how cold it really feels at times.
Month
Avg. High
Avg. Low
Avg. Rainfall
Avg. Sunlight
January
36°F (2°C)
28°F (-2°C)
4 inches
5 hours
February
36°F (2°C)
28°F (-2°C)
4.3 inches
8 hours
March
38°F (3°C)
30°F (-1°C)
3.7 inches
12 hours
April
43°F (2°C)
34°F (1°C)
2.9inches
16 hours
May
48°F (6°C)
40°F (4°C)
3 inches
18 hours
June
54°F (12°C)
46°F (8°C)
2.1 inches
21 hours
July
57°F (14°C)
49°F (9°C)
2.7 inches
19 hours
August
55°F (13°C)
47°F (8°C)
3.5 inches
16 hours
September
50°F (10°C)
42°F (6°C)
4.6 inches
13 hours
October
44°F (4°C)
36°F (2°C)
4.5 inches
9 hours
November
39°F (4°C)
30°F (-1°C)
4.2 inches
6 hours
December
36°F (2°C)
29°F (-2°C)
4.1 inches
4 hours
Source: Tourismiceland.is
Cheapest time to visit Iceland
Before we discuss the best time to visit Iceland for different sights and festivals, let's address the elephant in the room: Traveling is expensive. And with so many reasons to visit Iceland, make sure you get to experience all that the country has to offer while saving as much money as possible.
The cheapest time to visit Iceland is in the winter months of November through March, when long nights take over and the snow flies. Still, winter weather conditions in Iceland are no worse than much of Europe and the northern United States, and there is always the chance you'll see the northern lights. Plus, because this is considered the off-season in Iceland, you can score better deals on flights, rental cars, and hotel accommodations, so it's a great time for those on a budget.
Come in February when the days are getting a bit longer and you can attend the annual Winter Lights Festival, which celebrates both the winter weather and the increasing light after long, dark nights. Experience Iceland's arts, culture, sports, music, and much more at this days-long festival where the whole city is beautifully illuminated and all events are free, including museum visits.
To ensure you get the most back from your vacation expenses, consider applying for a rewards credit card. Not only can you earn cash back from your purchases, but all of the cards below offer an introductory APR of 0%.
Best time to visit Iceland for warm weather
The warmest weather conditions are in the summer months of June through August, with highs in the 50s. And because it's light almost constantly, average lows are only in the 40s. Though this isn't most people's idea of hot summer weather, an Iceland summer is cool but comfortable.
Not surprisingly, the warmest weather coincides with Iceland's peak season for tourism. Because of this, it does get crowded, especially around popular attractions such as the Golden Circle, Jokulsarlon glacier lagoon, as well as the abundance of natural splendors Iceland has to offer. You can explore the waterfalls, black sand beaches, and go glacier walking on Iceland's South Coast.
If you're visiting Iceland during the summer solstice, the longest day of the year, you'll truly get to see the midnight sun, as the sun sets just after midnight on this day and rises again around 3 a.m. Celebrate with locals and visitors at the wholly unique Secret Solstice music and cultural festival just outside Reykjavik.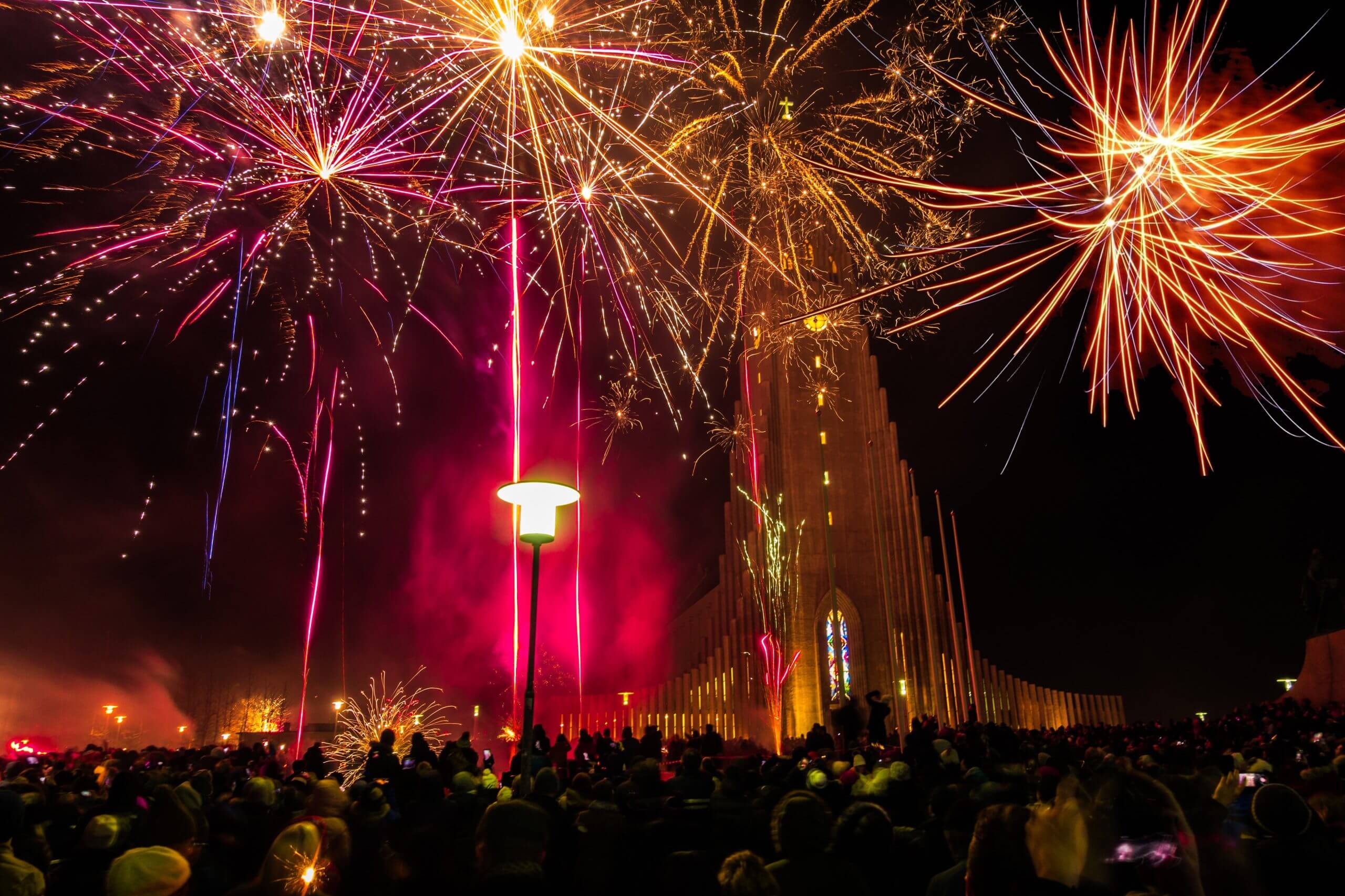 This is a once-in-a-lifetime opportunity to join the world's only rave in a glacier cave or see a concert in a 5,000-year-old lava tunnel. It's a party that lasts all night, highlighting Icelandic music and the country's distinct culture.
If you book your visit for mid-August, your Iceland trip might coincide with either Reykjavik's Gay Pride festival or its annual Culture Night. Culture night kicks off the beginning of the city's cultural year, when museums, theaters, and other cultural institutions launch their annual program of events. The daylong event delivers a diverse offering of cultural events, ending with a fireworks display at the harbor.
Best time to visit Iceland with fewer crowds
If you want to experience all that Iceland has to offer — but without the crowds — consider visiting Iceland in the shoulder seasons of spring and fall. The late spring of May or fall from September through mid-October are particularly nice times for travelers who prefer fewer tourists but still want long daylight hours and access to major attractions.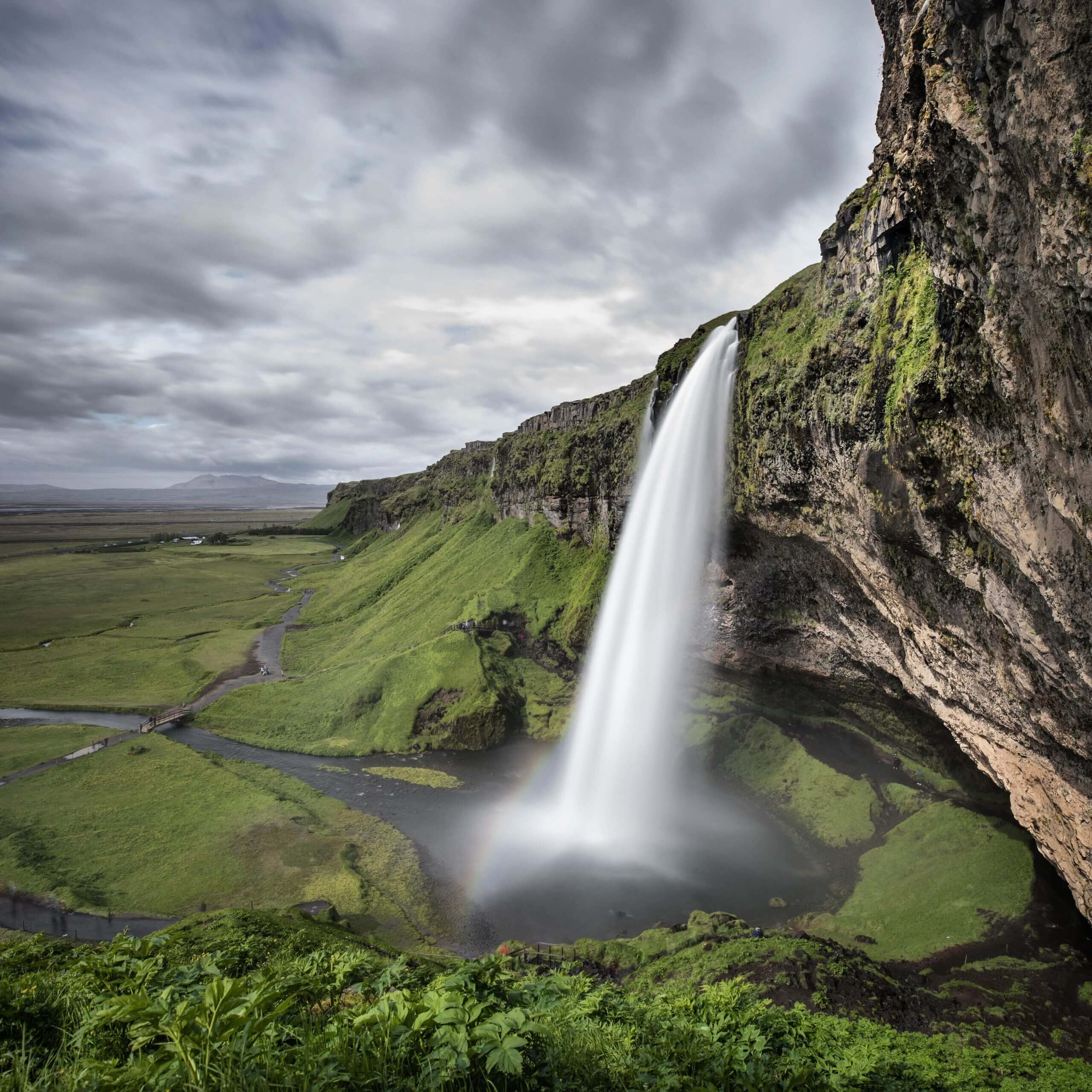 If you come in May, you probably can't access all the trails because some mountain roads are still impassable due to snow. However, sites like the South Coast and the Golden Circle are possible options and aren't typically as crowded in May. The Golden Circle is a 190-mile route that encompasses three of Iceland's most amazing attractions: Thingvellir National Park, the Geysir geothermal area, and the Gullfoss waterfall.
The shoulder season of September is another nice time to visit Iceland with relatively long daylight hours compared to winter, and all the major attractions and tours open but with fewer crowds. You can also score some discounts on ticket prices for area attractions that are pricier during peak season.
September might be a good time for travelers to take one of the many tours the island offers, such as a horse riding tour on the small but hardy Icelandic horses. ATV or snowmobile island tours are another option available for adventurous tourists who crave a little more speed.
Best time to visit Iceland for whale watching
Whale watching season in Iceland stretches from May to August, with peak time being June and July for humpbacks, minkes, blue whales, and dolphins. Most people experience whale watching on boat tours near Reykjavik, but they can be sometimes be spotted from shore as well and are particularly prevalent in Northern Iceland as well. Orcas tend to congregate in West Iceland, near the Snaefellsnes peninsula.
From mid-May to mid-August is also a good time to visit Iceland to see the Atlantic puffins, cute little sea birds with distinctive orange beaks and feet that live mostly in the water and mate for life. While they're well adapted to their watery world, puffins are speedy by air too. They can flap their wings 400 times a minute and travel at speeds of up to 55 miles per hour. Most of the world's puffins can be found in Iceland, where about 60% of them breed every year.
Best time to visit Iceland for hot springs and northern lights
One of the many great things about Iceland's famous natural hot springs is that they can be enjoyed year-round. These geothermal pools are all over Iceland and are a big part of Icelandic life both socially and for health reasons. Whatever your reason, a dip in one or more of these naturally occurring springs is a must for anyone visiting Iceland.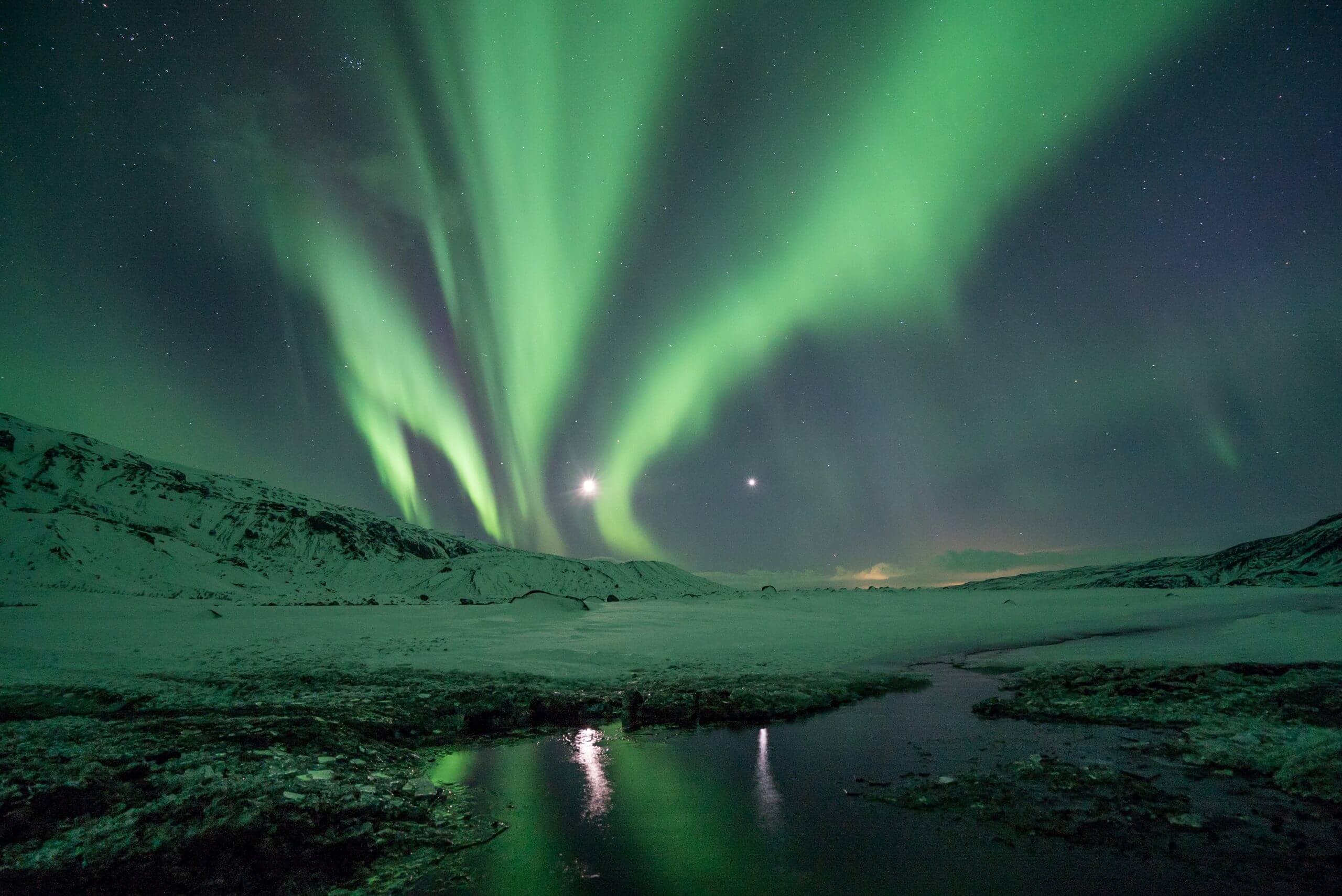 You can visit the world-renowned Blue Lagoon spa with all the tourists or be like a local and go for a soak in public hot spring swimming pools. Sitting in a hot spring in winter weather is particularly invigorating for more than one reason. Winter is also the best time for aurora borealis viewing because of an abundance of darkness from mid-November through early March.
Pro Tip
Locals will tell you not to plan your trip around the elusive northern lights, however, because of Iceland's notoriously changeable weather. Ideal conditions for northern lights spotting are dark, clear skies and a surge in solar activity. Finicky Icelandic weather can make it difficult to predict when you can actually see the northern lights, but hopefully you'll get lucky!
Best time to visit the Iceland ice caves
Another bonus of visiting Iceland in the less expensive winter months is the opportunity to visit ice caves that form and reform inside Iceland's glaciers. An ice cave, more accurately called a glacier cave, is formed inside of a glacier and typically isn't stable enough to enter until the colder Iceland winter sets in.
There is an ice cave or two that summer travelers can visit. That said, since the long daylight hours and warmer weather help melt the caves (and increase instability), exploring ice caves is primarily a winter or early spring activity. For the best of both worlds, visit ice caves in the early March of an Iceland spring. That way, you can enjoy longer daylight hours but still get to experience an ice cave and, maybe, those elusive northern lights.
Pro Tip
Because Icelandic weather is notoriously unpredictable, bring a raincoat and warm clothes that can be layered when you visit Iceland. And don't forget to pack your eye mask if you're visiting Iceland in the summer months so you can get some sleep!
FAQs
How many days in Iceland is enough?
Aim to spend a solid week in Iceland to really get a full picture of the place. You'll need at least that much time to visit some of what Iceland has to offer, including bird and whale watching boat tours, hiking, glacier walking, waterfalls, and more. And after experiencing the natural wonders, take time to enjoy the festivals and nightlife of Iceland's cosmopolitan capital of Reykjavik.
Is Iceland an expensive place to visit?
Visiting Iceland is considered a fairly expensive trip, but not necessarily any worse than other European vacations. It's true that boat tours and glacier excursions that require a guide can be pricey, but you can get discounts during off-peak season.
Keep in mind that things like the northern lights, hiking trails, and spectacular scenery are free. Consider renting a car for a road trip around the Ring Road for amazing views.
What is Iceland's rainy season?
Since it rains a lot, Iceland doesn't have a rainy season, per se, but precipitation peaks from October through February. And although Iceland's weather conditions are relatively mild, they're also unpredictable when the Gulf Stream brings mild Atlantic air into contact with the colder Arctic air, which results in abrupt and frequent weather changes.
Wind is Iceland's biggest weather factor, and the Icelandic language has more than 150 words for different wind types.
Key Takeaways
Anytime is a good time to visit Iceland. The country has plenty of activities around the year depending on what you want to do, whether it's a road trip on the Ring Road, whale watching, and midnight sun in the summer months, or ice caves and northern lights during an Iceland winter.
Exploring Iceland by kayak, horseback, ATV, or snowmobile are all unique ways to see what Iceland has to offer.
Because of warm currents brought in on the Gulf Stream, Iceland experiences a relatively mild climate year-round. This allows for temperatures in the 50s in the summer months and not much below freezing during Iceland's winter.
The best time to visit Iceland with fewer tourists is in the shoulder seasons of May and September with longer daylight hours and most attractions open.
Get the most from your vacation expenses
Need help affording your dream vacation to Iceland or anywhere else in the world? There are plenty of ways to finance your next adventure, including rewards credit cards, travel credit cards, and vacation loans.
Check out SuperMoney's guide to travel credit cards, then use our comparison tool to find the best travel credit card for you. You can also compare personal vacation loans to find the best rates on a lump sum payment. And don't forget to invest in travel insurance before you book your trip!