If you love to get away, a travel rewards card could be your best friend. The right card can land you free flights, hotels, and more, adding up to thousands in savings. Savvy cardholders also score valuable perks, such as free passes to airport lounges, free checked baggage, hotel upgrades, and priority boarding at no extra cost.
But which travel credit card offers the best deal? And which is the right card for your situation? Read on to find out what to look for, what to avoid, and how to choose a travel credit card. Plus, we'll show you the very best travel rewards cards for every kind of spender.
What to consider before shopping around
Before you start researching credit card options, you need to take inventory of your spending. This way, you'll find a card that matches your spending habits.
According to the Bureau of Labor Statistics, the average American family spends (per month):
$330.91 on groceries
$232.25 eating out
$205.67 on gas
$227.33 on entertainment
Let's say you spend $1000 per month and average 2 points per dollar spent. You'll rack up 2,000 points per month or 24,000 points in a year. Pair that with the 50,000-point sign-up bonus of the Barclaycard Arrival Plus World Elite Mastercard, and you'll be ziplining through the rainforests of Costa Rica within the year.
Ready to get started? Ask yourself the following questions:
How much do you typically spend (and fully pay off) on credit cards in a month?
This will help you determine what travel sign-up bonuses will work best for you. Many require you to reach a spending threshold within the first few months to get the bonus.
Where do you spend your money?
Some of the best travel rewards cards give bonus points for categories like dining or entertainment. For example, for those who like to go out, the Chase Sapphire Reserve offers triple points for dining out and entertainment.
How much do you spend in a month?
Knowing your average monthly expenditures will help you get great sign-up bonuses. It will also help you earn more in rewards than you pay in annual fees.
Is there someone else in your household who could also be a cardholder?
Several credit card companies offer bonus points for additional cardholders. Plus, you'll have someone else to boost you toward that sign-up bonus.
What can you expect to spend on credit cards in a year?
This helps estimate your annual rewards. If a card's annual fee is higher than your expected annual rewards, you'll lose money even if you pay off your bill on time.
What to look for in a travel card
The travel card market is filled with tantalizing sign-up bonuses, enticing reward structures, and perks that can put your next trip over the top. So, how do you choose the right one for you?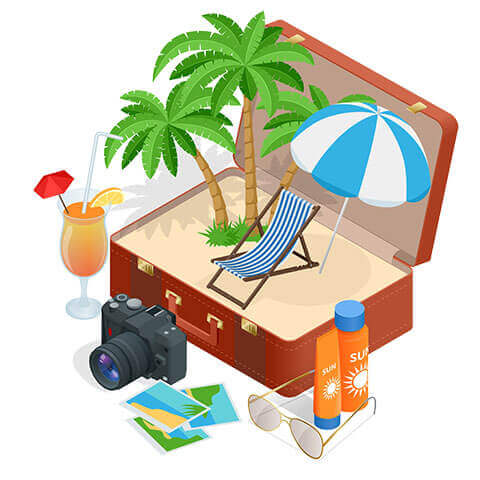 Make sure the sign-up bonus is attainable.
You can easily negate a sign-up bonus by outspending your income and getting charged interest as you pay the card off.
Find out if the annual fee changes after the first year.
If your spending habits net you $200 in travel rewards each year, don't get a card with a $200 annual fee.
Make sure the rewards fit your lifestyle.
If you love to dine out, find a card that gives you extra points when you do, like the Chase Sapphire Reserve Card.
Understand how you will use the rewards.
If you are loyal to certain airlines and hotel chains, consider a travel card from those brands. If you don't care about the brand, consider a general travel rewards card that gives you more places to redeem your points. The Capital One Venture Rewards Card lets you redeem your travel purchases as a statement refund, while the Citi Prestige Card lets you book on any airline through the Citi ThankYou Travel Center.
The points should be easy to redeem.
According to AICPA, only 15% of all Americans have used points to pay for a trip. Meanwhile, 14% have gone into debt for a trip. Make your credit card work for you, not the other way around. And remember, one point is generally equal to $0.01 in rewards.
Using multiple cards? Choose ones that complement each other.
If you're going to use more than one travel credit card, make sure they work well together! For example, if you have a card that provides high reward rates on dining and travel, combine it with a card that has high rates on gas and groceries.
How to use your card
Never spend money just to meet a signup bonus threshold. The moment you spend more just to get points, you start working for your credit cards instead of having them work for you.
If possible, apply for two or three credit cards at the same time. Every time you apply for a new credit card, you undergo a credit pull, which reduces your credit score a little (5 to 10 points). However, credit score algorithms often count credit pulls performed withing a short period of time as a single pull. This way, you can shop around for the best rates without worrying about your credit score.
If your household spends $1,000 to $1,400 a month on expenses that can be paid with a credit card, you can realistically work through 4 travel cards within a year. After all, the average U.S. household spends$1,344 a month: $500 on food, $303 on healthcare, $250 on gas, $215 on entertainment, and $76 on car insurance. And that doesn't include many other expenses you can charge to your card, such as utilities. If you use four of the cards in this list, you can earn over $2,000+ just in signup bonuses. That's a great start toward your next vacation stash.
The top travel rewards credit cards
Now that you know what to look for in a credit card and how to make sure it's compatible with your lifestyle, let's check out your options. Here, we'll explore the best travel rewards credit cards for every kind of spender.
According to Experian, the average balance for credit cards typically paid in full each month is just over $1,000. Below, you can find the best card for small spenders ($500 or less per month), moderate spenders (around $1000 per month) and big spenders ($2000 or more per month).
Best cards for small spenders
Very few travel cards with no annual fee have such a great sign-up bonus. Spending just a few hundred dollars per month in the first three months is enough to net that bonus. And the BankAmericard Travel Rewards card provides points on every single purchase, not just in specific categories. Plus, customers that have a Bank of America or Merrill Lynch account can earn anywhere from 10-75% more in points.
The Discover IT Miles Card doesn't have a sign-up bonus, but Discover will match all of your travel rewards at the end of the first year. That's nothing to sneeze at, especially considering the card has no annual fee. Plus, consumers earn points in every single category. The biggest downside of this card is that Discover isn't as widely accepted as other card issuers.
Best cards for moderate spenders
The Capital One Venture Rewards Card is right in the sweet spot of affordability for the average spender. While there are a few cards that offer bigger sign-up bonuses, the Venture Rewards card gives you 2 points in every single category. Plus, many other cards with similar rewards structures have higher annual fees, which can nullify larger sign-up bonuses.
The Venture Rewards Card does have a low annual fee. But it also has a generous signup bonus, 2x miles on all purchases, and the most flexible rewards program around. Additionally, it includes prime travel and shopping benefits, and a 24-hour concierge service.

Best cards for big spenders
While the Chase Sapphire Reserve has a large annual fee, it also comes with a hefty annual travel credit. If you like to dine out, whether at home or on the road, the Chase Sapphire Reserve rewards you with triple points. Points are worth 50% more (1.5 cents per point) when redeemed through Chase Ultimate Rewards.
The Citi Prestige Card offers a great sign-up bonus and a substantial annual travel credit. Use the Citi Concierge and pay with your prestige travel card to get a free fourth hotel night. Heavy travelers will love complimentary Priority Pass access.
This card only makes sense for high-end consumers who enjoy traveling in style and who travel by air on a regular basis. The luxury perks alone (such as the 4th free hotel night, airport lounges, and complimentary golf club green fees) will quickly pay for the annual fee if you travel often. Take advantage of the Citi Prestige Card's high-end insurance benefits and 3x points by using it to purchase all your flights and hotels.
The Barclaycard Arrival Premier combines a generous annual loyalty bonus and the ability to use miles as a statement credit for all travel purchases. This gives you complete freedom to shop around for the best deals, including discount airlines, hotels and B&Bs that are not part of a chain, and low-cost rental companies.
The Barclaycard Arrival Premier has generous travel insurance (baggage delay, trip cancellation, and travel accident) so try to use it to book your flights.
Best airline rewards cards
Most airline rewards cards will get you a free checked bag. You will also probably get priority boarding and extra points for airline purchases. However, the JetBlue card is one of the few to offer bonus points on restaurants and grocery stores. It is also one of the few without an annual fee.
Best hotel rewards cards
The sign-up bonus may seem small, but Starwood points are worth between 3-4 cents per point. That's 2-4 times higher than most travel reward structures. What's more, you can transfer those points to many airline rewards programs.
Bottom line
There are lots of great options for frequent travelers. Find a travel credit card with a sign-up bonus that you can attain and pay off. Going into debt for extra points will negate the perks of even the best card. Everyone spends differently, so choose a travel card that will maximize your points where you spend your money. Likewise, if you enjoy certain hotel chains or airlines, consider a travel card from those brands. You can compare travel credit cards and read reviews here.
Andrew is the managing editor for SuperMoney and a certified personal finance counselor. He loves to geek out on financial data and translate it into actionable insights everyone can understand. His work is often cited by major publications and institutions, such as Forbes, U.S. News, Fox Business, SFGate, Realtor, Deloitte, and Business Insider.