Is your company in need of a business loan? You're not the only one. According to the Federal Reserve's 2019 Small Business Credit Survey (SBCS), 64% of businesses experienced financial challenges in 2018. As a result, 45% of them took out additional debt.
However, it's not always easy to get the money you need. Consider that 53% of businesses didn't receive all of the funding they sought last year.
While factors like a good credit history and sufficient collateral certainly help, it's important to understand which loan type and lender are best for your business. Further, it also helps to know you have options even if you don't fit the traditional criteria.
To help improve your chance of getting approved for the financing you need, this guide will cover:
The 10 common types of business loans.
How to pick the right loan for you.
Where you can get business loans.
And tips on finding the right lender.
Let's get started.
10 common types of business loans
Here's a guide to 10 of the common business loans you will come across today.
1. U.S. Small Business Association (SBA) loans
Andrea Roebker, Regional Communications Director for the SBA, explains that the SBA doesn't lend money to entrepreneurs. Instead, it sets the guidelines for the loans and guarantees that a portion of them will be repaid.
The loans are made by the SBA's partners, which include micro-lending institutions, community development organizations, and lenders.
Note: To qualify as a small business, you must meet the SBA's size standards.
What types of SBA loans are on offer?
General small business 7(a) loans: Loans up to $5 million are available for working capital, equipment purchases, and expansion. Lenders include select banks, credit unions, and specialized lenders (such as SmartBiz and OnDeck).
Certified Development Company (CDC)/504 loans: Loans up to $5 million are available for buying land, machinery, and facilities. They are accessible through a CDC in your local area.
Microloans: Loans of up to $50,000 are available for acquiring materials, equipment, supplies, or working capital. Loan partners include non-profits, intermediary lenders, and private-sector lenders.
SBA disaster loans: Loans of up to $2 million are available to help businesses rebound after a declared emergency or natural disaster. The SBA provides these loans in cooperation with FEMA Disaster Assistance.
The SBA's backing lowers the risk for lenders, making it easier for business owners to get approved. Further, there are modest limits on how high the interest rates can go so you can likely get better terms than elsewhere if you have bad or no credit. 
Learn more about how to qualify for SBA loans.
2. Business loans (a.k.a term loans)
With a term loan, business owners can get a lump sum upfront. The borrower pays back the amount, plus interest, over a set period according to a fixed repayment schedule.
These loans are good for financing large purchases such as equipment, construction, large capital investments, etc. Both secured and unsecured versions are available. Term loans generally follow an amortization schedule and the repayment period can range from under a year to over 20 years.
3. Lines of credit
A business line of credit can be secured or unsecured and works like a credit card. You'll receive a credit limit and can withdraw from it as needed. You don't have to take the full amount all at once and will only pay interest on the amount you withdraw.
However, instead of being open-ended like credit cards, lines of credit usually have a set draw period (say five or 10 years). Once the draw period ends, the outstanding amount becomes the balance on a term loan.
A line of credit is a good option if you need access to capital but don't need a lump sum right away. It can be especially helpful for seasonal businesses and those with unexpected short-term expenses.
See the best business lines of credit right now.
4. Merchant cash advance
Like a term loan, merchant cash advances (MCA) can provide businesses with a lump sum upfront.
However, instead of making fixed repayments according to a schedule, a business's payment processor takes a percentage of the incoming revenue from the sales or receivables and repays the lender.
So, in short, an MCA is not a loan— it's a sale of your future revenue. As a result, it doesn't have to abide by many loan laws, which can make MCAs easier to get.
But, keep in mind, they often have higher fees than regular loans so are most attractive to businesses that need money fast but can't get it elsewhere.
5. Invoice financing
With invoice financing, you upload your invoices as collateral for the lender. Then, they lend you a percentage of the invoice amount, usually around 85%.
When your client pays the invoice, you'll pay the lender back for the amount you borrowed, plus a factor fee. Note, you are still responsible for collecting the payment for your invoice.
Approval for this type of financing often requires a check of your personal and/or business credit, in addition to an analysis of your invoices. It's a good option for businesses that invoice clients or customers but then have to wait weeks to months to get paid.
6. Invoice factoring
Next, we have another finance option involving invoices, except instead of the lender using your invoice as security for a loan, you sell your invoice to them.
The factoring company will pay you a percentage of the invoice, usually around 85%, and then will collect the payment from your client on your behalf.
The main benefit is you can get paid quickly. The drawback is the lender takes control of collecting on your invoice which presents a risk. Plus, you only get a percentage of the full invoice amount.
7. Specialty secured financing
Some lenders offer secured term loans for specific purposes—such as to buy equipment, vehicles, or real estate—and the purchase becomes collateral for the loan. If you default, the lender can seize the property or item.
Getting approved for a secured auto or equipment loan is reportedly the easiest because it involves less risk for the lender, according to the SBCS. Plus, interest rates and term lengths are usually fixed, so the payments are the same each month.
8. Business credit cards
Business credit cards offer another way to borrow. They provide you with a revolving line of credit from which you can withdraw funds as needed.
Similar to a personal credit card, you only need to make a minimum payment but will owe interest on balances that carry over past a billing cycle.
These can be helpful for financing ongoing expenses. Plus, some cards come with rewards and perks when you spend, such as airline miles or cashback.
The downside is they usually have higher interest rates and fees than other loan types. Additionally, approval can require good credit, a minimum time in business, and proof of a certain amount of annual income.
See the best business credit cards right now.
9. Personal loans
If you don't have any business credit, you can rely on your personal credit score to get a loan. In fact, 87% of small businesses surveyed in the SBCS reported doing so last year.
Many online personal loan lenders now exist, which make the process of getting a loan much easier. You can apply in a matter of minutes and, if you get approved, can receive the money in your account as soon as the next business day.
The rate, loan amount, and terms you get will depend on the lender you choose and factors like your annual income and credit score. However, the average interest rate of a 24-month personal loan in the first half of 2018 was 10.27%. Further, loan amounts range from a couple hundred dollars up to $100,000.
As for the drawbacks, the borrowing costs can be more expensive than secured financing or SBA loans, and you'll need to have decent credit to get approved. Additionally, you may not be able to get high amounts available through some other loan options.
Use SuperMoney's personal loan engine to find out what rates and terms you can get without hurting your credit score.
10. Venture capital
Lastly, venture capital is a type of financing which investors extend to early-stage businesses that demonstrate a high potential for rapid growth. They do so in the hopes of earning a profitable return. This type of funding is provided by firms or high-networth individuals, also known as angel investors.
To gain funding, you usually have to show a business plan, projections for growth, and strong management. If awarded, the capital is given in exchange for equity in your company.
Learn more about the pros and cons of funding your business with venture capital. 
Now that you know the 10 most common business loan type, you're probably wondering, "What loan type is best for my business?"
Which loan type is best for your business?
The best loan for your business depends on many factors, such as how many years you have been in business, your revenue, and the assets you own. These and other variables will determine what rate and terms you receive, and whether you are application is accepted. These are the most common reasons an application is denied.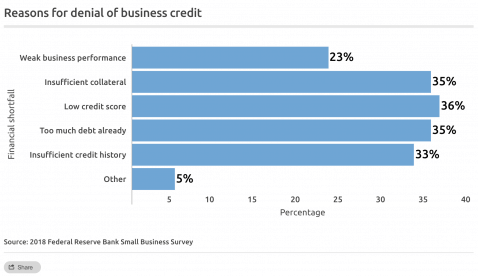 Improve your chances of approval by understanding which loan type best suits your current situation.
Here are the most popular sources of credit for small businesses in the United States.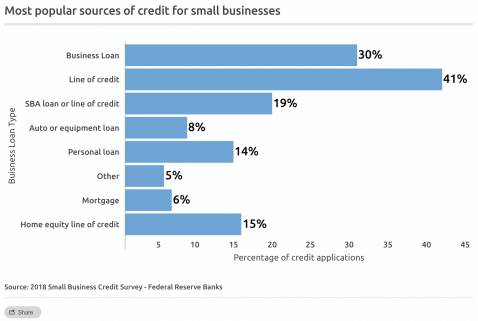 Find the best loan for your business by completing this short questionnaire.
You can also evaluate your best options by asking yourself these four key questions:
Where do my business credit and personal credit scores stand (non-existent, poor, fair, good, excellent)? 
Insufficient credit history was the number one reason for credit denial in 2017, according to the Federal Reserve Banks. If your credit is good on either the business or personal front, you will likely have access to both secured and unsecured financing options.
Unsecured options like personal loans are the most convenient but usually have higher interest rates than secured financing options. Be sure to consider both types to find the best deal.
If you are lacking credit, you will need to look into financing with collateral.
Does your business have any collateral?
Insufficient collateral was the second most common reason businesses were denied credit last year.
If you don't have credit, figure out if you have any assets, or are going to buy any, that could be used as collateral for your loan. It will help you get approved and get a lower interest rate on your financing.
Here's a look at the financing and credit products which had the highest rates of approval last year in the SBCS survey.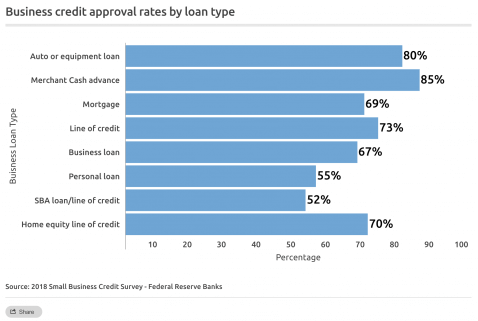 Notice merchant cash advances lead the way followed by auto and equipment loans. Further, SBA lenders and Community Development Financial Institutions may be able to help as they focus on helping underserved borrowers.
How long has my business been in operation and is it profitable?
Startups are in a different situation than established businesses. Many lenders require that your business has been operating for at least a year or two so they can see that it is stable and profitable.
However, if your business is just starting out, you still have options. You may be able to turn to merchant cash advances, invoice financing or factoring, SBA loans, and possibly venture capital.
With financing option provides the best deal?
Once you figure out which options are available to you, calculate the costs. How much will it cost to borrow the money per month and overall? Which repayment plan works best for your business? What about convenience? Consider all of these before deciding on the best fit.
Once you find the right loan type, the next step is to find the right lender.
Business loan lenders
Where do businesses go to get loans these days? Here's a look at the results of the SBCS survey: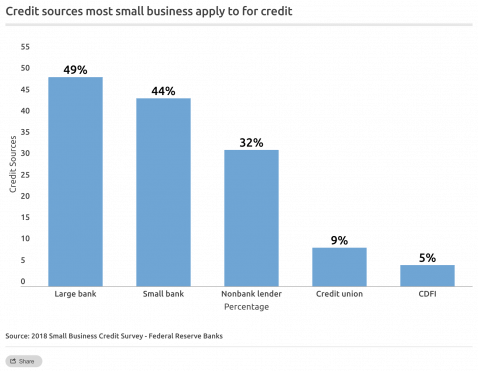 Some of the most common sources of business loans are banks and credit unions, nonbank lenders, CDFIs, and personal contacts. Let's take a closer look at these options.
1. Nonbank alternative and marketplace lenders
Alternative lenders include financial technology companies, such as marketplace lending platforms, and other financial companies, excluding traditional banks, that extend loans to consumers and businesses. You will find direct and marketplace lenders; the former which lend to you and the latter which connect you with others that lend to you.
The number of businesses that apply with alternative lenders has grown steadily over the past three years, according to the SBCS. One main benefit driving that increase is the willingness of alternative lenders to serve non-standard credit profiles. Consider that, in the SBCS survey, 75% of the businesses which applied for financing from an online lender were approved for at least some credit, only second to CDFI lenders.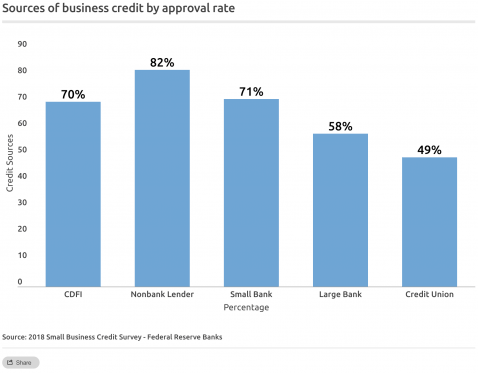 The other main benefit is the convenience for the borrower. You can apply and secure money from anywhere through your computer or sometimes even your mobile device. The platforms often automate components of the loan application process including underwriting, document capture, and e-signatures. The result is a quick and painless inquiry process for business owners.
The main drawbacks cited about nonbank lenders are the higher interest rates and unfavorable repayment terms. However, because nonbank lenders are approving more borrowers, the rates and terms must compensate for the increased risk. The better your credit score and income, the lower the borrowing cost and better the terms.
What do you need to qualify?
alternative lenders will often require:
Multiple years in business
Fair to excellent personal credit score
Low debt-to-income ratio
Minimum annual income from business
Proof of business ownership
Proof of citizenship or residency
Some lenders are more lenient than others so be sure to check the requirements with the companies with which you are interested.
Rates and terms
Here are the general rates and terms you can expect from alternative lenders:
Origination fees: The main fee you should look out for is the origination fee (1-6% of the loan amount). Some lenders charge it while others don't.
Prepayment penalties: Also, look out for prepayment penalties, aka fees for paying off your loan early.
Interest: APRs can range from 4.99% to 99% so it's important to do your research before choosing one.
Loan amounts: The average loan amount ranges from $5,000 to $200,000 among top nonbank lenders
Loan length: Loan terms range from three to three hundred months.
The rates and terms can vary greatly from one lender to the next depending on the credit classes they serve.
How do you know which alternative lender to pick?
Similar to shopping for a bank business loan, the best approach is to research the available lenders and compare their offerings and requirements.
Yes, it's a time-consuming task. However, we've made it easier for you to narrow down your search and find the best solution.
Start by getting personalized loan offers from various lenders to see what you qualify for. It's quick, simple, and won't impact your credit score in any way.
And make sure to check out SuperMoney's Business Loans Review Page for a detailed look at today's leading lenders.
You can easily compare alternative lenders side-by-side by selecting the filter for "Direct Lender" and "Marketplace Lending Platform."
2. Banks
Despite approving a smaller percentage of applicants than alternative lenders, banks are still the largest source of loans for business owners.
They deliver low interest rates and reasonable repayment terms. However, business owners report difficulties when applying and long waits for credit decisions. The good news is some banks are getting on board with online applications.
It doesn't hurt to check with your bank, and possibly other banks, to see what they will offer you. But don't take a loan without shopping around and comparing it with offers from other lenders.
What do you need to qualify?
To qualify with a bank, you often need some combination of the following:
A minimum annual sales amount (specified by the bank)
An active checking and/or savings account of a certain age (i.e., one year) with the bank at which you are applying
A minimum number of years in business (specified by the bank)
Collateral such as cash, inventory, accounts receivable, or equipment
Personal income records
Proof of citizenship or residency
Strong business and personal credit scores
A minimum amount of time under the same ownership
Note, the requirements vary depending on the bank and the loan type. Further, banks are usually the most difficult to get approved with as they have strict requirements.
Rates and terms
Costs will vary by bank and loan product. However, common fees include:
Origination fees/closing costs: A fee to originate a loan or credit line (may be a flat rate or a percentage of the amount borrowed).
Interest: Each loan or credit line will have a fixed or variable interest rate, which dictates how much you will pay to borrow the money.
Annual fees: A yearly fee for the loan, which can vary depending on the loan amount.
Prepayment fees: Fees to pay off the loan or credit line early.
Banks often have higher fees than online lenders but lower interest rates.
How do you know which bank to pick?
Start with your bank. Then, compare the offerings, requirements, and terms from other banks.
An easy way to find reputable banks is to visit SuperMoney's business loan page and click the filter for 'Banks' under company and institution type. Look for an offer that best suits your needs and try to get pre-approved.
What about credit unions?
If you bank with a credit union, be sure to find out what it can offer you. The available loan amounts, technology, and products may be limited compared to a bank. However, they often offer lower interest rates, fewer fees, and a faster time to approval.
3. CDFIs
A Community Development Financial Institution (CDFI) is a financial institution that has been certified by the U.S. Department of Treasury's CDFI Fund. It can be a bank, credit union, venture capital fund, or loan fund.
The main goal of CDFIs is to serve low-income communities through financial services, education, and low-cost lending. Business owners can locate CDFIs in their local area that have been awarded funds and can apply for a loan.
Qualifications vary by CDFI but you have to be in a position where you can't qualify for traditional financing.
4. Personal contacts
You can also consider getting a business loan from a friend or family member. This can be the best option for those who can't qualify elsewhere or want to save on the costs of borrowing.
However, personal relationships secure these loans, which can be risky.
Rates and terms
The cost of a loan from a friend or family member depends on your agreement. They may or may not charge you interest/fees.
Either way, the tax implications should be considered.
The IRS publishes Applicable Federal Rates (AFRs) each month, which serve many purposes including the calculation of imputed interest on below-market loans between family members.
What in the world does that mean? Well, if the lender doesn't charge you interest at, or above, the AFR that applies to your loan term, they can be held liable to pay income taxes on the amount of interest they should've collected.
Plus, the uncharged interest can count as a gift. If the gift is over annual exclusion amount, the giver will also have to pay gift tax.
Being so, it is generally best to at least agree to pay the AFR that applies to your loan terms.
What terms can you expect?
Again, it will depend on you and the lender. You may want to consider the three AFR tiers:
Short-term rates: Loans terms up to three years.
Mid-term rates: Loans terms between three and nine years.
Long-term rates: Loan terms longer than nine years.
The longer the term, the higher the AFR.
How do you know which person to pick?
When asking friends and family, the options are usually pretty slim. Find someone who has the amount you need, who will trust you, and who you are willing to borrow from.
These are the most common business lenders but you may also want to check into auto or equipment dealers, non-profits, farm-lending institutions, or private investors. These also account for a small percentage of business loan sources.
See the best small business loans for good, fair, and bad credit here.
Find the right business loan for you
Many financing opportunities exist for businesses. The challenge is to find the right one for your situation.
The first step is to identify the loan type that will best suit your needs. Then, shop around with lenders, get quotes, and compare the offers to uncover the best overall value.
While it can take some time to figure out the best loan type and lender, it will pay off when your business can secure the funding it needs to move forward.