The rich and elite individuals who are among the wealthiest in the world have the unique privilege of enjoying some of life's greatest luxuries. Palaces scattered across the globe, the fastest and sleekest cars on earth, private jets to get them from place to place, and some even own their own private islands.
But one thing that many of these affluent individuals enjoy is their very own private superyacht. These vessels are like no other, customized with the highest standards in luxury and extravagance, a symbol of both power and wealth. We have scoured the internet and researched the yachting world to come up with our list of the 10 most expensive yachts and their owners.
10. Dilbar, Alisher Usmanov: $263 million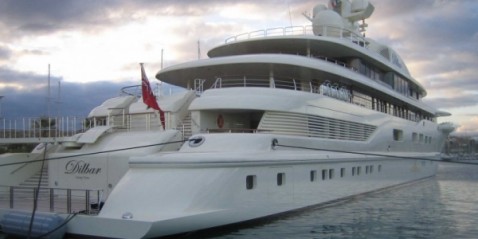 About the Yacht:  This superyacht, measuring a total of 360.89 feet in length, was constructed in 2008 and sold to Russia's wealthiest businessman in 2012. Dilbar, named after the owner's mother, has a crew of 47 and can accommodate 20 guests. Some of the added features include a helicopter landing pad, swimming pool, and formal dining room.

About the Owner: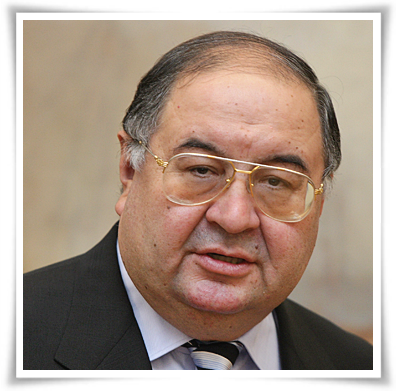 Alisher Usmanov is a Russian businessman with a fortune estimated at approximately $18 billion, coming primarily from mining and other investments. He is the majority shareholder of Metalloinvest, a leading global iron ore and HBI producer and supplier. He is also a co-owner of UTH Russia, one of the Russia's fastest growing commercial television broadcasters which include channels such as the Disney Channel, U channel and MUZ-TV.
You might not be rich enough to buy one of these yachts, but how much money does it take to be considered rich in the US?
9. Radiant, Abdullah Al Futtaim: $286 million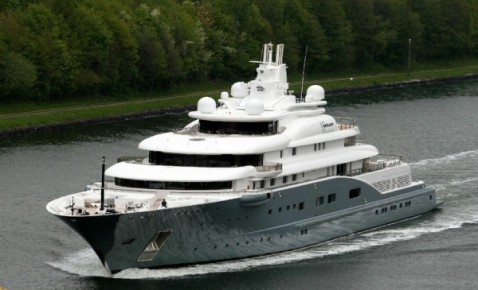 About the Yacht:  This 360 foot yacht is like a prop straight out of a James Bond film, complete with a host of "extras" that would make Mr. Bond himself proud. It is equipped with sonic guns that are capable of bursting the ear drums of anyone potentially attacking the ship, and water cannons that could sink any approaching vessel from 100 yards away. To top it off there is an emergency hatch on board that leads to a smaller speed boat which was designed to allow the passengers a quick escape when needed.  With a crew of 44, this vessel can accommodate 16-18 guests and boasts an on-board spa, movie theater, a gym, two swimming pools and a helicopter landing pad. The reported sale price varies depending on the source, but ranges anywhere from $286-$324 million dollars.
About the Owner:
Abdullah Al Futtain purchased this yacht in 2009 from Russian business tycoon, Boris Berezovsky, before the construction of the yacht was even completed. Al Futtain has built his empire around the Al Futtain Group, a business conglomerate with stakes in the retail, automotive, real estate and technology industries, based out of Dubai. Al Futtain's empire is responsible for the sales of approximately 40% of all vehicles sold in the U.A. Emirates, as well as approximately 150 retail stores representing some of the world's most popular brands including Ikea, Danier, Intersport and Toys 'R Us. Al Futtain is estimated to be worth over $3 billion.
8. Pelorus, David Geffen: $300 million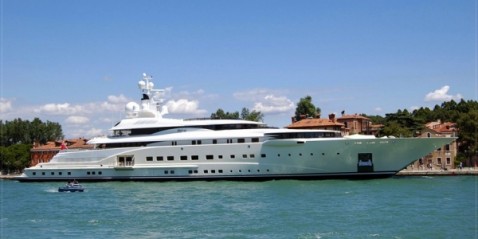 About the Yacht:  Measuring over 377 feet in length, Pelorus, from the Greek word for "vast", was appropriately named. This superyacht, which was constructed in 2003, boasts 2 swimming pools, 2 helicopter landing pads, along with numerous other toys such as jet skis and wave runners. It employs 40 full time crew members and can comfortably accommodate up to 18 guests. Originally owned by Russian billionaire Roman Abramovich, the boat was awarded to his ex-wife during their 2009 divorce. She then sold it to David Geffen in 2011 for a reported $300 million.
About the Owner: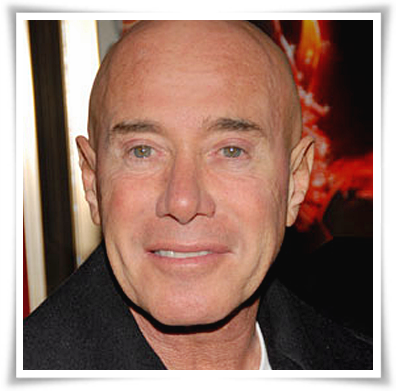 David Geffen is an American music mogul, film producer and executive, and philanthropist. He created Asylum Records in 1970, Geffen Records in 1980, and DGC Records in 1990, and recorded hits with such artists as the Eagles, Bob Dylan, Elton John, Aerosmith, Nirvana and many more. He was also one of the founders of DreamWorks SKG in 1994, alongside Steven Spielberg and Jeffrey Katzenberg. In 2002, Geffen pledged to donate any money he earned to charity from that point forward and has since become the single largest financial donor to any medical school, with at least $300 million being donated to the UCLA School of Medicine alone. This money helps fund medical research and will provide scholarships to as many as 30 students every year beginning in 2017.
Related article: 10 Celebrities Who Made The Biggest Charity Efforts Ever!

7. Al Said, Sultan Qaboos Bin Said Al Said: $300 million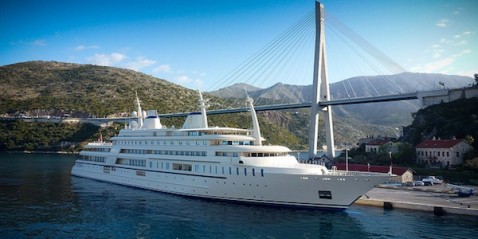 About the Yacht:  During its 2007-2008 construction, the Al Said was listed as the second largest yacht in the world. The 331 foot vessel can accommodate up to 70 guests comfortably along with the 154 crew members. Along with the other super yachts on our list, this boat also has a helicopter landing pad but also boasts something a bit more unique: an aluminum super-structure that encompasses a concert hall that is large enough to host a 50 piece orchestra. There is also a great deal of secrecy surrounding this boat, with not a single photo of the interior ever surfacing to date.
About the Owner: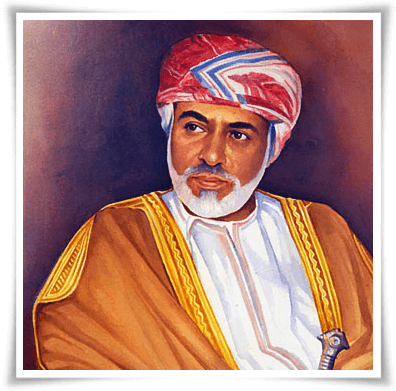 Qaboos bin Said Al Said has been the Sultan of Oman since taking power from his father in 1970. Aside from a successful reign lasting more than 40 years, the Sultan is an avid classical music lover, employing a 120 member orchestra to play locally and travel with the ruler between his eight grand palaces. The Al Said is the largest of the Sultan's fleet of eight luxurious yachts, which also includes an extravagant sailing yacht, the Zinat al Bihaar, which has the world's largest sail.
6. Superyacht "A," Andrey Melnichenko: $323 million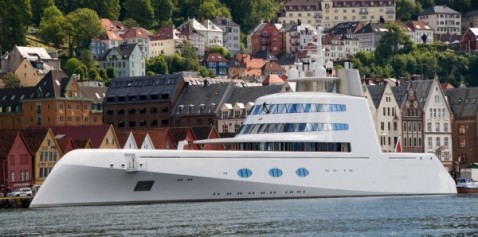 About the Yacht: At 390 feet in length, this unique yacht which was designed by Philippe Starck is simply named "A" for the first initial of its owners, Andrey and Aleksandra Melnichenko. Construction on this vessel was completed in 2008 and it can accommodate 14 guests and up to 43 crew members in its lavish 24,000 square foot interior layout. Among its luxurious amenities are faucets said to be worth $40,000 each, marble flooring throughout the master bedroom and bath, staircase banisters worth over $60,000, and a master bed that literally rotates 360 degrees so that the owners can enjoy every angle of their view. It also has three swimming pools, a helicopter landing pad, and 3 smaller speed boats which are easily launched for guests to enjoy. At cruising speed, this mega-yacht burns up to 700 gallons of fuel per hour, and can cost nearly half a million dollars to refuel.
About the Owners: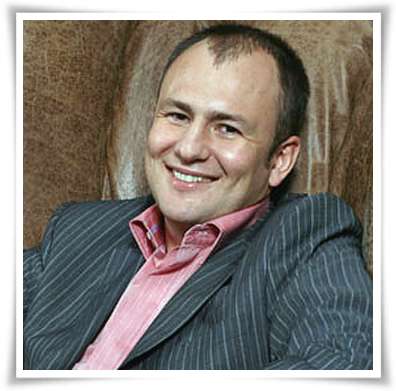 Andrey and Aleksandra Melnichenko are the proud owners of this incredible yacht and enjoy touring all over the world on it. Andrey is a self-made Russian billionaire said to be worth $17.2 billion dollars, who has earned his fortune through banking, and later in the manufacturing and chemical engineering industries. He founded a bank in 1993 which later became one of Russia's largest private banks. His wife, Aleksandra, is a former Serbian model and pop singer.
5. Serene, Yuri Scheffler: $330 million
About the Yacht:  This superyacht, measuring a total of 493.3 feet in length, was constructed in 2011 for Russian vodka tycoon Yuri Scheffler. The Serene has a crew of 52 and can host dozens of guests in its 24 lavish staterooms. This vessel has 2 helicopter landing pads, a large indoor salt water pool, and even a "garage" that houses a smaller boat for travel to and from shore as well as a submarine that can dive to 300 feet. There are also additional pools, spas, hair salons, a theater, wine cellars, and even a room that generates snow for the kids to play in. One of the most spectacular features of this yacht is a large room called "Nemo" which has a glass floor so that they can look at the sea life below.
About the Owner: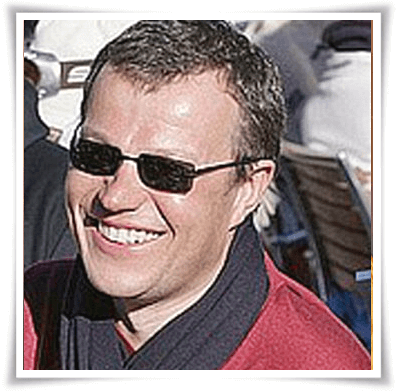 Yuri Scheffler is a founder of the Russian SPI Group, one of the world's largest alcohol producing organizations responsible for the production of Stolichnaya vodka and others. Scheffler has recently been in the news for engaging in battles with Russia's leader Vladimir Putin, over the control of vodka production in Russia. Scheffler has reportedly sought refuge in the United States and reportedly purchased a large estate in Malibu, CA in 2013 for $75 million.
4. Dubai, Sheikh Mohammad bin Rashid Al Maktouum: $350 million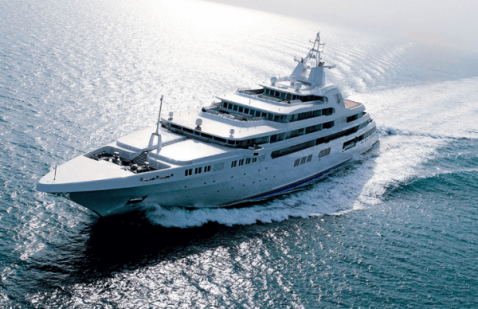 About the Yacht:  At 524 feet in length, the Dubai is one of the largest private yachts in the world. Originally commissioned by the Prince of Brunei, the boat could not be completed due to a lack of funding. It took 5 years before current owner, Sheikh Mohammad bin Rashid Al Maktouum of Dubai, took the project over. The yacht has been referred to as a "floating city" with everything you could think of needing on board. With numerous VIP suites it can host up to 115 people who can enjoy the swimming pool, spas, squash court and more.
About the Owner: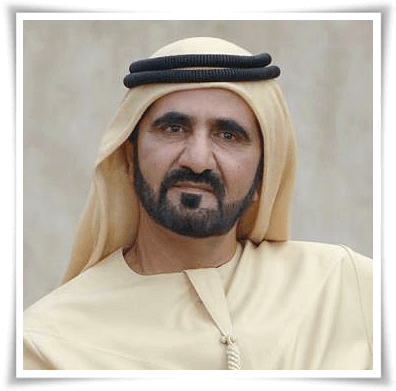 Sheikh Mohammed bin Rashid Al Maktoum is the Prime Minister and Vice President of the UAE and constitutional monarch of Dubai. He is the owner of Dubai Holding, which controls 20 companies, including Jumeirah Group, Dubai Properties, Tecom Investments, Dubai Bank and Travelodge UK. In 2012, Forbes estimated his family fortune to be worth over $90 billion.
3. Eclipse, Roman Abramovich: $485 million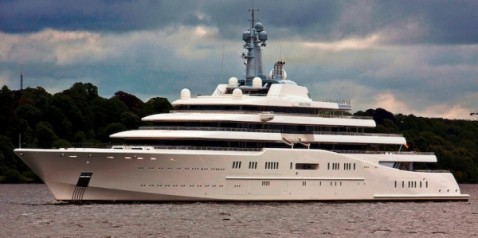 About the Yacht:  This 536 foot yacht has a crew of 70, 24 guest rooms, two helipads, a cinema, hair salon, disco, two swimming pools and a mini submarine. But perhaps one of the most distinctive features of this private yacht is its well-designed defense technology. It has a missile detection device, an anti-intruder alert, and an anti-bugging system, and bullet proof glass. It has its own intruder detecting system which can detect cameras and has an anti-paparazzi laser shield that scans and blocks nearby prying camera lenses. This yacht is reported to cost $75 million per year to operate.
About the Owner: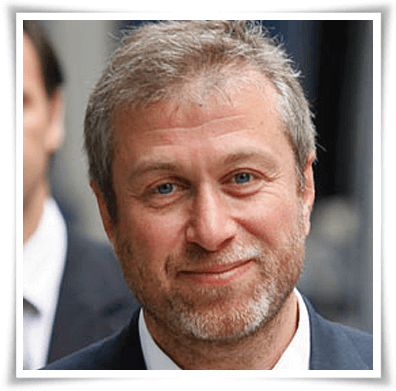 Russian billionaire Roman Abromovich is a businessman, investor and politician, in addition to being the owner of the Chelsea Football Team in England. With an estimated net worth of $14.2 billion, Abromovich is currently the 5th wealthiest individual in Russia and among the top 50 richest in the world.
2. Topaz, Mansour bin Zayed Al Nahyan: $527 million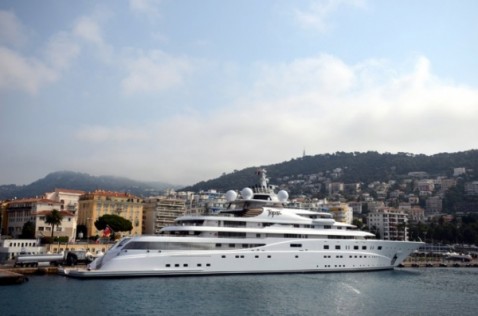 About the Yacht:  This superyacht, measuring a total of 482 feet in length, was constructed in 2012 and designed by renowned Tim Heywood.  It features a steel displacement hull, an aluminum superstructure and consists of eight floors of pure luxury. The Topaz is also equipped with anchor stabilizers, swimming pools and Jacuzzis, a helicopter landing pad, a garage to hold smaller tenders, a fitness hall, cinema and large conference rooms.
About the Owner: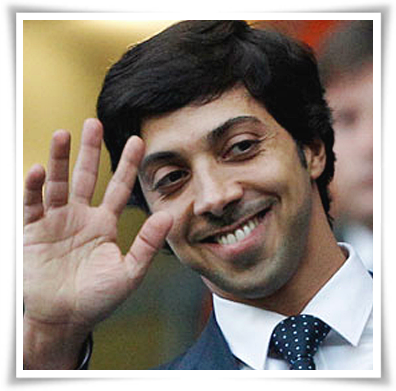 Mansour bin Zayed Al Nahyan is the deputy prime minister of the United Arab Emirates, minister of presidential affairs and member of the ruling family of Abu Dhabi. Mansoor also owns stakes in a number of business ventures, including Virgin Galactic. He also owns the privately held Abu Dhabi United Group (ADUG), sits on the Supreme Petroleum Council, as well as the boards of numerous investment companies including the International Petroleum Investment Company and the Abu Dhabi Investment Council. In September of 2008 he acquired the English Manchester City Football Club, and is reportedly the owner of a new US based soccer team planned to start playing in New York next year.
1. Azzam, Khalifa Al Nahyan: $622 million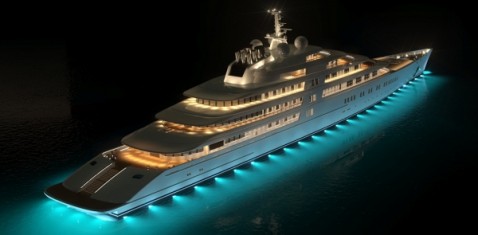 About the Yacht:  Launched on April 5, 2013, the Azzam is the largest private yacht in the world. It measures a staggering 590 feet in length–larger than many commercial cruise ships. Not much is known about this new super-ship, but it is rumored to have over 94,000 horsepower and more than 50 private suites for guests, a bullet proof master suite, and a missile defense system.
About the Owner: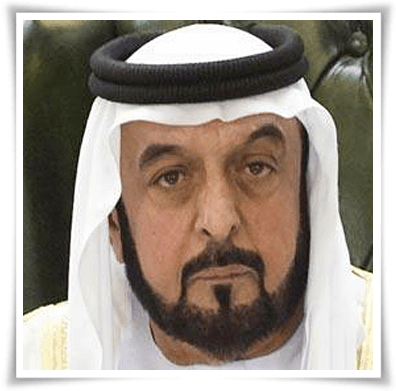 Sheikh Khalifa bin Zayed Al Nahyan is the Emir of Abu Dhabi and President of the United Arab Emirates. He is said to be one of the world's wealthiest monarchs with a net worth of over $15 billion dollars. He runs the second largest sovereign wealth fund with reported assets of over $600 billion. His philanthropic contributions include funding construction of the Johns Hopkins Hospital's new cardiovascular and critical care tower, AIDS research, and a $150 million dollar donation to the MD Anderson Cancer Center, the largest single donation in the facilities history.
Want to read about more extravagant purchases? Check out this $360,000 watch that the iPhone designer wears.
Need cash in a hurry but don't know which personal loan company you can trust? Supermoney is here to help you find the best options for all you loan needs.

Jennifer Leonhardi was born and raised on Catalina Island, giving her a unique small town perspective and focus on community. With a degree in Sociology, she now primarily enjoys writing, largely based on her own experiences, on topics such as financial assistance programs, issues concerning the home and family, and socioeconomic trends.