Are hurricanes or tornadoes an annual occurrence in your town? If so, a storm shelter could be a smart (and potentially life-saving) investment.
These sturdy structures give you and your family an enclosed place to wait out high winds and dangerous weather. It may give you peace of mind knowing you have a safe place to go when Mother Nature hits hard.
But with prices ranging from $500 to more than $20,000 (or more), it's no wonder many people seek out storm shelter loans to finance this purchase.
Above-ground or in-ground storm shelter: which is better?
Sometimes referred to as a "safe room," an above-ground storm shelter will usually be installed in a garage, basement, or on a separate concrete slab foundation not attached to your home.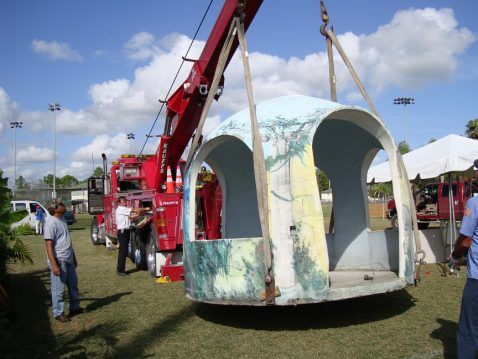 This option typically is simpler and less costly than installing an in-ground shelter, which requires excavation with heavy equipment.
Which option is better is a matter of personal preference. Some experts, like David Pressler, president of DRD Enterprises Inc. of Davie in Fort Lauderdale, Fla., believe the above-ground solution is superior.
He says, "Above-ground is the only place to put a shelter since below-ground with debris on top could be your coffin instead of your safe room. It's hard enough to find folks above ground under debris. Being underground with debris on top makes finding you impossible."
Pressler saw the need for more storm shelters first-hand during Hurricane Andrew when he was a firefighter with Miami Dade County in Florida. Later, he designed and built a shelter he calls the "safedome." He says his design – an eight-ton, above-ground concrete dome – can withstand winds up to 200 miles per hour.
How much does it cost to build a storm shelter?
The total cost depends on such factors as:
The size and location of your shelter
The quality of the materials you choose
Soil conditions on your property for in-ground shelters
Building permit fees in your area
Ramps, handrails, and other mobility/accessibility features that you want to add
Delivery fees for pre-fab shelters
Setup and installation costs
Concrete pouring to prevent your in-ground shelter from floating out
Optional add-ons like bed frames and mattresses, seating, or storage facilities
Storm shelters can be either prefabricated or custom-built.
Here are some average costs to give you a general idea of the costs involved.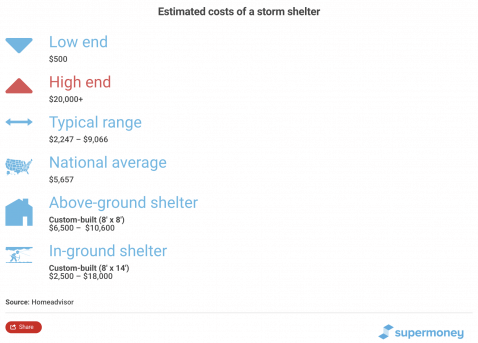 4 ways to finance a storm shelter
1) Personal loan
Personal loans are often used to pay for home improvements, including installing a storm shelter.
This can be a good option if you don't have equity in your home or you don't want to risk losing your home if you can't repay your loan.
You may have to pay a loan origination fee, which can range from 1% to 5% of the loan amount. For a $5,000 loan, for example, the fee would be $50 to $250. Repayment terms for personal loans vary, although 36 to 60 months is typical. Different personal loans come with different rates, fees and requirements, so check out what the best personal loans are to ensure that you choose the best option for you.
Compare leading personal loan lenders here
A personal loan has a fixed schedule of monthly payments, which may help you pay back the loan on time. However, it won't give you the flexibility of making only a lower minimum payment as a credit card will. You'll never pay off credit card debt if you make only the minimum payment every month, but it can help you if you can't afford the full payment by the due date.
Discover what you qualify for and find your best loan offer in minutes
2) Credit card
You could also use a credit card to pay for a storm shelter if your credit limit is high enough to cover the cost. Making a large purchase with a card can be smart if you can get cash-back rewards, miles or points, and can avoid paying interest.
Some credit cards come with a 0% introductory rate as a promotion. So, if you pay off the balance before the promotional period ends, you won't pay any interest at all.
Credit Cards vs. Personal Loans vs. Home Equity Loans
The downside of using a credit card to pay for a storm shelter is that rates can be high. If you don't pay off the balance quickly or before the 0% introductory rate expires, you may have to pay high interest charges.
You could also hurt your credit score if you max out one or more cards to pay for your storm shelter. That's because credit utilization is a key factor in determining your score. Credit utilization refers to the percentage of your available credit you actually use.
Compare personal credit cards to find your best option
Tap into your home equity
If your home is worth more than your mortgage balance, you can borrow against the equity and use the funds to finance your storm shelter. Here are a few ways to do it.
3) Home equity loans and lines of credit
A home equity loan, also called a second mortgage, has a fixed loan amount, fixed or variable rate, and closed-end repayment term. A HELOC is more like a credit card with a line of credit and variable rate.
Home equity loans and HELOCs usually have lower rates than credit cards or personal loans, but if you miss a few monthly payments, you could lose your home.
Browse and compare HELOC lenders side-by-side
4) Cash-out refinance
With a cash-out refinance, you'll refinance your current mortgage and take out a new loan for a higher amount. This will give you access to cash, which can be used to finance your storm shelter.
Compare mortgage refinance lenders here
Get started
The saying, "it's better to be safe than sorry," is a popular phrase for a reason. If you live in an area that's prone to natural disasters like tornadoes, you'll want to consider having the proper protection in place before the next one hits.
Get started by receiving personalized loan offers from competing lenders. Doing so allows you to quickly see what you qualify for without hurting your credit score. You can then compare lenders side-by-side to find the best one for you.
Marcie Geffner is an award-winning freelance reporter, editor, writer and book critic. Her work has been featured online and in print by The Washington Post, Los Angeles Times, Chicago Sun-Times, Urban Land, Business Start-Ups and Fox Business Network Online, among many other newspapers, magazines, and websites. With a bachelor's degree in English from UCLA and MBA from Pepperdine University in Malibu, Geffner has impressive credentials in both story-telling and business management. A second-generation native of Los Angeles, Geffner now lives in Ventura, California, a surf city northwest of her hometown.