Loans are one of the most widely used financial products around. Why? Because they can help cover virtually any type of expense—from weddings to unexpected medical bills and everything in between.
Become an expert before you apply for your next loan. Learn how to save money on interest rates and fees.
SuperMoney's loan offer engine allows you to see what rates and terms you qualify for without hurting your credit.
Other lenders entice borrowers with low rates but then add hidden fees, such as origination fees and prepayment penalties. SuperMoney's loan offer engine specifies the fees included in each offer so you can make an informed decision.
What types of loan are available?
Loans are intuitive financial products. The lender gives you money. You repay it with interest within a set period. Easy. However, don't let their simplicity dupe into believing that all loans, or lenders for that matter, are equal.
You can save a lot of money by investing a little time and effort into comparing lenders and checking what rates and terms they offer. However, every time you apply for credit lenders will take a hard pull on your credit report, which will ding your credit score.
Personal Loans
Personal loans are a great tool if you want to make a big purchase or consolidate your debts into a single fixed monthly payment at a lower rate.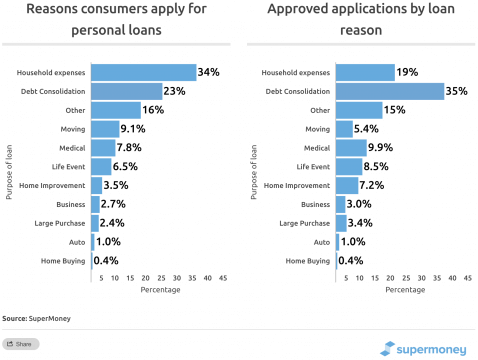 However, the cost of a personal loan can vary greatly depending on your credit score, income level, loan amount, and other factors.
WEIGH THE RISKS AND BENEFITS
Here is a list of the pros and cons to consider when comparing personal loans.
Pros
You can use them for practically any purpose.
Fixed rates and terms.
Competitive lending market.
Fast source of cash.
Helps you build credit.
Easy to apply.
Cons
Higher rates than secured loans.
Hard to get with bad credit.
Often include expensive fees and penalties.
Unlike mortgages and auto loans, unsecured personal loans don't require an asset as collateral, such as a car or a house. If you don't make payments, the lender can't immediately seize your property. Although defaulting on your loan payments will damage your credit score. What's more, transferring credit card debt to an installment loan can improve your credit score because it lowers your credit utilization ratio and diversifies the types of credit on your credit report. To make things easier, we put together a list of best personal loans to help you compare various fees, rates and reviews.
Once you decide on a personal loan, you need to determine what type of installment loan is best for you. Check what interest rates and terms you qualify for and determine whether you can realistically afford the monthly payments before accepting a loan offer. SuperMoney's loan offer engine sets out the rates, fees, and eligibility criteria of the leading online lenders.
Auto Loans
A recent survey by the Federal Reserve reported that 76.1% of car buyers negotiated the purchase price with the seller, but only 31.6% negotiated the interest rate on their loan. It gets worse. 27.1% of car buyers considered the monthly payment on their auto loan as the most important factor, but only 6.1% considered the interest rate on the loan as the most important factor (source).
However, paying a high interest rate can cost you many times more than what you're likely to shave off the purchase price of your vehicle, regardless of your negotiating skills.
Whether you're looking to buy a new car or refinance an existing, SuperMoney's auto loan offer engine is a no-brainer. Comparing auto loans won't hurt your credit score because SuperMoney's lending partners perform a soft credit pull as part of the prequalification process.
WEIGH THE RISKS AND BENEFITS
Here is a list of the benefits and the drawbacks to consider when looking into auto loans.
Pros
Lower interest rates.
Predictable payments.
Helps you build credit.
You eventually own the vehicle outright (unlike leasing).
Cons
Risk of repossession if you default.
Vehicles depreciate in value.
Excessive fees.
Auto Title Loans
An auto title loan is a short-term loan that uses your car as collateral. You must own the title to the car for it to work. In other words, you can't already have a loan out on the car. In exchange for this secured loan, you hand over your title and a copy of your keys to the lender until you pay it off.
Because you're using your car as collateral, auto title loan companies typically don't run a credit check. If your credit is bad enough that you don't have any other borrowing options, an auto title loan can get you the cash you need. All you need is a working car. The interest rates are very high and you risk losing your car if you can't make payments.
The application and approval process for auto title loans is typically fast. In most cases, you'll have the money in your bank account within 24 hours. The amount you can apply for is based on the value of your car. For example, the lender may cap your loan amount at 50% of your car's value, or some other percentage.
WEIGH THE RISKS AND BENEFITS
Here is a list of the benefits and the drawbacks to consider when looking into auto title loans.
Pros
No credit check.
Fast cash.
You get to keep your car.
Cons
High interest rates.
You risk losing your car.
Excessive fees.
SuperMoney's auto title loan comparison tool provides a transparent list of fees and rates.
Business Loans
Choosing from a wide selection of online business loans online can be overwhelming, but there's a right fit for just about any business owner. An online business can provide the money you need for expenses such as working capital, equipment, real estate, or revolving funds.
If you're in need of a business loan, you have several options. The 10 most common types of business loans include:
Term loans.
Merchant cash advance.
Invoice financing.
Invoice factoring.
Specialty secured financing.
There are several factors that help determine which loan is best for your business.
The main reasons small business apply for a loan include:
Start or expansion of a business: 59%.
Operating expenses: 43%.
Refinance: 26%.
Other: 9%.
The number of years you've been in business, your revenue, assets you own, and other factors will determine the rate and terms you qualify for.
The most common reasons a business loan application is denied include:
Weak business performance: 22%.
Insufficient collateral: 35%.
Low credit score: 27%.
Insufficient credit history: 36%.
Already have too much debt: 30%.
Other: 7%.
With a wide selection of loans, there's a right fit for just about any type of business need. The challenge, however, is finding the right one for your specific needs.
Start by getting personalized business loan offers to see what you qualify for. Then, easily compare lenders side-by-side to find the best fit for you.
Payday Loans
Payday lenders offer short-term loans that must be repaid within 15 to 30 days. In a traditional payday loan, a customer writes a personal check made out to the lender. The lender agrees to hold the check for a specified period, usually until the customer's next payday or for up to about two weeks, before depositing it. In exchange, the lender advances a cash payment to the customer that is the amount of the check minus a fee. For example, a borrower might write a check for $115 that the lender agrees to hold for two weeks. The lender provides the borrower with a $100 cash advance. So the borrower pays a $15 fee for a two-week finance charge.
When you do the math, it's clear payday loans are an expensive source of credit. The average fee for a payday loan, for instance, is $15 for every $100 borrowed (source). That equates to 391% APR on a $100 loan with a two-week term.
WEIGH THE RISKS AND BENEFITS
Here is a list of the benefits and the drawbacks to consider when looking into payday loans.
Pros
Easy application.
Instant money.
No credit checks.
Clear fees and pricing.
Cons
High interest rates and fees.
Short repayment terms.
Can lead to a long cycle of debt.
Payday loans are expensive sources of credit. They are the loans of last resort that you should only consider in emergencies. However, not all payday lenders are equal. Compare fees and read what other borrowers think of their customer service.
Private Student Loans
If you're looking for the right loan to help you pay for your own or your child's college education, there are many options available.
It's a good idea to look at several different lenders when considering a private student loan. Interest rates vary, for one thing, and you want the lowest interest rate possible.
There are many student loan lenders on the market. Each lender offers different terms and rates. Private student loans are offered through private lenders. So, unlike federal student loans, you can shop around and compare offers from different lenders.
You can choose between a fixed or variable interest rate, both of which will vary depending on the lender.
A fixed rate will stay the same throughout the loan, so your monthly payments won't ever change. Variable rates tend to start out lower than fixed rates, but they will fluctuate over time based on changes in the market.
WEIGH THE RISKS AND BENEFITS
Here is a list of the benefits and the drawbacks to consider when looking into private student loans.
Pros
Lower rates for good credit.
Better terms with a cosigner.
High borrowing limits.
Cons
Don't qualify for federal debt forgiveness programs.
Interest rates may be variable.
You may require a cosigner.
No federal subsidy.
Most lenders offer interest rate reductions when you set up automatic payments because it poses less of a risk than borrowers making manual monthly payments.
Repayment terms on private student loans generally range between five and 20 years. And most lenders don't charge application, origination, disbursement, or early payment fees.
Because of the different rates and terms available, it's important to shop around and compare several different lenders before committing to one.
Compare today's top private student loan lenders to find your best offer.
Final thought
Doing the proper research is key to ensuring you get the best possible loan offer, regardless of what kind of loan you're applying for. Use this guide to get started on the right path. By doing so, you can be confident that you're making the right decision for your personal finance needs.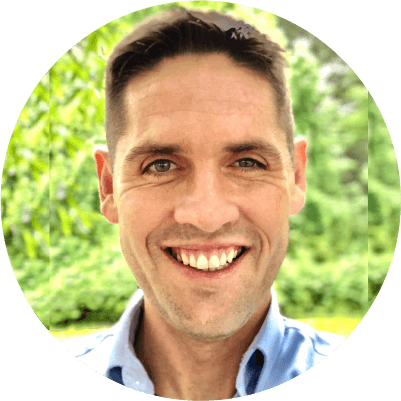 Andrew is the Content Director for SuperMoney, a Certified Financial Planner®, and a Certified Personal Finance Counselor. He loves to geek out on financial data and translate it into actionable insights everyone can understand. His work is often cited by major publications and institutions, such as Forbes, U.S. News, Fox Business, SFGate, Realtor, Deloitte, and Business Insider.