Summary
A fourplex is a multifamily property that has four individual units available for tenants. There are three ways to invest in a fourplex: either buy an existing fourplex outright, build one, or attempt to convert a single-family home or a duplex into a fourplex. Regardless of the investment method, you need to consider the costs, including potential repairs, your tax obligations, and any management concerns before you invest.
There are all kinds of multifamily units out there, such as the duplex, triplex, fourplex, and technically, the list could go on. The "plex" suffix is borrowed from Latin, and in modern English, it denotes structures with a number of dwelling units. As it sounds, a fourplex is a type of multifamily property in which there are four separate "rentable" units.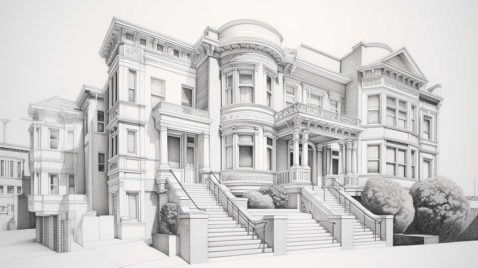 A fourplex can potentially deliver excellent rental yield, and you could even live in one of the units for free. If you are thinking about buying, building, or converting a fourplex as a real estate investment, here is what you need to know before getting your down payment together.
What's a multifamily property?
A multifamily property is a residentially zoned rental property that contains more than one fully equipped housing unit. Each unit in a multifamily property has a living area, bathroom, kitchen, and separate entrance. When a piece of real estate is considered a multifamily property, as opposed to a single residential property, this matters for the following reasons.
Taxes
Many counties and municipalities will have different property taxes for different ownership structures. Residential, multifamily, and commercial properties might all be taxed at different rates.
Lending
Lenders will offer different terms for multifamily properties than they would for a single residential property. Multifamily property loans are considered a mix of commercial and residential loans, and thus they can be more expensive and more difficult to obtain than residential loans. However, only multifamily properties of five units or more are required to have a commercial loan; a fourplex can be purchased with a standard residential loan.
Ways to invest in a fourplex
There are effectively three different ways to invest in a fourplex. You can buy a fourplex property that already exists, you can develop your own fourplex, or you can convert an existing residential property into a fourplex. As the majority of readers will probably be looking at either buying an existing fourplex or doing a conversion, we will focus on those concepts below.
Invest in an existing fourplex
An existing fourplex already has four dwelling units that may or may not be tenanted. Below is an example of a net yield you could receive from an existing fourplex, not taking into account any mortgage debt.
Example: Existing fourplex already tenanted
| Fourplex Price | $1,500,000 |
| --- | --- |
| | |
| Annual Rental Unit 1 | $24,000 |
| Annual Rental Unit 2 | $24,000 |
| Annual Rental Unit 3 | $20,000 |
| Annual Rental Unit 4 | $20,000 |
| | |
| Total Rental | $88,000 |
| | |
| Maintenance/Upkeep | $24,000 |
| Property Taxes | $9,000 |
| | |
| Total Net Rent | $55,000 |
| Total Net Yield | 3.67% |
Each unit could have a different rental charge, depending on the tenant and when they signed their lease. This is why, in this example, some units have an annual rental of $20,000, and some have an annual rental of $24,000. After property taxes and upkeep/management are paid out, the net rental/median income is about $55,000 per year, with a 3.6% net yield.
Converting into a fourplex
One of the most popular ways for real estate investors to maximize opportunity and profit is to convert an existing residential property into a fourplex. This is also known as a "multifamily conversion." Done properly, you can both increase the value of the asset substantially, as well as make a much better yield than if you were to just rent out a single property. It's important that you use good real estate investing metrics and model everything before going through the process of a full conversion.
Some real estate agent professionals prefer old Victorian-style homes for fourplex conversion, as opposed to more modern homes, according to real estate agent Bob Thompson. "The logistics to try and create a fourplex out of a single-family home is almost impossible," he says. "The only way that works is if you convert an old Victorian-style home. You would have better luck converting a large (modern) duplex to a fourplex."
Example: Single-family home converted for students
When converting a single-family home into a fourplex, you have a few considerations. First of all, to legally operate, each unit in the building must have its own kitchen, bathroom, living area, and separate door. In this scenario, we take a single-family property worth $1 million and convert it into a multifamily fourplex by investing $150,000 into the construction.
| Residential Home Purchase Price | $1,000,000 | New Fourplex with Costs (Property + Renovation) | $1,150,000 |
| --- | --- | --- | --- |
| | | | |
| Residential Rental | $35,000 | Fourplex Rental | $100,000 |
| | | | |
| Upkeep and Maintenance | $2,000 | Upkeep and Maitenance | $20,000 |
| Taxes | $6,000 | Taxes | $9,000 |
| | | | |
| Total Net Rental | $27,000 | Total Net Rental | $71,000 |
| | | | |
| Net Rental Yield | 2.70% | Total Yield on Investment (Property + Renovation) | 6.17% |
You can see that, initially, the home was bought for $1 million, and the rent is about $35,000 per year, delivering a low yield of around 2.7%. However, once you spend the $150,000 to make into a fourplex, you are able to rent each unit out for about $25,000, or $100,000 in total.
Upkeep and maintenance rise on conversion
The rental income increases substantially as you now have multiple units with multiple tenants. But your maintenance costs rise as well. In this model, those costs rise from $2,000 to $20,000.
Taxes are calculated differently
Many cities and counties have different tax levies depending on the classification of property. In general, residential property will have a lower tax than multifamily property, which will have a lower tax than commercial property. Once you do the conversion from a residential home to a multifamily home, you are liable for the different tax rates.
After conversion, the value should rise
For this model, we focus on the cash invested and the yield boost after converting a single-family home into a fourplex. However, after the conversion is done, the value of the new multifamily fourplex should go up significantly. The good news is that now you can also take advantage of the capital appreciation, and you can take equity out of the property via a mortgage or cash-out refinance. On the downside, your tax will eventually be levied on the newly assessed value, not the old one. Expect your taxes to go up at the end of the year during the period of time when your property taxes are assessed.
Benefits of a fourplex
Why choose a fourplex over a different type of housing?
Residential financing vs. commercial financing
Commercial loans can be harder to get and are almost always more expensive than a standard residential loan. However, as multifamily residences are required to go the commercial loan route if they have five or more units, fourplexes still qualify for residential loans. If yield is most important, then the difference in interest rates can be substantial. If you can get a primary residence loan on a fourplex, the lending terms will be even better.
Better yield
Fourplexes will almost always produce a better yield than a single-family residential home or condo. If you have an income investment strategy and have the cash, then a fourplex might be the optimum deal.
Streamlined management
Managing a fourplex in which there are four units under one roof is much easier than renting out four separate properties. Not only can you speak to all tenants in one go if you need to but the utilities, property tax, and general maintenance costs will also be similar for each unit.
Downsides of a fourplex
Of course, there are some downsides to owning a fourplex, and you'll want to consider those before you invest.
Multifamily properties are tougher to manage than a single home
In terms of property management, multifamily properties can be tougher to manage than a single residential home investment property. Yes, the management is streamlined, but there are more variables with more tenants.
Approval can take a while with conversions
If you convert a residential property into a fourplex, you might need permits or approvals. You will need approval to do work on the existing property as well as a separate type of approval to legally convert a residential property to a multifamily property. Again, multifamily is classified differently, and the approval might take time.
High tenant turnover
If you have a really nice fourplex in an in-demand area, you might not have to worry about high tenant turnover. However, renting fourplexes can be different than renting out single-family homes, which are more geared toward families. Families are much more likely to stay put in a property, whereas a typical fourplex tenant might be more nomadic.
Where to find a fourplex?
If you're ready to buy, here are some places where you can look for potential properties:
Check your local housing market
Speak with a real estate agent
Speak to another real estate investor with an existing fourplex
Check with a property management company that specializes in fourplexes
FAQ
What does a 4-plex or 6-plex unit mean?
The suffix "plex" effectively means "dwelling unit." The number coming before it dictates how many units there are in multifamily investment properties. In a fourplex, there are four units, and in a 6-plex, there are six units.
How big is a 4-plex?
A fourplex must be big enough that each dwelling unit complies with county or municipality density laws. This means that there are requirements in each county or municipality that each unit be a minimum size in order to be legally occupied.
What is another name for 4-plex?
Sometimes a fourplex is referred to as a "quadplex."
Key takeaways
A fourplex is a multifamily property that has four individual units available for tenants.
Multifamily properties like fourplexes have different classifications than residential properties and are thus subject to different taxes and loan terms.
Most people will look to buy a fourplex outright or take an existing residential home and convert it into a fourplex.
Depending on your fourplex strategy, it's important to be aware of issues such as managing multiple tenants and potentially higher taxes. But there are also upsides, such as lower-cost financing than with commercial real estate and greater yield.