Founded in 1989, Hyundai Motor Finance offers auto financing and leasing solutions. These days, the company is embracing the online world with the goal to make buying or leasing a Hyundai easier and more transparent. Will its new initiative be enough to put it ahead of the competition and win your business? Find out in this in-depth review of Hyundai Motor Finance's offerings and service.

Hyundai Motor Finance Solutions
Consumers can buy or lease new and certified pre-owned (CPO) vehicles through Hyundai Motor Finance. Undecided about which to choose? See our review about whether a new or used car would be best for you.
Hyundai New Vehicles
The lender specializes in financing a lineup of new cars both current and select past-year models.
Hyundai Certified Pre-Owned Vehicles
Additionally, Hyundai Motor Finance offers an award-winning certified pre-owned vehicle program. CPO vehicles come with the following benefits:
Certified pre-owned vehicles are typically more valuable by an average of $2,066
Vehicles are no more than five model years old
All vehicles have less than 60,000 miles
New owners get any remaining portion of the 5-year/60,000-mile new vehicle limited warranty
Vehicles come with a powertrain limited warranty (10-year/100,000-mile)
All vehicles must pass a 150-point quality assurance inspection
Buyers get three months of free Sirius XM radio
All cars come with a free CARFAX vehicle history report
Buyers get roadside assistance for 10 years
Reimbursement is provided when you need a rental car for a covered repair ($35 per day for up to 10 days)
Reimbursement is provided for travel interruptions ($100 per day, up to $500) when you experience a mechanical breakdown more than 150 miles from your home
In general, Hyundai's CPO vehicles instill more confidence in buyers as they are thoroughly inspected and protected by warranties and other programs.
Now that you know the offerings let's dig deeper into the company's Shopper Assurance program.

What is Shopper Assurance?
Hyundai Motor Finance is looking to make car shopping easier for customers through its Shopper Assurance program. Additionally, it provides customers with the following personalized tools and services on its website:
Research Tools and Convenient Test Driving
If you haven't decided on the vehicle you want, you can view e-brochures for various makes and models, use a tool to compare vehicles side-by-side and schedule a test drive.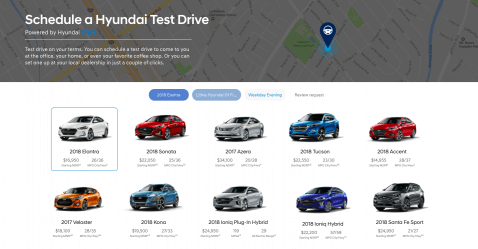 For the test drive, Hyundai will bring the car of your choice to your home, work, or other location at the time you choose. Or, if you prefer, you can go to the dealership.
Transparent Pricing, Quotes, and Financing Tools
Participating Hyundai dealers list their prices on the website, offering full transparency. So, once you know what car you want, you can shop around. If you have questions about financing, you can request a quote, use a payment calculator, get a trade-in estimate, and get your free credit score.
Online Application and Approval
When you are ready to move forward with a purchase or lease, you can complete an online credit application and find out if you qualify. If you end up liking the deal, you will need to visit the dealership to complete the paperwork.
The pre-work that you complete online eliminates much of the time you would typically spend at the dealership, haggling with sales reps, figuring out the paperwork, and waiting for approval.
Now let's take a look at the kinds of promotions Hyundai Motor Finance offers.

Hyundai Motor Finance Savings
Here are some ways you might be able to save:
Boostup.com
If you use the savings in a Boostup.com account for your down payment on a new Hyundai vehicle, they will match your payment up to $500. Similarly, they will do so for the payment you make when you sign up to lease one through Hyundai Motor Finance.
Boostup.com is a free social savings website. You can join and use it to save for big purchases like a down payment on a car. It automatically transfers the amount of money you specify into a savings account and tracks the progress toward your goal. 
College Grad with a Job Offer
Hyundai Motor Finance also offers $400 toward the down payment (on purchases) and toward the amount due at signing (for leases) to college graduates who are entering the workforce. As a result, the requirements include that the individual:
Is buying or leasing a new Hyundai vehicle
Earn an Associate's, Bachelor's, or Master's degree from a U.S.-accredited college or registered nursing school within the past two years, or will graduate in the next six months
Has a job and can show proof of employment, or has a job offer with a starting date within 90 days of the finance contract
Has no adverse credit history and is well-qualified
This offer is only available at participating dealerships, so be sure to check ahead of time.
Military Offer
Additionally, Hyundai Motor Finance also offers a $500 discount for qualified military members who are purchasing or leasing a new Hyundai vehicle. Eligible individuals include those who are serving, or who previously served, in the U.S. Army, Coast Guard, Navy, Marine Corps, Air Force, National Guard, or Reserves. Spouses of eligible members can also qualify.
Adaptive Equipment Offer
Next up, Hyundai Motor Finance will reimburse up to $1,000 of the costs associated with installing adaptive equipment into a new Hyundai. (Note: The equipment must enable more convenient access, or the ability to drive, for those with medical needs. Additional restrictions apply.)
Local Offers
Lastly, if you visit the website, click "Local Offers," and type in your zip code, you can see offers in your local area.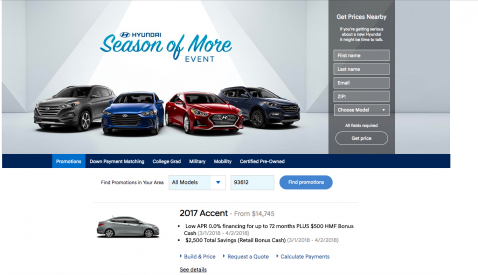 These can include 0% APR introductory offers, low monthly and down payment deals, retail cash bonuses, and more.
All of these offers can change over time, so check with dealers near you to get the latest information.

How to get a Hyundai Motor Finance Quote
Interested in finding out what Hyundai Motor Finance can offer you? Here's how to request a quote online.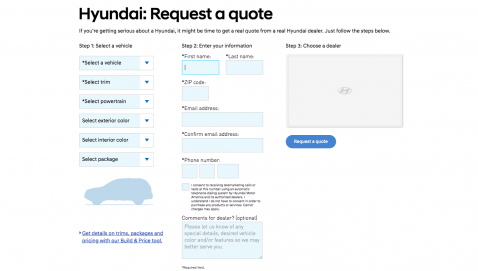 You will need to select the specifications of the vehicle you want, enter your personal information, choose a dealer, and click "Request a Quote." Furthermore, a local dealer will contact you with more information.

Apply with Hyundai Motor Finance Online
If you'd like to go ahead and submit an application with Hyundai Motor Finance, you can do so online by following these steps:
Visit the website, click "Shopping Tools," and select "Apply for Credit." 

Enter your zip code and select a vehicle.

Select a dealer near you. 

Enter your contact information.

Provide your address, housing status, date of birth, and social security number.

Enter your employment and income information. 

Review all of your information, read the terms, agree (if you want), and submit your application. (Note: because this will launch a credit review, this will affect your credit score.)
Finally, after this step, you will find out if you are approved. Consequently, if you are approved, you can review the terms, accept the loan, and finalize it at the dealership. You will have three days to ensure you are happy with your new car. If you're not, you can return or exchange it within the three-day period.
Find out how to get auto loan quotes without hurting your credit score.

Hyundai Motor Finance Customer Experience
What about the customer experience with Hyundai Motor Finance? Here's what you should know before you sign on the dotted line.
Account Management
You can create a Hyundai Motor Finance login username and password and manage your account online. By doing so, among other things, you'll be able to:
Make and schedule payments
Set up autopay
Receive account alerts
View your last 12 months of statements
Set up paperless billing
View your FICO score
You can also make payments over the phone, in person, and by mail. Additionally, customer service is available Monday through Friday, from 8 a.m. to 9 p.m. Eastern Time, at this phone number: 1-800-523-4030.
Hyundai Motor Finance Payoff
Accounts can be paid off at any time without any penalties. If you're interested, find your payoff/buyout quote on your most recent statement, online, or by calling customer service. Also, you can pay off up to $25,000 per transaction online, or you can send a check in the mail.
Hyundai Motor Finance Flexibility
If you fall behind on payments, it's best to contact the company to let them know about your situation. Similarly, customer service can answer questions regarding payment extensions, the repossession process, and more.
Common Hyundai Motor Finance Complaints
The company doesn't fair well when it comes to its online reviews. As a result, the common complaints include:
Poor customer service
Mistakes in contracts and statements
Difficulties with the title transfer department
Fees mistakingly charged
Read Hyundai Motor Finance reviews to learn more.
Hyundai Motor Finance Disposition Fee
The disposition fee (a.k.a. the turn-in fee) covers the costs of cleaning and selling a car after a lease ends. Even more, customers might qualify for a fee waiver if they lease or purchase another Hyundai from Hyundai Motor Finance within 60 days of the lease maturity date.
Is Hyundai Motor Finance the best choice for you?
Now you know all about Hyundai Motor Finance, but is it right for you? It comes down to one question:  Can the company provide you the best overall value? Determining the answer involves weighing four factors:
The customer service
The ease of getting the loan or lease
The vehicle selection
The cost
This lender hasn't fared all that well regarding customer service, so that is something to keep in mind. However, it does score well in its easy loan and lease process with all of the online resources, tools, and services it provides. It also deals exclusively with Hyundai vehicles, so if that's the brand you're after, that's important. As for the cost, you'll need to shop around and compare it with at least two other lenders.
How can you make shopping around easy?
You can always use SuperMoney's auto loan offer engine to get lenders competing for your business. The first thing you do is answer a few questions. Then, the tool will communicate with auto loan lenders. Lastly, if you qualify, you will receive several quotes within about two minutes (without affecting your credit score).
With a few quotes, you can weigh the four factors and make an informed decision on whether Hyundai Motor Finance is the best fit for you.
Want to review and compare other auto lenders? Head over to our Auto Loan review page.
FAQ on Hyundai Motor Finance
How to apply for a loan from Hyundai Motor Finance?
You can fill out a paper application at your local Hyundai dealer or apply for credit online through the Hyundai USA or Hyundai Motor Finance websites. You can apply online too.
Is a Hyundai Motor Finance auto loan right for you?
HMF offers auto loans and leases only on Hyundai through participating dealers, the lender isn't an option for other vehicle leases and purchases. But if you're planning to buy or lease an eligible Hyundai and qualify for one of the lender's special promotions or financing deals, it may be worth considering.
Does Hyundai Motor Finance refinance?
Hyundai Motor Finance offers loans and leases on Hyundai vehicles. The lender doesn't offer refinance loans.
Can you pay Hyundai Motor Finance with a credit card?
It is not possible to use a credit card to directly pay your bill with Hyundai Motor Finance. However, you may pay using visa or master card through Western Union Quick Collect. Fees and restrictions apply.
Does Hyundai Motor Finance charge for prepayment?
Accounts can be paid off at any time without any penalties. If you're interested, find your payoff/buyout quote on your most recent statement, online, or by calling customer service. Also, you can pay off up to $25,000 per transaction online, or you can send a check in the mail.
Jessica Walrack is a personal finance writer at SuperMoney, The Simple Dollar, Interest.com, Commonbond, Bankrate, NextAdvisor, Guardian, Personalloans.org and many others. She specializes in taking personal finance topics like loans, credit cards, and budgeting, and making them accessible and fun.