Article Summary:
All debit cards have an expiration date printed on the lower half of the card. Though the expiration date may be years away now, your bank may be sending you a new card sooner than you think. Find out how to keep track of your debit card's expiration date, what to do when your debit cards expire, and whether you can renew it before it expires.
We've all been there before: Your debit card's expiration date is almost here, and it's just one more thing you have to take care of. On the other hand, maybe you want to get your replacement card before your current debit card expires. Or do you already have expired debit cards with no replacement card in your mail? Let's find out how to take care of an expired debit card and what to do with your old card. We will also get answers to other related questions regarding debit card expiration dates.
What is a debit card expiration date?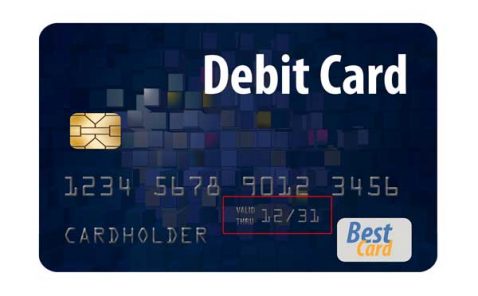 You can check your debit card's expiration date under the account number in a MM/YY format. This is the month and year that your card will expire. Typically, this expiration date comes two to three years after you receive the debit card.
Because the expiration date includes only a month and no actual day, you can use your debit card for the remainder of the month listed on your card. For example, if you have a debit card with an expiration date of 12/31, you can use your debit card for the entirety of December 2031 without issue. Once December is over, you could no longer use that card.
Can't I continue using my expired card until the bank sends me a new one?
This may work with coupons that are a day past the expiration dates, but using an expired debit card will most often result in your card being declined. This could be a bigger impact on your financials than you might expect.
Think about it: When was the last time you received a paper bill? It's probably been a while since most providers and online subscriptions are switching to paperless billing (some even offer incentives to go paperless) to avoid missed payments. If you have paperless billing, there's a chance you also have automatic bill payments, so you don't have to worry about keeping track of due dates. However, if you set up the automatic payments using your debit card, these payments will not work once that debit card expires. That means potential late payment fees and a negative effect on your credit score.
Why do debit cards even have expiration dates?
One of the most important reasons debit cards expire is to provide an additional measure to prevent fraud and identity theft; simply put, it's another number for you to confirm your card is actually your card. In addition, when making an online payment, many websites require you to input your card number, the expiration date, CVV, and billing address before completing the payment, constructing several blockades to protect your financial information. This offers financial protection for your checking account.
Another reason debit cards expire is to keep up with technological updates. One of the most recent examples of this is card readers. Originally, a customer swiped their debit card when making an in-store purchase and inputted a previously established PIN, which proved to be financially insecure. A card reader can now accept debit card payments by simply tapping the card against the machine or inserting the card into a chip reader.
Can I renew my debit card rather than wait for it to expire?
Typically, the card issuer will send you a replacement card before your old card expires. When it arrives, you can then activate it by calling the customer service number printed on the back of your card. Sometimes the number appears on a sticker on the front of your new debit card. However, you can call your bank branch for a new debit card before your debit card expires.
How do I renew my expired debit card?
If your debit card is expiring soon, first keep an eye on your mail. Your financial institution will issue you a new debit card through the mail in an unmarked envelope a few weeks or months before your debit card's expiration. And since the envelope is purposefully unmarked to prevent theft, it could be easy to throw it in the junk mail pile accidentally. Though it's always possible to call your card issuer for a replacement card, this would mean waiting for a brand new debit card to arrive before continuing with your purchases online and bill payments.
Second, make sure you do receive a new debit card. As mentioned above, your debit card is likely linked to many automatic payments that could go unpaid if you don't remember to change your card's expiration when you receive a new one. If you don't receive a new debit card, call your bank or credit union right away to avoid any troubles with your bank information.
Third, keep your current card until after you activate your new card. You can do this by calling the number found on the activation sticker: usually in bright yellow on top of the card. Once you call, you'll have to provide some security information, such as the debit card number and activation number, after which the bank will activate your new debit card. Finally, after your new card is activated, securely destroy your old debit card either by cutting it up or shredding the card as an additional fraud prevention method.
Do I automatically get a new debit card when mine expires?
The simplest answer is, most often, yes. As mentioned earlier, most financial institutions will send you another debit card within a month or two of your current card's expiration date. However, others may send you another card within the month of expiration. So, regardless of where you bank, you'll most likely get a new debit card in the mail in an unmarked envelope. If, for some reason, you don't receive a new debit card once your card has expired, call your bank or credit union to receive a replacement debit card.
Will my debit card numbers change?
Your new debit card won't change much from your old card. It will look like the same card with the same pin, card number, banking information—including your checking account number and routing number—and billing information will all remain the same; your new debit card will have a new CVV (card verification value) and new expiration date. If you're having trouble finding your card's CVV, look on the back of the card where the signature line is located. The three numbers at the end of the signature line make up the card's CVV.
Why didn't I receive my new debit card?
If you didn't receive your new debit card, first check to see that your mailing address is current. This is a common problem many renters experience as they may live in more than one apartment before their debit cards expire. If your new debit card is associated with your old address (or was sent to the wrong address), call your bank branch's customer service agent to cancel that debit card. Your bank will then send you a new card to your current mailing address.
There's also always the chance that your bank simply forgot to issue you a new card, in which case simply call your bank to have them replace your expired debit card.
Key personal loan statistics
Every debit card expires two to five years after you are issued the card.
You can call your bank or credit union for a replacement debit card before your card expires.
Debit cards have expiration dates to prevent fraud and identity theft and keep up with new technology such as chip readers.
Your bank will automatically send you a new debit card with a new expiration date and CVV within a couple of months of your current card's expiration date.
If you don't receive your new debit card before your old card expires, call your bank to ensure they didn't send it to an incorrect address.