Student loan debt is a monthly expense that takes a significant chunk of your paycheck. In fact, a recent survey by Citizens Bank found that nearly 18% of college graduates' paychecks are going toward monthly student loan payments. It will be helpful to know how to refinance student loans in order to reduce your monthly expense.
If you're faced with this same problem, student loan refinancing could be a solution to minimize how much of your budget is impacted by student loans in the short term, and over the life of the loan.
What is student loan refinancing?
When you refinance student loans, you're essentially renegotiating the terms of an existing student loan or multiple student loans, into a brand new loan.
When you refinance student loans, you're essentially renegotiating the terms of an existing student loan or multiple student loans, into a brand new loan. Your interest rate, the type of rate you have (fixed or variable) and your repayment term are conditions that you can shop around for.
The federal government doesn't refinance its own loans, meaning that your federal Stafford or Direct loan can't be refinanced into a new federal loan. Instead, when you refinance student loans, you go through a third-party lender, like SoFi or CommonBond. There are also a few banks, like Citizens Bank, that refinance student loans.
olivia [11:33 AM]
Should you refinance your student loan?
Students refinance their student loans for a number of different reasons, but refinancing isn't a universal solution that works for everyone.
Typically, borrowers opt for student loan refinancing when they have considerably large student loan debt and want to:
lower their interest rate
reduce minimum monthly payments
release a cosigner from the original loan
spend less on student loan debt
Depending on your goals, refinancing could be a viable way to accomplish one or a hybrid of the above.
When making the decision to refinance federal student loans, you should also consider the protections you'll lose.
Federal student loans provide borrowers with numerous options if repaying the loan becomes financially strenuous. Options like income-based repayment plans, deferment or forbearance (if you decide to go back to school) and student loan forgiveness programs (if you qualify) are all available through federally-backed student loans.
When you refinance your federal loans into a new private loan, you lose these benefits, as well as eligibility for future federal student loan programs that might arise in the future.
How to estimate your savings
The amount of money you could potentially save through refinancing is based on the amount of student loan debt that's being refinanced, your approved interest rate and how many years you'd like to allow yourself to repay the entire loan.
Use a student loan refinance calculator and plug in your loan amount and desired loan details to see how much your savings would be by refinancing your student loans.
Fixed vs. variable interest rates
There are two types of interest rates that are commonly alluded to when student loans come up– fixed and variable.
<strong>Fixed rate</strong>
A fixed interest rate doesn't change throughout your repayment term. It stays steady, despite market fluctuations– whether those movements are higher or lower than your student loan's interest rate.
When you refinance student loans, you might find that fixed rates are slightly higher than the variable-rate offer your lender provides. This is because over a long-term repayment, lenders could potentially lose out on money if market conditions swing interest rates upward.
As a borrower, you're paying a slight premium for the security and reliability that a fixed interest rate provides. Fixed interest rates afford you predictable monthly payments and a defined total interest amount that'll be paid on the loan, and therefore, you'll know 10, 20, 25 years from now, how much you'll have spent on your student loan. No surprises.
Benefits
Predictable monthly payments
Pre-defined total interest amount
<strong>Variable rate</strong>
Variable interest rates change throughout the course of your loan term, because they rely on shifting tides in the world economic market.
When you refinance your student loan, you'll likely find that variable rates are the most competitive interest rate at face value — of course, not taking into account your loan's repayment term and your credit score.
With a variable interest rate, you could have a lower interest rate to start compared to a fixed-rate option. Your interest rate could also remain lower than the standard fixed rate, if market rates don't rise.
Variable rates offer immediate, short-or-long term savings on interest over the loan's term.
This "market influence" is called, the London Interbank Offered Rate, or the LIBOR.
Benefits
Lower interest rates
Immediate, short or long term savings
LIBOR
Behind the scenes, banks and other financial institutions lend money to each other through short-term loans. When a bank lends money to another bank, the lending bank charges the borrowing bank interest using the worldwide benchmark rate, the LIBOR.
But when a financial institution borrows money from another bank to supply you with your refinanced loan, they don't shoulder the cost of the LIBOR. Instead, they pass that cost onto borrowers on the backend, by baking it into your loan's approved interest rate offer.
How to qualify for student loan refinancing
Qualifying for student loan refinancing is similar to financing other types of loans. With student loans, however, lenders are usually highly discerning about who they approve. They often seek out low-risk borrowers who have been steadily employed with a high income, compared to the amount of student loan debt.
Creditworthiness influences student loan refinance approvals greatly. If you have a high credit score (a FICO score of 700 or above) and a competitive income, you have a better chance of getting approved for a refinance than a borrower with subprime credit. Some lenders also look at what kind of big ticket debt you have on your record, such as a mortgage, and all lenders hone in on any past late payments or delinquencies as part of their decision-making process.
Questions to ask potential lenders
Before you go on a shopping spree, let's take a look at some of the questions to ask lenders.
1. What are their repayment term options?
Borrowers and lenders often fall on the interest rate as the primary point of contention when deciding on a student loan refinance offer. However, a lower interest rate over a longer period of time can easily cost you more money than what you might be paying at your existing loan's terms and rate. Similarly, a short repayment term could save you thousands of dollars, but will cause your monthly payment to spike.
Find out what repayment terms your lender offers, and how those terms affect the bigger picture– that is, how much you're spending overall.
It's better to accept a term that you can realistically pay down without extra financial hardship. Remember, if your student loan refinancing strategy is too aggressive– like choosing the shortest repayment term with the highest monthly minimum payment– you might put yourself at risk being late or defaulting, if your income can't practically support it.
2. Do they offer rate discounts?
Some lenders provide interest rate reductions if you take steps to secure or initiate repayments. Setting up autopay for your monthly payments, for example, can help lower your interest rate.
SoFi's ACH discount reduces its members' interest rates by 0.25%, if they elect to have payments fulfilled via autopay. The savings won't lower your monthly payment because it's applied directly to the principal, but it does help you pay off the loan faster.
3. What credit scoring model do they use?
While the industry standard is the FICO score, the credit bureaus have developed alternative credit scoring models, like the VantageScore, that some lenders use to determine whether you are qualified to refinance your student loans.
Asking this question ahead of time will provide you an apples-to-apples comparison when bringing your credit score to the table.
4. What happens if you miss a payment?
Sure, you're not going into the refinancing process expecting to be late on a payment, but things happen. Your bill pay alert might've suddenly disappeared from your smartphone calendar or you might get laid off five years into your term.
It's best to proactively ask your lender how these situations are handled, how it affects your loan, its balance and your credit score.
Student loan refinancing options if you don't qualify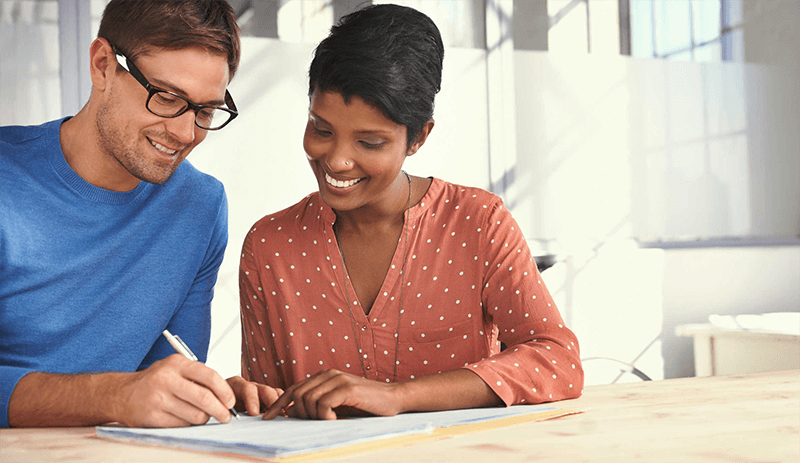 Find a cosigner
If you have subprime credit, or haven't built a substantial credit history that shows your ability to repay multiple types of debt, then you might need a cosigner. A cosigner guarantees that he or she will repay your loan debt on your behalf, if you ever defaulted or if something happens to you that prevents you from repaying the loan.
When choosing a cosigner, you should opt for someone who has a clean credit history and high credit score; consider a parent or close relative who is likely to be able to take on this responsibility long term. If you can't find a co-signer, try out these options.
Wait until your credit improves
It takes many timely debt payments on your record to boost your creditworthiness. If you're a recent graduate, consider spending some time repaying your loan at your existing term and conditions to ramp up your credit score.
By nurturing your credit, you'll set yourself up for greater success when refinancing a student loan later on.
Explore income-driven repayment plans
The first approach to student loan repayment should always be to learn how income-driven repayment plans could help you. Again, these plans are offered for federal loans and can give you some flexibility if you're still at an entry-level position but plan on working up in your career. It's also helpful if you are in a profession that has variable income.
Student loan refinancing involves a lot of research, calculations and possibly time, depending on your present circumstances. If you ultimately decide that you want to refinance your student loans, make sure to shop around for the best student loan refinancing companies to ensure your next loan works for your budget and lifestyle.