When you're trying to get your business off the ground, the most important thing to make sure is that there's enough funding to keep the lights on. According to a survey from The Federal Reserve, small businesses are more concerned with cash flow than any other concerns such as business costs or government regulations (Source). The good news is that there are a wide array of financing options out there, from traditional banks to online lenders to the government. But not all of the options are right for every business. Find out which are the top factors influencing business loan decisions and how it affects you.
What type of business goes to what type of lender?
Small and large banks, online lenders, microlenders and the US government are some places that offer business loans. Banks are the traditional lenders and require good credit and collateral to secure loans. They generally charge lower interest. Still, banks may not be the best option for some, particularly those with bad credit.
Small business, including microbusinesses that make less than $100,000 and startups, are more likely to apply for government-backed loans or lines of credit compared to more established firms with higher revenue. Over half of microbusinesses and startups (63% and 58%, respectively) applied for business loans in 2015. In comparison, less than half of growing businesses (49%) did.
It's the reverse when we look at traditional lines of credit. More than half (60%) of growing companies applied for lines of credit while 53% of 47% of startups and microbusinesses, respectively, did.
Why do smaller companies favor business and SBA loans? 
Traditional banks may not be the best place to start looking for a line of credit if you're just getting started with your business. They require lots of documents detailing the scope of the businesses and proof that your business can be profitable in the future, as well as collateral. In fact, the majority of firms (52%) applied for loans at small banks. Large banks were a close second. Only 20% applied for an online loan, in 2015.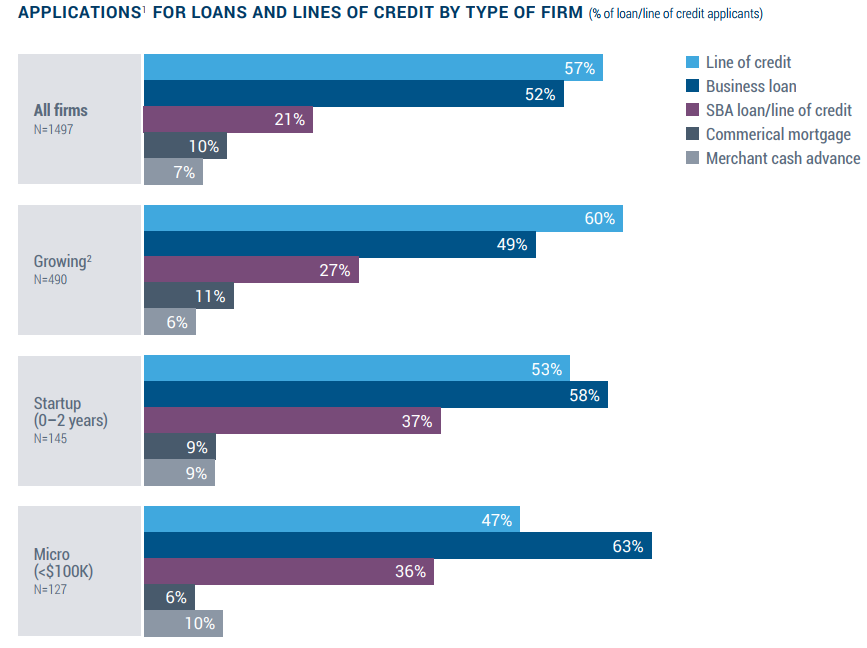 Source: New York Fed – 2015 Small Business Credit Survey
Online lenders are a good option if you need funding fast. They can provide a larger loan amount and don't require collateral but may charge higher interest rates. The application and approval process can take as little as 10 minutes. Many online lenders also have an automated underwriting program. That means it's possible to get smaller loans than a bank would typically give. (See some here: https://www.supermoney.com/reviews/business-loan#article)
Government loans are offered through the US Small Business Administration (Source). They are a favorite of smaller firms because they extend loans to those who might otherwise not qualify for loans, and help out the disadvantaged including women, veterans and the disabled. The SBA offers general loans, short-term loans and disaster loans, among others. The interest rates and repayment terms are favorable. However, because of the benefits, the application process to secure one of these loans can be time-consuming.
Microlenders are another loan option to some firms. These are nonprofits that lend short-term loans less than $35,000. The interest charged on these loans are typically higher and the loan amounts are smaller. They could be good if your business needs a jump start of cash to get sales growing quickly.
Why businesses pick a specific lender
The two most important factors influencing a borrower's decision to go with a lender are the relationship with the lender and the price of credit.
For microbusinesses, the top concern is –unsurprisingly– whether they think they can get a loan or not from the lender. That's because, as young companies, they're perceived to be most risky and not everywhere will lend to them. That's another reason why they prefer things like SBA loans. The second-most important concern for microbusinesses is the price of the loan.

Source: New York Fed – 2015 Small Business Credit Survey
Slightly bigger businesses also prioritize the price of credit, but they also take into account the relationship they have with the lender. Relationships become even more important as the business grows. For companies that make more than $1 million, they say that relationships are the top factor in whether they decide to go with a loan (while price of credit is secondary).
It's easiest to build these types of relationships in places where people are tightly knit to begin with. And that means mostly small, rural towns"
Why are relationships so important? Lenders are paid back more frequently because they know the borrower, and thus are more willing to lend. They may also be more willing to lend because they know things about the borrower the bank does not, like their personal details. Small business loans are widespread in rural areas, where there are tighter knit communities and people tend to know other people.
"It's easiest to build these types of relationships in places where people are tightly knit to begin with. And that means mostly small, rural towns," said Robert DeYoung, Capitol Federal Distinguished Professor in Financial Markets and Institutions at the University of Kansas School of Business (source).
When considering a business loan, you'll want to look at the annual percentage rate and the terms of the loan. Shop around and look at a few that you qualify for. After you determine which ones you qualify for, you want the one that offers the lowest APR. That will make it easier for you to pay back your debts.
Which lender is right for you?
The process of researching and deciding on a business loan can be frustrating. Ultimately, the choice boils down to what amount of risk works best for you. As you first start out, you may look at the feasibility of securing loans and apply to places that are more lax with their lending restrictions. You may have to pay more for credit. But as you build up your credit score and sales, you will be more able to go to banks and other lenders that may offer credit more cheaply.
At the end of the day, having knowledge about the different business lenders out there will allow you to make a more informed, power decision for the future of your business.
Compare dozens of business loan providers and filter them by the features that matter the most to you with SuperMoney's business loan review page. You can also read what other lenders have to say about each lender before you commit to a loan contract.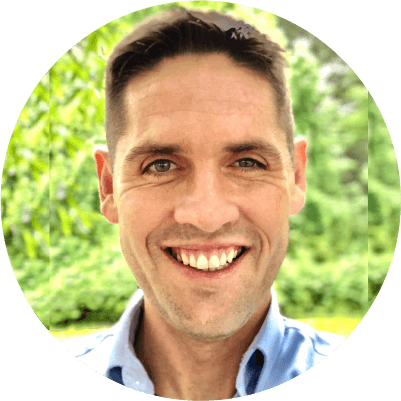 Andrew is the Content Director for SuperMoney, a Certified Financial Planner®, and a Certified Personal Finance Counselor. He loves to geek out on financial data and translate it into actionable insights everyone can understand. His work is often cited by major publications and institutions, such as Forbes, U.S. News, Fox Business, SFGate, Realtor, Deloitte, and Business Insider.