Summary:
In Wells Fargo's financial report for 2023Q2, auto loan originations have shown a significant year-on-year decrease by 11%, following a trend of diminishing loan balances. However, this has been offset by increased total revenue, elevated by a strong performance in the consumer and small business banking sector, up 19% YoY.
Wells Fargo's Auto Loan Originations Decline
Wells Fargo's second-quarter financial report for 2023 reveals a notable decline in auto loan originations by 11% year-on-year (YoY) from $5.4 billion to $4.8 billion. This reduction is largely due to loan spread compression and reduced loan balances, a trend that has somewhat dampened the bank's overall performance in the consumer lending sector.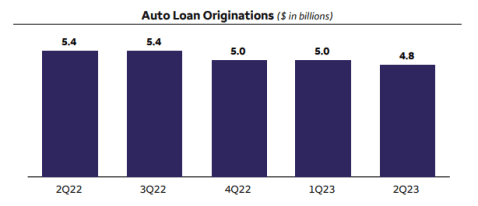 A Closer Look at Wells Fargo's 2023Q2 Financials
Revenue Up Despite Lower Auto Loan Originations
Despite the decrease in auto loan originations, Wells Fargo's total revenue shows an increase of 11% YoY and a 1% increment from 1Q23. The Consumer and Small Business Banking (CSBB) sector has performed particularly well, up by 19% YoY. This upswing has been fueled by higher interest rates, although it was partly offset by lower deposit balances and diminished deposit-related fees.
Other Sectors in the Consumer Lending Business
Contrasting with the decrease in auto originations, the Home Lending sector fell by 13% YoY, attributable to lower net interest income and a decrease in mortgage banking income due to lessened originations.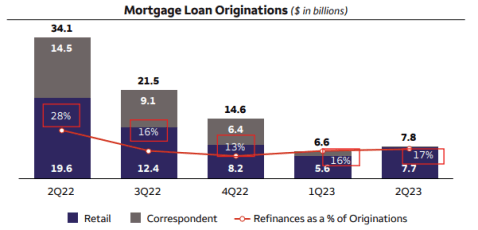 In contrast, Credit Card earnings saw a slight YoY increase of 1% thanks to higher loan balances, increased point of sale (POS) volume, and new product launches. The Personal Lending sector witnessed an encouraging 17% YoY increase due to higher loan balances, partially offset by loan spread compression.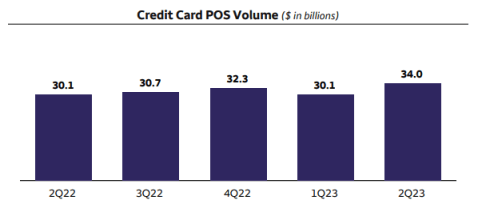 The Impact of the Auto Loan Originations Drop
Effect on Revenue and Earnings
The 11% YoY decrease in auto loan originations significantly impacted the revenue of the Auto division. This decrease, along with the 13% YoY drop in the Home Lending sector, has somewhat offset gains from other consumer lending sectors. Despite these drops, Wells Fargo's total revenue has seen an overall increase, with significant contributions from the CSBB and Personal Lending sectors.
Future Projections for Wells Fargo
The significant drop in auto loan originations poses a challenge for Wells Fargo. However, the bank's overall growth in total revenue suggests that other areas of the bank's operations have been able to absorb this impact. The future trajectory of Wells Fargo's financials will depend on how these trends evolve, including the recovery of auto loan originations and the performance of other sectors within Consumer Lending.
WEIGH THE RISKS AND BENEFITS
Here is a list of the positive and negative signals from Wells Fargo's financial report.
Pros
Strong performance in the CSBB sector
Significant YoY increase in total revenue
Stable noninterest expense YoY
Cons
Decreased auto loan originations
Lower deposit balances
Decreased Home Lending sector earnings
Key takeaways
Auto loan originations in Wells Fargo decreased by 11% YoY in 2023Q2.
Despite the decrease in auto originations, Wells Fargo's total revenue has increased by 11% YoY.
CSBB performed particularly well with an increase of 19% YoY.
Other consumer lending sectors have seen a mixed performance, with the Home Lending sector experiencing a decline, while the Personal Lending and Credit Card sectors have seen growth.