Managing your auto insurance isn't just about paying your premiums. It's also about getting money-back bonuses, refunds, and discounts from your insurer.
The most attractive bonus you're likely to find is the cashback you could get if you avoid accidents on the road for a specific period.
If you don't shop around and compare quotes for auto insurance coverage, you won't know whether you could have paid a lower premium for similar coverage from another carrier even after you factor in the cash-back reward.
Also, if you are involved in an accident, you won't get the cash back you expected. Still, if you're a safe driver, a bonus for being accident-free could be a great way to get cash back from your auto insurance carrier.
Allstate rewards program
Allstate's Safe Driving Bonus program, for example, sends you a rebate check in the mail for every six months that you don't have an accident. That's a nice perk, and a great opportunity to motivate yourself to drive safely.
This program is advertised nationwide but isn't available in every state, so you'll have to ask your Allstate agent if you qualify.
Allstate also has a program that lets you earn points for various activities. Examples include signing up, driving safely, watching videos, and entering promo codes. You can redeem your Allstate points for gift cards, merchant discounts, travel benefits, and other rewards.
Read SuperMoney's in-depth review of Allstate insurance.
Best car insurance discounts
Most car insurers offer lower rates for "good drivers." Good drivers are defined as people who haven't been involved in an accident or gotten a traffic ticket for at least a few years.
If that's you, ask your insurer or agent if you qualify for these discounts. Savings range from 5% to as much as 40%.
"The best thing you can do to ensure lower insurance premiums is to be a safe driver. The better your driving record is, the lower your premiums will be," says John Erickson, vice president and chief product officer at Wawanesa Insurance Company. Founded in Canada, the company's U.S. operations are headquartered in San Diego, CA.
Problems you had in the past drop off your driving record over time, helping you qualify for a lower rate, Erickson says.
You can also get premium discounts or avoid paying extra fees if you: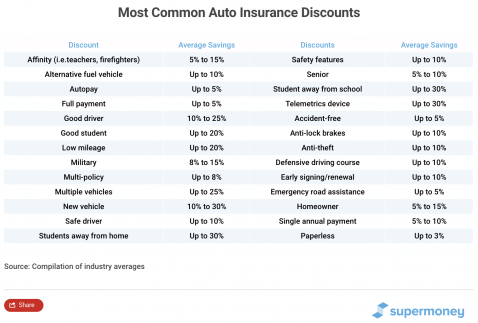 "Even if you have only one car, you may qualify for a multipolicy discount by bundling your homeowner's, condo, or renter's insurance with the same company as your auto insurance," Erickson says.
Every insurer offers different auto insurance discounts, so it pays to ask your insurer which you qualify for.
Check out SuperMoney users reviews of:
Pay premium with a credit card to get cash-back rewards
Another way to get money back from your car insurance is to use a cash-back credit card to pay your premium and then collect your cash back reward from the card.
Geico, Nationwide, and State Farm are just three examples of insurers that accept credit cards for premium payments.
Note, you may be charged a convenience fee to pay your car insurance premium with a credit card. Paying the fee might be worth it to get the card's cash-back reward—or it might not.
If you carry a balance, you'll be charged interest, so consider that as well.
How to get started
It's smart to shop around for car insurance. Compare auto insurance rates from different carriers with the same amounts of coverage to find a policy that costs less and rewards you with cash back.
Check out SuperMoney's auto insurance review page, where you can easily compare companies side-by-side to find your best options.
Marcie Geffner is an award-winning freelance reporter, editor, writer and book critic. Her work has been featured online and in print by The Washington Post, Los Angeles Times, Chicago Sun-Times, Urban Land, Business Start-Ups and Fox Business Network Online, among many other newspapers, magazines, and websites. With a bachelor's degree in English from UCLA and MBA from Pepperdine University in Malibu, Geffner has impressive credentials in both story-telling and business management. A second-generation native of Los Angeles, Geffner now lives in Ventura, California, a surf city northwest of her hometown.