Fed up with your current ride? Shopping for a new car is exciting. But there are steps you should take to avoid getting ripped off at the dealership.
Here's a step-by-step guide to help you get the biggest bang for your buck.
1. Determine how much you can afford
How will you be paying for the vehicle? If you're paying cash, chances are you know how much you wish to spend. But if you plan to finance the vehicle, determine how much you can afford before you start looking for a car.
Check your credit score
It's also a good idea to check your credit score. The higher the credit score, the lower the interest rate and monthly payment. By contrast, a high interest rate will decrease your budget for a new car since you'll pay more in interest.
Get Pre-Approved
Get pre-approved for financing through a local financial institution or credit union.  Several online banks also offer auto loans. Use SuperMoney's Auto Loan Rate and Reviews comparison tool to compare rates and terms. Although dealerships are happy to take care of financing, their rates are usually much higher.
2. Explore your options
Compose a list of vehicles that fit your needs and are within your budget. Visit each of the automaker's websites to peruse the image gallery and review the specs. Also, read reviews from industry experts and consumers. Try reputable sites, like Edmunds, U.S. News or Car and Driver. Finally, be sure to analyze crash test ratings from the Insurance Institute for Highway Safety. Use this information to narrow down your top choices.
3. Test drive your top choices
Head to the dealership to take the cars on your list for a spin. During the visit, ask the car salesman any questions you may have. Also, inquire about dealer incentives, which may be available with in-house financing.
4. Obtain pricing information
Use Price Advisor (KBB.com), True Market Value (Edmunds) or TrueCar to get an idea of what others in the area are paying for the car.
Dealer Incentives
The dealership should have a list of incentives and rebates on their website. These could be worth thousands of dollars. If you're unable to locate them, give the customer service department a call.
Maintenance Costs
Beyond the list price, consider the cost of maintaining the vehicle. Depending on how steep the average costs are, maintenance costs could be a deal breaker.
5. Shop around
Once you've settled on a vehicle, retrieve quotes from nearby dealers. If the rates are comparable to the industry average, it's time to negotiate. Otherwise, keep searching. You may have to travel, but the savings are worth it.
If you are financing the car with a loan, shop around for the best rates and terms available. If your credit score is above 680, get a quote from LightStream. Their rates for new vehicles start at 1.99% APR.
What's the best time to buy a new car?
Data proves that August might be the best month to buy a new car. Also, they are priced cheaper on sundays.
Timing your car purchase can save you hundreds of dollars. TrueCar has analyzed car prices over several years to reveal the day of the week, month, and time of the month to buy a car—including timing for specific car types.
The data comes from monthly industry sales data between the years 2009 and 2014.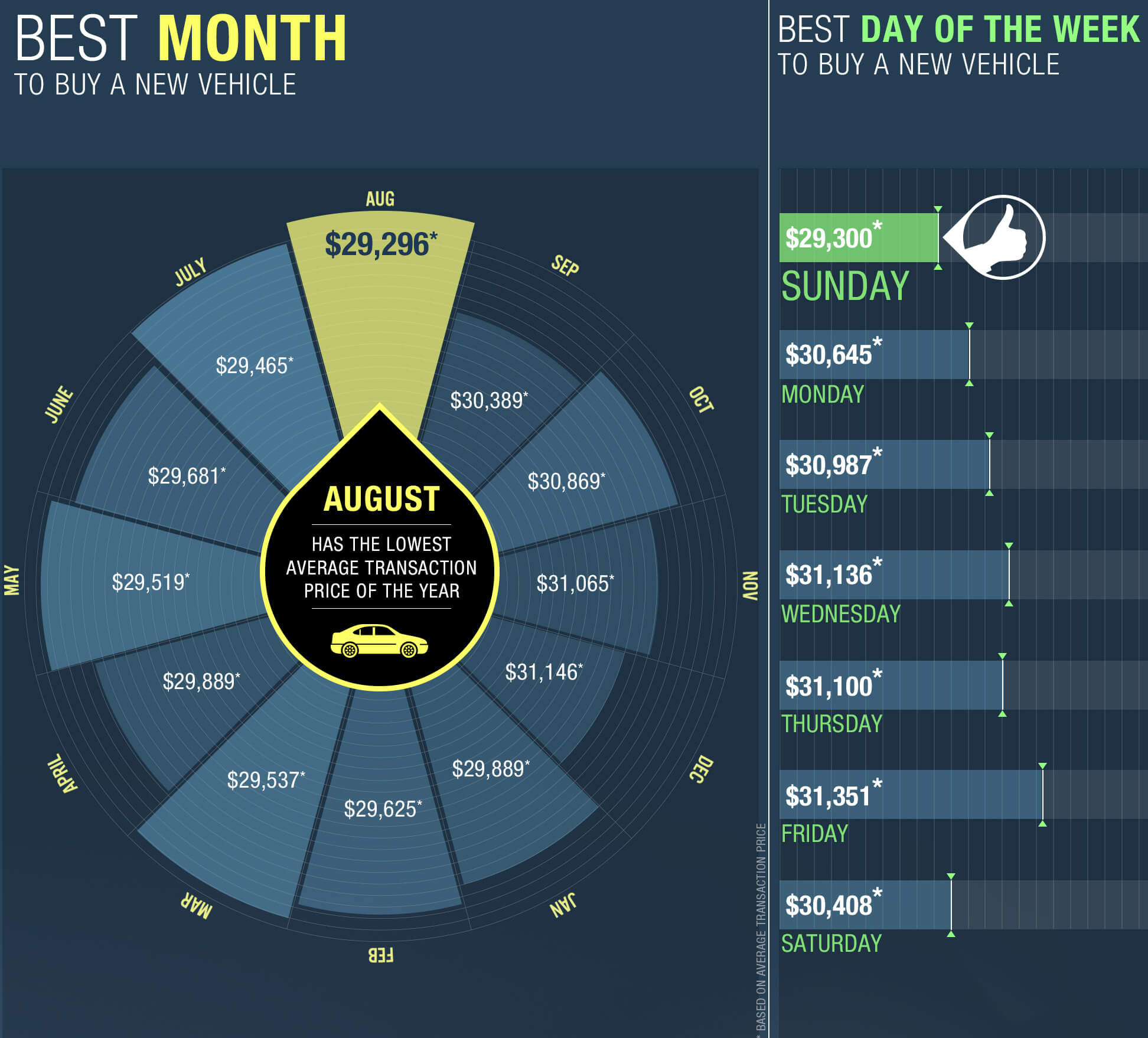 6. Prepare your current car for trade-in
If you are trading in your current vehicle, use Edmund's online appraisal tool to get an idea of what your car is worth. (Don't forget to clean it up a bit, so it's easy on the eye.) If the dealer lowballs you, selling the vehicle yourself is always an option.
7. Negotiate the best deal
Salespeople will do their best to convince you that you're getting a good deal, even if the sticker price is inflated. Here's how to stay a step ahead:
Reject the dealer's initial offer. Counteroffer with a lower, but fair number.
Inquire about fees. Some dealers will hit you with an assortment of fees at the last-minute.
Don't focus on monthly payments. What matters most is the total amount of the loan.
Relax! If you seem too anxious to drive off the lot in your new car, you could end up in a car you can't afford.
Ask about dealer financing. It's unlikely but the dealer may be able to get you a lower loan rate, even if you were pre-approved.
If you decide to buy extras, such as an extended warranty, pay cash.Your monthly payment will be higher if you roll them into the loan.
Finally, don't be afraid to walk away if you feel you can get a better deal elsewhere.
8. Sign on the dotted line
Read the fine print. Whether it's a financing agreement or a bill of sale, scrutinize every document the loan officer places in front of you and seek clarification on elements you don't understand.
Congratulations! You're officially the proud owner of a shiny, new ride.
The Bottom Line
The financing of a new car is a significant cost you shouldn't leave to chance. In 2016, the average price of a new car was $33,666 (source). If you were to finance a car of that value with a 48-month loan that had a 5% APR, it would cost you $3,050 more than paying cash. That's over 10% the total value of the car.
Shopping around for lenders and negotiating rates can save you hundreds of dollars over the life of your vehicle's loan. SuperMoney makes it easy to compare rates and terms to find the best loan available by offering free expert reviews and consumer comments on the leading auto lenders.
Allison Martin is an accomplished finance writer who has written for publications including The Wall Street Journal, MoneyTalksNews, The Simple Dollar, and Credit.com. Her work has been featured on Fox Business, Yahoo! Finance, MSN Money, and ABC News. She enjoys writing about personal development, entrepreneurship, personal finance and is a Certified Financial Education Instructor (CFEI).