Whether you need a cavity filled or a simple tooth cleaning, dental work is expensive. If you don't have insurance, the average deep clean will cost you $500 to $900. A crown or a root canal could set you back $1,500 or more. So how can you afford the care that you need? Read on to learn everything you need to know about how to pay for dental work. We
Nearly 37 million people in the U.S. have no dental insurance at all. And unfortunately for them, dental work is expensive.
And even if you do have dental insurance, you may not have the coverage you need. Although insurance pays for preventative care, its contribution to other services has limits. For example, one Delta Dental policy only pays 50% towards the cost of oral surgery, root canals, and crowns. And there are many procedures — especially optional or cosmetic ones — which dental insurance doesn't cover at all.
Evaluate all of the factors to find the right balance between price and value. If you can't afford it out-of-pocket, consider a loan to get the care you need.
The average costs of dental procedures
How much do dental procedures cost anyway?
"Dentists set their own rates for dental care after evaluating their dental practice and the local market. After all, a dental practice is just like any other business, and must be priced competitively," says Andrea Randall of Starmount and Unum Dental, a provider of dental insurance.
Dentists set their own rates for dental care after evaluating their dental practice and the local market. After all, a dental practice is just like any other business, and must be priced competitively"
A few experts in the industry weighed in, providing the following cost estimations.
| Procedure | Cost |
| --- | --- |
| Dental exams, cleanings, and digital x-rays | $75 to $150 |
| Composite (tooth-colored) fillings per area filled | $100 to $300 |
| Typical ceramic crown | $800 to $1,200 |
| Dental bridges | $1,500 to $3,000 |
| Simple tooth extractions per tooth | $100 to $200 |
| Surgical tooth extractions per tooth | $200 to $400 |
| Teeth whitening take-home trays | $100 to $200 |
| Teeth whitening in-office | $300 to $500+ |
| Invisalign | $4,000 to $8,000 |
| Dental Implants per tooth | $1,500 to $2,500 |
| Routine cleanings, x-rays, and exams per year | $300 to $400 |
| An average-size filling | $200 to $300 |
| Crowns and root canals | $1200 to $1300 |
Connie Feng, D.D.S. at Twin Leaf Dentistry offers the following quotes but warns, "It varies widely based on location and whether the office participates with insurance networks."
Now, let's take a closer look at why dental costs can vary so greatly.
4 factors that impact dental costs
Many factors can impact how much you pay for your dental procedures, but the most prominent include where you are getting care if you have insurance, how the dentist codes the procedure, and the quality of the dentist and their work.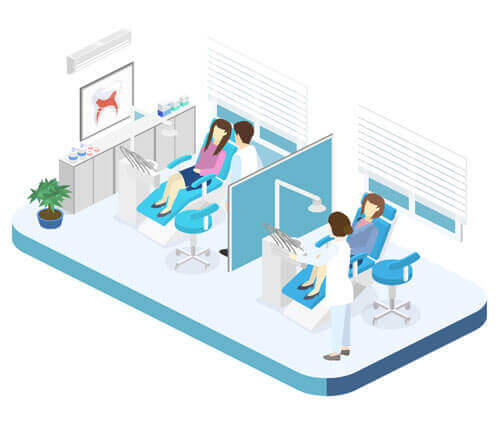 Several practicing dentists explain each of these four factors in more detail below.
1) Location
First up is location. "As in many other areas of the consumer market, dentistry and the fees associated with it can drastically vary. Fees can vary by zip code (yes, insurance companies set their reimbursement rates based on the zip code your doctor is in)," says Alvarez.
He adds, "If you see a dentist in Midtown NYC or Beverly Hills, expect to pay much more than seeing one in the South Bronx or Compton."
2) Insurance
Next is insurance. "For a given procedure, the price will vary significantly based whether or not you have insurance. If seeing an in-network provider, there is a negotiated rate between the dentist and the insurance company.
This will impact not only the amount the dentist will make off the procedure but your portion of that amount as well. If you are seeing an out-of-network provider, or you have no insurance at all, your payment is based on the office's typical fee," says Jennifer Dean, D.D.S. and practice owner of Rancho Sante Fe Cosmetic and Family Dentistry.
You may save around 15% to 20% on a certain dental procedure just for visiting a network dentist"
Randall adds, "You may save around 15% to 20% on a certain dental procedure just for visiting a network dentist. 59% of adults ages 19 to 64 have private dental plans according to the American Dental Association.
However, there are different types of dental insurance and various plan designs with different benefits. Consumers with the right dental plan and benefits can significantly reduce their cost of care."
3) Coding of procedures
Several dentists also mentioned that procedure coding could impact cost.
"Average costs differ widely, even from community to community, let alone county or state to state. This is primarily due to the coding process with dental insurance companies," says Barnard.
Dean adds, "Different dentists can approach and code things differently. For example, if you need two fillings on one tooth, one dentist may charge that as two distinct and separate two-surface fillings, while another may charge that as a single three-surface filling, which is typically cheaper."
4) Quality of care
Lastly, you get what you pay for.
"Private practice fees can also vary greatly even within a single locale, depending on experience, technical expertise, materials cost, etc.," says Travis Mattson, practicing dentist at Dentolutions.
He adds, "Shopping on price alone is not easy, as not all dentistry and materials are the same. For example, in the case of a crown, a dentist could have a crown fabricated in another country and milled on a computer for much cheaper than one handcrafted by a master technician/ceramic artist in the United States. Those differences often get reflected in the end result, as well as the fees charged."
Alvarez summarizes this point saying, "Just as with cars or clothing, you can buy a Honda or a Mercedes, you can shop at Walmart or Chanel, and you can also choose to see a clinic dentist for a low cost, or you can see a fee-for-service dentist at a higher cost.
The types of fees are different, and the materials and quality of care you receive will also be different. You may need a filling that can cost $75 to $100 done in silver mercury amalgam, or you can have a Lucite reinforced ceramic on-lay filling that costs up to $2000. The choice is yours."
These factors should be taken into consideration when choosing a dentist. Be aware that you can save by choosing an in-network provider or going to a provider in a lower-income area, but you also should consider the quality and expertise of the dentist.
So what should you do if you find yourself with a massive bill for a dental procedure? How can you pay for dental work?
How can you pay for dental work?
Check your health insurance policy
Many people don't realize that, in some cases, standard medical insurance policies will cover dental work. However, this is only applicable if the procedure is found to be "medically necessary."
For example, if you have a jaw injury from an accident and need oral surgery, your health insurance will probably approve the treatment. Likewise, insurance may also cover procedures to correct airway obstructions, chewing dysfunction, or severe speech defects.
However, you can't necessarily count on this coverage. Whether or not your health insurance covers medically necessary dental work depends on your particular policy. And there's rarely medical insurance coverage for things like root canals, dentures, bridges, braces, or dental implants. In these cases, you will need to find another way to pay for your dental work.
Ask about a payment plan
Many dental offices offer short-term installment plans for patients that can't afford to pay for the entire procedure in a lump sum. These repayment plans don't usually have interest fees attached to them, and they aren't reported to credit bureaus. This remains true unless you default. If you fail to pay what you owe, expect to be taken to collections.
If your dental office does offer a payment plan, be sure to clarify their terms before you have work done. Find out if they charge interest, how long you'll have to pay the debt, and how much you'll have to pay each month.
Keep in mind that this option isn't always available, especially for elective work such as veneers or implants. But you won't know unless you ask!
Take out a personal loan
A personal loan can be a good option for financing dental work. You can use a personal loan to pay for anything. And if you have good credit, you can probably score a lower interest rate than you would get with a credit card.
However, different personal loans come with different rates, fees and requirements, so check out what the best personal loans are to ensure that you choose the best option for you.
With a personal loan, you'll make regular monthly payments over the length of a set loan term. Not sure what kind of rates you might qualify for? SuperMoney can help! With our personalized loan engine, you can get quotes from dozens of top lenders in seconds. It's easy, and pre-qualifying won't hurt your credit score.
Find out what you qualify for! Or browse top personal lenders side-by-side:
Pay with a credit card
Nearly all dental offices accept major credit cards as payment for dental work. If your credit line is big enough, this could be a good option. But keep in mind that interest rates on credit cards are usually higher than the interest rates of personal loans. If it's going to take you several months to pay off the debt, be sure to compare both options to find the cheapest financing solution!
Also, if you have good credit, there's another great option out there. Many credit cards offer promotions wherein they charge zero interest for a set introductory period — typically 6-12 months. As long as you're able to pay off the balance before the promotional period ends, you've financed your dental bill without paying a dime in interest!
Not sure where to start? Check out these great credit card offers:
Use a medical credit card
Many physician's offices and dental practices have brochures on hand advertising specialized medical credit cards. The most common dental credit card is available through Care Credit.
Dental credit cards promise consumers a low introductory annual percentage rate (APR) period if you pay off the card within the introductory period (often 12 or 18 months). But be warned. If you fail to pay off your debt within the promotional period, you'll have to pay retroactive interest on the entire amount that you originally owed. And the interest rate is typically in the double digits.
That said, as long as you're careful to pay your debt in time, medical credit cards can be a great option. They're especially helpful for applicants with bad credit, who might not otherwise qualify for such low rates.
Use an HSA
Do you have a health savings account (HSA)? Then draw from it to pay for your dental procedure! An HSA lets you put away pre-tax income into a special savings account every month. You can spend the money in your HSA on any qualified medical expenses — including dental work.
Borrow from your 401(k)
Suppose you don't have an HSA, and your low credit score makes it hard to get competitive offers from lenders or credit card companies. How can you finance your dental work?
Easy: borrow the money from your future self! Sound impossible? Not if you have a 401(k) retirement savings account! Borrowing money from your own 401(k) lets you draw funds from your own retirement. Because you're borrowing from yourself, you won't have to pass a credit check, and you won't have to pay any interest.
As long as you remain working for your current employer (the one who facilitates your 401(k)), you can take your time to pay yourself back. But if you lose or leave your job, you must pay your debt within 60 days.
How to pay for dental work with bad credit?
While bad credit does require you to get more creative when finding a dental loan, you still have options. Whether you take out a loan or borrow from your home equity or 401(k), you can find a way to finance the dental work you need. Most of the options mentioned above are also available to patients with bad credit. Just expect to pay higher interest rates and fees. Here is a brief recap of the top dental financing options for people with bad credit.
Apply for a personal loan
Even applicants with bad credit can qualify for a personal loan. Payday or auto title loans are also easy to acquire, though their punishing interest rates and fees make them a less attractive option.
401(k) loans
If you're employed and have a 401(k), you can borrow from it to pay for your dental costs. This option will usually not require a credit check. It also streamlines your monthly payments by taking them out of your paychecks. Interest rates for this option are typically low, and you can usually borrow half of the amount in your account. Check with the provider that manages your 401(k) to find out how to set this up.
Get a home equity loan or home equity line of credit (HELOC)
Do you own your house and have some equity in it? If so, you might want to consider tapping into it to cover your dental costs. Home equity loans and lines of credit (HELOC) enable you to borrow against the equity in your home. This is a great option if you have bad credit because your house secures the loan, ensuring low interest rates. Just be sure to make your payments on time. With a HELOC, your house will be on the line if you default on your loan.
How to pay for dental work with no money?
Getting free dental work is naturally not easy. However, there are ways you can obtain dental treatment with no-up-front cost, at a low-cost, or even free.
Community Dental Clinics
You may have to travel for it, but all states provide some low-cost or no-cost dental clinics. Check the American Dental Association (ADA) website. They provide a map with all the free and low-cost dental treatment programs in each state. The map also shows dental school clinics, dental care access programs, dental clinics and non-profit organizations that help patients receive affordable dental care. You can also call your local public hospital and ask for recommendations. Some larger hospitals may have a community dental clinic or have a list of community clinics to recommend. Your state's dental association is another great resource. Here is a directory of all state dental associations and related organizations.
Hospital Emergency Rooms
ER departments are an expensive way to receive dental treatment. But they may be an option if you are in a lot of pain or have an oral infection and don't have the cash to pay upfront. Of course, you will get a bill later, and it won't be cheap. The average cost for an ER dental emergency is $750 – $1,000 depending on whether you live in a rural area or a big city. Needless to say, going to the ER should be your last resort. However, getting an ER bill is better allowing an infection to fester. If possible. go to an ER that has a community dental clinic attached to it.
Dental School Clinics
Dental school clinics can be a great choice for low-cost dental treatment. Dental students need the training to get licensed but not everyone is willing to be their first patient. The treatment is not always free but it is much more affordable than a regular dental clinic. Most work off a sliding scale that charges you according to your income. The ADA has a useful list of dental schools here.
Dental care nonprofits
Non-profit organizations that specialize in providing affordable or free dental work are another great resource. Here are some to get you started:
Clinical trials
Enrolling in a clinical trial is one way to get free treatment. However, it's not for everyone and there is no guarantee there will be a medical study that matches your needs. You can try The National Institute of Dental and Craniofacial Research (NIDCR), which sometimes needs volunteers with specific dental, oral, and craniofacial conditions to participate in research studies. Visit this site for a complete list of all federally funded clinical trials.
What are other ways to save on dental work?
Invest in preventative care
Even if you don't have a current dental crisis, the best way to avoid one in the future is to invest in preventative care! Paying $100 for a filling today can save you thousands by averting a (much more expensive) root canal further down the line.
Take care of your teeth at home by brushing and flossing daily, and make regular visits to the dentist. These annual and bi-annual check-ups aren't expensive, and they could prevent much more costly issues.
Claim the medical expenses tax break
Did you shell out for an expensive dental procedure this year? If so, you might be able to deduct it from your taxable income! However, this only applies if you itemize your tax deductions. And if your procedure was elective, it's likely not tax-deductible.
Not sure if you're itemizing or claiming the standard deduction? These tax prep solutions can help!
FAQ on financing dental work
Can you finance dental work?
You sure can. Check the options above for a comprehensive list of dental financing options. If you manage a dentist office, consider joining SuperMoney's point-of-sale platform for a free way to offer financing to your clients.
Do any dentists take payment plans?
Yes, some dentists either offer point-of-sale financing options or have their own installment loan platform.
What credit score is needed for dental financing?
As with all lenders, the terms required to qualify for a dental loan vary from lender to lender. Of course, the higher your credit score the better your chances of getting approved and receiving a low interest rate.
Getting started
Whether you have insurance or not, you should always compare the prices dentists in your area charge for a procedure. Even within the same network, providers can have big cost differences for the same service. Prices also vary widely depending on where you live.
When you compare offers and lenders, look at the total cost of each option. Consider the APR listed by each lender, and how long it will take you to pay off the loan or credit line. Then, select the financing option that's right for you.
Are you interested in using a personal loan to pay for your dental work? Compare personal loan lenders first. Do you prefer to use a credit card? Be sure to find the best credit card offer — perhaps one with a 0% APR introductory period. Don't commit to any one option until you've compared at least three different possibilities! That way, you know you're getting the best deal you can get.