Freedom Debt Relief is the largest debt resolution company in the U.S. Based in San Mateo, California, Freedom Debt Relief helps debtors negotiate down debt and avoid bankruptcy. Customers commonly seek out these services when they can't afford monthly payments and home refinancing or debt consolidation are not options.
In December of 2010, after just eight years in business, Freedom Debt Relief became the first debt resolution company in the country to resolve a total of $1 billion in consumer debt. As of 2020,  it has resolved over $10 billion, and more than 650,000 clients have been served by the program.
Wondering if you should hire this company to help you? You can begin by reading our story about how to find a reputable debt settlement company.
To learn more about Freedom Debt Relief, here's an in-depth review of its services.
How does Freedom Debt Relief work?
The process of achieving debt relief through this company starts with a free evaluation. A Certified Debt Consultant will speak with each potential client, explaining a variety of strategies that are available. Together, the client and consultant can determine if Freedom Debt Relief would be a good solution.
If a client is interested in taking the next step, the consultant will work to customize a program to the client's needs. The main goals include saving the client money, resolving debt in a shorter amount of time than it can take with other options, and setting a monthly deposit amount that works within the client's budget.
Here's how the program works:
You deposit money into an FDIC-insured Dedicated Account each month that you control.
Freedom Debt Relief (FDR) analyzes your debt and creates a negotiation strategy.
When you have enough funds and the strategy is set, FDR will begin negotiations on your behalf by contacting the creditors you owe.
The creditors and FDR will come to a settlement that will offer you savings.
You will be presented with this settlement, which you can authorize or reject.
If you authorize the settlement and it is paid in full, the creditor will report the new status to the credit bureaus.
FDR works toward settling your debts so you can move on and start rebuilding your credit. As a client, you're able to track your progress, monitor debt negotiation activity, and much more via your online Client Dashboard.
(If you are trying to decide which is better for you, bankruptcy or debt settlement,  read this.)
How does Freedom Debt Relief charge customers for its services?
You may be wondering, "What's in it for Freedom Debt Relief?" When the company negotiates a settlement on one of your debts, and you authorize it, they will charge a fee. There are no up-front fees.
How does Freedom Debt Relief affect your credit?
Any debt settlement or debt negotiation program, including Freedom Debt Relief, can negatively impact your credit. Here is why. Typically, you will stop paying your creditors, and instead, will invest money into a dedicated account with the company. This will result in missed payments on your existing debt, which appear on your credit report and will hurt your score. When a debt is settled for less than the original amount and marked resolved on your credit report, your score will also drop.
However, the damage done to your credit by a debt settlement is significantly less than the damage from filing bankruptcy. Further, it shows that you did your best to fulfill your obligations rather than giving up, and unlike bankruptcy, it will not show up on public records.
Eligibility
To enroll in FDR's services, you need to have at least $10,000 in unsecured debt, and you must be experiencing legitimate financial hardship. Note that this company can not help with secured debt, which involves loans backed by collateral such as auto loans and mortgages. Federal student loans are also not eligible for the program, though some private student loans will be allowed.
How to get a free evaluation
To get a free evaluation, you simply visit the website and click "Get Your Free Evaluation."
Here's how it works: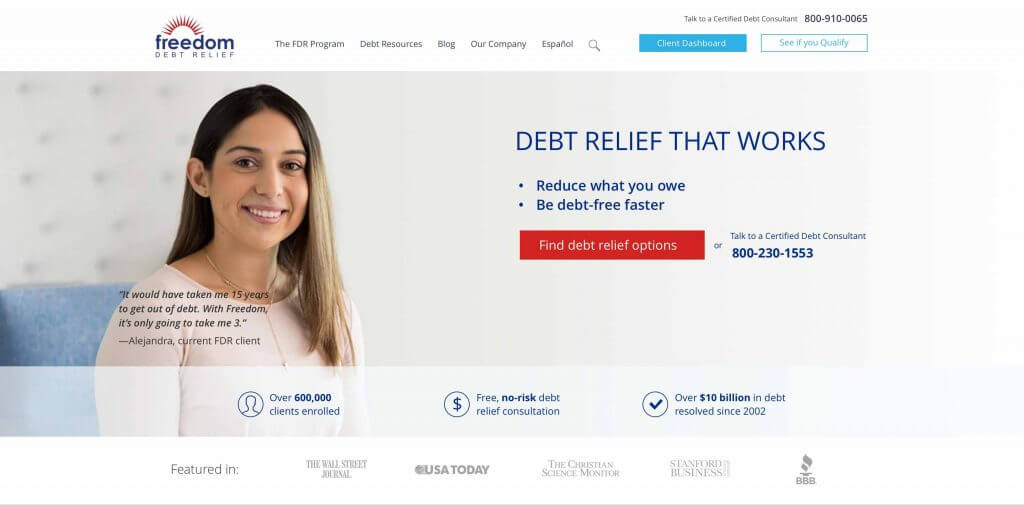 Enter the amount of debt you have.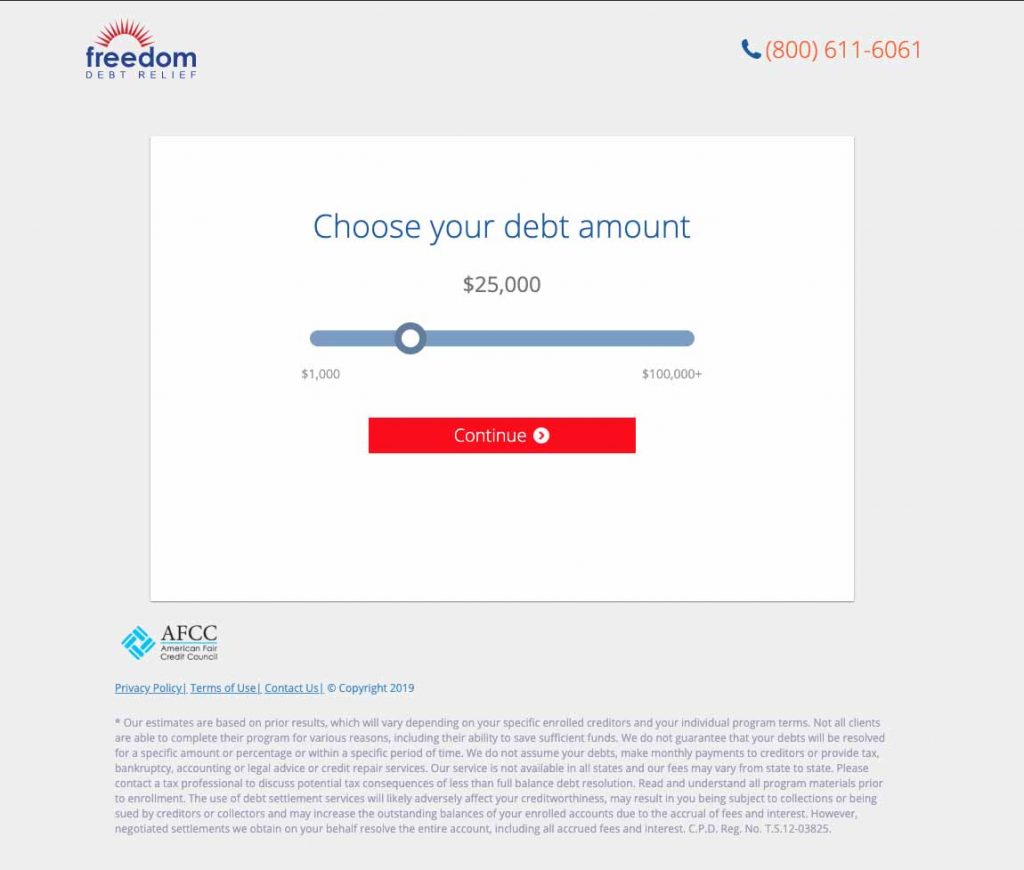 Answer whether you are behind on your payments.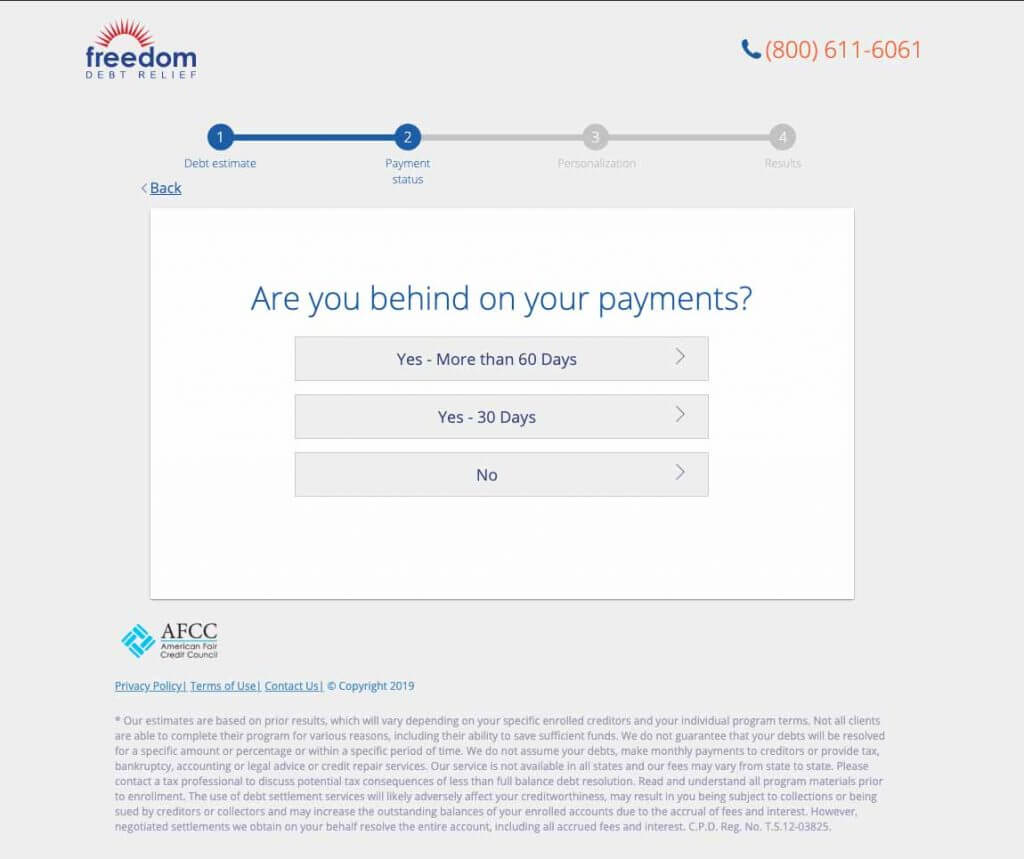 Select the state in which you live.

Provide your contact information.

Then, wait for Freedom Debt Relief to get in touch with you to share the next steps.

Freedom Debt Relief pros and cons

Before you decide whether to move forward with this option, it is always important to do your research. The benefit here is that Freedom Debt Relief is a leader in the industry. With over $10 billion in resolved debt under its belt, it has experience in negotiating with creditors and getting settlements. When a creditor is speaking to a knowledgeable FDR representative who knows the ins and outs, they aren't going to be able to play games. Too often, when an individual borrower calls a creditor, the creditor might try several tactics to get the customer to pay more than they need. So having an expert on your side can be a big benefit.

The main drawback is that debt settlement will hurt your credit initially. To take this route, you will have to accept taking a hit to your credit score now to resolve your debt and start rebuilding.

Another thing to consider is that forgiven debts are taxable income, so you will have to pay taxes on the amounts forgiven at the end of the year. Exceptions do exist. Find out more about debt settlements and taxable income here.

WEIGH THE PROS AND CONS

Compare the pros and cons to make a better decision.

Pros

Freedom Debt Relief is very experienced
The company works to reduce the debt you owe
It can help you avoid bankruptcy
There are no upfront fees
The process can speed up the time needed to repay debts
The evaluation is easy and free online

Cons

You will pay fees on each debt settlement
You must pay taxes on debt that is forgiven
The process will hurt your credit score

Read the latest Freedom Debt Relief reviews

The verdict

So, should you enlist the help of Freedom Debt Relief to help you handle your debt? If your debt is unsecured and over $10,000, you could qualify. But this decision is not one to make lightly.

On the one hand, you can reduce your debt owed, avoid bankruptcy, have knowledgeable consultants on your side, and speed up the time it takes to resolve your debt. On the other hand, your credit score is going to take a hit. There are no guarantees. You will have to pay fees for the services and will have to pay taxes on the debt that is forgiven.

Whether the pros outweigh the cons will depend on your situation. For example, if you can consolidate your debt through a personal loan or home equity loan, that could be an option to consider.

If you can't, you could also consider a credit repair agency, which can help you manage your repayment plan. However, that will likely cost you more than a debt settlement, and it can take longer.

Debt settlement is for those who are okay with initially sacrificing some points on their credit score to settle their debts quickly and at a lower cost.

Keep in mind that while Freedom Debt Relief is a leader in the industry, it isn't your only option. (Compare Freedom Debt Relief with the current best settlement companies.) If you believe debt settlement is the route for you, be sure to compare at least three firms to get an idea of your options. Read reviews, compare debt fees, note pricing models, and find out the minimum debt requirement of each company. To see a collection of top firms side-by-side, see reviews here.
Jessica Walrack is a personal finance writer at SuperMoney, The Simple Dollar, Interest.com, Commonbond, Bankrate, NextAdvisor, Guardian, Personalloans.org and many others. She specializes in taking personal finance topics like loans, credit cards, and budgeting, and making them accessible and fun.