As of 2017, 89.7 million dogs lived in households in the U.S, according to the American Pet Product Association. That is about one dog for every four people in the country. It should come to no surprise that home insurance that covers dogs is a necessity if you have a furry friend at home.
Unfortunately, the Insurance Information Institute (III) reported that dog-related injuries account for one-third of all home insurance liability claims, which creates some problems for dog owners.
While wonderful and rewarding, having a pet dog does present a risk to you and those around you. They can be trained very well, but it is still possible for them to respond to a situation in a way that causes someone to get hurt or something to get damaged.
Being so, insurance companies that provide home and renters coverage to dog owners must consider the increased risk when determining premiums and coverage availability. In fact, many companies won't cover certain breeds of dogs that they consider "high-risk."
So how do you find an insurer that will cover you, your family, your home, and your dog? Here's what you need to know.
Why do I need home or renters insurance for my dog?
There are many scenarios in which you could be held liable for damages caused by your dog, such as if he or she:
Bites or scratches someone
Causes someone to fall
Injures another person's animal
Digs into your neighbor's yard and causes damage
Damages something inside your home
According to the Insurance Information Institute, the average dog liability claim amounted to $33,230 in 2016. This can be very difficult to pay out-of-pocket, which is where a home or renters insurance policy can help.
The average dog liability claim amounted to $33,230."
These policies both have a personal liability portion that contains coverage against injuries and damages caused by a dog. Further, the medical payments portion can also help to cover the costs of injuries.
Sounds like a no-brainer, but some owners may run into obstacles when trying to get coverage due to the type of dog they have.
Learn how to find the best homeowners insurance. 
Dog breeds homeowners insurance won't cover
Which breeds are some insurers are excluding from coverage? Here the quick list: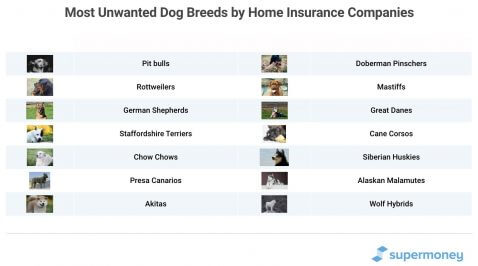 This is not an exhaustive list and does not apply to all companies. Each insurer sets its own restrictions and may allow some, all, or none of these breeds.
In certain cases, insurers that do restrict breeds will grant exceptions if your dog is a trained service dog or if it has a Canine Good Citizen (CGC) certificate from the American Kennel Club.
Note: Select cities and counties across the U.S. have passed laws that restrict certain breeds, so if restrictions exist where you live, you won't be able to get insurance there.
Discover the top renter's insurance companies 
Insurance companies that don't discriminate against dog breeds
While some companies discriminate against entire breeds, there are dog-friendly homeowners and renters insurance options.
Here are a few examples:
Many are surprised by State Farm's homeowners insurance dog breed restrictions because they are nonexistent. The company says it's the bite, not the breed that is the problem and believes that any dog can bite under the right circumstances. The only restrictions are on dogs that have bitten someone in the past.
Discover more about State Farm's home and renters insurance plans.
USAA is very dog-friendly as it does not have any breed restrictions, but rather determines eligibility based on a dog's previous bite history. However, this insurer is only available to U.S. military and their families.
Learn more about USAA's home and renters insurance plans.
According to BullyPaws, Farmers is dog-friendly and will even insure pit bulls.
Read our review of Farmer's home and renters insurance to learn more.
BullyPaws also lists Nationwide as dog-friendly as it will insure pit bull dogs with a CGC certification.
You can learn more about Nationwide's home and renters insurance on our review pages.
These are just a few examples. When vetting insurance companies, be sure to ask them specifically about coverage for your dog.
Browse renters insurance and home insurance plans to find your best option.
Do I have to add my dog to my homeowners insurance policy?
Yes, a dog increases the risk you present as a policyholder, so home and renters insurance companies need to know if one is present in your home. It is best to speak to your insurer before you get a dog to make sure it will qualify for coverage and to understand the costs beforehand.
If you already have a dog and haven't told your insurer yet, contact them as soon as possible. If you don't tell them and they find out, your entire policy could get canceled.
In the case that your current insurer won't cover your dog, you can ask for an exception, or you'll need to shop around for a new company.
If you're having trouble getting approved from any home or renters insurance company, you can seek pet liability insurance from a specialty insurer. It is a bit expensive, however, running from $450 to $2,500 per year.
Does having a dog affect homeowners insurance costs?
Yes, with more risk comes higher costs. Expect your homeowners or renters insurance policy to increase in cost when you tell them you have a dog.
To find out how much, you will need to contact insurers and get quotes as it will vary based on several factors (location, dog breed, dog history, etc.).
Find the right home or renters insurance plan for your dog
If you have a dog, it can further complicate your insurance situation, but you need not worry. While a few cities and companies have placed restrictions on dog breeds, others have kept open minds.
The truth is, dogs are largely a product of their environment and how they are raised. No matter what breed your dog is, companies like StateFarm and USAA will judge him or her based on their behavior.
So, in most cases, you will still be able to get coverage even with a breed that some consider to be "high-risk."
While it will cost a bit more to add your dog to your policy, you can rest assured that your coverage won't be canceled due to non-disclosure of your pet, and you will be covered in the case that something ever does happen.
Jessica Walrack is a personal finance writer at SuperMoney, The Simple Dollar, Interest.com, Commonbond, Bankrate, NextAdvisor, Guardian, Personalloans.org and many others. She specializes in taking personal finance topics like loans, credit cards, and budgeting, and making them accessible and fun.