Money may not buy happiness, but debt can sure make you miserable. Debt is a major drain on the financial health of individuals. Between mortgages, credit card bills, medical bills, student loans, and car payments, many of us are overwhelmed by crippling debt.
If you are stressing about debt, you're not alone. About one in three people were contacted by a creditor or collector over an unpaid debt within the past year.
In 2021, total household debt hit $14.56 trillion.
Student loan debt grew to $1.56 trillion.
Credit card debt grew to $820 billion.
10% of adults carry debt from medical expenses that they had to pay out of pocket the previous year.
Outstanding auto loan debt hit a record $1.37 trillion.
If you need any more evidence for the need of debt help, check the angle of the household debt in the graph below.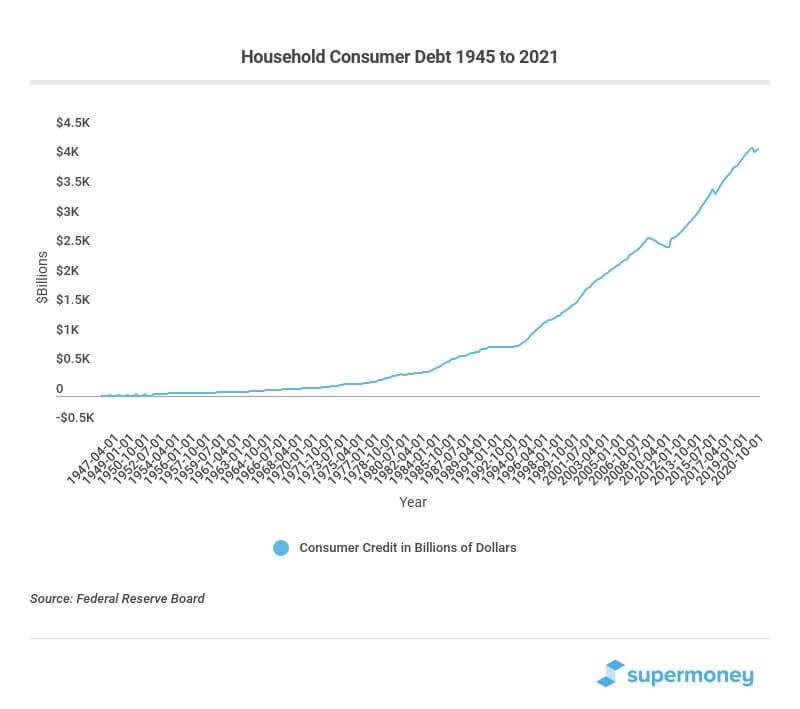 The good news is that anyone can get out of debt
If you are determined to get a handle on your finances, you're in the right place. Whether it's consolidating your debt for a lower interest rate or a debt settlement, we show you how to become debt-free as fast as possible.
If you want a step-by-step guide on how to get out of debt without using professional services, read this guide. However, going solo is not always the best option. While many people can handle debt relief options by themselves, some methods are best left to professionals.
Professional (and DIY) services that can help you get out of debt
This guide provides a comprehensive review of the professional and DIY options available to consumers who need help with their debt. These include refinancing, debt consolidation, credit repair, credit counseling, and debt settlement. Although all these tools can help you become debt-free, they can also make things worse if handled carelessly.
Debt refinancing
Debt refinancing refers to the process of converting existing debt into new debt. All things being equal, you should try this debt help option first. The goal is to either lower your interest rates, improve your terms, consolidate multiple loans into one, or a combination of all the above. Consolidating your high-interest debt with a cash-out refinance is an effective way of lowering your interest payments. However, it's not without risks. Let's discuss the three main forms of debt refinancing: mortgage refinance, auto loan refinance, and student loan refinance.
Refinance a mortgage
Mortgages represent 68% of Americans household debt. So, even a small drop in your interest rate can help you save thousands of dollars over the life of the loan. For example, a 0.5% rate reduction can save you nearly $31,000 on a 30-year mortgage of $300,000.
You can save even more if you shorten the term of your mortgage. Although that will most likely increase your monthly payments.
Interest rates vary from lender to lender, so it pays to compare rates and terms before choosing a loan. The graph below shows the range of mortgage rates from 1972 to 2017. Notice the difference in monthly payments depending on whether your loan is on the high or low end of the interest rate range.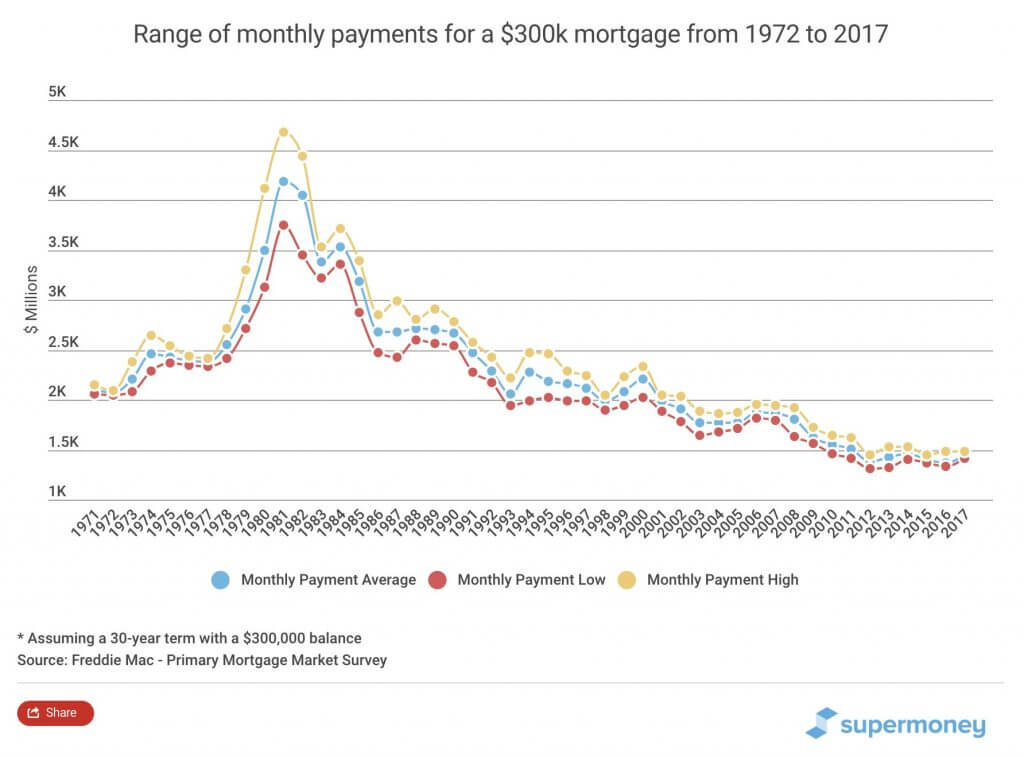 Refinancing your home can save you thousands of dollars in interest and help you repay your mortgage earlier. If you have enough equity in your home, you can get a cash-out mortgage refinance. This is an excellent way to pay off debt with a low-interest loan. The trade-off is you put your home at risk if you can't afford to make the payments on the new loan.
WEIGH THE RISKS AND BENEFITS
Here is a list of the benefits and the drawbacks to consider when refinancing your mortgage.
Pros
You could pay less interest every month and over the lifetime of your loan.
Shortening your loan's term might save money by paying off your loan sooner.
In cases where you refinance from an adjustable or hybrid rate into a fixed rate, you won't have to worry about having a higher rate or payment in the future.
If you have enough equity in your home, you might be able to get cashback when you refinance. You can use the cash to pay down other debt.
Cons
If you refinance with a higher rate, you might pay more interest every month and over the lifetime of your loan.
If you refinance to a shorter term, your rate might be lower, but your payment could be higher.
Refinancing to a longer term could mean higher interests over the lifetime of your loan.
You'll have to pay closing costs, which could be thousands of dollars out of pocket.
Find out if refinancing is an option by checking the rates and refinancing fees of the top mortgage lenders in the business.
Refinance student loans
Student loan debt has a crippling effect on the financial goals of millions of students. In 2018, student loan debt climbed up to $1.52 trillion, which made it the largest consumer debt after mortgages. The average bachelor degree recipient graduates with more than $34k in student loan debt.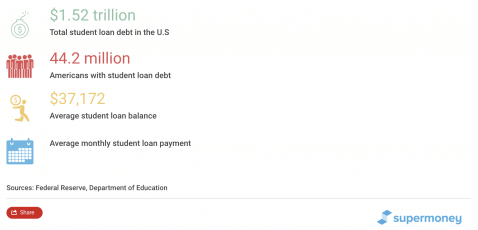 A student loan refinance can lower your monthly payments and the overall cost of your student loans. However, refinancing can also have its disadvantages, especially if you have federal student loans.
WEIGH THE PROS AND CONS
Compare the pros and cons of student loan refinancing to make a better decision.
Pros
You'll get access to income-driven repayment plans.
You may get a lower monthly payment.
It can simplify your monthly payments.
Cons
You won't get a lower interest rate.
You'll lose your progress with student loan forgiveness.
You may lose other benefits.
Compare student loan refinancing rates and start saving money today.
Student loan forgiveness is another debt help option open to those with federal student loans. However, refinancing federal student loans could affect your eligibility. This article explains in detail the requirements you must meet to qualify for student debt forgiveness.
Refinance auto loans
Do you love your car but hate the monthly payments? An auto loan refinance could save you money and get out of debt faster.
The average auto loan for a new vehicle is around $30k. Just a 1% interest reduction can save you $818. If you also reduce your loan term from 60 to 48 months, you can save up to $1,454 in interest payments. Borrowers who improved their credit scores since they last applied for a loan may enjoy even larger savings.
If you decide to refinance your auto loan, choose a lender that offers low interest rates and favorable terms. Rates, terms, and eligibility requirements vary widely depending on the lender, your credit, and your income.
WEIGH THE RISKS AND BENEFITS
Here is a list of the benefits and the drawbacks to consider when refinancing an auto loan.
Pros
Lower interest rate
Potential to lower your payment
Can help you pay off your loan faster
Cons
May cost more if you extend your loan term
Adds a credit inquiry
Starting a new loan means the amortization table resets. The bulk of your monthly payments will go toward paying interest during the beginning stages of repayment.
SuperMoney's auto loan offer engine makes it easy to find the best deal available to you.
Debt consolidation
Debt consolidation is one of the most misunderstood debt help tools around. It is often linked to credit counseling and debt settlement companies. Although you can certainly use these companies to help you consolidate your debt, it is also possible to do it yourself.
Consolidating your debt involves combining two or more debts into a single more manageable payment.
Tip: First, a word of caution. Debt consolidation loans are a two-edged sword. In the wrong hands, they are dangerous. Sometimes they shift your current debt and open up new sources of credit. That's bad news if you're an impulsive spender. For example, paying off your credit card debt with a low-interest loan is a great idea. But you're in double the trouble if you just fill up your credit cards again. Only consider a debt consolidation loan if the interest rate is less than all the credit you owe. If the temptation to use your new credit is too much, close the accounts you paid off.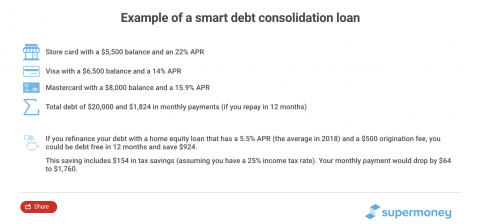 Debt consolidation loans come in two main flavors: unsecured and secured loans. An unsecured loan does not require you to put up your property, such as a home or a car. The loan is based on your credit and ability to pay. The interest rates are higher, but you don't have to worry about losing your home or car. Secured personal loans usually have lower rates and better terms. If your priority is to save as much as possible with a consolidation loan and you own a home consider a home equity loan or a cash-out refinance. Of course, if you default on a secured loan, the lender can collect the collateral, your home or car, and sell it to pay off your balance.
Tip: If you have enough equity in a property to pay off your debt and you're confident you can afford the payments, consider a home equity line of credit (HELOC) or a home equity loan. Otherwise, check what rates you qualify for with a personal loan. Different personal loans come with different rates, fees and requirements, so be sure to check out what the best personal loans are to ensure that you choose the best option for you.
Don't worry if you don't have a home or enough equity to get a home equity loan. You may qualify for an unsecured debt consolidation loan. Here are some lenders you can consider.
But what if you are deep in debt and you don't have the credit or the assets to refinance or consolidate your debt? Then you may want to consider talking to a debt specialist in a debt settlement company or a credit counseling agency.
Credit repair
Improving your credit score will not reduce your debt directly but it can certainly improve your debt help options. For instance, if your credit score is not good, you will not qualify for the best rates when you refinance or consolidate your loans. The table below gives you an estimate of the range of interest rates you can expect based on your credit score.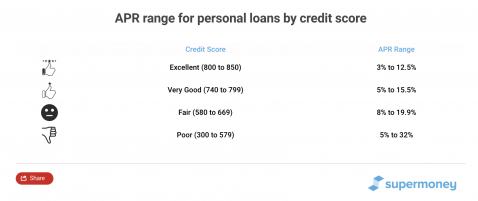 Credit repair companies can help you understand how credit reports work and how to dispute errors and ommissions on your report with credit bureaus.
It also possible to check your report and dispute errors without the help of a credit repair agency. However, this can be a slow and tedious process. If you prefer to do it yourself, consider using the following credit reporting and monitoring tools.
Tip: Whether you use a credit repair company or do it yourself, it is important to check your credit report before applying for a loan or a refinance. According to a study by the Federal Trade Commission on 1,001 participants, 26% of participants  (262 consumers) who checked their credit report found at least one error in one of their three credit reports. For 13% of the participants (129 consumers), the change in the credit report resulted in an improvement of their credit score (score).

Debt settlement
A debt settlement is an agreement between a debtor and a creditor to reduce the amount owed in exchange for a lump sum payment. A typical debt settlement can reduce your debt by 50%. Why would a creditor agree to forgive so much? Not surprisingly, they don't always do.
Debt settlement only works in cases with unsecured loans. If it is a secured loan, such as a mortgage or an auto loan, the creditor can just sell the collateral to cover the loss. With unsecured loans, the only recourse lenders have is to report delinquent borrowers to the credit bureaus. Delinquent payments on your credit history can have disastrous effects on your credit score. However, if borrowers really can't afford to repay their loan and they already have bad credit, there may be a strong incentive to discharge their debt in a bankruptcy.
It is the threat of bankruptcy that often moves creditors to agree to a smaller amount in exchange for a lump sum payment. When entering a debt settlement program, borrowers will usually stop making payments to their creditors. Instead, they deposit as much as they can afford in a special account. This money is then used to negotiate the settlement.
WEIGH THE RISKS AND BENEFITS
Although debt settlement can take a load off of debt settlement, it is not for everyone. Here is a list of the benefits and the drawbacks of debt settlement.
Pros
Repay less than what you owe
Become debt free in less time
Avoid bankruptcy
Cons
Negative impact on credit score
Additional fee accrual
Remains on your credit history for 7 years
Tip: Debt settlements can significantly reduce how much you owe. However, they will damage your credit and there is no guarantee creditors won't sue you or stop calling you while negotiating the settlement. Before you commit to a debt settlement company, make sure the company explains the fees and conditions of their services. You should also request an estimate of the time it will take to complete the program and how much you will need to save before the company will make an offer to creditors.
Can you negotiate a debt settlement by yourself?
Yes, you can. However, negotiating with creditors is a difficult and time-consuming process. It also takes a lot of self-control and resolve to stick to the program by yourself. Many prefer to hire a debt settlement company to take care of it. But it is not cheap. Debt settlement companies may charge 15% to 30% of the loan balance. It is also important to understand that debt settlements will also hurt your credit score and that the IRS may view the unpaid debt as taxable income.
Tax relief
Tax debt is another major problem for American households. Nearly a million households are delinquent in their taxes. According to the IRS, taxpayers owe $55.8 billion. The average delinquent taxpayer owes nearly $60,000 in back taxes (source). That is a lot of money. Especially when you consider that you can't usually discharge tax debt by filing for bankruptcy.
The good news is there are several tax debt relief programs that can help reduce or remove tax debt. These tax relief programs include installment agreements, currently not collectible status (CNC), offers in compromise, and penalty abatement. From 2012 to 2016, the IRS wrote off $38.8 billion in tax debt. The bad news is applying and processing tax relief applications is difficult, slow, and time-consuming. Taxpayers often don't know what programs they qualify for. Just talking with an IRS agent can be a challenge. According to a recent report by the Taxpayer Advocate Service, the IRS only answered 37% of taxpayers calls (source).
Tax relief companies can help improve your chances of approval and explain what programs you may qualify for. Tax relief companies are not cheap and the quality of their services varies widely from company to company. The best tax relief companies have tax lawyers and enrolled agents on staff, provide a money-back guarantee and charge competitive rates.
Credit counseling
Credit counseling organizations can help you manage your money and debts more effectively. They do this by teaching debtors to manage their money and providing educational materials and workshops taught by certified counselors.
Credit counseling is particularly effective for people who have unsecured debt balances of $10,000 or less. In such cases, borrowers may only need help to create a budget, organizing a debt consolidation loan, or refinancing their loans. However, benefits are minimal when borrowers have huge debts and lack the income to repay them. Note that credit counseling programs can take up to 7 years to complete and you have to repay the entire amount plus interest. Drop out rates for credit counseling programs are therefore very high.
WEIGH THE RISKS AND BENEFITS
Although credit counseling can help in some cases, it is not for everyone. Here is a list of the benefits and the drawbacks of credit counseling.
Pros
May lower monthly payments
Counselors can negotiate extensions with creditors
Lenders may accept requests to lower interest rates and waive fees
You may learn how to manage your finances better
Cons
No reduction in the debt owed
It could hurt your credit score
Additional fee accrual
Debt Management programs are another tool credit counseling organizations use to help borrowers get out of debt. A debt managing program (DMP) works in a similar way to a debt settlement program, but you have to pay the entire amount. Every month your deposit money in an account managed by the credit counseling company. The credit counselors then use this money to pay your unsecured debts according to a payment schedule. Some lenders may agree to reduce penalty fees and other costs when consumers enter a DMP.
Bankruptcy
This is the nuclear option of debt help tools. Although bankruptcy can sometimes erase unsecured debts, the consequences are serious. A bankruptcy will remain on your credit report for up to 10 years. It could make it difficult to qualify for credit, apply for life insurance, or even get a job.
There are several forms of bankruptcy. Chapter 13 and Chapter 7 are the most widely used.
Liquidation of assets — Chapter 7 bankruptcy
Chapter 7 is often called a "no-asset" or "liquidation" bankruptcy. It involves a court-appointed trustee being assigned to the case to sell the debtor's non-exempt property and repay as much of their debt as possible.
Often, debtors don't have any non-exempt assets to sell, so the trustee files a no-asset report, and the creditors don't receive anything. If assets are sold, and debts remain after the liquidation, those that qualify will be discharged.
Individual debt adjustment — Chapter 13 bankruptcy
Chapter 13 Bankruptcy involves the filer submitting a repayment plan to the court, which usually lasts three to five years.
Often, the plan requires the full repayment of certain debts (alimony, child support, taxes, secured debt, etc.), and using any leftover disposable income to make payments on unsecured debts.
Although this option often takes longer and can cost more, it allows you to keep some of the property you'd lose when filing a Chapter 7 bankruptcy. When the payment plan is complete, all eligible debts can be discharged.
Read this in-depth guide of the several bankruptcy types before you make a decision.
What next?
Get a free initial debt help consultation
You will need to talk to a government-approved credit counseling organization before you file for any bankruptcy. You will also need to complete a "means test" to confirm your income is not sufficient to pay your debts. Credit counseling organizations and debt settlement companies often offer a free initial consultation to help you understand your options.
Start with refinancing and consolidating your loans
As you can see there are many options available if you want to get out of debt. Start by trying to refinance your loans and consolidate your debt in a single, more manageable, and cheaper loan. If that is not an option, consider credit repair, debt settlement, and credit counseling companies. You may find that a combination of debt help tools offers the best results. A certified debt relief specialist can help you decide what is more effective in your particular situation.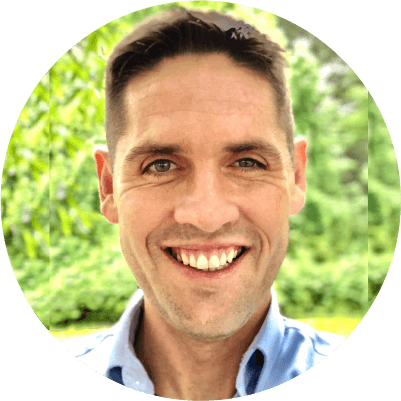 Andrew is the Content Director for SuperMoney, a Certified Financial Planner®, and a Certified Personal Finance Counselor. He loves to geek out on financial data and translate it into actionable insights everyone can understand. His work is often cited by major publications and institutions, such as Forbes, U.S. News, Fox Business, SFGate, Realtor, Deloitte, and Business Insider.