So you've decided to buy a house. Congratulations. Few people have enough cash on hand to buy a home, so you will likely need a mortgage to finance a house. In fact, before you even start home shopping, you should look into your chances of getting a mortgage.
Home sales in 2016 were the strongest that we have seen in a decade. If you are looking to buy a home, now is the time before interest rates start to creep back up. Here is what you need to know about financing a house and your different mortgage options.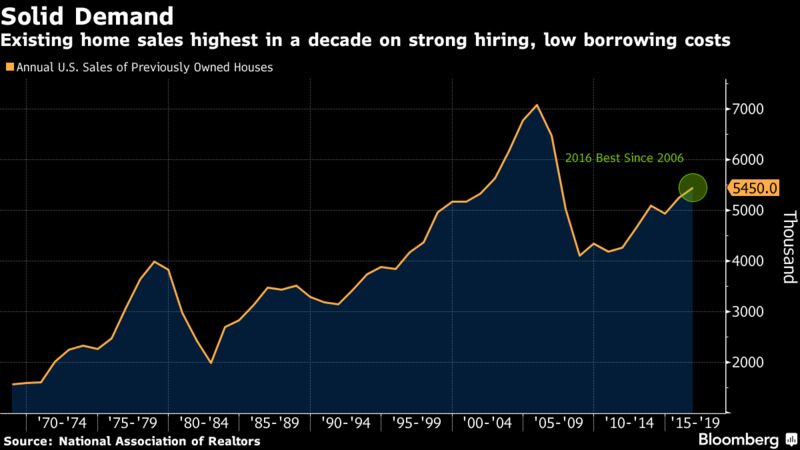 Know and strengthen your credit score
Mortgage lenders look at several factors when you ask to finance a house, but one of the first things that they consider is your credit rating. If you don't know your credit score, you can get a free credit score report here.
Credit scores range from 350 to 850, with most people falling somewhere in the middle. Scores below 600 are bad, while scores above 700 are considered good. Some of the factors that weigh heavily on your credit score include your debt payment history, your credit utilization rate, and any past collections, charge-offs, or bankruptcies.
If your credit score is below 600, try to boost your score before you try to apply for a mortgage. Credit utilization, for instance, is something that you can change. Pay off some credit card balances or other loans to get your debt-to-income ratio, including what you expect to pay for housing, down to 43% or less.
Figure out what you can afford
A common mistake with home loans is borrowing as much as a bank will agree to lend. Just because you qualify for a $300,000 mortgage doesn't mean that you can afford to take out that loan and pay it back.
It' s important that you sit down and create a thorough budget that accounts for all of the costs of homeownership. Purchasing and owning a home involves much more than a monthly mortgage payment.
Some mortgages require a down payment of as much as 20%. You might also have to pay inspection fees and closing costs. Once you own the home, you'll need to add other costs such as taxes and insurance to your monthly housing payment. Finally, don't forget about furnishings, maintenance, upkeep, and an emergency fund for unforeseen items.
Who is eligible to finance a house?
Believe it or not, it's much easier to qualify for a mortgage than it is for some credit cards or personal loans. Unlike credit cards and personal loans, mortgages are secured loans. This means that, if you don't make your payments, they will just come in and take your property away.
If this doesn't sound pleasant, it isn't. This is why it's so important to decide what you can afford before moving forward. No one wants to get a foreclosure notice in the mail.
So, who can finance a house? It depends on the mortgage program that you choose and its requirements.
Most lenders want to see that you have a credit history and a minimum credit score, usually in the low 600's. Good employment history is also a plus, which is verified with two years of W2's.
There are also other requirements that vary by lender and loan type, such as military service or the condition and location of the home that you wish to purchase.
How to finance a house
Once you've determined how much you can afford to spend on a home, it's time to look at your mortgage choices. The most common mortgage options include:
Bank and credit union mortgages
Private mortgage
Homebuilder financing
FHA mortgage
VA mortgage
Here is a breakdown of those mortgage options, their requirements, and how to finance a home with each choice.
Financing a house with a bank or credit union
Many banks and credit unions offer a variety of mortgage options, from conventional fixed or adjustable rate mortgages to hybrid loans. These loans aren't government-backed, and the terms will vary based on the lender and your credit profile.
A fixed-rate mortgage gives you the same interest rate for the life of the loan. An adjustable-rate mortgage (ARM) has an interest rate that will change periodically, perhaps every year. A hybrid mortgage will start out as a fixed-rate loan and then convert to an ARM. For example, a "5/1 Mortgage" will have a fixed rate for the first five years and then will adjust every year after that.
Loans from a bank or credit union vary widely in their terms, so it is best to shop around. An important thing to note about these mortgages is that most of them will require a down payment of as much as 20%.
Financing a house with a private mortgage
A private mortgage doesn't come from a bank, but rather another person or private business. These are both hard money loans and deals where you might know the lender.
Private lenders are sometimes used by investors looking for quick funding, or by people with poor or fair credit use either family or owner-financing. Often, someone that's self-employed has difficulty coming up with the documentation needed for a conventional mortgage. If you fall in this class, this could be an option.
A private mortgage must still be well-documented to protect all parties. One reputable source of private mortgage loans is Blackhawk Investments Corp.
Blackhawk is an online marketplace that connects real estate borrowers and lenders. Borrowers can get loans with annual percentage rates (APRs) ranging from 6% to 12%. There is also a 2.5% origination fee, and loans can take up to 60 days to close.
A marketplace lender like Blackhawk is a good choice if you don't qualify for a conventional or government-backed mortgage. Most of their loans, however, are targeted towards investors so it probably wouldn't be a good choice if you are looking for a loan for your primary residence.
Financing a house through a homebuilder
Are you planning to buy or build a new home? If so, you might run across some homebuilders that will offer you incentives to finance directly through their in-house mortgage company.
In some cases, this works out fine. In others, they complicate things. Even borrowers who are supposedly "pre-approved" for a loan might sign a purchase agreement on a home and fail to pass the lender's underwriting process. Once the mortgage team reviews the file, they could change your terms or deny your loan altogether, which could leave you without financing.
One of the pitfalls of building a home and financing it with a mortgage is that your mortgage is often approved based on conditions at the time of your application. Unless the home is built quickly and without delay, any change in your financial status or the mortgage company's underwriting guidelines could impact your loan.
While builder financing might give some good incentives, they won't necessarily have the best rates. This is something you can determine by comparing other loan types, particularly government-backed loans.
Finance a house with an FHA loan
The government established the Federal Housing Administration (FHA), a part of the Department of Housing and Urban Development (HUD), to help first-time homebuyers. FHA loans are some of the best mortgage products to use when purchasing a home, and you no longer need to be a first-time homebuyer to qualify.
The amount of an FHA loan varies by geographic area. For example, the maximum amount of an FHA loan in a low-cost area might be around $271,000, whereas the maximum amount for of one of these loans in a high-cost city like Los Angeles is closer to $725,000.
FHA loans have several benefits that make them an excellent financing choice. Most FHA loans have a requirement of just a 3.5% down payment. The exception is if you have a terrible credit score. If your credit score is below 580, you might be asked to put 10% down. This is still just half of what a conventional mortgage requires.
One note on low down payment loans is about private mortgage insurance (PMI). If the down payment is less than 20%, lenders like to ensure their investment is protected. For this, they'll ask you to pay PMI along with your monthly mortgage payment.
Because the federal government backs FHA loans, they have more favorable interest rates. FHA also helps borrowers through the qualification process and even has programs to help you avoid foreclosure once you are in your home.
While FHA loans are a great deal, they won't hand them out to risky borrowers. If you've had a bankruptcy, it should be at least two years in the past, and you need to establish a new credit record. Also, you need to wait at least three years after any prior home foreclosures to apply for an FHA loan.
The FHA doesn't directly lend money but guarantees a portion of every loan from banks or credit unions. USAA is one lender that offers FHA loans.
USAA provides banking, loans, and insurance services to current and former armed forces members and their families. USAA offers FHA loans at competitive rates with terms of 15, 20 and 30 years. A pre-qualification with USAA takes approximately one hour to complete online. Once you finish this process, the company can advise you of your mortgage options.
How to finance a house with a VA loan
The U.S. Department of Veterans Affairs (VA) offers one of the best mortgage loans on the market to military service members and their families. A VA loan is similar to an FHA loan in that it is guaranteed by the federal government.
The biggest benefit of a VA loan is that you can get 100% financing, meaning you don't have to put a down payment on the home. On a $150,000 home, this can save you $30,000 in cash compared to using a conventional mortgage.
VA loans are also easier to qualify for than a conventional mortgage, but you'll also run into some loan limits. For example, in 2016 the maximum VA loan in many areas was $417,000.
The only potential drawback to a VA loan is what's called a funding fee, which can range from 1.5% to 3.3% of your loan. This is certainly offset by the fact that you don't have to worry about a down payment, and the VA tightly restricts closing costs.
Before you apply for a VA loan, you should check your eligibility with the VA and ask for Certificate of Eligibility. You'll use this certificate when you apply for a VA loan. The VA doesn't issue VA loans but guarantees the loans from qualified lenders. One such lender is USAA.
How to finance a fixer-upper home
Let's assume that you've decided to enter the world of fixer-uppers. Buying a fixer-upper is often an excellent way to get into a desirable area at an affordable price.
Another benefit to purchasing a fixer-upper is that you can customize the home to your style and liking. If the idea of moving into someone else's creation doesn't excite you, putting your own stamp on your new home could be the perfect solution.
Financing a fixer-upper is much simpler today than it was in the past. There are now loans that combine the cost of renovations with your home purchase price into one mortgage.
The best example is the FHA 203k loan. This is a government-backed FHA loan that allows you to borrow a certain amount to finance your total project. The amount you can borrow depends on which loan you choose.
With a standard FHA 203k loan, you can borrow the lesser of the Nationwide Mortgage Limits or your Loan-to-Value (LTV) ratio, multiplied by 110% of the After Improved Value of the home. If you use a streamlined 203k loan, you can add up to $35,000 plus the cost of energy improvements to the purchase price of the home.
There is a 3.5% down payment requirement with these loans. You'll also need to pay for some inspections and document the upgrades you're completing on the home.
Financing a house with bad credit
Since home loans are secured loans, you can often still get a mortgage with bad credit. The deal-breakers for most lenders are such things as a recent foreclosure or bankruptcy. Even if you've had either of these items, if some time has passed and you've re-established some form of credit, you could qualify.
If you have a low credit score, apply for an FHA loan first. If a lender doesn't approve you with their automated system, take the time to call the organization directly and inquire about your situation.
If you don't want to wait and get denied for a mortgage, you still have a few options. A sub-prime mortgage is one option, but it is a more expensive choice.  There are extra costs with these loans as well as higher interest rates.
Let's assume that you find a motivated seller. You might be able to get them to agree to an owner financing agreement.
You can also approach a marketplace lender like Blackhawk Investments if your loan is for an investment property or a second home. This option isn't a good choice if you are looking for a loan for your primary residence.
Things to avoid when you finance your home
Buying a home is a big step, and you want to avoid costly mistakes. Here are several things that you should avoid when you finance your home:
Not getting pre-approved.
Once you know your credit situation, it's time to figure out where you stand with mortgages. It's much easier and more enjoyable to shop for a home when you have a mortgage pre-approval on hand. Get this before you start looking at homes.
Not creating a realistic budget.
We talked about the total cost of homeownership. It's important that you sit down and determine how much you can afford both today and five or ten years from now.
Using everything you have for a down payment.
Some people drain their savings or retirement accounts to come up with 20% for a mortgage down payment and closing costs. This could be a mistake, as there are better options available and you will deplete your rainy day fund.
Not shopping around for the best loan.
You might get a mortgage lender recommendation from a builder or a realtor who has a vested interest in the company. The way to get the best deal on a mortgage loan is to comparison shop.
Comparing mortgage lenders
Unless you have a perfect credit score and a spotless financial history, it's a good idea to do some research and shop around for your next mortgage loan.
When you compare mortgage lenders, ask about more than just the APR. Also, compare fees as well as down payment and PMI requirements. Find the best mortgage companies here apply for a loan to finance your house today and learn how mortgages affect your credit score.