Car insurance companies obviously want to be paid, which is why most make it easy for you by offering multiple payment options. Different insurers offer different options, though. For example, there is some auto insurance that accepts PayPal.
Auto Insurance That Accepts PayPal
For example, some auto insurers have accepted PayPal for many years. The first to do so was Esurance. They began accepting PayPal payments in 2005, more than a decade ago.
What other payment methods do insurance companies accept? And what about the fees?
The chart below shows a sampling of payment options that some insurers accept.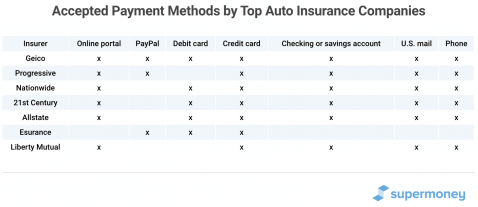 Other ways to pay for auto insurance
Some insurers accept unusual forms of payment that most others don't offer.
For example:
Liberty Mutual allows you to set up payroll deductions that automatically pay your car insurance directly from your paycheck.
Geico accepts car insurance payments through its own mobile app.
Progressive and Nationwide allow you to pay for car insurance by mobile text.
Allstate lets you drop off a paper check to pay for your car insurance at any of its sales offices.
Geico and Progressive accept online checks for car insurance.
Keep in mind that some payment options offered by an insurer may not be available in every state. That's because states have different insurance laws and regulations, and companies have different practices in different states.
What about fees?
Regardless of the payment option you choose, you may be charged a fee along with your car insurance payment.
For example, PayPal involves fees and credit card payments may come with convenience fees as well. And transfers from your checking or savings account can trigger bank fees.
If you write a check, you may have to pay your bank to get printed checks, and you'll have to purchase a postage stamp each time you send payment this way.
One way to minimize fees is to reduce the number of payments you make. Paying yearly typically costs less than paying quarterly or monthly.
Asking about discounts can also save you money.
"Many providers offer good driver discounts, which will lower your payments, provided you maintain a clean driving record for a specified amount of time," says John Erickson, chief product officer at Wawanesa Insurance.
You might also get a discount for insuring more than the car in the same policy, bundling your auto insurance with your homeowner's, condo or renter's policy, or staying with the equal insurance company for more than one year.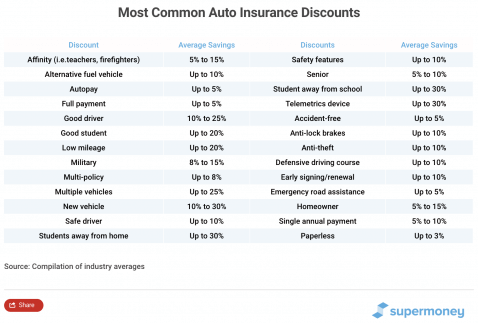 Bank online bill payment system
If your car insurance company doesn't offer an online portal or accept PayPal or another online payment system that you want to use, another option could be your bank.
Most banks and many credit unions offer an online bill payment system or bill payment function within a mobile device app. If you have a checking account, you probably have access to some online bank bill pay service.
Bank online bill pay systems are usually free for bank customers, but you may be charged a monthly fee to have a checking account.
Compare personal checking accounts
Most banks will waive that fee if you maintain a precise minimum monthly balance, have a set number of direct deposits every month or meet other requirements.
To use your bank's online bill pay system to pay for your car insurance, you'll need to set up your insurance company as a "payee" within the bank's system. A payee is simply a person or business that you want to pay money to (you are the payor.
Be sure to accurately enter the payee's address and your account number to help make sure your payment will be received and credited to you.
How to get the right auto insurance
As you can see, it's smart to research your payment options before you choose an insurance carrier to make sure you'll be able to use the option you prefer.
Start by comparing the leading auto insurance companies to narrow down your list and find your top options.
Marcie Geffner is an award-winning freelance reporter, editor, writer and book critic. Her work has been featured online and in print by The Washington Post, Los Angeles Times, Chicago Sun-Times, Urban Land, Business Start-Ups and Fox Business Network Online, among many other newspapers, magazines, and websites. With a bachelor's degree in English from UCLA and MBA from Pepperdine University in Malibu, Geffner has impressive credentials in both story-telling and business management. A second-generation native of Los Angeles, Geffner now lives in Ventura, California, a surf city northwest of her hometown.