Best Egg is a marketplace lending platform that provides unsecured personal loans. Since its formation in 2014, Best Egg served over 500,000 customers and funded over $7 billion in loans.
Is Best Egg the right lending platform for you? Find out more about how it stacks up against the competition in this in-depth review.
What is Best Egg?
Best Egg's personal loans are issued by Cross River Bank, a New Jersey State Chartered Commercial Bank.
More than two-thirds of the Best Egg's borrowers use their loans for debt consolidation. In addition to eliminating their debt, successfully paying off their Best Egg loans helps these borrowers to raise their credit scores.
"More than two-thirds of our customers use their Best Egg loans for debt consolidation. A recent study we conducted noted that another positive outcome is that customers experience an increase in their FICO score after paying off their debts with a Best Egg loan." —Bobby Ritterbeck, Best Egg CMO
In addition to consolidating debt and improving their credit, customers can use their loans for:
Credit card refinancing.
Personal loan refinancing.
Debt consolidation.
Home improvement.
Other major purchases.
Business.
Vacation.
Moving or relocating.
Medical expenses.
Taxes.
How do you qualify for a Best Egg loan?
To qualify for a Best Egg loan, you must:
Be 18 years of age (Residents of Alabama and Nebraska must be 19 years old).
Be a U.S. citizen or permanent resident (Loans are not available in VT, IA, and WV).
Have a verifiable bank account and a verifiable source of income.
Have a minimum FICO score of 640.
If all of the above is true, you're ready to find out if you can get approved for a Best Egg loan!
First, apply for pre-approval. Unlike a formal loan application, which bumps your credit score down a few points, pre-approval won't affect your credit. As such, it's always smart to get pre-approved before applying. To do so, just enter some basic financial information to receive either a rejection or a projected loan offer.
After you've submitted your pre-approval application, you'll either receive a rejection or an estimated offer. The rates and terms that you receive depend on your income, credit score, credit usage history, loan amount, loan term, debt payment obligations, and more.
If you want to proceed with your offer, just select the offer on the web page to complete their application. This prompts a hard credit inquiry — a lender request to the credit bureau for your credit score. This stage of approval will affect your credit score.
Before funding the loan, Best Egg will assess whether they need verification for any additional information (e.g. income). You can verify your information by emailing, uploading, or faxing documents.
Once verification is complete, the lender will transfer funds to your account on the next business day. The process can take as little as 24 hours.
What does the application process look like?
"Our online application is relatively short and straightforward. It takes just a few minutes to complete, and applicants are provided a real-time decision with specific rates and terms without impacting their credit score," says Ritterbeck.
Here's the step-by-step breakdown of the process.
1)  Visit the Best Egg Loans profile on our site and click "Visit Site" . Enter your email address in the "Check Your Rate Today" box and click "Check your rate."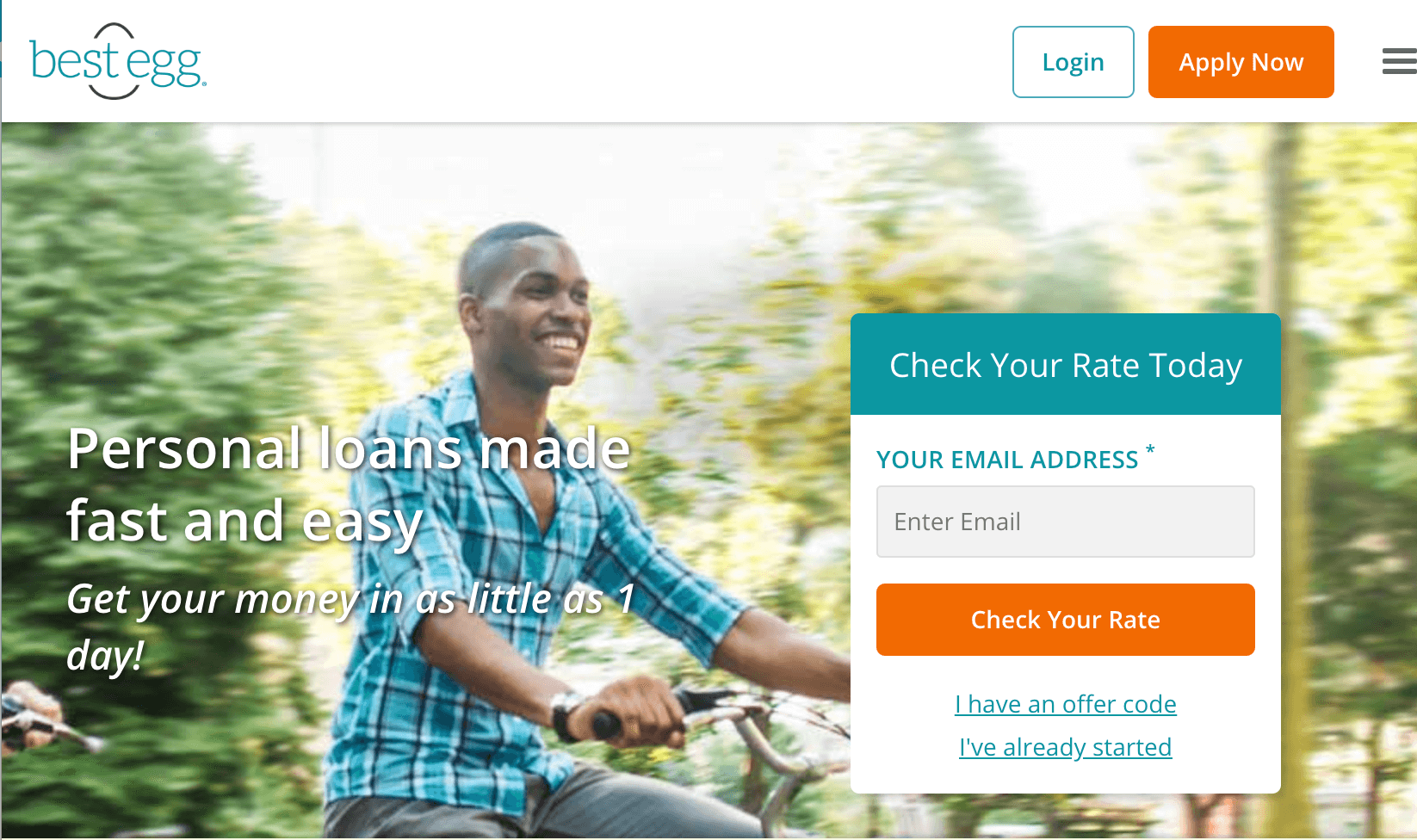 Once you provide your email address, Best Egg will send you an offer code. Next, you'll return to the Best Egg home page, click "I have an offer code," and submit it.
2) Tell them about yourself.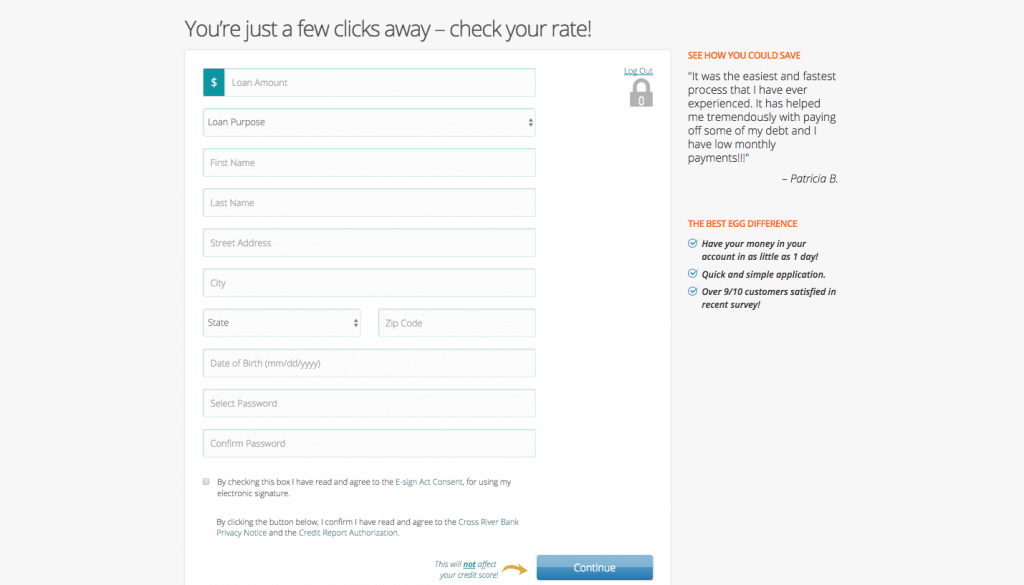 3) Tell them about your income.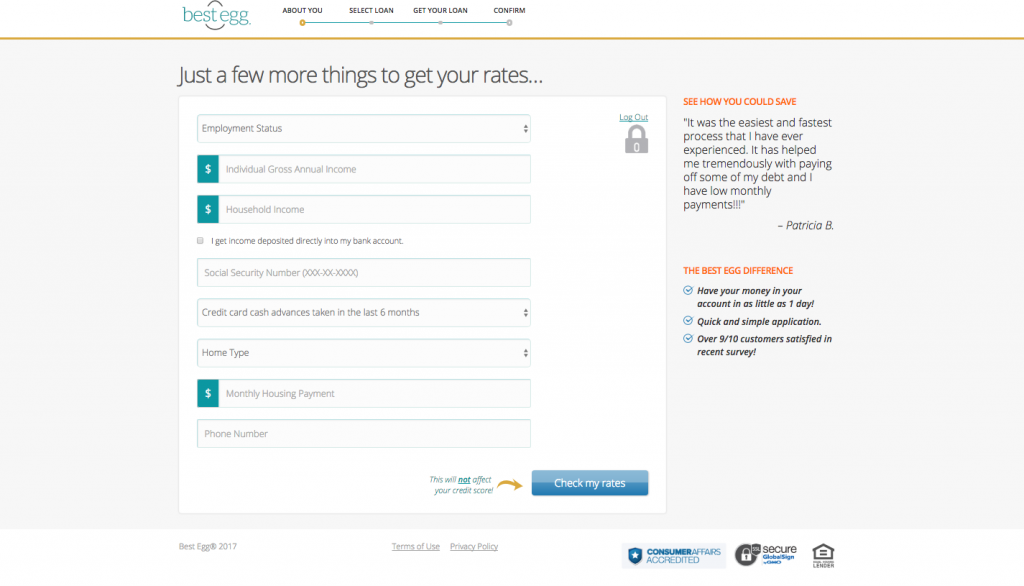 4) Get your rates, select your loan, and get funded.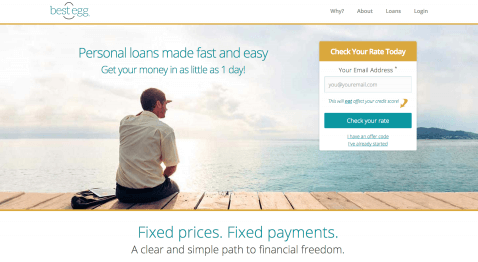 How do you manage your Best Egg account?
How to make payments
You can make your payments via electronic transfer, online payments, snail mail, or Western Union Quick Collect.
If you want to pay more toward your loan than what is due, you can do so without any prepayment penalties. However, if a payment is late, there is a fee of $15.
How to manage your account
You can view and manage your loan by visiting the home page and clicking "Login" in the upper right-hand corner. This will direct you to accountinfo.com, where you can view your statement, view your balance, or make a payment.
If you have any questions or concerns, you can contact customer service via phone or the website.
See the Best Egg customer service number and further contact information here.
Best Egg pros and cons
WEIGH THE RISKS & BENEFITS
Here is a list of the benefits and the drawbacks to consider.
Pros
An efficient pre-approval and approval process.
You can receive your loan as quickly as overnight
A transparent platform with transparent pricing.
Competitive interest rates and low origination fees for borrowers with good credit.
Deducts your origination fee from your loan, so there are no out-of-pocket costs.
Good for debt consolidation.
Fixed interest rates mean fixed, predictable payments.
Cons
Origination fees (which some competitors don't charge).
You'll need a high credit score and income level to qualify for low rates.
No variable interest rates available.
Best Egg vs. other marketplace lending platforms
How does Best Egg stack up to the competition?
Best Egg vs. LendingClub
LendingClub offers small business loans and auto refinancing as well as personal loans, so it has a wider product offering than Best Egg. Both platforms only offer fixed interest rates, have easy online application processes, and charge interest and an origination fee.
However, Best Egg offers a higher maximum loan amount. It also advertises a quicker delivery of funds; one day compared to Lending Club's seven.
Both marketplaces are viable options, with Best Egg having a slight leg up if you're looking for a larger personal loan.
If you want more information on Lending Club, you can apply below or check out the Lending Club reviews page on SuperMoney.
Best Egg vs. SoFi
SoFi offers fixed-rate personal loans among other loan offerings, and their rates are highly competitive. However, only those with excellent credit will receive the lowest advertised offerings.
Unlike Best Egg, SoFi doesn't charge an origination fee. It also offers longer repayment periods and higher loan amounts than many competitors. And if you lose your job, it provides unemployment protection.
What's the catch? It's harder to get approved with SoFi than with Best Egg or other platforms. They target borrowers with high income and excellent credit. If you can qualify, it may be a cheaper option than Best Egg.
You can check out SuperMoney's community reviews for more information or apply below.
Best Egg vs. Prosper
Prosper also offers fixed-rate personal loans and an easy online application process. The interest rates are comparable to Best Egg, and so are the origination fees.
However, Best Egg does come out ahead when looking at the speed of loan processing. If time is not a major concern, the cost of loans from the two companies will likely be comparable, so it would be a good idea to apply with both.
If you'd like to see what others have said about Prosper, you can check out the community reviews page for Prosper.
FAQ on Best Egg Loans
How long does it take for a Best Egg loan to be approved?
The entire Best Egg personal loan approval process usually takes 1-3 business days to apply, get approved, and be funded. In some cases, customers could be approved and funded on the same day, but most customers can expect the personal loan process to take just a few days.
Does Best Egg show up on credit report?
Best Egg will run a credit check to ensure the information you provided is accurate. Best Egg will report the loan to credit bureaus, meaning the transaction will appear on your credit report.
Can you refinance a Best Egg loan?
Best Egg allows you to take a loan to pay off a loan from a different lender, but you can't refinance an existing Best Egg loan.
Conclusions
Best Egg is a good candidate if you want a personal loan. It offers quality customer service, fast loan processing, competitive pricing, and transparency about its offerings.
"Customers enjoy straightforward terms, including three or five-year repayment, fixed APRs, and no hidden fees or pre-payment penalties," says Ritterbeck.
The one big drawback is the origination fee. If you qualify for a loan that doesn't come with an origination fee, such as SoFi personal loan, Best Egg may not be the platform for you. Also, to get competitive interest rates and a low origination fees, you must have good credit and high income.
As with all decisions, it's best to shop around to see which platform offers the best deal for your needs. But if you're looking for a loan which can be in your bank account tomorrow, Best Egg is a great option.
Different personal loans come with different rates, fees and requirements. To learn more about Best Egg, click here. Or if you'd like to look at more options before committing, you can view side-by-side comparisons of personal loan lenders here. And check out what the best personal loans are to ensure that you choose the best option for you.
Jessica Walrack is a personal finance writer at SuperMoney, The Simple Dollar, Interest.com, Commonbond, Bankrate, NextAdvisor, Guardian, Personalloans.org and many others. She specializes in taking personal finance topics like loans, credit cards, and budgeting, and making them accessible and fun.