LendingPoint offers fast access to fixed and predictable installment loans at competitive rates and with flexible loan amounts. Yeah. Lots of lenders do that. LendingPoint's key differentiator is that they offer fair interest rates to people with less than great credit: borrowers with credit scores ranging from 600 to 680. They are able to do so by using a proprietary credit analysis model that looks at more than just your credit score and approves loan applications from borrowers that traditional lenders might not consider.
Is LendingPoint the right lender for you? Maybe.
This comprehensive review will look at the rates and terms of LendingPoint loans and compare them to similar lenders in the business. By the end of this featured article, you will understand whether you stand to benefit from a LendingPoint loan or if there are greener pastures elsewhere. We will also take an in-depth look at LendingPoint's application process, so you know exactly what to expect if you decide to apply for a loan.
Who Are LendingPoint's Loans Designed For?
If you have excellent credit or assets, this is not the lender for you. Prime borrowers can find much better rates with companies such as Sofi or LendingClub. On the other hand, LendingPoint can be an excellent option if your credit score is not great, but you still want:
Access to fair rates
Fixed payments
Fast access to your cash
A loan that improves your credit rating
LendingPoint is also a good choice if you are trying to rebuild your credit. LendingPoint reports your loan payments to Experian and TransUnion, two of the three credit reporting bureaus. If you are regular and on time with your payments, your credit score may improve over time.
What Are LendingPoint's Rates and Terms?
LendingPoint offers personal loans ranging from $3,500 to $25,000 with loan terms of 24 to 36 months. The average LendingPoint loan is around $7,500 and has a 30-month term. Interest rates range from 17.46% APR to 34.99%. Your interest rate depends, among other factors, on your credit profile, income, employment, and your state of residence. LendingPoint also charges a one-time startup fee. This startup fee varies from state to state and is deducted from the loan amount before funds are deposited. Borrowers are informed about the startup fee before the loan is funded.
Please visit LendingPoint's SuperMoney profile to check out the latest rates and terms.
LendingPoint's Backstory
LendingPoint was founded in July of 2014, which makes it a relatively new startup. However, its experienced management team and financial backing have allowed it to grow quickly into a leader in online direct lending. LendingPoint has its headquarters in Kennesaw, in the greater Atlanta metropolitan area, but it operates in many states across the country. The company is structured as a Limited Liability Company.
Lending Point's CEO, Tom Burnside, CTO, Franck Fatras, and Chief Risk and Analytics Officer, Sharat Shankar were all part of CAN Capital's management team. Can CAPITAL is a leading marketplace for small businesses. Tom Burnside, for instance, was the President and Chief Operating Officer of CAN Capital from 2000 to 2013. Franck Fatras was CAN Capital's CTO during the same period, and Sharat Shankar was a senior vice-president.
From the start, LendingPoint has been a direct lender, which allows it to provide instant decisions on loan applications. In October 2015, LendingPoint received a $100 million credit facility from Ares Management: a publicly traded global asset manager with $92 billion in assets, as of December 2015.
How Does LendingPoint Work?
LendingPoint loans can be used for practically any personal use, from debt consolidation to home improvements, car repairs or a vacation. The loans are fixed-rate installment loans, and people with credit scores as low as 600 can qualify. The loan application process only takes a few minutes, and applicants receive an answer within moments of completing the form.
Once approved, funds are deposited directly into the borrower's bank account, usually within 24 hours of submitting the loan application. Transfers are not done on weekends, so you may have to wait longer if you apply on a Friday or Saturday.
LendingPoint does not perform a hard credit check when you apply for a loan, so checking your rates will not affect your credit score. As with most lenders if you accept the loan, LendingPoint will perform a hard credit check that could cause your credit score to hurt a little. Although a borrower's credit score is a factor with LendingPoint, its proprietary risk analysis model looks into a wide selection of other relevant variables, which gives people who have fallen on hard times but are fighting to rebuild their financial health a fair chance at receiving a loan.
What Is LendingPoint's Application Process Like?
LendingPoint's application process is short and easy to complete. It takes just a few minutes to complete the two-page application form. The best part is that it won't your credit score to check your rate.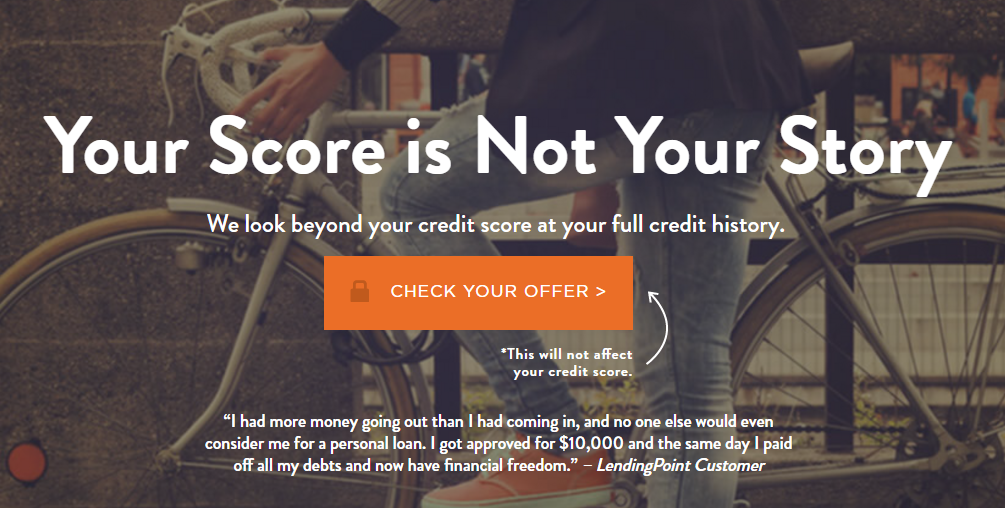 1. Loan amount and purpose of the loan
This page asks for the loan amount and the purpose of the loan. Loan amounts range from $3,500 to $25,000.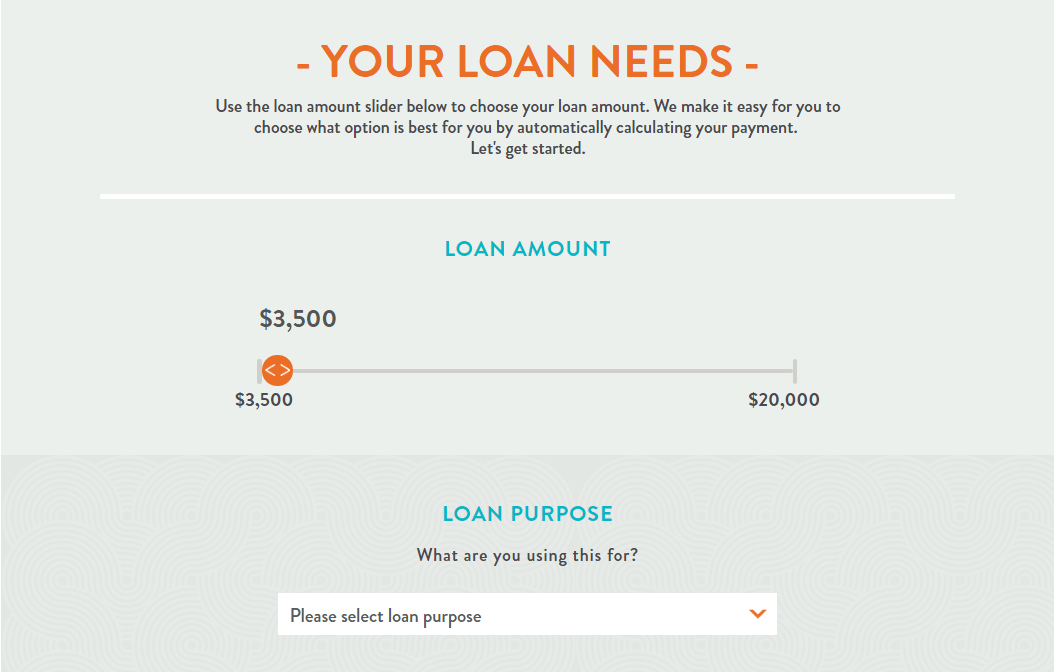 2. Personal Information
LendingPoint asks for your name, date of birth, and address.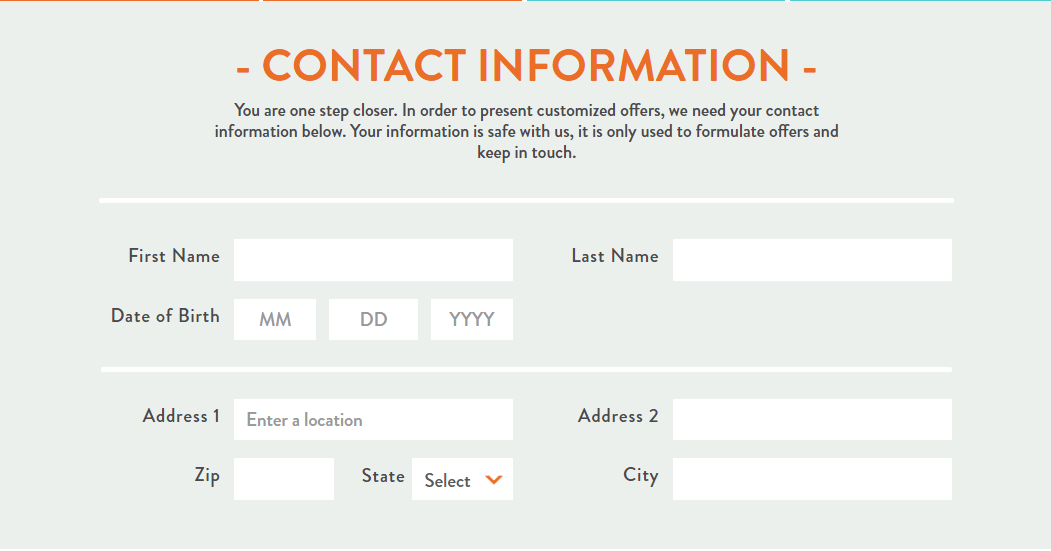 3. Financial Information
This is the last page of the application form. Provide the last four digits of your Social Security Number, your annual income, mobile phone number, and email. You will also need to agree to a soft pull of your credit score. Don't worry, it won't hurt your credit score.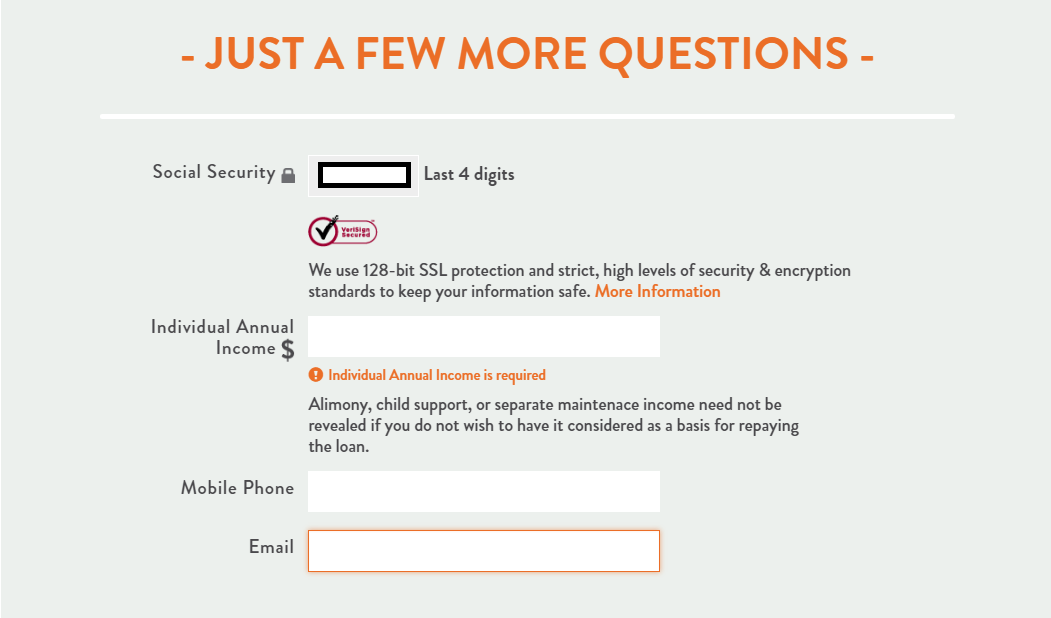 4. Review Your Loan Offers
Choose which loan terms work for you.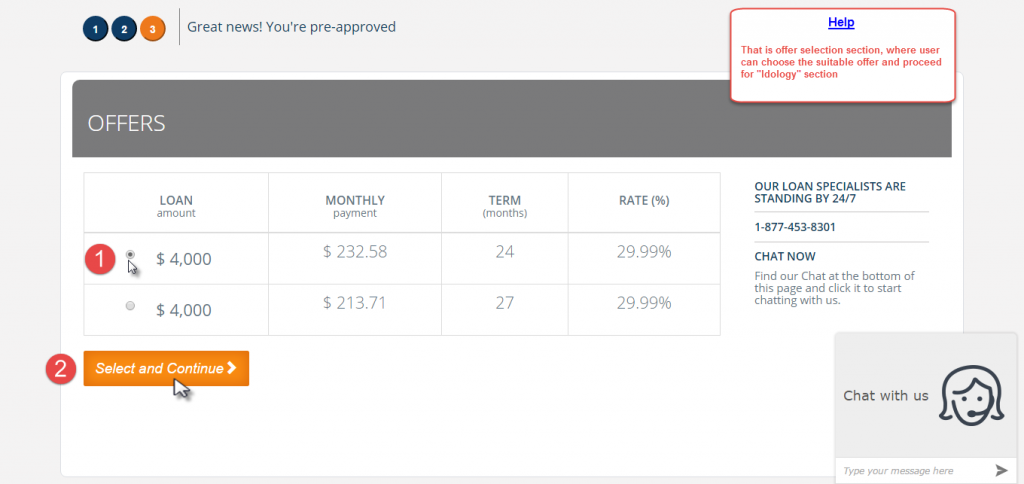 What Are The Advantages and Disadvantages of LendingPoint?
This is what we like about LendingPoint:
LendingPoint is a direct lender
It provides loans from $3,500 to $25,000
Reports loan payments to Experian and TransUnion, which can help improve your credit
Offers fair interest rates to borrowers with less than great credit
Fast credit decisions
Flexible terms of 24 to 36 months
Simple application process
No prepayment penalty
What we don't like about LendingPoint:
Larger loans would be a bonus. $25,000 may not be enough for many borrowers
The minimum term is 24 months. Having the option of a shorter term would be nice
Lack of clarity on the cost of the startup fee. As with most lenders, this fee is probably capped at 5%, but LendingPoint only reveals this fee once it has approved an application.
How Does LendingPoint Compare To Other Lenders?
LendingPoint has found a niche in the lending industry by offering reasonable rates to borrowers with fair or just okay credit. At first look, its rates are higher than the rates advertised by Prosper, LendingClub, and Upstart (as low as 5% APR), but those rates are only available to those with excellent credit. Borrowers with credit scores in the 600s, which is LendingPoint's target audience, can only qualify for the higher end of their rates range (up to 36%). And that's if they qualify at all. In the case of Upstart, only borrowers with a degree from a top university can even apply.
Other companies that also target borrowers with a similar credit profile to LendingPoint are Avant and OneMain Financial. Some of these may also advertise rates that seem better than LendingPoint. For instance, Avant will accept borrowers with credit scores as low as 580 and touts a rate range of 9.95% to 36%. These rate ranges are often only available to borrowers with good credit. There is a second tier rate range with higher rates for borrowers with poor credit.
In summary, LendingPoint does not have the lowest interest rates around, but it is certainly worth checking for borrowers with a credit score from 600 to 750. It is particularly a good option for those with a credit score around 675, a sweet spot for LendingPoint loans.
Andrew is the managing editor for SuperMoney and a certified personal finance counselor. He loves to geek out on financial data and translate it into actionable insights everyone can understand. His work is often cited by major publications and institutions, such as Forbes, U.S. News, Fox Business, SFGate, Realtor, Deloitte, and Business Insider.