Upgrade is a relatively young online lending company offering personal loans. While it has only offered loan products for about a year, the minds behind the company aren't new to the business. Read this in-depth review to assess the pros and cons of Upgrade loans before you apply for a loan.
About Upgrade loans
Upgrade loans founders
Upgrade's founders are Renaud LaPlanche and Soul Htite. Sound familiar? If you've taken out a loan in the past several years, they should. That's because LaPlanche and Htite were both co-founders of LendingClub, America's largest loan marketplace.
LendingClub arranged over 28 billion dollars in loans to over 1.5 million customers. Htite also founded one of China's largest marketplace lending platforms, Dianrong.
In other words, both founders have a good track record in the online lending business.
But unlike their previous ventures, Upgrade loans is not a marketplace that connects borrowers to lenders. It's a direct lender, originating loans in a traditional style through a partnership with WebBank.
Loan products
Upgrade began issuing loans in April of 2017. They currently offer personal loans, personal credit lines, and credit monitoring software. They also plan to expand their offerings in the future.
Upgrade also plans to serve as a resource for helping people improve their credit so they can borrow at lower rates in the future.
CEO Renaud Laplanche says, "We believe that combining personal loans with free credit monitoring, alerts, and education features provides a more comprehensive service than other personal loan lenders, and makes us more helpful to more people."
These features can be leveraged separately or together. And Upgrade users are rewarded for their credit discipline: those with excellent credit can obtain larger loans and will receive faster loan disbursements.
"Users are rewarded for their credit discipline: those with excellent credit can obtain larger loans up to $50k (compared to $40K at Lending Club, $35k at Prosper and $30k at Marcus) and will receive faster loan disbursements, within a day of clearing income verification."Renaud Laplanche, CEO  of Upgrade Loans
Eligibility
Upgrade's application process is online, and their personal loan structure is pretty standard. It offers term loans with fixed interest rates and charges an origination fee. All loans are unsecured, so no collateral is required.
To be eligible, you must meet the following requirements:
18 years or older (minimum age is 19 in Alabama and some other states)
U.S. citizen, permanent resident, or living in the U.S. with a valid visa
Verifiable bank account
Must have a valid email address
Must live in one of the 50 states excluding Iowa, Colorado, Massachusetts, or West Virginia
Minimum credit score in the low 600s
Other factors will be considered, such as income and credit usage and history
To find out if you qualify (and which terms you qualify for), simply follow the following steps.
Upgrade loans application process
1.) Go to Upgrade's home page. Enter the desired loan amount and the reason you want to borrow. Then, click "Check your Rate."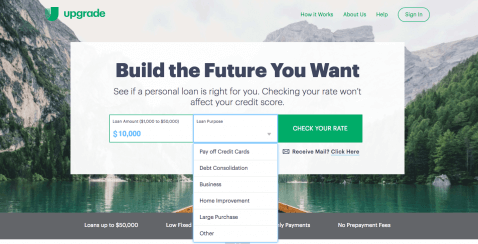 2.) Provide some basic information about yourself.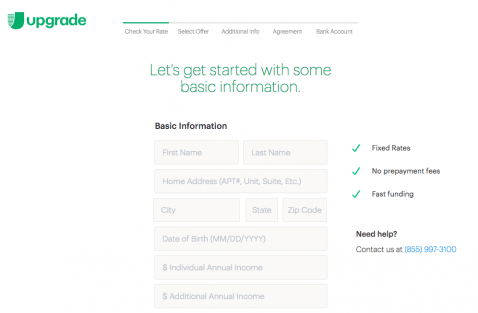 3.) Create your account, review the documents, and provide your electronic signature to agree. Then, click "Check my rates."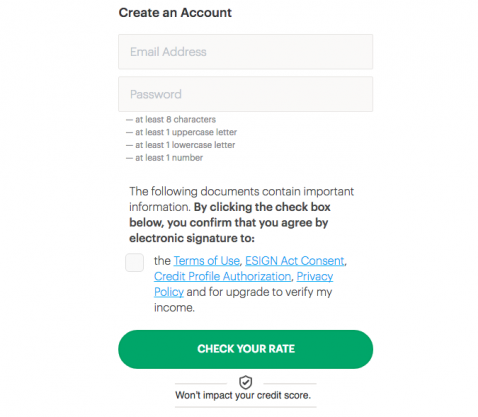 After these steps, Upgrade will provide the rates for which you qualify, or you will receive a message notifying you that your application has been denied.
If you are denied, you will receive an adverse action notice explaining why. If you are approved and want to go ahead with the offer, you will select it.
Then, you will need to provide additional information, officially agree to the terms, allow a hard credit inquiry on your credit report, and provide your bank account information.
What if you received a pre-approval letter?
If you received a "Save With Upgrade®" pre-approval letter in the mail, you'll be directed to a special website address where you'll need to enter your pre-approval code to access a streamlined loan application process. Even if you've already been pre-approved, you should still consider trying SuperMoney's multi-lender personal loan marketplace to quickly get pre-approved offers from competing lenders to discover which of SuperMoney's lending partners will offer the lowest interest rate, most suitable loan terms, or most affordable payments for your unique situation.
Pros and cons of Upgrade loans
Because Upgrade's founders have been very successful in the online lending industry, borrowers can rest assured it is not just another new company without experience.
Another factor differentiating Upgrade from the rest is their mission: helping people manage and improve their credit. If they deny your application, they will still provide you with the necessary support to help you improve your credit and work towards getting approved in the future.
Upgrade loans offers loan terms from 36 to 60 months. These relatively long loan terms allow borrowers to borrow larger amounts while still keeping their monthly payments affordable.
The lending platform uses proprietary underwriting technology to evaluate applicants. Algorithms and advanced data technology quickly determine if a borrower is qualified or not.
And Upgrade loans lets you pick your payment due date, making the payment process more convenient for borrowers.
The downsides? Unlike some competitors, Upgrade charges an origination fee of 1% to 6% of the loan amount. They also charge late payment fees of $10 for each missed payment.
Also, Upgrade's interest rate range, although competitive, is not the lowest on the market. And they only offer fixed interest rates — interest rates which remain the same throughout the course of the loan. By contrast, some competitors offer both fixed and variable interest rates, and the latter can be advantageous when market rates are on the decline.
WEIGH THE PROS AND CONS
Compare the pros and cons to make a better decision.
Pros
Easy and fast online application which doesn't hurt your credit score
Credit monitoring, alerts, and mentoring
Can pick your payment due date
No prepayment penalties
Its founders have already founded successful marketplace lending platforms
Competitive fixed interest rates
Funds are quickly transferred to bank account upon approval
Cons
The company is still fairly new
Charges an origination fee and late fees
Doesn't offer lowest-advertised interest rate range on the market
Only offers fixed interest rates, no variable rates
The Verdict
Upgrade's personal loan offer is competitive, they offer fast and easy applications, and they have credibility due to the founder's past ventures. Their credit monitoring features provide a convenient complement to their loan engine, and their commitment to educating and improving the credit scores of rejected applicants is admirable.
"Beyond this, we are planning to continue to innovate and launch more products and features that help consumers better understand their credit and lower the cost of their credit so they can achieve their financial goals and build the future they want," LaPlanche adds.
As for now, if you can afford the origination fee and appreciate efficiency and convenience in your loans, Upgrade is definitely worth your consideration.
Want to learn more about Upgrade loans and what they offer? SuperMoney can help! Or if you're looking to compare Upgrade to a slew of other lenders offering personal loans, SuperMoney can help with that too.
Different personal loans come with different rates, fees and requirements, so check out what the best personal loans are to ensure that you choose the best option for you.
Jessica Walrack is a personal finance writer at SuperMoney, The Simple Dollar, Interest.com, Commonbond, Bankrate, NextAdvisor, Guardian, Personalloans.org and many others. She specializes in taking personal finance topics like loans, credit cards, and budgeting, and making them accessible and fun.