If you need cash in a hurry, having bad credit can severely limit your options.
An auto title loan is just one of the few alternatives for people with bad credit — one that more than 2 million Americans use each year, according to a report by the Pew Charitable Trusts.
But with the costs and requirements associated with auto title loans, they're not for everyone.
In this guide, you'll learn everything you need to know about auto title loans, including what they are, how they work, pros and cons, and how to get the best interest rates.
What is an auto title loan and how do they work?
An auto title loan is a short-term loan that uses your car as collateral. They don't require a bank account, and you can typically get more cash than you would qualify for with a payday loan.
Typically, you can take out a car title loan for 25% to 50% of the value of your car, though it depends on the lender. Most single-payment auto title loans require payment within 30 days of taking out the loan. In some cases, you can pay back the balance over time as you would a standard unsecured loan.
To qualify for an auto title loan, you must have the title to the car, meaning you can't currently have a loan out on the vehicle.
Auto title loans are an expensive form of credit. According to a report by the Consumer Financial Protection Bureau (CFPB), the typical auto title loan is for $700, and it has an APR of 300% for single-payment loans or 259% for installment loans.
The way auto title loans work is as follows:
You apply online or at the lender's location.
The lender does an appraisal of the fair market value of the vehicle and offers you a maximum loan amount based on the car's value. For example, the lender may cap your loan at 50% of the value of the car, or some other percentage.
You get your cash to cover your need and plan to repay the loan based on its terms.
If you don't repay the loan on time or miss a payment, the lender may repossess the car.
Because auto title loans use your car as collateral, if you fail to pay off your loan in time, the lender can seize your automobile. As such, if you're not sure that you'll be able to make your payments on time, auto title loans are a high-risk option.
Auto title loan requirements
Most lenders require you to be at least 18 years old and own a lien-free vehicle. The title has to be in your name, and the vehicle must be completely paid off– you can't get an auto title loan if you're still paying off another loan on the car. The amount you qualify for will be determined by the current value of your vehicle.
The eligibility requirements for auto title loans are low. Because the lender stands to gain more if you default than if you repay, you typically don't need to meet any minimum credit score requirements.
You do, however, generally have to have some form of income to prove your ability to repay the loan.
Other typical requirements include:
A car in driving condition
Proof of insurance
A clear title
Proof of address
A valid ID
The good news is that you'll still have use of your vehicle when you take out a title loan. However, if you default on the loan, the lender will seize your car and sell it to recoup the amount of the loan.
Auto title loans pros and cons
Depending on your needs, an auto title loan has the following benefits:
Anyone can qualify: Auto title lenders sometimes don't even run a credit check because they're using your car as collateral. So, if you've exhausted all your other options, you just need a working car.
Quick funding: Auto title lenders can usually get you your cash within 24 hours, either with a check or a direct deposit into your checking account.
You keep the car: Although the lender is using your car as collateral on the loan, you get to continue driving it while you're paying it back.
There are some drawbacks that you need to know before you start looking for a loan:
Very high APRs: Even if you shop around and compare several lenders to get the best rate available, it's still going to be high.
You could lose the car: If you default on your loan, you have two options: lose your car or borrow again to repay the loan. According to the CFPB report, more than two-thirds of auto title loans were taken out by borrowers who reborrow six or more times.
You might need to up your insurance: Since your car is collateral for the loan, the lender could lose its investment if you get in an accident. As a result, the lender may require that you meet certain minimum insurance standards before you can borrow.
WEIGH THE PROS AND CONS
Pros
Anyone can qualify
Quick funding.
You keep the car
Cons
Very high APRs
You could lose the car
You might need to up your insurance
Read more about the pros and cons of auto title loans.
How do you apply for a car title loan?
The first step is to find whether you live in a state where car title lenders operate. Car title loans are only available in 25 states. The table below shows which states allow title loans and their interest rate caps.

Compare the rates and fees of the lenders near you. SuperMoney's search engine makes it easy to filter through lenders based on the features that matter the most to you.

Drive to the auto title lender's store with the car you plan to use as security for the loan. Most lenders require you to own the car free and clear to qualify for a loan.

The lender will inspect the car and offer you a loan amount that is a fraction of the vehicle's value.

If you agree to the terms and sign the loan agreement, you can have your cash within 15 minutes.

In most states, the lender will keep the title of the car as security until you repay the loan.
To apply, you'll need an i.d., the title to the car with your name on it, and proof of income. Some companies allow you to apply for an auto title loan online.
However, if you're able to apply in person, you'll get the money you need much faster because your car can be inspected and appraised right on the spot.
What are the rates and terms of car title loans?
Lenders usually express the cost of auto title loans as a dollar amount for every $100 borrowed. The APR equivalent ranges from 291% to 317%.
However, 80 percent of car title loans are renewed the day they are due. These renewals come with additional fees in addition to the loans' APR.
How to get the best rate on an auto title loan
If you've read the warnings and still want to take out an auto title loan, make sure you shop around for the best option.
It's important to first know whether they're available in your state. Once you've checked the list above, look up several auto title lenders in your area to see which offers the best rates.
Read reviews of companies that have good ratings, such as TFC Title Loans, LoanMart, and Finova Financial.
Your best option is to go with a lender who allows installment loans, as those typically give you longer to repay the loan and at a lower interest rate.
Compare auto title lenders side by side to find your best rate. 
Are auto title loans a good idea?
Let's say you took out a 30-day $1,000 car title loan with a 25% monthly fee (equal to a 300% APR). That means you'd need to pay back the full $1,000, plus an additional $250, all within 30 days. If you fail to do so, you have two options:
You can let the lender repossess your vehicle, essentially selling your car for the cost of your loan.
Or you can roll your first loan into a new loan, which will give you just 30 more days to find that money — plus 25% interest on the new balance.
Unfortunately, on-time repayment rates are low on auto title loans. The Consumer Financial Protection Bureau warns that many who take out auto title loans end up either extending the loan by paying a fee or taking out a subsequent loan soon after paying off the first one. They call this quick reborrowing a "loan sequence."
According to the above CFPB report, more than 80% of single-payment auto title loans aren't repaid on time, with most borrowers forced to renew the loan or borrow money elsewhere to cover the debt.
More than half of the borrowers end up taking out a series of four rollover loans before they're able to pay it off or have their car repossessed. By that point, a $1,000 initial loan has ballooned into $2,441 total. And if you, like 12% of borrowers, roll over your loans for an entire year, you'll owe a whopping $14,552!
Sadly, the CFPB reports that approximately a third of borrowers involved in loan sequences end up defaulting, and one in five have their car repossessed. Having your vehicle repossessed can have disastrous consequences, especially if you need it to get to work. If you can't work, you can't pay off the loan, and the lender will sell your car and keep the profits for itself.
Like any loan, auto title loans will show up on your credit report, so defaulting can have long-term credit consequences.
That said, auto title loans can be safe if you know what you're getting yourself into. Understanding the negative consequences and properly preparing for them can help you avoid some of the dangers. If you're confident you'll be able to pay off the loan, compare lenders to get the best terms. But before you apply, consider whether you actually need the money or if it can wait until your next payday.
If you are uncertain that you'll be able to repay the loan at its due date, then steer clear of auto title loans.
When shouldn't you get an auto title loan?
Car title loans are so high-risk that they're illegal in over half of U.S. states. In states were they are legal, car title lenders are heavily regulated to limit harmful lending practices.
Why are car title loans so dangerous? Because they have higher interest rates and shorter loan terms than almost any other loan. Some states cap interest rates at 36%  annual percentage rate (APR), but many car title lenders charge 300% APR or more. It's no wonder that only 12% of people are able to pay back the loan in full after the first month, according to a 2016 Consumer Financial Protection Board report.
Which states allow auto title loans?
Car title loans are specifically prohibited in 25 states and Washington D.C. Some states allow auto title loans to operate, but they restrict the rates lenders can charge. If restrictions are too tight in your state, you may struggle to find car title lenders even if they are legal.  Other states, such as California, Kansas, South Carolina, and Louisiana, will technically ban auto title loans, but allow lenders to use legal loopholes to operate in the state.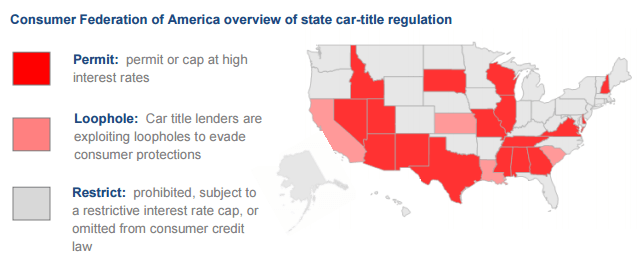 Source: Consumer Federation of America
States that permit car title lending and their APR caps
Arizona (204% APR) *
New Hampshire (300% APR; lien fee)
Arizona (204% APR) *
New Hampshire (300% APR; lien fee)
Delaware (No Cap)
New Mexico (No Cap)
Florida (30% APR)
Oregon (No Cap)
Georgia (300% APR) **
Rhode Island (No Cap)
Idaho (No Cap)
South Dakota (No Cap)
Illinois (No Cap)
Tennessee (Cost limit of 1/5 of loan amount plus 24% APR)
Kentucky (No Cap)
Texas (120% APR)
Mississippi (300% APR)
Utah (No Cap)
Missouri (No Cap)
Virginia (264% APR on first $700; 216% on next $700; 180% on remaining balance; lien fee)
Minnesota (No Cap)
Wisconsin (No Cap)
Montana (No Cap)
California (loans must be above $2,500 to avoid small-loan limits)
South Carolina ***
Louisiana (loans must be over $350 and have terms longer than two months to avoid restrictions)
Kansas ****
* (204% APR on first $500; 180% on the next $2,000; 156% on the next $2,500; 120% on the remaining balance)
** (300% APR for the first three months; 150% after that; lien fee)
*** (loans must be above $600 to avoid small-loan limits)
**** (auto title loans sold as open-ended credit lines)
Each state has different regulations to protect consumers from potentially predatory behavior. For example, some states have laws that force lenders who have repossessed and sold your car to pay you the difference between the sales price and loan amount. Others have limits on the interest rates auto title lenders can charge.
"Several Federal laws exist which mandate that the title loan company fully disclose all fees, rates, and issues before you sign," says Fred Winchar, president and owner of TMG Loan Processing. "Ask the company to explain each paragraph to you on the contract if you do not understand."
If at any time you feel uncomfortable, Winchar recommends simply walking away. There may be several other lenders who are willing to be more upfront and honest with you.
What are some alternatives to auto title loans?
If you need cash now, an auto title loan should be your last resort. "You must consider if your bank can loan the money to you, your family, your friends, your credit union, and your credit cards," says Winchar.
Also, consider selling some personal items to get the cash you need, or at least lower the amount you'll need with an auto title loan.
If you're a member of a local credit union, see if they offer what's called payday alternative loans. These loans are regulated and come with a maximum APR of 28%, so they are much more beneficial to consumers with bad credit.
If your credit is good enough to qualify for a personal loan, the interest rate you'll get will be high, but not as high as with an auto title loan.
In fact, you can use SuperMoney's personal loan engine to see if you can pre-qualify for a personal loan without a hard credit check.
Even payday loans may be preferable to auto title loans, simply because defaulting won't result in losing your car.
If you need quick access to cash, car title loans are not your only option.
Sell your possessions
If you have anything of value, maybe an instrument or television that you no longer need, consider selling it either at a garage sale or online. This will require giving something up, but then you won't be weighed down by a loan with an extremely high interest rate.
Ask for help
Many communities have charities and social services that'll help people with short-term loans — just search online to find them. If that doesn't pan out, you can also ask friends or family members to loan you some money. However, if you don't pay them back quickly, it can create friction in the relationship.
Get a side job
Consider a getting a side job to help increase your monthly income. The good news is that it's easier than ever to find the right one for you. Even better, there are a ton of options to make money online, many of which can be done from the comfort of your own home.
Review and compare popular side gigs to find the right option (or options) for you.
Use a credit card
If you have a credit card that allows it, you can get a cash advance at any ATM.
There are also credit cards designed for people who have bad credit. Check out your best options and see if it's a better deal than putting your car on the line.
Apply for a personal loan
Having bad credit doesn't automatically disqualify you from the more desirable options, such as personal loans. There are lenders out there who will consider lending to borrowers with bad credit. You just need to know your options.
You can even get pre-approved offers to see what your options are and what kind of rates you qualify for. You'll know within minutes, and it will not hurt your credit score.
Start an emergency fund
Obviously if you need cash now, you can't retroactively build an emergency fund. But once your need for cash has passed, you should start saving. After all, having a healthy emergency fund is the best way to make sure you never find yourself in this situation again.
Not sure how to build up an emergency fund? These tips can get you started.
Go to a pawn shop
Pawnshops also have high interest rates, but if you default on this type of loan, you'll only be losing a personal item and not your means of transportation.
If all else fails, find the most reputable car title lender you can
If you do need to take out a car title loan, we recommend shopping around for the best rates and researching each company. Companies such as TFC Title Loans, LoanMart, and Finova Financial, which have better-than-average customer ratings, are safe choices.
The Verdict
In a very select set of circumstances, an auto title loan could be your best option to get cash fast. However, don't consider an auto title loan unless it's a real emergency and you're sure you don't qualify for a personal loan.
Is your credit is too low to qualify you for another loan? And are you 100% certain that you'll pay your debt on time? If so, an auto title loan can get you the fast cash you need. But be wary. Snowballing debt is no joke. Don't gamble your car unless you can afford to lose it.
FAQ on auto title loans
How does an auto title loan work?
Borrowers obtain car title loans when they give the title of their vehicle, such as their car, truck, or motorcycle, to the lender as collateral. The borrower generally agrees to pay a fee. Lenders usually give borrowers 30 days to repay the loan.
How long do you have to pay back a title loan?
The repayment period for a car title loan can be customized to fit your unique needs. The loan can be paid back anytime early without penalty, but the typical loan is written from 1 year to 3 years depending on the circumstances.
What is the average interest rate on a title loan?
Title loans cost a lot — typically coming with interest at an annual percentage rate, or APR, of around 300%. That breaks down to an average 25% in interest charges per month.
What happens if you don't pay back a title loan?
If you can't pay off the loan in the typical 30‑day period, the lender may offer to "rollover" the loan into a new loan. But the rollover process always adds fees and interest to the amount you originally borrowed. If you don't pay what you owe, the lender may decide to repossess your vehicle.
What happens if you have a title loan and you wreck your car?
If you have a title loan out and used the car which was totaled as collateral for it, you will still have to pay the loan back. If the vehicle that is in the accident gets too damaged and the insurance company calls it a total loss, then the liability insurance will help to pay off the title loan.
What are the benefits of car title loans?
The biggest benefit to getting a car title loan is that it enables the borrower to get the money they need extremely quickly. Car title loans are usually processed within a day or two. Another added benefit is that while you have the loan out, you get to keep the car and still drive it.