Buying a house may be the American dream, but it's not a step you should take lightly. Owning your home comes with significant advantages such as predictable housing expenses, tax benefits, and more. However, financing your dream home can quickly turn into a nightmare, as we witnessed in the 2008 housing crisis. It's important to take the proper steps in the home buying process to ensure you end up with a mortgage that makes sense for you.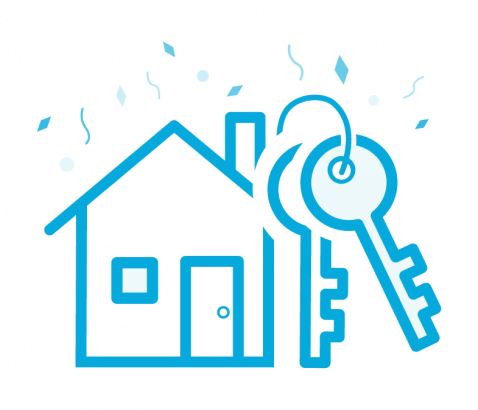 SuperMoney can help you get the best deal possible on your home loan. How? We make comparison shopping easy by getting lenders to compete for your business.
Instead of completing multiple forms and comparing the terms and rates of endless lenders, you fill in a single form and see what rates you qualify for from leading mortgage lenders. When lenders compete for your business, you win!
But are you ready for homeownership? Next to marriage and having children, it is one of the biggest commitments someone can make in their lifetime. Before you jump into the decision, it is important you realize exactly what you are signing up for. This guide will help you understand all the ins and outs of buying a home.
Getting the details right matters
Just how important is selecting the right mortgage? Consider that saving 0.5% on your interest rate over a 30-year $300k mortgage can save you in the ballpark of $30,641. Further, choosing a 15-year mortgage over a 30-year one could save you around $116,178 over the term of the loan. And, choosing a mortgage with prepayment penalties could also cost you thousands of dollars in fees– if you end up wanting to pay off your mortgage early to save on interest costs. Whether you're a first-time homebuyer looking for a mortgage or a seasoned investor, the devil is in the details. Here's how to come out on top.
How to buy a house: A step-by-step guide
Knowing how the homebuying process works can help you save money and get a better value overall. Here's a step-by-step breakdown of how to buy a house the right way.
Stage 1: Prepare to buy a house
Know your credit score
First, your credit rating is one of the most important factors mortgage lenders will consider when you apply for financing.
So, the first thing you should do is check your credit score. You can get a free copy of each of your credit reports every year from annualcreditreport.com. Getting approved for a home loan is fairly easy if you have good credit.
If your score is below 620, however, you might want to hold off on applying for a mortgage until it improves. Otherwise, you'll likely have to pay a substantial down payment and a higher interest rate.
Find out your debt-to-income ratio
Next, add up your total debt, including housing costs, and compare it to your total income. This number will give you your debt-to-income ratio (DTI).
Ideally, your debt shouldn't exceed 36% of your gross income. However, the standard DTI to qualify for a home loan is 43%. It will vary from one lender to the next, though.
Regardless, make it a priority to pay off your other debts until you can get your DTI down to at least 43% (the lower, the better).
Doing so will boost your credit score and open up the door to more mortgage options.
Figure out what you can afford 
A common mistake with home loans—which leads many people down the wrong path—is borrowing as much as a lender will offer.
You may qualify for a $300,000 mortgage, for example, but that doesn't mean you can afford to pay it back. That's because buying and owning a home involves more than just a monthly mortgage payment.
The general rule of thumb is that your total housing expenses should be no more than 28% of your gross monthly income.
As such, it's vital that you take time to create a detailed budget that accounts for all the guaranteed and potential extra costs of homeownership.
Homeownership expenses you should budget for:
Monthly mortgage payment.
Down payment.
Mortgage insurance.
Inspection fees.
Closing costs.
Home insurance.
Property taxes.
Homeowner's association fees.
Furniture and utilities.
Maintenance and upkeep.
And don't forget homeownership is full of surprises—unfortunately, some of these surprises can be expensive. So, it's wise to include an emergency fund as well. You don't want to have to take out another loan should you find yourself stuck with any unforeseen expenses.
You can choose between a 15-, 20-, or 30-year mortgage. The shorter the repayment period, the higher the monthly payment.
Get pre-qualified for a mortgage
Once you've figured out how much you can afford, the next step is to learn about the different mortgage options available to you. Getting pre-approved by a lender who offers home loans will give you this answer.
You can get a home loan through a bank, a credit union, a private lender (a person or business), or through builder financing (some home builders will offer you incentives to finance directly through their in-house mortgage company).
Common mortgage options include:
Conventional loan: This is a traditional loan that generally requires a credit score of 620 or higher to qualify. You'll typically have to pay at least a 20% down payment to avoid paying for private mortgage insurance.
FHA loan: FHA loans are insured by the Federal Housing Administration. With a credit score of 580 or above, an FHA loan allows you to buy a house with a down payment as low as 3.5%. You can still get approved if your score is between 500 and 579, but your down payment will be 10%. FHA loans charge mortgage insurance premiums—this can become more costly than private mortgage insurance over time.
VA loans: Insured by the U.S. Department of Veterans Affairs, VA loans are designed for eligible military members and their families. There aren't any set-in-stone credit score requirements— however, most VA lenders usually require a score of 620. VA loans don't require a down payment, but be prepared to pay a funding fee. Your fee will depend on a few factors including your eligibility status, down payment, and how many VA loans you've had.
USDA loan: USDA loans are insured by the U.S. Department of Agriculture. They were created to incentivize people to buy a house in eligible rural areas. You won't have to pay a down payment and you'll generally need a credit score of 580 to be approved. Exceptions can be made, however, for people with a lower score. You'll have to pay an upfront and annual guarantee fee, but it's typically lower than what you'll find on VA and FHA loans, as well as private mortgage insurance.
Getting pre-approved involves a lender analyzing and verifying your income and credit to determine what you are qualified for. Upon getting pre-approved, you'll receive a letter with the loan amount and interest rate available to you. You can take that letter with you when you shop for homes and use it when you make an offer. Sellers can accept the letter as a verified proof of your ability to afford the home. This is a good beginning step because it ensures you are shopping in the right price range and gives you leverage when making offers. It can also help you understand how much you will need to have on hand to put down on the home.
Understand closing costs
In addition to the down payment, there are many types of closing costs you should be aware of when you buy a house as you need to ensure you have the funds ready to cover them. This guide provides a detailed analysis on how to minimize closing costs, but here's a quick list:
The most common mortgage closing costs include:
Application fee.
Appraisal fee.
Attorney fee.
Courier fee.
Credit report fee.
Discount points.
Document preparation fee.
Escrow fee.
Escrow deposit.
Flood determination fee.
Home inspection fee.
Homeowners association (HOA) dues.
Homeowners insurance.
Origination fee.
Prepaid interest.
Recording fee.
Survey fee.
Title insurance.
Title search fee.
Transfer taxes.
Find a good real estate agent
Next, do you need a real estate agent? The simple answer to that question is no. You certainly don't need to have an agent, but finding a good one can make a world of difference. While there are some people who prefer to do it all on their own, real estate agents can provide helpful and valuable information on everything throughout the process. Some things to think about when considering whether or not to find a real estate agent:
WEIGH THE PROS AND CONS
Compare the pros and cons to make a better decision.
Pros
It is much more convenient having a realtor handle all of the appointments, questions, and other details throughout the process.
It is their job. They know the market, the process, and all the ins and outs of the industry better than anyone else.
They can help you negotiate a much better price or save you money in other ways.
Cons
It is possible to go through the process on your own if you are willing to do the work.
As much as they are there to help you, they are also there to cash in on your new purchase. Their fees will be built into any deal you end up agreeing to.
You can find just about everything you need on the internet, eliminating the need for an agent.
A good realtor can help you navigate the process to create a smoother experience. Although they come at a cost, they'll be able to identify homes based on your preferences, negotiate with the seller for a better deal, and help you see things that you wouldn't otherwise see on your own.
Questions you should ask your realtor before you buy a house:
Is there anything wrong with the house?
Are there any foreclosures for sale in the area? (A foreclosed home in the area is generally going to cost less, which you can use as leverage to negotiate a lower price.)
What is the neighborhood like?
Is this the seller's prime residence or rental property?
Why is the owner selling?
How long has the property been on the market?
Has the property had multiple owners? If so, why?
What exactly is included in the final sale?
What would you want to know about this house if you were buying it?
Has there been any major work completed on the house? Can I see the planning and building consents?
If your realtor can't answer your questions, it may be time to find a new one.
Stage 2: Shopping for a home
Pick the right area when buying a home
If all goes well, you will be buying a home that will be your primary residence for many years to come, so it is important to choose the area wisely. Make sure you are ready to settle down and call that new place home. And don't forget to think about that location year-round.
For example, it might be a beautiful sunny day when you drive through Anytown, USA one summer afternoon and find the house of your dreams. But what is the weather like in the winter there? Does Anytown, USA get 30 feet of snow on average? Are you prepared for that? Some important things to review are:
Weather conditions year-round
Crime rates
Community events
Population
Public transportation
School system
Find the right home
Once you pick the area, you need to decide what you want in a home.
Here are some of the most important things you need in order to find that perfect home is:
Identify needs vs. wants
Consider features and amenities that you must have (such as two bathrooms) versus those that would be nice to have (such as a pool). While families might want to find a home close to schools, older buyers may want to be closer to shopping.
Don't forget, as you are making your lists of must-haves and nice-to-haves, some items such as paint color and carpeting can easily be changed with a little elbow grease.
While many people place a high level of importance on keeping up with the Joneses and try to buy the biggest house they can possibly afford, this is something that is truly not recommended – especially if this is your first home buying experience.
Make sure that the home is big enough to accommodate all of your needs. Also, think a few years into the future and anticipate what you might be needing down the line. If you are newly married, you may want to look for more than a one-bedroom home if you plan on having kids in the future. Similarly, if you have teenagers that are getting ready to go off to college, it may be time to downsize the number of bedrooms your next house will have.
Ultimately, the most important thing to remember in most cases is to buy as much house as you need, but no more. Buying too much house will only cost you more money, both upfront and down the line.
Have an open mind
There are so many things to consider when buying a home. While it is important to be particular about what your next residence will look like, you shouldn't limit the potential that some homes have. By immediately dismissing a home that is a little "rough around the edges" simply because of its appearance, you may be missing out on an amazing place to call home, not to mention a potentially great deal on it.
Do your homework
Know the real estate market in the area you want to purchase a home. Arm yourself with property values, sales traditions, and other real estate trends for that neighborhood.
Be patient
Just because there doesn't appear to be any good homes right this moment in the area you have chosen, doesn't mean that the house of your dreams won't go on the market tomorrow. If you can afford to be patient and wait for the right house, you will be happier and avoid settling for one that is simply available right now.
Move-in ready vs. fixer-upper
When you are choosing your future home, there are some other important things to consider as well, such as the cost savings and benefits you may find when you purchase a foreclosure. These properties that have been taken from the prior owner who couldn't make their payments may need a little TLC to get them back to beautiful, but you may be able to find the best deals with homes like this.
Another way to save money on the price of your home is to consider a fixer-upper. If you are not dead set on buying a newly constructed home, you may find deep discounts in houses that need a little work done on them. If you can do some of these repairs yourself (like repairing holes in walls, new paint, or installing new appliances), then you can potentially save even more money.
Special considerations
If the home you are interested in is part of a condominium building or community living arrangement, there is most likely a Homeowner's Association (HOA) that you will need to deal with. These types of properties can end up being bad deals for many people because of the fact that even though you own the property, you are still bound to a certain set of rules and guidelines that have been established and agreed upon by the Association. These rules can govern whether or not you can have satellite tv, how your front lawn must be designed, what color you can paint your house, and much more.
If you are leaning toward one of these property types, make sure you get a copy of the HOA's Rules and Regulations for homeowners before you go any further and that you can live with all of their requirements and restrictions. Also, there is usually a homeowner's fee or dues that must be paid each month to live in one of these types of communities. Make sure you factor in these costs as well into your monthly payment calculations.
Thoroughly vet the home
So you've found the perfect house and you're ready to make an offer. Wait! There are still so many things that should be done before you even get to the bargaining table.
Have a CMA done
A Comparative Market Analysis is a handy report that you can get from your real estate agent or sometimes even on-line. This report will give you an estimate of the value of the home you are looking to purchase. Sometimes these reports can be very detailed, offering invaluable information on the property including other active listings in the area, properties that are currently in the process of being sold and homes that have recently sold. This information will help you better decide what you feel is a fair market price for the property you have your eye on.
Learn everything you possibly can about the property
You have to do your homework to learn everything you possibly can about the house you are ready to make your new home. If you own a home, you can't just pick up and move to a new one if something isn't perfect like you can when you rent. For this reason, it is important to learn everything you can about the history of that home.
You can gather a lot of information from the internet, but it is also a good idea to go to the town hall and do a little digging. Find out if there have been any recent improvements to the property, how long ago it was inspected, and whether or not it is in a flood zone or other area that could be impacted by weather.
Ask around the neighborhood
Start knocking on the doors of your potential neighbors and introduce yourself. Find out if there is any information that they have on the property that you might not be able to find anywhere else. Plus, it will give you a chance to meet the people you may soon be living next door to.
Get the property inspected
If you are ready to make one of the biggest commitments in your life by buying a home, you had better believe it is imperative that you get a thorough inspection done on that property before you move any further. A property inspection can reveal all sorts of problems that you would not have been able to see otherwise. This is especially true for homes that were built decades ago. Additionally, a property inspection can also give you a good idea of what maintenance issues may soon be popping up for you. Some of the things that need to be looked at include:
The roof: How long ago was it replaced? Is there current damage? How long will it last in its current condition?
Health-related issues: Is there any asbestos in the home? Lead-based paint? Excessive moisture that could cause mold?
The wiring/electrical: Is it outdated? Are there any fire dangers/issues that need to be addressed?
Plumbing: Are there any leaks? How old is the plumbing system? Have there been any updates to any of the fixtures?
Structure: Is the structure itself sound or are there issues? Is there sagging or drooping? How old is the home? Is there dry rot or other structural issues to be concerned about? What about the foundation? Are there signs of termites or other insects
Heating/Cooling: Is the heating system in good working order? Does it need servicing? How long since it was installed?
Perform necessary specialized inspections:You may need to have additional inspections conducted on the home such as:

Geological inspection: Important if your home is located on a hillside or near one. The conditions will be checked for hazards such as landslide risks and drainage problems.
Chimney inspection: An inspection by a Certified Chimney Sweep technician who can ensure there are no problems with infestations, carbon monoxide, or fire risks.
Roof inspection: A roof inspection is important if the roof is 20 to 25 years old or older and shows any visual signs of damage.
Pest inspection: You may need or want this if you live in an area where infestations are common.
Radon inspection: Radon increases the risk of lung cancer and is found at elevated levels in one of every 15 homes in the U.S. You can perform an inspection yourself or hire a professional through your state radon office.
Performing your due diligence will ensure that you are investing in a home that will not end up presenting you with large surprise expenses.
Stage 3: Buying the home
Make an initial offer
You've found the house, you've had it inspected, you've got the down payment and you're pre-approved for a loan. Now what? Make an offer!
If you have followed all the steps in this guide so far, then you are already armed with enough information to be able to start the negotiation process. You know the recent real estate market trends in the area, you know what the property is worth, and you know what the asking price is.
The first thing you should establish is the absolute highest price you are willing to pay. Do not go over that amount no matter what happens. Another thing to look at is how hot the real estate market is in that area at the time. Is there a lot of other interest in the home? If so, you may need to come in fairly close to the asking price when you make your initial offer.
Negotiate
Once you have submitted your initial offer, the negotiating process will begin. The owner can either flat out deny your offer and you can start over again, or they make come back with a counter-offer. This is where having a real estate agent working on your behalf can really come in handy. The negotiation process can be very lengthy, at times lasting for weeks, and it is nice to have someone else deal with all the details for you while trying to get you the lowest price possible on the home. Be patient during this process.
Another thing to consider when negotiating the final sales price is to incorporate other things into the terms of the negotiation. For example, if the seller refuses to drop below $300,000.00 and you didn't want to pay a dime over $295,000.00, you could re-submit an offer meeting them at the $300,000.00 with the stipulation that the current owner sells all of the homes furnishings along with the home. This could be a win-win for both parties, freeing up the current owner from having to pack all their furniture and they get their asking price, plus it saves you probably at least the $5,000.00 difference in not having to go out and buy all new furniture for your new home.
The closing process
You've finally reached an agreement with the seller on the price of your new home, your bank is all set with making the appropriate transfer of funds to the owner, and you are getting ready to pack your bags. Not just yet – you've still got the closing period to get through! This can typically last between 40-50 days.
Once your sales terms have been accepted by the owner, the countdown to closing begins. It may seem like you are finally at the end of this long, hard journey, but in fact, you are still quite a ways away from being able to call the property your new home sweet home. You will need to find a settlement agent to help you through the closing process and help you with all the legal paperwork and necessary items that remain to be done.
Inspection and re-negotiation
First, you will need to have that thorough property inspection done if you chose to skip over that step earlier. If there are any problems discovered during this inspection, then you can use this time to add in some special terms to the agreement. For example, if it is discovered that the roof is leaky and will not make it through another tough winter, you can renegotiate with the owner to either lower the selling price, agree on a time frame that the repairs be made and split the costs, or have the current owner pay for the entire cost of the repairs before you agree to buy the home.
Financing the mortgage
After you were pre-approved for a loan by the lender of your choice, you have hopefully kept in touch with them to let them know where you are throughout this process. That way, when it is time to close the deal, they are ready to go without any major delay. Having all your necessary documents (pay stubs, savings accounts/401(k) records, taxes, etc.) up to date and ready to provide the lender will also help keep the ball moving.
Make sure you lock in the best interest rate available and get any special loan terms and points in writing upfront so that there won't be any problems later.
Review all the documents carefully
You will soon be receiving a ton of paperwork that you will need to review carefully. This paperwork will include inspection details, title information, and insurance exclusions, sales terms and agreements, and more. While going through each and every page may not be your idea of a good time, it is definitely time spent well. Consider the seriousness of this investment and how one little thing being off can turn the entire situation of buying a home of your dreams into a nightmare of a deal.
This process can be lengthy and daunting, but it is important that you understand and agree to everything you are about to sign. If you have any questions at all about anything you find in those documents, make sure you ask the appropriate person and get an answer that satisfies your needs before you sign on the dotted line.
This is also the time where any problems with the prior ownership of the home will usually come to light. For example, the owner may have failed to pay property taxes for one or more years, or there may be a lien on the property itself. Make sure you know exactly how any of these situations will affect the sale, and more importantly how they will impact you and your ability to buy the home.
Signing on the dotted line(s)
Once you have completed all the inspections, reviewing all the documents and terms of the sale, and agree on all loan terms with you lender, there's really nothing left to do other than sign on the dotted line. Once every single document has been signed, you have finally completed the escrow process and can now call this new piece of property your own home sweet home.
Congratulations!
Frequently asked questions about how to buy a house:
What credit score do I need to buy a house?
In most cases, you will need a credit score of at least 620. However, there are some exceptions to this rule.
How much do I need to put down on a house in 2020?
You no longer need to put down 20% when buying a home. In fact, the median down payment for first-time homebuyers in 2019 was just 6%. There are many programs in place today that can help you get into a home without a huge price tag.
What debt-to-income ratio do I need in 2020?
Each loan program has its own requirement for debt-to-income. For example, conventional loans often require 43% or less, VA loans require 41% or less, and FHA and USDA loans often require 43% or less. Staying at or under 35% is usually a good general rule of thumb.
Is there a difference between being pre-qualified and pre-approved for a home loan?
You bet there is! When you are pre-qualified for a loan, that simply tells the realtor that you are serious about buying a home. But the pre-approval process is much more thorough and once you become pre-approved the realtor will know that you are not only serious about buying a home but also financially ready. The pre-approval process will also help you find out exactly what options there are for you in terms of financing.
How to buy a house: Get started today
You're now one step closer to making your dream of homeownership a reality. Just follow the steps above to make sure you stay on the right path.
What's more, SuperMoney has made comparison shopping easy. Get ahead of the game by comparing mortgage lenders side-by-side now.
By doing so, you can be confident that you'll end up in the right home with the right financing when all is said and done.