Summary
Tequila has become such a high-end and luxury good that it is also now considered an investable asset. The highest grades and most expensive bottles of tequila range in price from a few thousand dollars to hundreds of thousands of dollars, with one diamond-studded bottle even fetching millions. The prices of the most expensive tequilas correlate to differences in the agave cactus they're made from, barrel aging, and bottling.
Making a unique product, marketing it well, and constricting its supply can lead to it being coveted by many and eventually becoming an investable asset. You might be familiar with the rise of wine as a popular alternative asset class. Just as stocks are listed on an index, such as NASDAQ and the New York Stock Exchange, so are investment-grade wines. In fact, the index for the top 100 investment-grade wine brands, called the Liv-100, will often perform better than NASDAQ or NYSE benchmarks. As wine has risen as an asset class, other luxury spirits have also emerged. One of them is tequila, and it is among the fastest-growing and most interesting alcoholic products for potential investment.
What makes tequila so valuable?
High-end tequilas that one would also consider investment-quality tequila will typically start in the thousands of dollars. These qualities contribute to the price:
Type of agave. The distilleries will use different types of agave cactus, which is the main ingredient in tequila. The better and more exotic the agave and its cultivation process, the higher the price will be.
Barrel aging. Distilleries will also have different aging and time processes for each bottle they produce. The most expensive tequilas need years just to produce one bottle. They are aged in different types of barrels, such as well-seasoned sherry barrels or cognac casks. Aging a tequila properly can have a significant effect on its smoothness and taste.
High-end bottles. The bottling of the tequila can also be astounding, with some high-quality tequila bottles crafted from gold or platinum. These expensive tequilas, in many cases, have extremely limited availability and thus are considered fertile ground as an investible spirit asset class.
The 10 most expensive tequilas
These tequilas can bring in a huge amount of money if you're lucky enough to get your hands on one.
Tequila Ley 1925 Diamante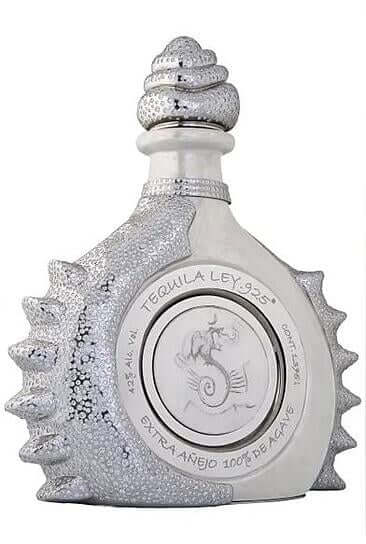 Price: $3,500,000
The Guinness Book of World Records record-holder for the most expensive tequila, the Ley Tequila 1925 Diamante, is an absolute wonder to behold. At first glance, you might be stunned to realize that this isn't a prop from "Game of Thrones." The bottle is made from five pounds of pure platinum and skillfully encrusted with 4,100 white diamonds. The tequila is made from blue agave and barrel-aged for seven years before it hits the bottle. The craftsmanship is so detailed that the bottle itself took 10 months to make. Its rarity and fame make it among the more surefire of the investment-grade tequilas.
Tequila Ley Ultra-Premium
Price: $225,000
Ley Tequila offers a more affordable (but still crazy-high) entry point into the market with its Ultra-Premium brand. The agave is the same as the agave used in the 1925 Diamante but aged for six years rather than seven. The bottle is not the out-of-this-world luxury that would make Louis the 14th tremble with desire. But it is made of a combination of platinum and white gold. Both Ley tequilas are made by the Hacienda La Capilla distillery in Jalisco, Mexico.
Clase Azul 15th Anniversary Edition
Price: $30,000
Launched in 1997 by founder Arturo Lomeli, Clase Azul is an outstanding specimen of tequila. Although Clase Azul 15th Anniversary Edition doesn't use quite the same level of bling in its bottle as Tequila Ley does, the ceramic bottle is studded with amber and 24-karat gold.
Dos Armadillos "Sterling Silver" Tequila Extra Añejo
Price: $10,000
Dos Armadillos is twice distilled and uses an eight-year-old agave cactus as a base. The tequila is aged in oak barrels for a full 58 months before making its way into a bottle on a store display. The bottle is made of handcrafted crystal with burnished clay and then mounted with 950 sterling silver armor using the "lost wax" technique. It's known to have a very smooth taste which is attributed to its uniquely aged agave.
Pro Tip
There are five levels of tequila which are based on the time it takes to age: blanco, joven, reposado, añejo, or super añejo. Blanco tequila, for example, is not aged at all, whereas añejo tequilas and super añejo tequilas are aged significantly and are more rare.
Clase Azul Puebla Limited Edition Tequila
Price: $8,875
Clase Azul is a growing and popular distillery for high-end tequilas. Although this one is a step down from the famed $30,000 15th anniversary bottle, the Puebla Limited Edition is nothing to sneeze at. Only 300 bottles of this aged tequila were produced, so it is among the rarest tequila bottles to get your hands on. The bottle has an outstanding design and would fit perfectly in the bedroom of a medieval prince.
Patrón Limited Edition En Lalique Serie 2 Tequila Extra Añejo
Price: $8,366
Many people are familiar with Patron not only for its popularity as a standard high-end tequila but in the unique sphere-like structure that sits at the top of the bottle. Patron's Limited Edition En Lalique Serie 2 is the most expensive tequila that Patron currently offers. The visibility of the Patron brand as a standard in tequila means that there will always be name recognition with this tequila.
Patrón Limited Edition En Lalique Serie 1 Tequila Extra Añejo
Price: $7,174
Tasting notes on Patron's Serie 1 Limited Edition en Lalique bottle include caramel, honey, dried fruit, and nuts. The "En Lalique" aspect of the title for both Serie 1 and Serie 2 is related to Patron's partnership with Lalique. Lalique designers are considered the "masters of French crystal, and the bottle design reflects their mastery." The crystal decanter contains some of the oldest and rarest blends of Patron tequila.
Codigo 1530 French Cognac Casks 13-Year-Old Tequila Extra Añejo
Price: $3,416
Codigo 1530 French Cognac Casks 13-Year-Old Tequila Extra Añejo is aged in two different sets of barrels. First, it is aged for a full 13 years in French oak wine barrels. Then, it spends an additional six months in French cognac casks, hence the name. The tequila is considered a limited edition, with only 350 bottles produced.
Asombroso "The Collaboration" Tequila Añejo
Price: $1,175
"The Collaboration" is a collaboration between the Asombroso tequila distillery and Silver Oak Cellars American oak cabernet sauvignon casks. The Silver Oak cask barrels give the añejo tequila an outstanding finish. The bottle comes in a crystal decanter, but the outside packaging holding the bottle is also one of a kind. It is set in a polished humidor sitting on a laser-engraved custom pedestal.
Asombroso 11-Year-Old Limited Edition "del Porto" Tequila Añejo
Price: $1,171
The Asombroso 11-Year-Old Limited Edition "Del Porto" is aged in French oak barrels for 11 years before this luxury tequila enters the bottle. The tequila is derived from a mature, nine-year-old agave plant and has sweet notes of butterscotch and caramel that contribute to its taste.
Why is expensive tequila a good investment?
It's one thing to buy a nice bottle of tequila to drink. Why buy one as an investment?
Popularity and demand
Tequila used to be known as a drink associated with college students partying in Mexico. However, in recent years it has become more and more associated with high-end drinking and celebrity culture. George Clooney and Kendall Jenner have both been in the news for their respective tequila companies offering high-end products.
Controlled cultivation and supply
One of the features of the most successful spirit investments is that they are limited in supply. A distillery will only make a certain number of bottles of a given spirit in a certain year. This limits the supply of the product (asset) and thus will increase the price as popularity and demand increase.
Alternative asset
Tequila is a great alternative asset that is also not directly tied to the market. Alternative assets that aren't tied to stock market performance have become increasingly important for those that want to diversify their investments. Rare collectibles, from Lego sets and Pokemon cards to fancy pens and coins, can dramatically increase in value over time.
Refine your investment strategy
If you're trying to find out if any alternative investment strategies should coincide with your overall retirement planning, you might want to seek help from one of these investment advisors.
FAQ
What is the world's best tequila?
The world's "best" tequila is in the eye of the beholder, or taster, if you will. There are very good tequilas aged in sherry barrels or oak casks and tequilas that use rare mature agaves. The most expensive tequila, however, is the 1925 Diamante bottle by Tequila Ley.
What's a top-shelf tequila?
Top-shelf tequila is considered high-end tequila that would be found on the top shelf of the bar next to the other high-quality spirits and liquors. This runs contrary to "bottom shelf" or "well" drinks, which indicate a lower price and quality. A good example is El Tesoro Añejo, which runs about $60 a bottle.
What is the #1 tequila?
In terms of market volume, Jose Cuervo is the No. 1 tequila brand by market share, followed by Patron. You can look at the award winners at the San Francisco World Spirits Competition to find an award-winning tequila, such as Tequila Cabal Resposado.
How much is a Tesla tequila bottle?
A Tesla tequila bottle can range in price depending on which bottle you buy but expect to pay $250-$3,000.
What is high-end tequila called?
High-end tequila is referred to as añejo tequila. If you like to sip tequila straight, you will probably want to find an añejo tequila that has been aged for at least a year.
What are the four levels of tequila?
There are actually five levels of tequila, defined by their aging process. They are tequila blanco (unaged), tequila joven (a blend of aged and unaged), tequila reposado (aged at least 2 months), tequila añejo (aged at least one year), and tequila extra añejo (aged at least three years).
What tequila is 100% tequila?
There are several brands of 100% agave tequila that include Don Julio, Teremana, and El Jimador, among others.
Key takeaways
Tequila's supply-and-demand metrics, coupled with its attractiveness as an alternative asset, have led many to peg it as an investible spirit like wine.
The most expensive bottle of tequila ever recorded is the Tequila Ley 1925 Diamante, which broke the Guinness World Book of Records by selling for an astounding $3.5 million.
Many of the most expensive tequila bottles are limited editions, meaning a limited amount of bottles were produced.
Tequilas are labeled based on their aging process as blanco (unaged), joven (a blend of aged and unaged), reposado (aged at least 2 months), añejo (aged at least one year), and extra añejo (aged at least three years).