Finding the right auto loan isn't easy. But with Santander auto loans, you'll have the opportunity to see what kind of rates you might qualify for without a hard pull on your credit history.
The main drawback is that Santander auto loans aren't available anywhere. Read on to learn more about the Santander auto loan program and whether or not it's a good fit for you.
About Santander Consumer USA
Santander Bank is a subsidiary of Santander Group, a Spanish banking group. Originally founded in 1902 as Sovereign Bank, Santander Bank changed its name in 2013 after being acquired by its new parent company.
Santander Consumer USA is Santander Bank's lending arm, which has about 650 branches and 2,000 ATMs nationwide.
Santander auto loans
If you're looking for a new car but want to get the financial stuff out of the way first, Santander's online application can help relieve some stress while you're at the car dealership.
You can borrow anywhere between $5,000 and $75,000, and you can get up to 100% of the value of the vehicle. "With that kind of financing option, you might not need a down payment"
You can borrow anywhere between $5,000 and $75,000, and you can get up to 100% of the value of the vehicle. "With that kind of financing option, you might not need a down payment," says Jeff Becker, a financial advisor, and car enthusiast.
Although that's a great perk, "you'll usually get a better interest rate if you put some money down," Becker adds. You can also refinance an existing car loan, which is only worthwhile if you can get a lower interest rate on the refinanced loan.
You can choose terms up to 72 months. However, only brand new vehicles from the last two years with 5,000 or fewer miles qualify for the longest term. There's also no way to get the lowest interest rates Santander offers by picking a 72-month repayment term.
Santander auto loans interest rates and fees
There's no way to know for sure what your interest rate will be until after you complete and submit your application. However, Santander's pre-qualification process allows you to review the initial interest rate offers before you commit.
The lender's interest rates are competitive. Santander provides a 0.25% discount when you do automatic payments from your Santander checking account.
Check out our Santander auto loan review page to see the latest interest rates.
The lender doesn't list any fees on its website. However, some SuperMoney reviewers have noted that some extra fees had been added in that they weren't aware of at first.
So, make sure you understand the loan's fee schedule before you sign anything.
Santander's eligibility criteria
Santander's auto loans are somewhat limited to its geographical footprint. You can only get a loan if you live in one of the following states:
Delaware
District of Columbia
Maryland
Maine
Massachusetts
New Hampshire
Connecticut
New Jersey
New York
Pennsylvania
Rhode Island
Vermont
You also need to either already have a Santander checking account or be willing to open one and set up automatic payments through that account. If you end up switching your autopay to a different account, your interest rate will increase by 0.25%.
The lender doesn't publicly list any other eligibility requirements.
How to apply for a Santander loan
1) Begin by clicking here to get to the lender's auto loans page. From there, you'll click the "Products" drop-down menu and choose your loan type. For simplicity's sake, we'll choose the new car loan.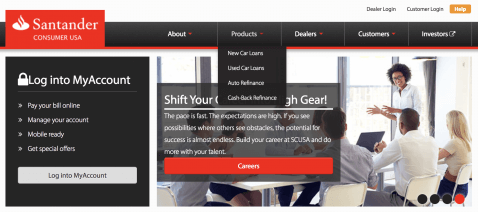 2) Once you click on "Apply for a New Car Today" button, you'll be directed to RoadLoans.com to fill out your application. You'll then fill out your personal information and apply.
3) Once you get an approval response, you'll be able to use that information at the dealership to negotiate a better interest rate, if there is one.
Should you get an auto loan from Santander?
Getting an auto loan online is a great way to have some leverage when you walk into the dealership. But while Santander offers competitive interest rates, its auto loans are only available in 12 states. This makes it a difficult sell, especially if you move away from a Santander branch.
That said, though, the lender's 100% financing option is a nice perk if you don't have the cash to put any money down.
"As with any loan, it's important to shop around to get the best deal," says Becker. "That way, you can weed out the low-ball offers."
Check out other top auto lenders to see what kind of interest rates and features they offer.
If you want to pre-qualify with each of them, SuperMoney's auto loan offer engine makes it easy to get pre-qualified with many lenders at once. You can compare each one to determine which is best for you.
Ben Luthi is a personal finance writer and a credit cards expert who loves helping consumers and business owners make better financial decisions. His work has been featured in Time, MarketWatch, Yahoo! Finance, U.S. News & World Report, CNBC, Success Magazine, USA Today, The Huffington Post and many more.