Do you dream of the wind in your hair and the exhilaration of being the captain of your own boat?
If you live for Saturday afternoons out on your watercraft, you may want to consider getting boat insurance. Even if you're not concerned about damage or theft to your boat, you may still face other potential risks.
So if you're unsure whether or not to get boat insurance, here are a few things you need to know to help you decide.
Is it mandatory to have insurance on a boat?
If you're wondering, "Do you have to have insurance on a boat?", the simple answer is no. The majority of states do not require you to carry boat insurance. You may assume that you need it in cities surrounded by water. However, only a few states require proof of insurance.
The chart below lists each state and their boat insurance requirements.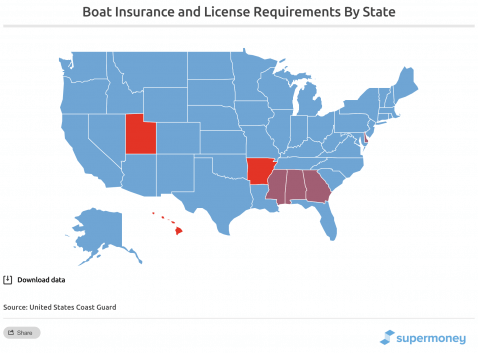 Yes, just Arkansas, Hawaii, and Utah require you to have a boat insurance policy. But what about a license?
 Which states require a boat license?
According to the United States Coast Guard and the U.S. Department of Homeland Security, the second most common boating accident is due to inexperience. This has led to 480 boating accidents in 2016 alone.
Boating is far less regulated than operating a motor vehicle such as a car. Only a handful of states require you to have an actual boating license, including:
Alabama
Delaware
Georgia
Mississippi
However, even though most states don't require a license, they may still have other requirements.
Brad Goldberry, Agency Producer with Farmers Insurance says, "State licensing differs from state to state, but many states require some kind of personal boating license or course."
Before you head out on the water, make sure you review your state's requirements. It's always better to be safe than sorry.
When is proof of insurance required?
Even though most states don't legally require you to carry boat insurance, other situations may require proof of insurance for your watercraft.
Docking your boat at a marina
If you plan on docking your boat at a marina, many will require you to show proof of insurance before signing the contract. That being so, make sure to read the fine print and understand the requirements before proceeding with any contractual agreement.
For example, marinas such as the Charleston City Marina in South Carolina and the Kemah Boardwalk Marina in Kemah, Texas require docked boats to have liability insurance of at least $300,000.
Marinas like Brickyard Cove in Pt. Richmond, CA require an endorsement on your policy as "additional interest" or "additional insured" to avoid claims of negligence.
Harbors will carry their own liability insurance so they can protect claims where they may be at fault.
Financing your boat purchase
If you have financed your boat, your bank may require you to carry boat insurance. If the bank is using the boat as collateral for the loan, they will require you to list them as payee for loss or damage of the boat.
Unlike home and auto coverage, some policies don't require you to carry year-round coverage. But if you have financed your boat, your lender will most likely ask you to carry coverage even when the boat is stored. Your vessel may still be exposed to risks, such as theft and storm damage, while in storage.
What does boat insurance include?
When you purchase boat insurance, standard insurance will typically cover the following:
Bodily injury: If someone gets injured while on your boat, this will help cover legal and medical bills associated with the accident.
Property damage: This coverage will protect you if you are at fault in an accident that caused damage to another boat or property.
Collision: If you're in an accident, this will pay for the cost of repairing or replacing your boat. This coverage is usually optional – however, a lender may require you to purchase it if you're leasing.
Comprehensive: This coverage will pay for repair costs if your boat gets damaged from something other than a collision – this includes floods, storms, fire, theft, and vandalism.
Uninsured/underinsured motorists: If an uninsured or underinsured motorist causes damage to you or your boat, this coverage will help protect you.
Medical payment coverage: If you're involved in an accident, this coverage will pay for the medical costs regardless of who is at fault. Some policies will even cover funeral expenses.
There are also additional options you can add to your coverage, such as:
Wreck removal: Covers the cost to remove your wrecked boat.
Fuel spill liability: This will pay for the cost of cleaning up a fuel spill.
Emergency service: This coverage pays for any emergency services needed for your boat – this includes on-water towing.
Temporary repairs: This will pay for any reasonable repairs you make to protect your property from further damage.
Boat rental reimbursement and liability: If your boat is being repaired, this will cover the cost of a rental boat and provide the appropriate liability insurance as well.
Ice/freeze coverage: This covers your boat if it's damaged due to freezing weather.
Fishing tournament reimbursement fee: If you paid for a fishing tournament but can't compete because of a covered loss, this will cover the cost of entry into the tournament.
Special fishing equipment: Covers the cost of specialized fishing equipment.
Keep in mind your insurance should cover all operators.
Goldberry states, "On most boat policies, all permitted license drivers would be covered by the boats insurance policy. That said, if your state requires licensing and the driver is not licensed or permitted to use the boat, there is a good chance that their policy would not cover the resulting damage or injuries."
Talk to your insurance provider and make sure you have all the appropriate options added to your plan for your specific situation and climate.
How much does boat insurance cost?
According to the Insurance Information Institute, some homeowner insurance policies cover damage on small boats or watercraft with less than 25 mph horsepower.
Be careful, though, because coverage tends to be low – sometimes only $1,000 or 10% of your home's value. Larger watercraft need to carry their own policies.
For example, Progressive starts their boat insurance at $100 a year depending on the value of the watercraft and additional coverage you need. They also offer discounts including:
Safe boater: You have no violations or accidents recorded for the last three years.
Pay in full: If you pay the entire year upfront.
Original owner: If you have been the only owner on your boat.
Homeowner policy: If you own a home, townhome, or condo (doesn't have to be insured by Progressive).
Multiple boats: You have more than one watercraft or boat to insure.
Safety course: Completed a state-approved boating course.
Some insurers place limitations and restrictions on the type of boats they will cover. Be sure to double check before moving forward with any policy or boat purchase.
The bottom line
Even if your state doesn't require boat insurance, accidents happen. So if you're passionate about cruising around on the water, you'll want to make sure you're protected before heading out to sea.
Compare insurance providers side-by-side and find the best plan for the coverage you need.
Ashley is a personal finance writer. In addition to being a contributing writer at SuperMoney, she writes for solo entrepreneurs as well as for Fortune 500 companies. When she's not calculating her net worth or reading the hot new finance book, you might find Ashley cage diving with great white sharks in South Africa.