Capital One is a bank holding company that specializes in mortgages, auto loans, credit cards, banking, and savings products. Capital One Auto Finance is a subsidiary of Capital One which provides auto loans for new and used vehicles and to refinance existing auto loans.
This review will dig into the company's auto financing offerings. Learn what is available, how the approval process works, the pros and cons, and other tidbits you'll want to know before signing up.

Capital One Auto Finance: Products and Eligibility
As mentioned, Capital One provides auto loans for the purchase of new and used vehicles, and to refinance existing loans. The application process will vary depending on which loan product you choose.
Many people ask "What about Capital One auto loan credit score requirements or Capital One auto loan income requirements?"
Here's what you need to know about eligibility.
Applicants must:
Be at least 18 years of age
Have a valid street address in the U.S.
Have an income of at least $1,500 or $1,800 per month (depending on your credit qualifications)
All an applicant's Capital One accounts must be in good standing (if applicable)
Note: Capital One has no specific credit score restrictions. It has an underwriting score system that looks at over 200 factors. 
Now, here's a closer look at the application process for the two loan products.

Capital One Auto Finance: New and Used Auto Loans
Auto Navigator
Potential borrowers can apply online for new and used auto loans using Capital One's Auto Navigator. Also, Auto Navigator pre-qualifies applicants using a soft credit inquiry, which doesn't impact your credit score.
When approved, applicants receive an offer summary that includes their estimated monthly payment and annual percentage rate (APR). Consequently, applicants can then shop real cars and rates online from participating dealers nationwide.
Once they find a vehicle, an applicant can personalize their loan by adjusting the price, down payment, and loan term up or down. When satisfied with the loan, they can select the offer.
Auto Navigator vs. Blank Check Program
Many people ask about Capital One Auto Navigator vs. blank checks. Capital One's blank check program preceded the current Auto Navigator financing. With the former, you could get pre-approved and then would receive a blank check to take to an eligible dealer. With Auto Navigator, you work out all the car purchase details ahead of time online and receive an offer to take to the dealer.
A blank check is taken to the dealer to make a purchase after pre-approval. Auto Navigator works within a network and is more specific about which dealers buyers can go to and how much they can borrow. Also, it is all worked out online ahead of time.
Participating dealers
If an applicant wants to go ahead with the financing solution, they need to take the offer to a participating dealer within 30 days. The dealer will ask them to fill out a credit application. Consequently, this will result in a hard inquiry on their credit report. They may also ask for documents showing proof of income.
Once approved, the applicant will finalize the terms and sign the loan agreement with the dealer. Capital One has a Dealer Locator, which can be used to identify participating dealers in an applicant's local area.
Restrictions
There are limitations placed by Capital One on how much you can borrow and what type of vehicle it will finance. For example, loan amount restrictions can depend on the value of the specific vehicle you are purchasing as well as general minimum and maximum limits.
As for vehicle restrictions, Capital One only finances new or used cars, minivans, SUVs, and light trucks intended for personal use.
Other restrictions include:
Isuzu, Saab, Suzuki, Oldsmobile, or Daewoo vehicles
Commercial vehicles
Lease buyouts, lemons, branded titles, or vehicles without a vehicle identification number (VIN)
Vehicles older than 2005 (or 2007 in some situations)
You will have to ensure that the vehicle you want meets Capital One's criteria. If it does, you can apply online before heading into participating dealer's office.

Pros and Cons of Capital One Auto Finance
WEIGH THE PROS AND CONS
Compare the pros and cons to make a better decision.
Pros
Quickly and easily find out if you qualify online
Get competitive interest rates
Get pre qualified without hurting your credit score
Shop thousands of cars and see real rates
Personalize your financing online
Cons
Restricted to participating dealers
Many restrictions on vehicles you can finance
Loan amount restrictions may further limit the choice of vehicles
Here's how the application process works.

Capital One Auto Finance: How To Get Pre-Approval
1: Visit the auto financing page of the Capital One website and click "Finance a Car."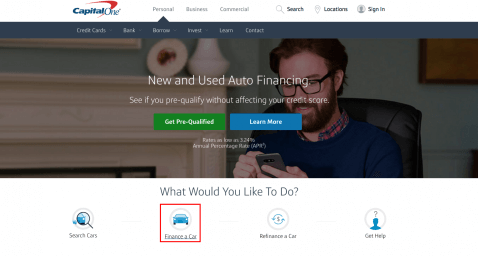 2: Check the eligibility requirements. Then, choose whether you are applying on your own or jointly.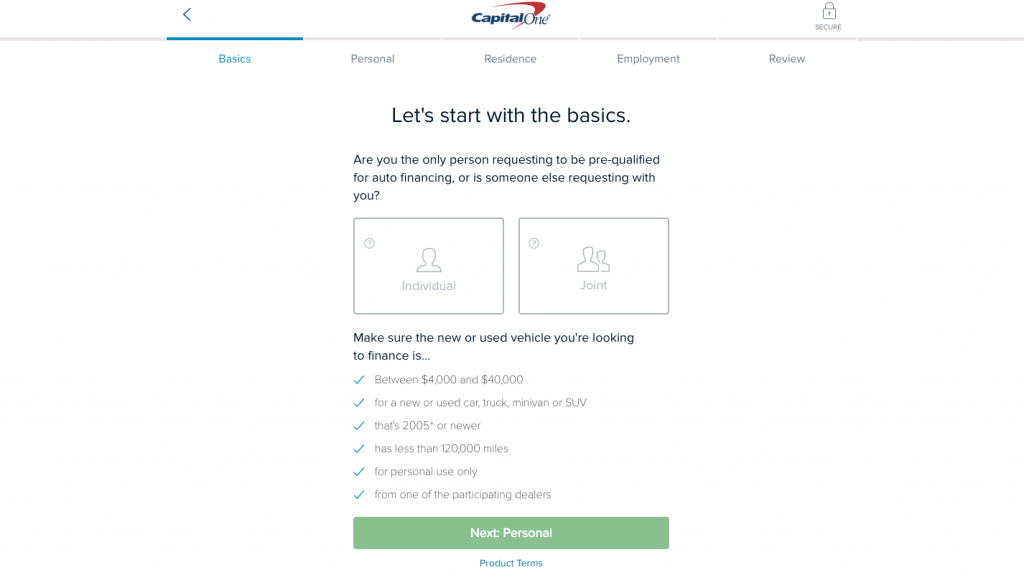 3: Provide your personal information.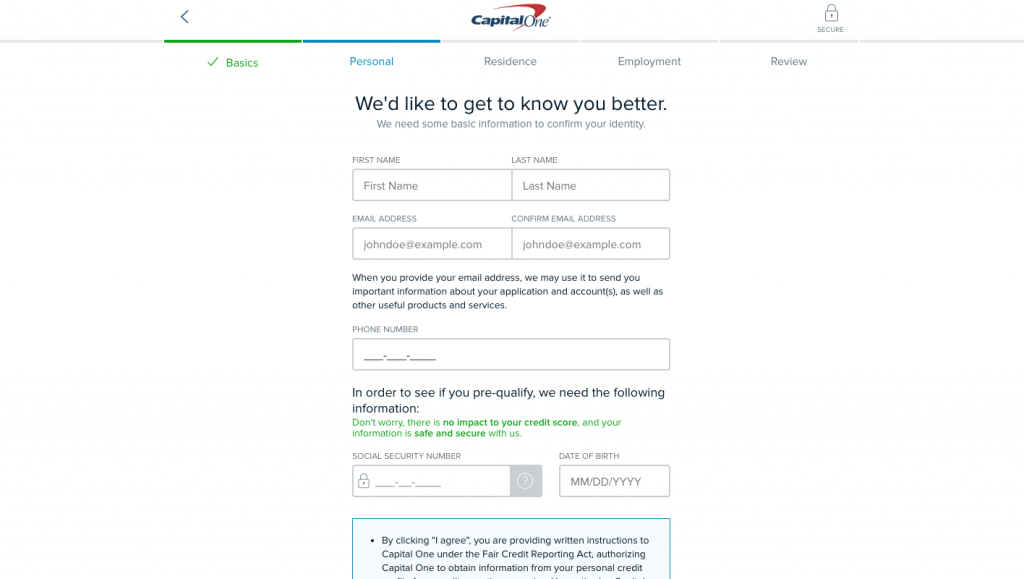 4: Provide information about where you live.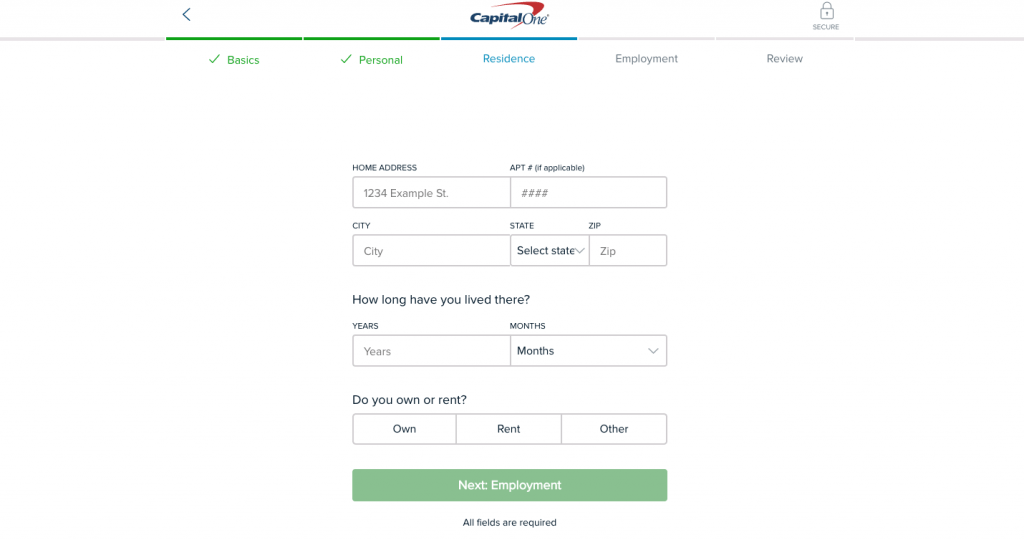 5: Share information about your employment.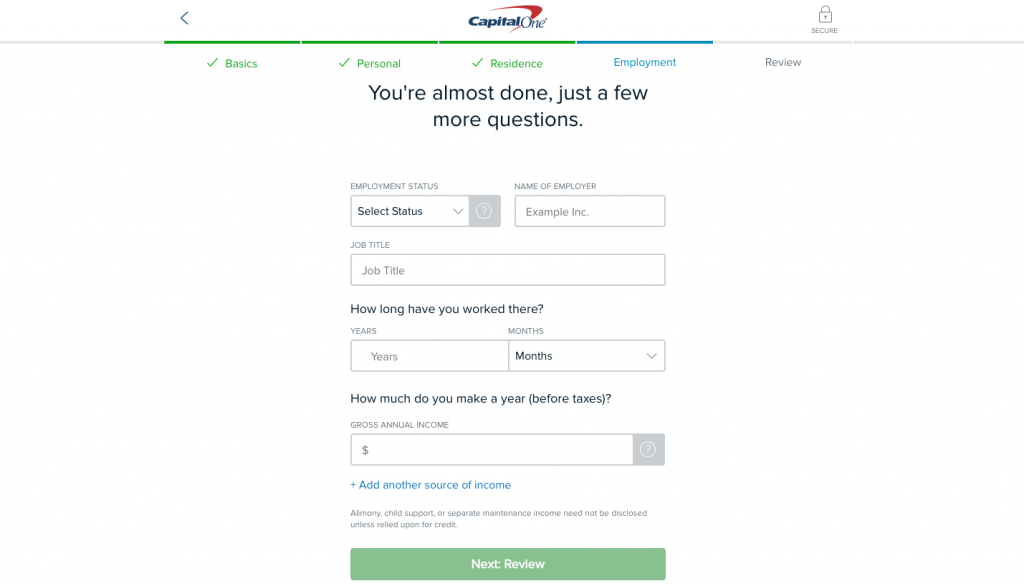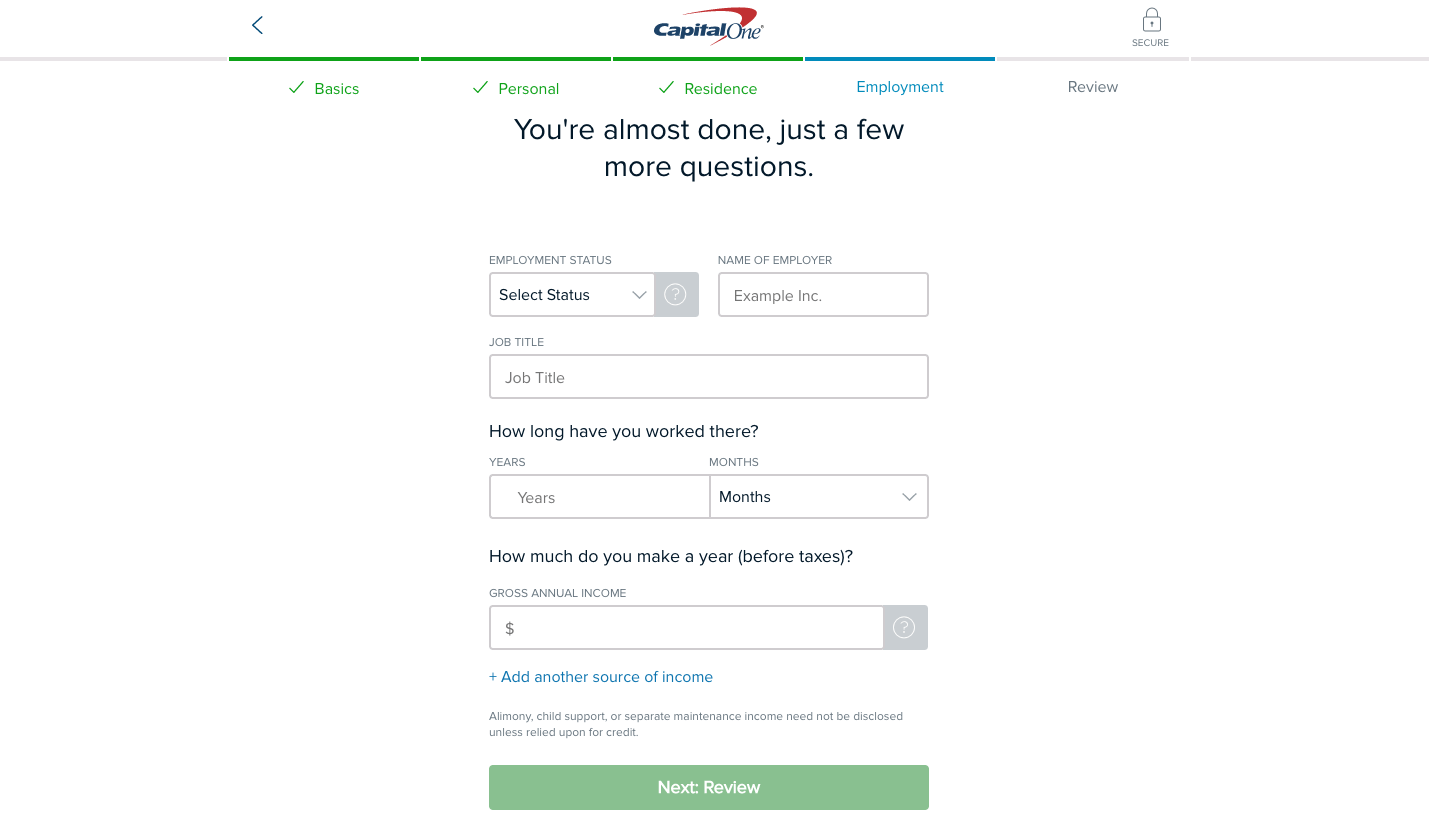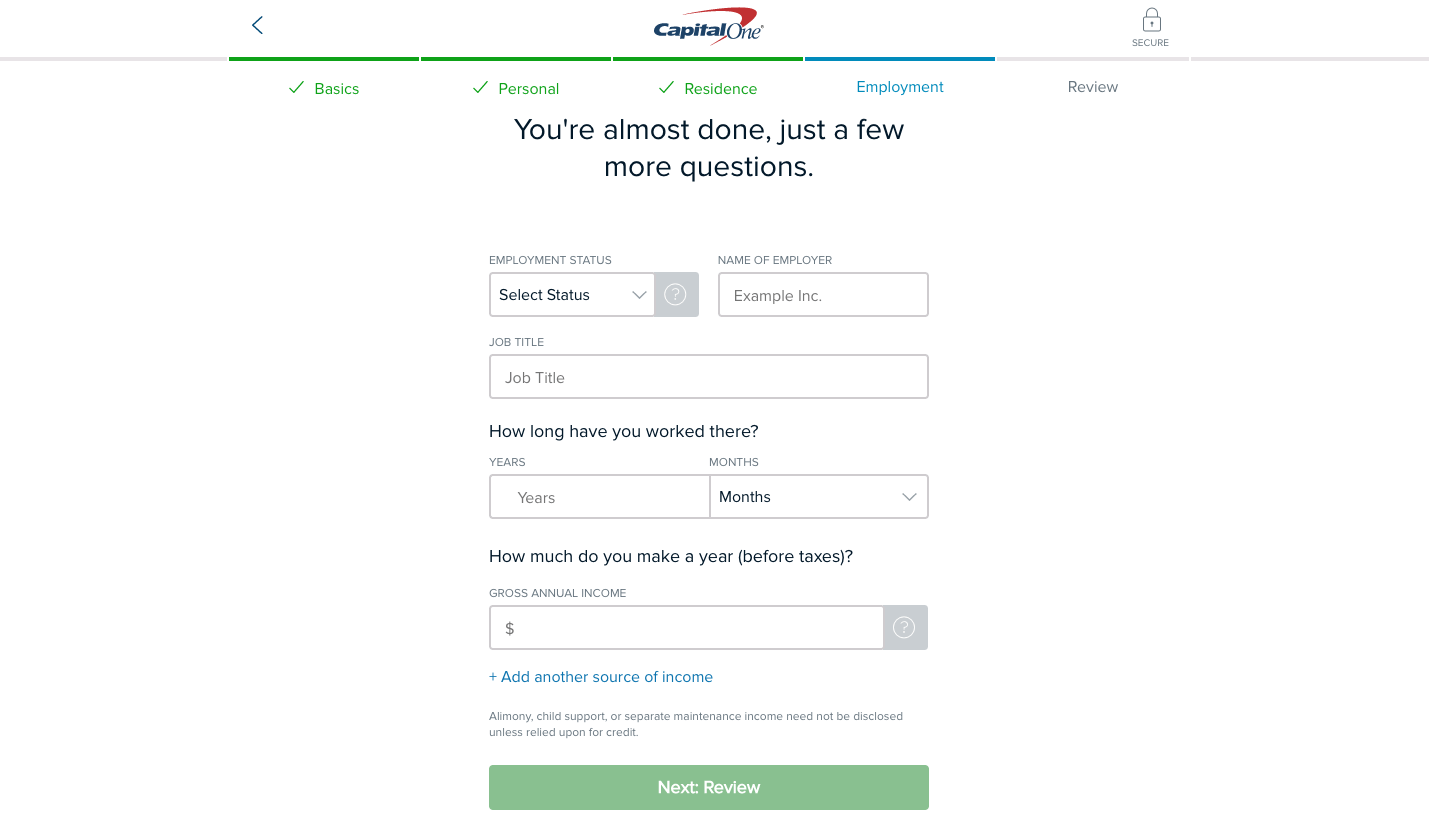 6: Verify all your information and get pre-qualified.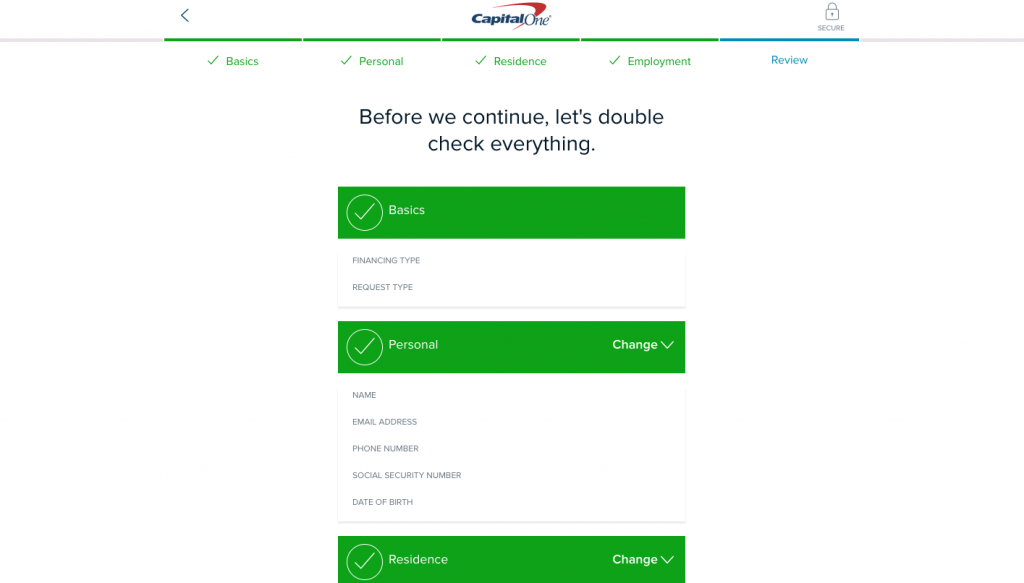 It's very straightforward and only takes a few minutes. Now, let's look at the ins and outs of refinancing an auto loan.

Capital One Auto Finance: Refinance an Auto Loan
Application process
When applying to refinance an auto loan with Capital One, you can complete the entire process online. Then, you'll first go to the website to get pre qualified. As a result, if you like the offer you receive, you'll undergo a hard inquiry for final approval.
Once approved, you'll need to provide your VIN and current lender information, sign your contract virtually, and provide any additional supporting documents requested.
Restrictions
To qualify, you must meet the following requirements:
Your current lender must be a financial institution that is FDIC or NCUA-insured
Your car can be no more than seven years old
The amount you owe must be between Capital One's minimum and maximum limits
Your current loan can't be with Capital One
You have to be current on your existing loan and mortgage (if applicable)
The same restrictions on vehicle type and personal use only apply as on the previous loan product
If you meet all of the requirements, you can go ahead and apply online.

Pros and Cons of Refinancing with Capital One Auto Finance
WEIGH THE PROS AND CONS
Compare the pros and cons to make a better decision.
Pros
Easy pre-qualification online that doesn't hurt your credit score
Competitive interest rates
Complete loan process online
Cons
You must meet many requirements to qualify
Restrictions on which car you can refinance
Capital One Auto Finance: Refinance Pre-Approval Process
1: Visit the auto finance page on the Capital One website and select "Refinance a Car."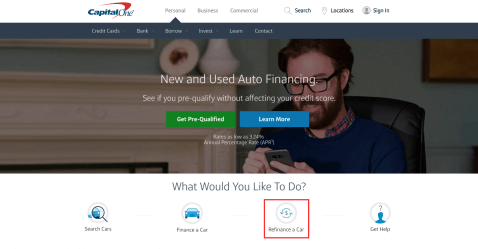 2: Click "See if I Prequalify."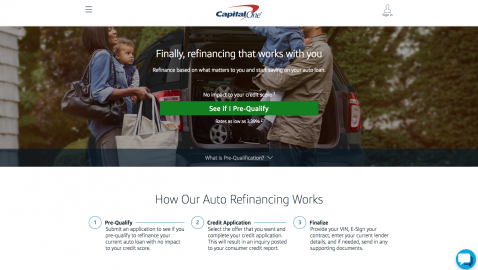 3: Ensure you meet the basic qualifications and click "Next."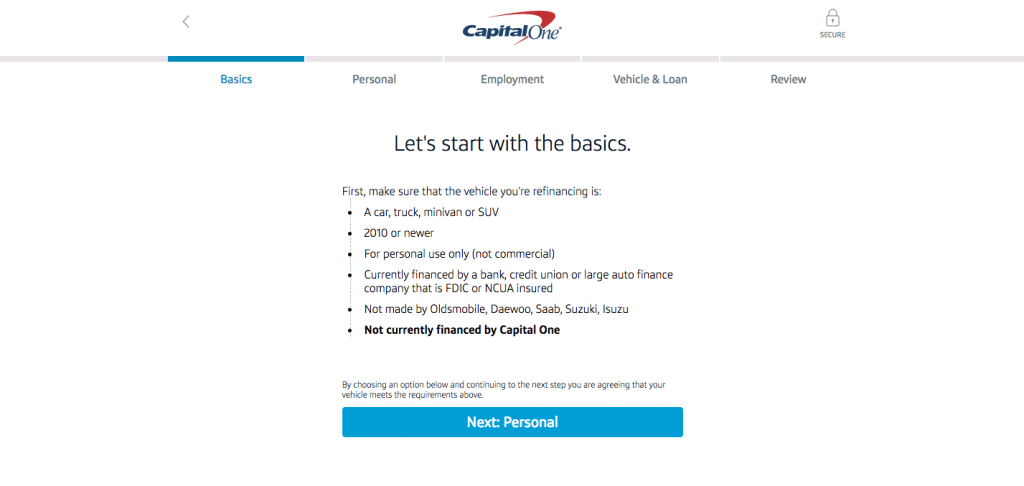 4: Provide personal information about who you are and where you live.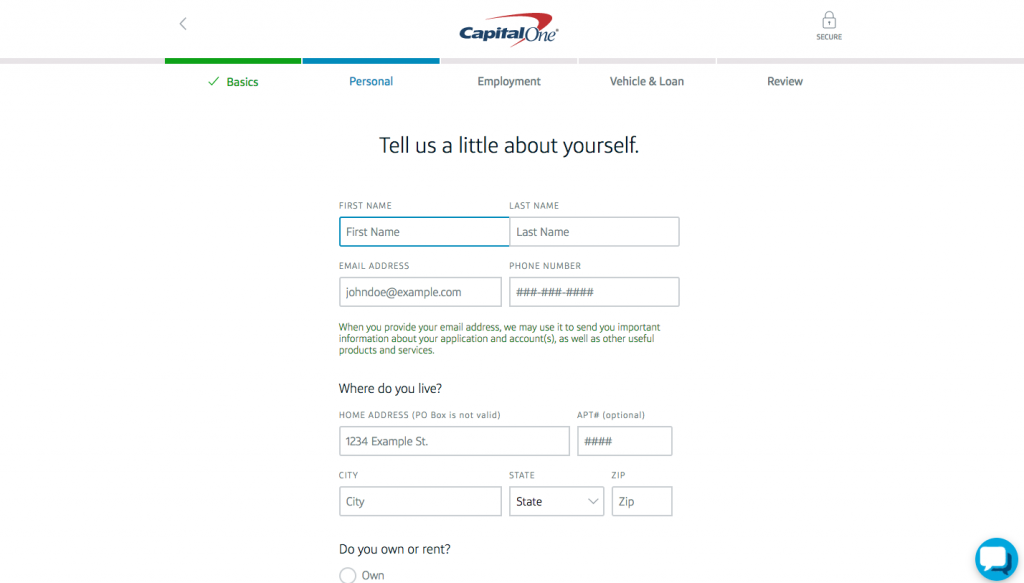 5: Provide information on where you work.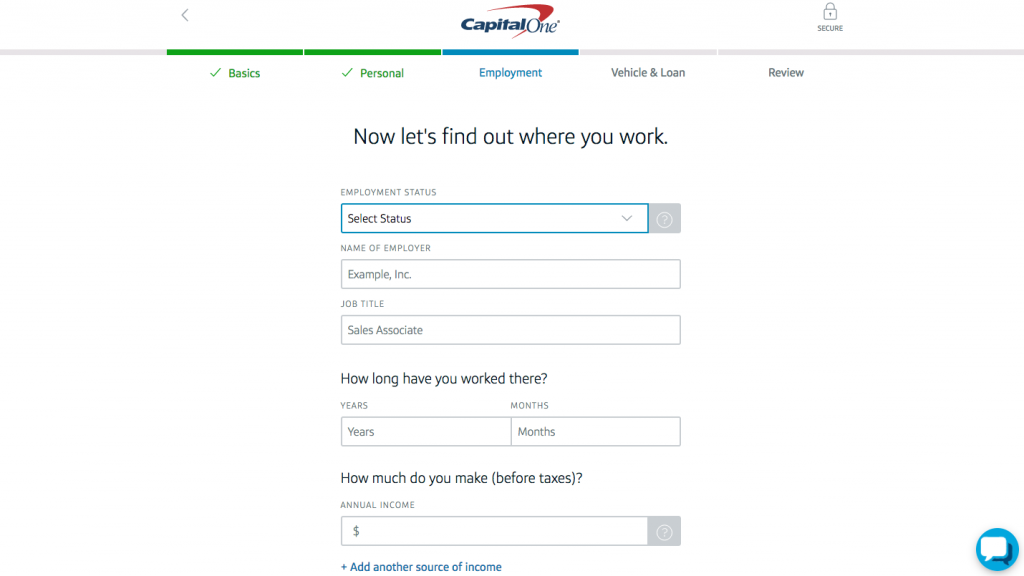 6: Provide information about your existing vehicle loan.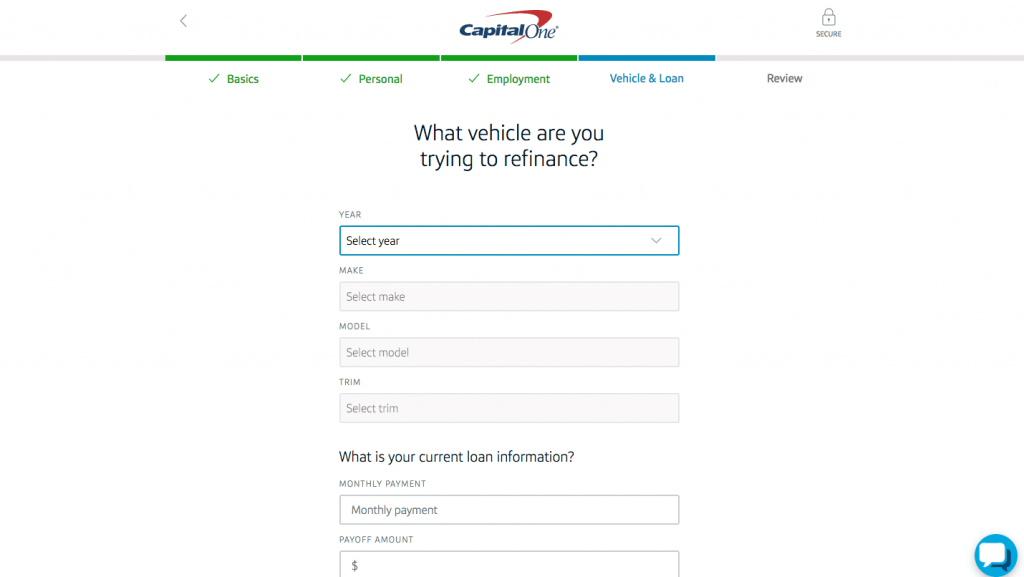 7: Review all of your information and get pre qualified.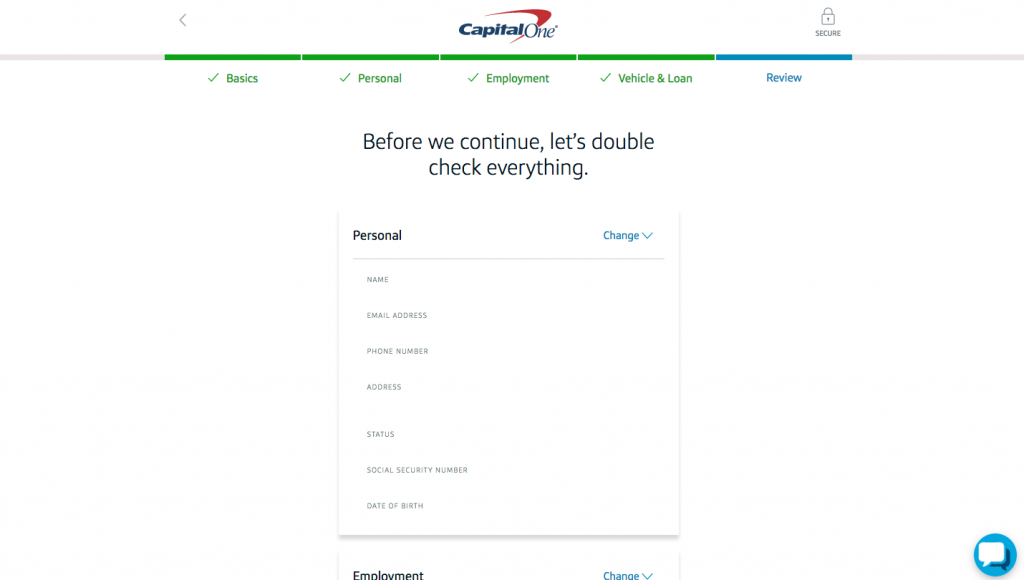 Capital One Auto Finance Pre-Approval Reviews
Richard Lowe says, "I bought a car using a Capital One auto loan in December. It went perfectly. I applied and was immediately approved for far more than I needed. I wanted to get the car from Hertz sales, and Capital's website gave me the address of one nearby. Their customer service was great, and the account management is merged into the same account with my Capital One credit card. The rates and terms are pretty standard. I was very happy with the experience."
The Verdict
Capital One is a well-known company that provides quality financial products, one of which are auto loans. The pros are that the company looks at a wide range of factors, not just your credit score, to determine your rates.
It also provides a streamlined process for getting pre-qualified online without hurting your credit score. With this, you can find out if you want to further pursue financing in just a few minutes.
The Auto Navigator system for purchasing a car can be helpful, as you can shop online and personalize your loan. If you find the car you want and it is across the country, you can have it shipped to a participating dealer near you, at an additional cost.
While the network can be restricting, it is vast and offers buyers a wide selection. The hand-off between the online approval and in-store processing by the dealer can present inherent challenges and confusion, but many customers find the process to be seamless. Capital One also encourages applicants to call in if they run into any problems.
Capital One Auto Finance FAQ
Does Capital One require full coverage insurance?
Lenders, including Capital One, will require you to carry full coverage insurance, however they usually do not specify deductibles as far as comp and collision.
What are the requirements for Capital One auto loan?
Before you get started on a car loan from Capital One, to be eligible you're required to:
Have a minimum monthly income of $1,500 or $1,800, depending on credit score

Have your existing Capital One accounts in good standing

Be at least 18 years old

Have a valid street address
How do Capital One auto loan rates work?
Capital One rates start at 3.99% APR for borrowers with excellent credit. However the rate you get can be affected by factors such as your credit score, credit history, debt-to-income ratio — as well as the type of car you choose.
What types of auto loans can I get through Capital One?
Capital One offers three common types of auto loans. New car loan, used car loan & refinance.
Is there any restrictions for Capital One auto finance?
Loans aren't available in Hawaii or Alaska. You can't use a Capital One Auto Finance loan to buy certain car brands or vehicle types, including Oldsmobile, Daewoo, Saab, Suzuki and Isuzu vehicles as well as commercial vehicles, motorcycles or RVs.
Will Capital One refinance for their own auto loan?
Capital One Auto Finance only refinances loans from other financial institutions, not including Capital One subsidiaries. They will only refinance standard auto loans with only one lienholder on the vehicle title. They do not refinance title loan or auto loans that have more than one lienholder on the title.
Can I pay off my Capital One auto loan early?
Yes, you can. Capital One Auto Finance does not charge a prepayment fee, so you can save money by paying your auto loan early.
Capital One Auto Finance Alternative
An alternative to Capital One Auto Finance is SuperMoney's auto loan offer engine, which allows you to get prequalified offers from multiple lenders without hurting your credit. If you do decide to try Capital One, make sure you check what rates you qualify for with SuperMoney's auto loan offer engine also. Wondering what other car buyers think about Capital One Auto Finance and other auto lenders? Check SuperMoney's unbiased auto loans reviews and consumer comments.
Deciding whether Capital One is right for you will come down to what rate you qualify for and how it compares to the competition. To apply and find out, click here.
Jessica Walrack is a personal finance writer at SuperMoney, The Simple Dollar, Interest.com, Commonbond, Bankrate, NextAdvisor, Guardian, Personalloans.org and many others. She specializes in taking personal finance topics like loans, credit cards, and budgeting, and making them accessible and fun.