Allstate is best known for its car insurance policies and hilarious "Mayhem" commercials, but this behemoth of a company offers much more than auto insurance coverage. Allstate also provides home insurance, life insurance, renters insurance, and investment products to more than 16 million households nationwide.
Why Choose Allstate?
There are so many insurance companies to choose from, finding the best one for you is a challenge. This in-depth review highlights the advantages and disadvantages of Allstate insurance. It also provides a guide to the key points you should focus on when selecting an insurance company.
The Short Version: Allstate Review
Allstate stands out from the crowd of insurance companies for its experience – it was founded in 1931 as part of Sears – and its financial stability – it had a $78 billion investment portfolio in 2015 (source). It does not always have the cheapest premiums, but its rates are competitive, and customers have access to agents at over 12,000 exclusive Allstate brick-and-mortar agencies spread through the United States.
You should consider Allstate if:
You are busy
Value working with a financially stable insurance company
Enjoy the convenience and peace of mind of dealing with an agent
Need special insurance features
Or you are a sucker for discounts
You should look elsewhere if:
Price is the only factor you care about
You prefer DIY insurance policies
You only need bare-bones coverage
Find out what rates you can get with one of the largest and most reliable insurance companies in the United States.
The Insurance Industry And Allstate
Americans spent $1.2 trillion in insurance premiums in 2015. Life and health insurance policies account for the lion's share, 55%. Property and casualty policies (mainly auto, home and commercial insurance) are responsible for 45%. Allstate takes a big chunk of those premiums. In 2015, Allstate was the second largest (behind State Farm) overall property and casualty policies.
What Do Rating Companies Say About Allstate?
A.M. Best, Moody's, and Standard and Poor's all give Allstate high financial strength ratings. High financial strength ratings mean Allstate has the assets to back the coverage it provides. Cheap policies are not worth the paper they are written on if the company does not have the finances to back them.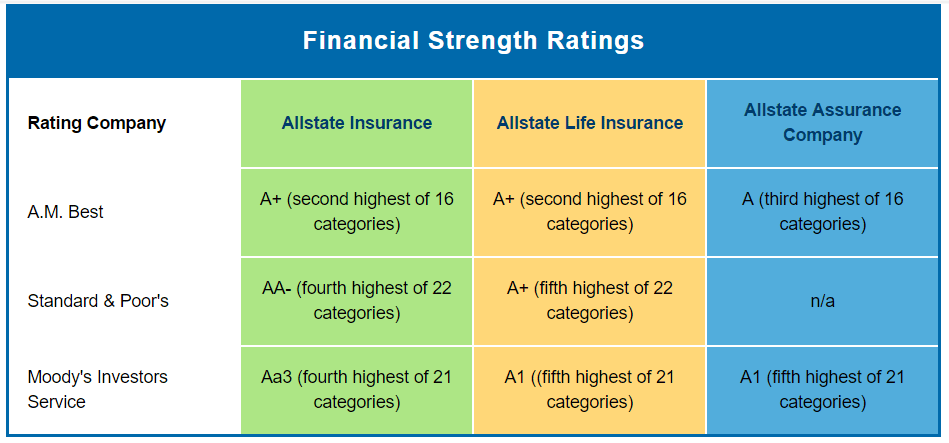 What Do Customers Say About Allstate?
Overall, Allstate does well with customer rating. It has a four-star rating on SuperMoney.com, but it does receive mixed reviews. Some customers complain about the price of Allstate's auto insurance policies while other customers highlight Allstate's value for money and excellent customer service.
A 2015 U.S. auto claims satisfaction study by the consumer research company J.D. Power gave Allstate 861 points out of a 1,000, which put it ahead of its main competitors, State Farm (857), GEICO (854) and Liberty Mutual (854).
What Products Does Allstate Offer?
Allstate is a full-service insurance company that offers auto insurance, life insurance, roadside insurance, renter's insurance, commercial insurance, supplemental & health insurance, and investment products. This review will touch briefly on Allstate's life, home, and auto insurance products.
Allstate Auto Insurance
[Visit SuperMoney's
Allstate Auto Insurance company profile
for the latest information on rates and coverage]
Allstate provides a full range of auto and motorcycle insurance products you would expect from one of the top three auto insurance companies in the nation. Customers can purchase liability insurance, collision insurance, comprehensive insurance, uninsured insurance, underinsured motorist insurance, and personal injury protection. Allstate also provides specialized coverage such as rental reimbursement, towing, and labor coverage. It even has a special rider for drivers who work for a ride-sharing company, such as Uber.
Customers who purchase Allstate's Your Choice Auto program also benefit from accident forgiveness. This means your first accident will not hike your insurance rates, regardless of whether it is your fault.
Allstate does not have the lowest premiums, but it doesn't cut corners when providing coverage either. Customers who qualify for its generous discounts may still end up with high-end coverage at low-cost prices. For example, clients with a clean driving record can earn a discount of up to 45%. As well as the typical discounts, Allstate also reduces the rates for drivers who enroll in its Drivewise program.
The Drivewise Program
The Drivewise program rewards good drivers who do not put many miles on their cars and can prove they have safe driving habits. It is also a smart way to reduce the cost of insurance for teen drivers. Driving skills are determined by installing a device in the car or downloading an app to your smartphone. Customers who join Drivewise can save up to 30% on their policies. Most clients save around 13%.
Claim Satisfaction Guarantee
Allstate is so confident of the quality of its auto insurance coverage it offers policyholders in most states its unique claim satisfaction guarantee for free. This guarantee promises to reimburse customers who are not satisfied with how their claim was handled with six months of premiums. The only requirement is that clients complete a form detailing how Allstate's handling of their claim was not to their satisfaction.
Allstate Life Insurance
[Visit SuperMoney's
Allstate Life Insurance company profile
for the latest information on rates and coverage]
Allstate is a medium-sized insurance company when compared to larger life insurance companies, such as MetLife, Northwestern Mutual, and Prudential of America, but it still provides a full range of life insurance products.
Life insurance coverage comes in two main flavors: permanent life insurance and term life insurance.
Permanent life insurance covers you for your entire life. Allstate offers a variety of permanent life insurance policies, such as whole life, universal life, and variable life.
Term life insurance offers coverage for a fixed number of years, usually 10 to 30 years. Allstate has two types of term life coverage: basic term life and TrueFit term life.

Basic Term Life offers policyholders the option of obtaining life insurance coverage for 15 years without the need for a medical exam. Policy amounts range from $50k to $150K. Basic term life may be a good option if you have health issues, or you simply don't want to have a medical exam.
TrueFit Term Life does require a medical exam, but coverage periods range from 10 to 30 years, and you can choose larger policy amounts. For most customers, TrueFit term life provides the best value for money.
Policyholders can save money by bundling their auto and life insurance policies.
Allstate Home Insurance
[Visit SuperMoney's
Allstate Home Insurance company profile
for the latest information on rates and coverage]
Allstate is one of the largest property insurance companies in the United States. In 2015, Allstate sold $30.2 billion in property/casualty insurance premiums; and has a 5.1% market share in the property and casualty insurance sector This placed Allstate in third place behind State Farm and Liberty Mutual in the property/casualty insurance sector.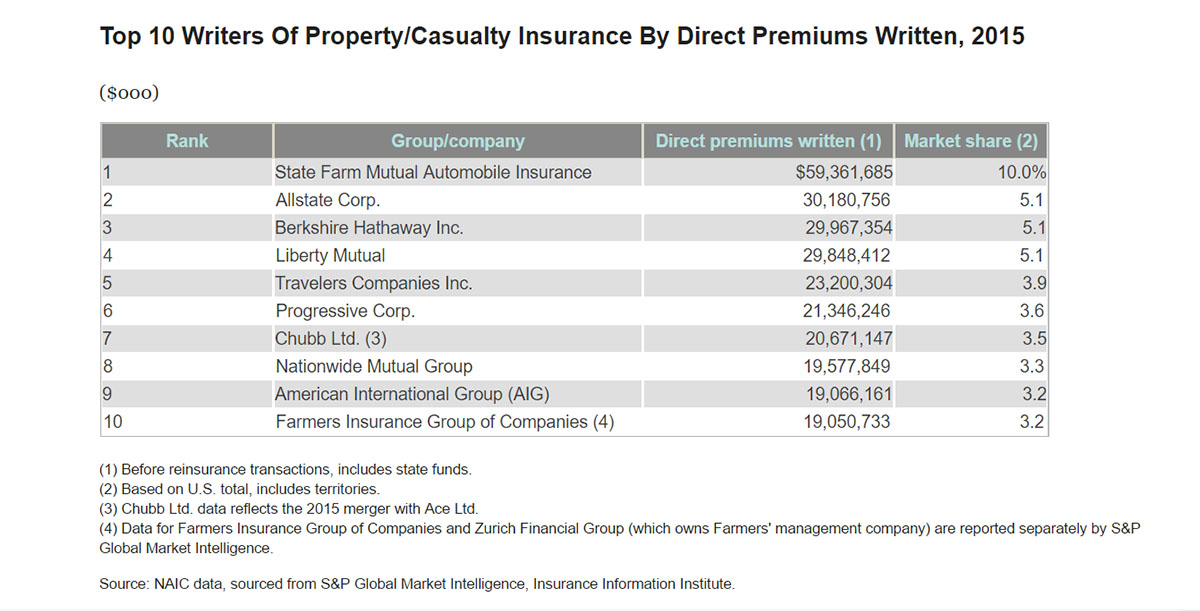 Allstate provides insurance coverage for homes, condos, mobile homes, and apartments. Renters insurance and personal property coverage riders are also available.
Customers who bundle their auto and home insurance receive discounts of up to 35% off their home premiums and up to 25% on their auto insurance.
How Does Allstate Work?
Allstate policyholders can purchase insurance coverage online, at one of Allstate's 12,300 exclusive agencies or through one of the 2,000+ independent companies that also offer its insurance products. Having access to a local agent that manages your insurance needs is a significant advantage for busy customers who value the personal attention.
Clients who are comfortable with DIY policies and managing their insurance needs may prefer Esurance, Allstate's online-only subsidiary. Esurance is a no-frills insurance company that offers some of the specialized products offered by Allstate at a lower cost by operating online instead of using local agents.
Who Should Choose Allstate?
Allstate is not for everyone. If you are on a tight budget, have the time to spend hours doing research, and you prefer search engines to talking to an agent, you should probably avoid Allstate altogether.
Allstate is best for people who:
Are busy and value the help of agents. Operating through local agents may not be the cheapest way to run an insurance company. However, it is an excellent way to provide personalized customer service. Local agents are great at giving you a heads up when you have gaps in your coverage and a lifesaver when filing a claim.
Need reliable coverage. If you are only interested in obtaining the cheapest available coverage insurance, you will probably find more affordable coverage with cut-rate insurance companies. However, if you want extra features and innovative programs, such as Drivewise and Allstate's Claim Satisfaction Guarantee, Allstate is a good option.
Qualify for deep discounts. Discount insurance companies may seem to have the lowest rates, but that is only for bare-bones coverage. Customers who have more than one insurance policy, and want more than the minimum coverage can often benefit from Allstate's special discounts, such as discounts for good drivers, retirees, students, and farmers, which can help them get superior coverage at inexpensive prices.
Andrew is the managing editor for SuperMoney and a certified personal finance counselor. He loves to geek out on financial data and translate it into actionable insights everyone can understand. His work is often cited by major publications and institutions, such as Forbes, U.S. News, Fox Business, SFGate, Realtor, Deloitte, and Business Insider.