If you're a renter and want to protect your belongings, USAA renters insurance may provide the ideal coverage. The Texas-based Fortune 500 company offers a wide range of insurance services to members of the military community and their families.
In 2016, USAA served 11.9 million members. This included providing insurance to 322,000 policyholders affected by 43 weather catastrophes.
In this review, we're going to take an in-depth look at USAA's renters insurance.
About USAA
USAA dates back to 1922 when a group of 25 Army officers couldn't find car insurance for themselves. They decided to band together and insure one another. From these humble beginnings emerged a multi-faceted financial services organization that services members of the U.S. military and their families.
In addition to renters, homeowners, life, and car insurance, USAA provides banking, investments, and retirement services. The company's chief goal is to provide members with competitively priced products, as well as financial tools and advice.
USAA is known for exemplary customer service focused on serving military members, who are often relocating. Members report quick, understanding, and flexible service.
USAA member Christine Maxwell has had rental property insurance for eight years now. She and her husband use the insurance for their properties when they're stationed overseas.
Says Maxwell, "In 2010, our house in Lawton, Oklahoma suffered severe wind damage from a storm. We had to have the entire roof replaced. At the time, we were living in South Korea, because of my husband's military orders. I'm so thankful we had USAA insurance."
Maxell reports that USAA sent out an adjuster to give them an estimate and found someone to do the roof repairs. She says, "The repairs came in under the amount the adjuster estimated, and USAA let us keep the difference. It was seriously a painless process."
USAA renters insurance details
What is renters insurance and what does it cover? USAA's basic renters insurance pays for replacement of your belongings should something happen to them. USAA provides a broad range of coverage that's not commonly found with competitor renters insurance policies.
In addition to protecting the contents of your home, the USAA renters insurance policy provides liability coverage. If you're ever held responsible for a visitor injuring himself or herself or inflicting damage at your home, USAA's rental insurance will help protect you financially.
With USAA renters insurance, flood and earthquake coverage are part of their standard policy. Other circumstances covered include fire and lightning, windstorm or hail, building collapse, volcanic eruption, freezing, smoke, explosion, falling objects, including aircraft, vehicles, riot and civil commotion, and theft and vandalism.
USAA offers replacement cost coverage. This means that, instead of depreciating older items, like television sets, the policy compensates you enough money so you can buy another one.
Given the often transient nature of being a member of the military, USAA covers possessions wherever they may be located. For instance, if your things are packed and being moved or stored.
The list of items that USAA renters insurance covers is long. In addition to standard items like clothing, electronics, and jewelry, the insurance covers fine art, crystal and china, hearing aids, military and sports equipment, antiques, coins, and stamps.
Who is USAA renters insurance for?
USAA renters insurance is designed for active or former members of the military and their families. In order to qualify for USAA membership, if you're not a member of the military, you need to be connected to such a person through marriage or as a child.
USAA renters insurance application process
To determine how much renters insurance is with USAA, you need to call or apply for membership online. Once you're a member, you'll be given a log-in. Use that to log in and apply for renters insurance.
1. Look for "See How We Can Help You Today."
Click on "renters" under "personalized home and renters insurance."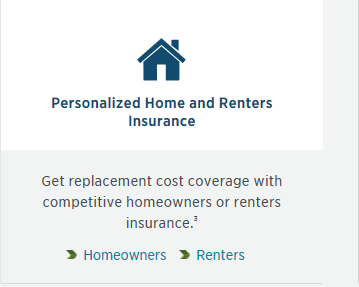 2. Click on "Get a quote."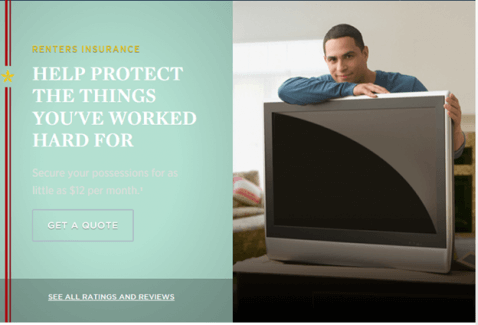 3. Login with your user I.D.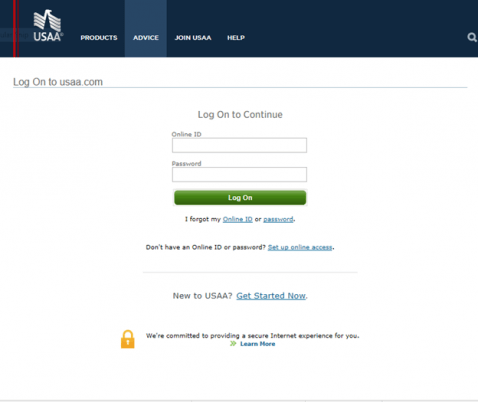 4. Enter your pin and click "Next."

5. Fill out your rental location information and fire safety and protection features.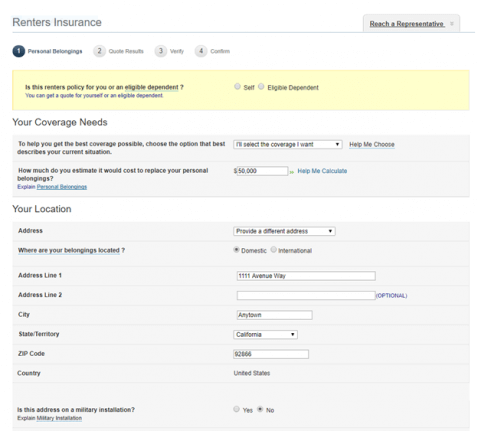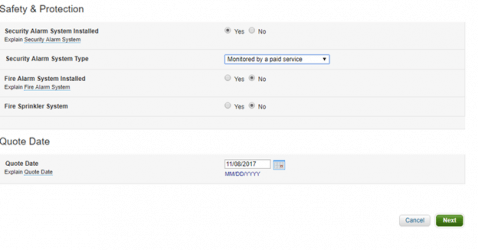 6. Get your rental insurance offer.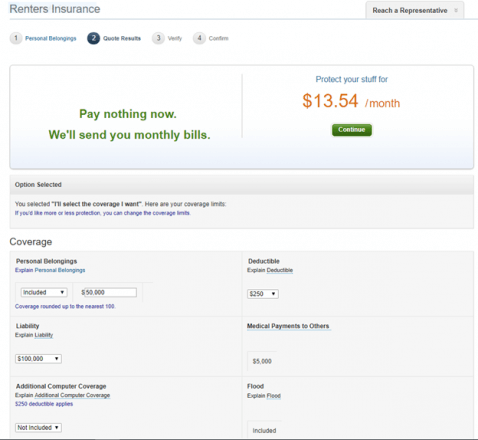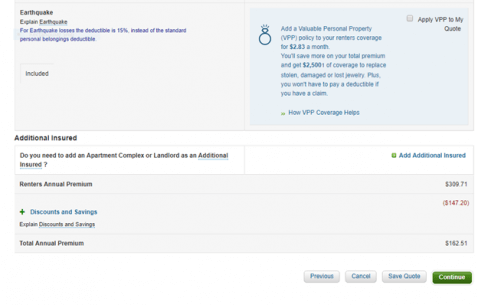 Decide if the proposed insurance policy will work for your budget.
USAA Renters Insurance Review and Summary
If you're active duty, retired military, or family and require renters insurance, USAA may be a good option. The company's superior customer service and high-quality property protection allow you to rest easy should Mother Nature strike or an accident occur.
USAA's comprehensive standard rental insurance policy covers many circumstances that other insurance carriers don't, such as flood and earthquake. The company's friendly and helpful customer service agents will gladly walk you through the quick and easy rental insurance application.
Click here to learn more about USAA renters insurance and see if it's a good choice for you.
Julie Bawden-Davis is a widely published journalist specializing in personal finance and small business. She has written 10 books and more than 2,500 articles for a wide variety of national and international publications, including Parade.com, where she has a weekly column. In addition to contributing to SuperMoney, her work has appeared in publications such as American Express OPEN Forum, The Hartford and Forbes.